Roundup: Pumps & Motors
Godwin Pumps introduced two new high volume diesel Dri-Prime automatic self-priming pumps, the 4-inch CD103M and 6-inch CD160M models that offer heads from 145 feet to 300 feet with 3-inch solids handling.
Feb 1st, 2005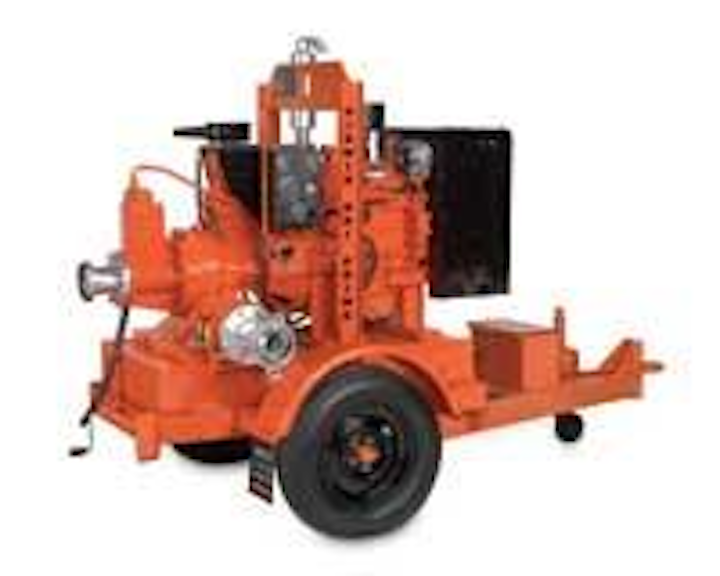 Self-priming pumps offer up to 300-ft heads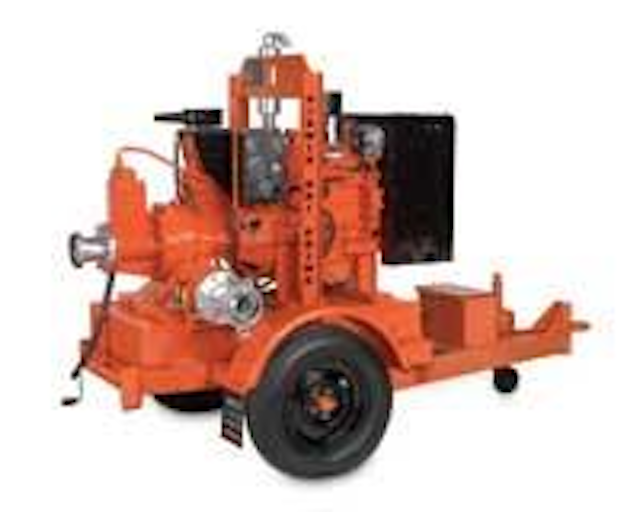 Click here to enlarge image
Godwin Pumps introduced two new high volume diesel Dri-Prime automatic self-priming pumps, the 4-inch CD103M and 6-inch CD160M models that offer heads from 145 feet to 300 feet with 3-inch solids handling. These pumps are designed for backup municipal lift station applications, sewer bypass pumping systems and other applications requiring high head capabilities with solids handling. The pumps are available with a variety of diesel engines. Sound attenuated enclosures are optional.
Godwin Pumps
Bridgeport, New Jersey, USA
Double cartridge seals eliminate cost of rebuilding conventional seals
The 1700 Series double cartridge seals, designed for use with the Stan-Cor Series centrifugal pumps, are hydraulically-balanced and feature a cassette-within-a-cartridge design that reduces costs with a removable inner cassette and allows the gland to be reused with each new seal. The 1700 series seals are fitted for applications handling extremely corrosive and abrasive materials.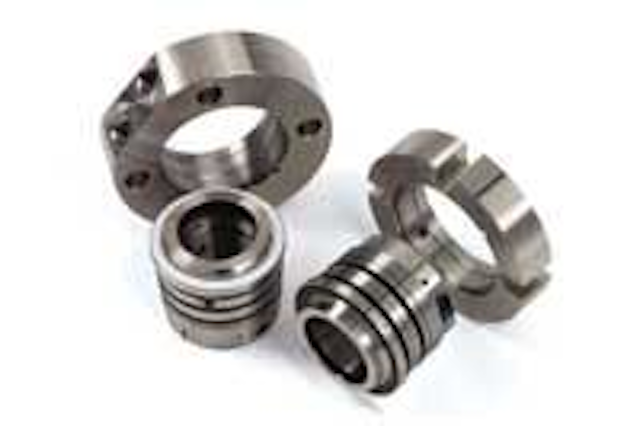 Click here to enlarge image
The 1700 series eliminates the time, effort and cost of rebuilding conventional cartridge seals. Its disposable inner cassette enables users to replace seals in the field. This eliminates redundant seal and gland inventory requirements, shipping and handling costs, service charges for expedited repair, and pump downtime for increased productivity.
A single pin lines up the seal with the reusable gland. A friction drive lock ring with one cap screw assures alignment and eliminates slippage for easy installation. Unlike conventional seals with centering clips that need to be removed before start-up, these self-centering locators are internal to the cartridge seal and are not removed. This also allows the shaft to be conveniently rotated during assembly without effort.
Wanner Engineering, Inc.
Minneapolis, Minnesota, USA
Wastewater removal system handles low-lying runoff
The Little Giant® WCR-9S wastewater collection and removal system handles liquid and solid waste up to two inches in diameter. Applications of the system include dewatering, effluent waste, wastewater and sewage handling where materials must be moved upward from a collection area to sewer or septic lines or drainage areas.
No digging is required to service the system because the WCR-9S system is designed so that the basin cover is flush with the ground level. WCR-9S system discharge and electrical connections are routed through the side of the 20" x 30" rib-reinforced polyethylene basin. The unit has schedule 40 PVC discharge piping, with a pre-drilled air bleed hole and a full flow check valve secured with stainless steel clamp bands. The WCR-9S system is also equipped with a two-inch bulkhead fitting to route power cords out of the basin.
Within the basin, the high capacity Little Giant® 4/10 HP 9S Series wastewater and sewage ejector pump provides an extended service life, as it requires less cycling than smaller capacity pumps. The 9S Series pump has a cast iron motor housing and volute, which are protected from rust and corrosion by an epoxy coating. The motor housing is oil-filled to provide lifetime lubrication and rapid heat dissipation. Automatic pump operation is made possible by a piggyback mechanical float switch.
Little Giant Pump Company
Oklahoma City, Oklahoma, USA
Magnetically-coupled gear pumps prevent problems
A range of magnetically-coupled external gear pumps eliminate problems, such as pulsating flow, vapour locking and potential lengthy downtimes as experienced with piston and diaphragm pumps used in chemical metering applications, according to Tuthill Pump Group. The pumps are controlled via 4 to 20 mA feedback systems and are accurate to better than 1%.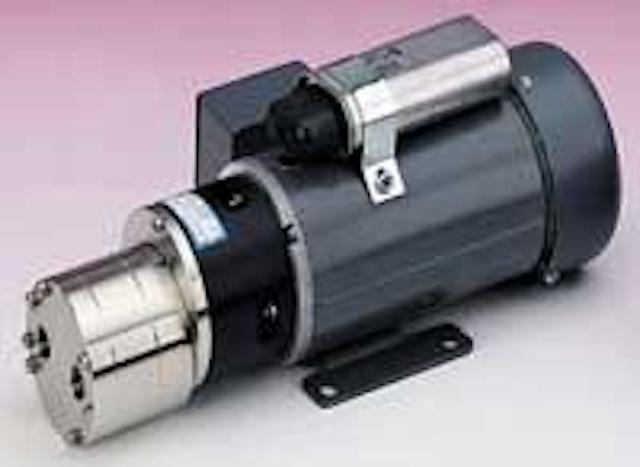 Click here to enlarge image
Tuthill's external gear pumps provide smooth flow, thereby avoid fluid agitation and eliminate the need for pulsation dampers. Smooth flow makes the external gear pumps flow meter and residual measurement friendly. The pumps' flow-through design avoids vapour trapping.
Handling capacities range from 1 ml/min to 38 l/min at pressures ranging to 17 Bar. Flow control is speed regulated. Most standard, variable-speed motors can be employed to drive the pumps. The pumps are compact units engineered in 316L stainless steel, Hastelloy or Titanium.
Tuthill Pump Group
Ilkeston, Derby, UK
Immersible motors operate exposed to air, water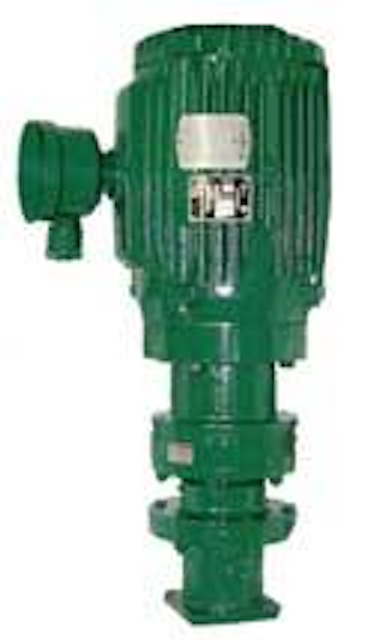 Click here to enlarge image
A new series of immersible motors exhibit improved efficiency, operate at a cooler temperature and is less expensive than typical submersible motors frequently used for applications with occasional flooding, claims JWC Environmental. Baldor developed the new series exclusively for JWC Environmental.
The motor series is designed for applications that are prone to intermittent flooding because it can operate exposed to ambient air, along with the capacity for 30 feet of submergence during flooding. The immersible motor's torque characteristics make it suitable for all JWC products. The motor has a U.L. NEMA 6P (IP67) approval rating allowing them to withstand watertight submergence of up to six feet. The units can withstand 30 feet of water and JWC warranties such submergence. The motors are available in common voltages and frequencies, use a high temperature lip seal, and are designed to operate in an explosion-proof environment.
JWC Environmental
Costa Mesa, California, USA
Digital Dosing pumps expand range capabilities
Grundfos Pumps Ltd. recently expanded its Digital Dosing range of pumps with the new DME dosing pump that can handle up to 940 litres per hour (l/h). The company's pump range now handles dosing requirements from 2.5 ml/h up to 940 l/h. Its functions include manual control, full pulse control, analog control, timer-based batch control, and pulse-based batch control. Several features can be added to this list, such as an anti-cavitation function for high viscosity liquids. Digital dosing pumps can also be integrated into automated process systems via an optional fieldbus module.
Grundfos also expanded its range of immersible pumps to include the multistage centrifugal (MTR) pumps that deliver 1- to 70 m3/h flow, with a maximum head of 230 m3/h. The pumps are designed for pumping cooling lubricants for machine tools, refrigeration and cooling, washing, water treatment and water supply applications. The MTR range includes laser-welded impellers and cartridge seals.
Grundfos Pumps Ltd.
Buzzard, Bedfordshire, UK
Equiseal® and PumpSmart® minimise Life Cycle pump costs
The non-clog NS Series for use in preliminary, primary and secondary treatment facilities handles wastewater and other non-corrosive liquids containing soft solids up to 230 mm without clogging.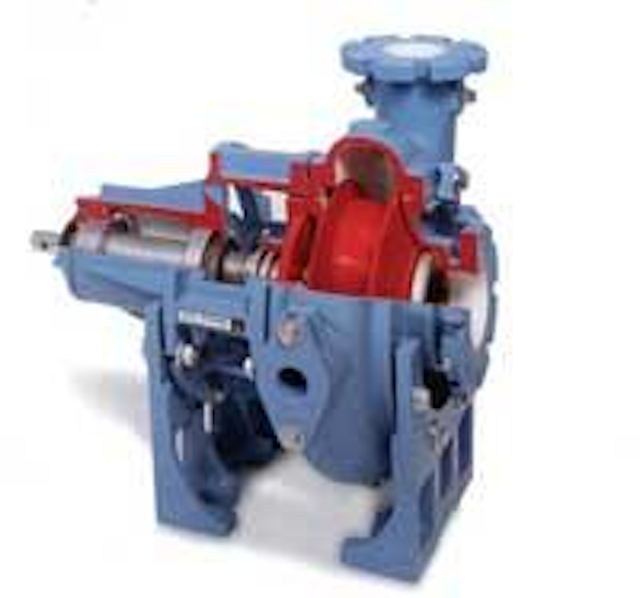 Click here to enlarge image
NS pumps fitted with ITT A-C Pump's patented Equiseal ® dynamic seal achieve substantial operating and maintenance cost savings, according to A-C Pumps. This seal uses an auxiliary expeller in the seal chamber as pumped liquid enters the dynamic seal stuffing box cavity. It is opposed by centrifugal force generated by the auxiliary expeller, which creates a liquid sealing ring that prevents leakage.
Equiseal dynamic seals eliminate the need for packing or mechanical shaft seals to reduce stuffing box maintenance. In most applications, no outside utilities are required and no flushing liquids to source, dispose of, or dilute the process liquid.
The NS Non-Clogs can be outfitted with the PumpSmart intelligent flow control system. The PumpSmart Model PS 200 is a microprocessor-based, variable speed drive, programmed for specific pumps.
Energy savings up to 70% are obtained because at lower demands, the PS 200 reduces the motor speed, which eliminates extra energy used to overcome the pressure drop of control valves.
Continuous monitoring (which can be remote) and reaction to pump conditions and system demands provides control of virtually any process parameter. Pump output is matched to the exact flow and head required by the process. The PS 200 enables the control of two to four pump systems without the need for separate PLCs and custom programming.
PS 200 protects the pump from upset conditions, including dry running, low suction, cavitation, dead heading and excessive run out -- conditions that cause most pump and mechanical seal failures.
A-C Pump, ITT Industries
Seneca Falls, New York, USA
Stainless steel pumps offer total corrosion resistance
The SIP stainless steel pumps range, designed for use in cesspits, cellars, dirty ponds and pools, can cope with pumping solid items in suspension of up to 20 mm given a 30-mm diameter outlet aperture, leading to significantly fewer blockages when handling dirty water.
The SIP range covers three models, ranging in power from 0.4 hp to 1 hp, with flow rates from 80 to 200 litres/minute. Float switches are also standard to enable permanent siting and protection from running dry. The pumps feature compact dimensions, making them useful in confined spaces and are supplied with ten-metre mains cables.
Thomas Wright/Thorite Group Ltd.
Laisterdyke, Bradford, UK
Motor starter reduces energy use
The Motorpact medium voltage motor starter reduces energy use in water treatment plant and pumping stations, according to the UK manufacturer Merlin Gerin, a brand of Schneider Electric. Designed for any large motors in the water industry, Motorpact is fully internal arc-rated to the latest standard to ensure operator safety, requires minimal maintenance and operates at low temperatures to keep plant energy losses to a minimum.
Motorpact incorporates the latest Merlin Gerin Sepam electronic protection relays, low power current transducers (LPCT) and Schneider Electric's Transparent Ready web browser technology for communications, monitoring and control.
Motorpact comes as a preconfigured unit rather than a custom-built panel. This design reduces costs, but also simplifies specification and installation. The use of a line disconnector and multifunctional cast parts has reduced the number of components and helped reduce heat losses.
Merlin Gerlin, Schneider Electric
Telford, Shropshire, UK
ABS launches new lifting station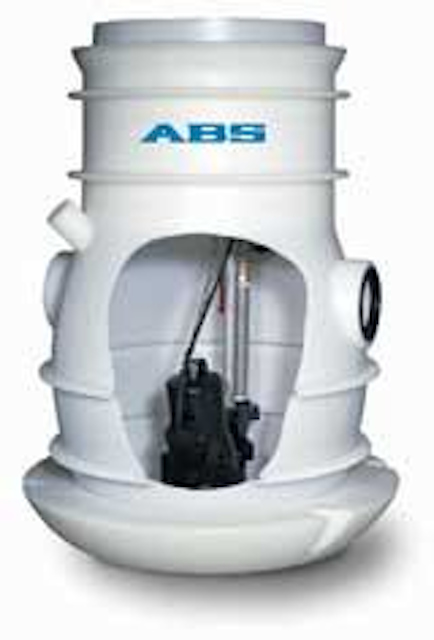 Click here to enlarge image
ABS added the Cynconta® 801 S to its existing range of Syconta® lifing stations. This new lifting station complements the current range, and offers a tank volume of up to 764 litres.
The station is used in applications where medium quantities of wastewater and sewage must be pumped away quickly. The station is used in applications where wastewater must be removed from buildings and areas below sewer level and where gravity discharge into the sewer is not possible.
The sump is installed outside the building on open ground and provides an economical solution to sewage problems. The lift station uses AS or Piranha® pumps.
ABS Pumps
Malmo, Sweden