Coca-Cola's Global Water Challenge
Aiming to be water neutral by 2020, Coca-Cola has set the challenge to use less than a litre of water in the manufacturing of a litre of its products.
Aug 1st, 2015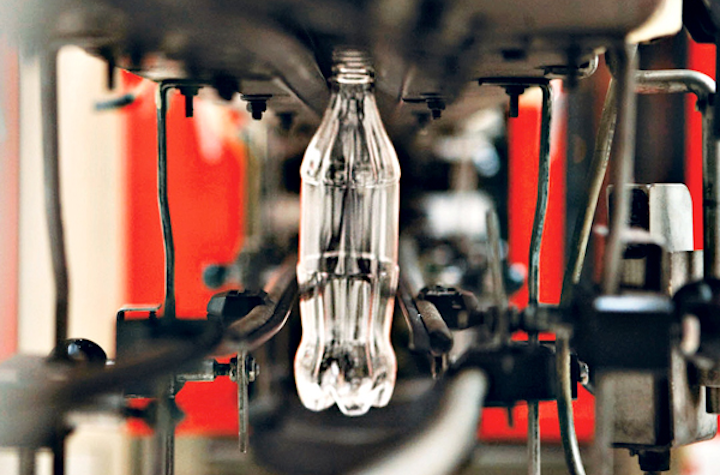 Aiming to be water neutral by 2020, Coca-Cola has set the challenge to use less than a litre of water in the manufacturing of a litre of its products. Ahead of Aquatech Amsterdam, which is increasingly looking at industrial water, this article looks at how one of the world's largest beverage companies is improving its logistics to become a more efficient user of water.
By Greg Koch
At Coca-Cola we've been paying close attention to global water challenges for some time. We're a global beverage company that relies on water for our finished beverages, their production and to grow key agricultural ingredients. Every day in more than 200 countries and territories, we're working to improve our water efficiency, manage wastewater and stormwater discharges, mitigate water-related risks, and replenish the water we use.
Since we make our products where we sell them, we have a business imperative to work to ensure the sustainability of local water sources everywhere we operate. So, while we strive to improve our internal business efficiencies, we recognise that's not enough.
Our water stewardship program focuses exactly on such responsible behavior for all of the Coca-Cola businesses globally. The program sets plans and goals in place for everything from source water assessment and protection plans to water efficiency improvements and returning the water we use to communities and nature through treated wastewater and replenishment projects. We have also expanded our water stewardship efforts beyond our business to our suppliers through guidelines set to sustainably source our key agricultural ingredients in our Sustainable Agriculture Guiding Principles.
Replenishing water
In 2007, we set an aspirational goal to be 'water neutral' or 'water balanced' by 2020. Meaning, we would return the equivalent amount of water we used in our beverages and their production each year by 2020. At the time, that goal seemed ambitious and potentially unattainable as we expected our business to grow and thus, our water use would also grow. Today, we're proud to say that we're on track to meet that goal, and possibly even meet it early, all while our business has grown. We've done so by improving our water efficiency (less water per liter of product produced) by more than 24% since 2004 and through increasing our focus on wastewater treatment and replenishment projects.
Our replenish strategy is two-fold: Firstly, return to nature and communities the water in our beverages through water projects outside our manufacturing plant boundaries, and secondly, return the water we use to make our beverages back to a community after we've fully treated it.
Treated wastewater
The majority of the water we source to make our beverages is from established municipal systems or from other sources like rivers, reservoirs, wells, aquifers, etc -- each governed by local authorities and stringent, internal requirements. The water that does not go into our beverages but is instead used in our manufacturing process (approximately 1.03 liters per liter of product produced in 2014) is treated to our comprehensive global quality standards and then returned to nature and municipalities.
We set an industry wide goal to require all of our plants to implement strict standards to treat and return the water we use in our manufacturing process back to nature at a level that supports aquatic life, even when not required or requested by local governments and communities.
In many cases, this goal drove our bottling plants to adopt processes and technology for comprehensive wastewater treatment within our facilities -- a sizeable commitment and investment of approximately $1 billion across our system.
This intense focus has moved wastewater treatment from a goal to a standard operating requirement adopted by the Coca-Cola system. To date, all of our company-owned plants are compliant with our wastewater treatment standards and either fully treat wastewater on site or use a municipal or government-approved wastewater treatment plant with secondary treatment.
All but one of our plants in the Coca-Cola system are compliant with, or in the process of adopting, our standards. This is a huge win for our system and for the environment with almost 126.7 billion liters of water being fully treated and returned directly from our bottling plants, all over the world.
Replenishment projects
Replenish aims to return the water used in our finished beverages back to nature and communities through the support of healthy watersheds and locally focused community water projects. The projects we engage in typically center on safe water access and sanitation, watershed protection, water for productive use, and education on and awareness-raising of water issues, including engagement on policy.
Replenish projects are often identified and implemented through source vulnerability assessments (SVAs) and source water protection plans (SWPPs), which are required of all of our bottling plants and built with the local community. The projects we support are in partnership with local governments and other respected third-party partners.
Between 2005 and the end of 2014, we balanced an estimated 94% of the water used in our finished beverages based on 2014 sales volume, for a total of 153.6 billion liters of water replenished to communities and nature. This work includes more than 500 projects in more than 100 countries and territories with partners such as WWF, USAID, The Nature Conservancy, Water for People, UN-HABITAT, and the United Nations Development Programme (UNDP).
With UNDP, for example, we support Every Drop Matters, an initiative helping tackle challenges related to water supply, sanitation, water management and climate change around the world. Through this longstanding partnership between Coca-Cola Eurasia and Africa Group and UNDP, we have joined in undertaking more than 100 projects in more than 20 countries.
In Uzbekistan, solar power and pump sets supplying safe drinking water have been implemented in more than 25 communities, reaching an estimated 130,000 people in the Navoi and Samarkand regions. And, in 2014, we expanded our UNDP partnership through New World, a new program focused on inclusive, sustainable human development initiatives, including water, that make meaningful long-term improvements in communities.
Another effective replenish effort for us has been water funds - financial instruments designed to protect and preserve water for all users in a given watershed. Water fund investments come from a wide variety of donors across a watershed and even beyond including local water users, businesses and government agencies. Funds are directed toward projects that protect key lands upstream to filter and regulate water supply.
Projects may include creation of conservation areas, changes in land use (e.g., prohibiting livestock grazing on river banks, reforestation, removal of invasive plant species), and introduction of more sustainable farming techniques.
Coca-Cola has invested in around 50 water funds across 11 countries in Latin America and the Caribbean, with TNC, FEMSA Foundation and the Inter-American Development Bank (IDB) being key partners for 48 of these projects. These funds are managed through a partnership between TNC, FEMSA Foundation, IDB and the Global Environment Facility (GEF), and support a range of conservation projects, from reforestation to community and farmer education initiatives.
Lessons learned in Latin America are now helping solve water challenges in Nairobi, Kenya, where the Upper Tana-Nairobi Water Fund (the first in Africa) is working to protect the hugely important Tana River. This local fund supports improvements in how lands and waters are managed to benefit Kenyan communities, farmers and businesses throughout the watershed.
Beyond our replenish goal
Once we meet our goal of replenishing the water we use, which we anticipate will happen ahead of 2020, we won't consider our replenish work complete.
Replenish will be an ongoing part of our water stewardship program. As our business and product volume continue to grow, we intend to grow our replenish projects to continue to balance the water use of our entire system across more than 200 countries and territories.
In fact, some countries in the Coca-Cola system have already achieved or exceeded 100% replenishment. In India, for example, as a result of collaborative efforts with NGOs, the government, other industries, farmers and local communities, and bottling partners, Coca-Cola has achieved full balance between groundwater used in beverage production and that replenished to nature and communities—achieving 'water positive' status.
Efforts in India to replenish groundwater, which increase local available supplies, are focused on rainwater harvesting, groundwater aquifer recharge, constructing check dams, restoring ponds and other natural bodies, and supporting agricultural improvements. We have around 600 rainwater harvesting and groundwater recharge projects across 22 of India's 35 states and territories with the estimated potential to return nearly 150% of the groundwater used.
Our India colleagues are setting a leading example for the Coca-Cola system of dedication to sustaining a water balance. Maintaining 100% replenishment across the system will require continued treatment of all process wastewater even as government regulation of treatment becomes stricter in some parts of the world. And, it means working with our bottling partners to ensure projects remain sustainable and continue to replenish water.
When it comes to sustainability, we must set goals and achieve them to make significant progress. But, it is important to keep in mind that sustainability work is never done. Sustainability is a journey, and one that is more successful in partnership and with a view and purpose that extends beyond our own entities.
Greg Koch is senior director of Global Water Stewardship at Coca-Cola.
More Water & WasteWater International Current Issue Articles
More Water & WasteWater International Archives Issue Articles