Ceramic Membranes: Reversing Japan's Export Drought
Perhaps best known for supplying ceramic membrane filtration systems, Japanese firm Metawater has ambitious plans to become a full water engineering service provider overseas and expand from the sluggish domestic market.
Aug 1st, 2015

Perhaps best known for supplying ceramic membrane filtration systems, Japanese firm Metawater has ambitious plans to become a full water engineering service provider overseas and expand from the sluggish domestic market. Company President Tomoyasu Kida speaks exclusively to WWi magazine about international expansion plans after the company went public.
By Tom Freyberg
Japan was a hotbed of innovation in the 1960s and 70s. In 1964 the country entered the first bullet train into service. Long before America changed the music industry with its Apple ipod, the Japanese island exported the Sony Walkman in 1979 and revolutionised how people listened to music.
Add the karaoke machine in 1971 and then the successful PlayStation console in 1994 (now in its 4th edition) and Asia's technology powerhouse could do no wrong. Fast forward 20 years and this talent of exporting innovation could be accused of drying up. With Korea taking over the mantle of becoming Asia's technology hub, successfully shipping brands such as Samsung and LG overseas, what has happened to Japan?
As Keishi Kameyama, chairman of internet company DMM.com told the BBC: "We have been innovating great products but we are not good at marketing them abroad."
Yet instead of judging a country on how well it exports electronics or automotive goods, maybe there should be a shift in focus. For its ceramic membranes, which have been used in the Andijk III drinking water plant in the Netherlands, is one export the nation should be proud of.
Supplied by Metawater, the ceramic membranes have been a talking point of the water filtration community for many months, years even. In Japan, around 40% of municipal drinking water produced using microfiltration or ultrafiltration membranes is through the use of ceramic membranes.
Claimed to be tougher than polymeric but a lot less popular overseas for municipal applications due to a higher capital cost, are the financials of ceramics changing? We speak to Metawater's president, Tomoyasu Kida, to find out.
Water & Wastewater International magazine (WWi): Metawater recently went through a successful Initial Public Offering (IPO) on the Tokyo Stock Exchange. Tell me more about this and how it fits in with international expansion goals?
Tomoyasu Kida, president, Metawater (TK): We listed our company on the Tokyo Stock Exchange in December at the end of last year. Funds from the stock exchange will be used for the development of the company overseas. The third point is we are thinking about our future -- privatisation of the water and wastewater industries is going to be accelerated and we will be a part of this.
WWi: Talk me through your international business -- which countries is Metawater involved in and how much revenue (%) do international contracts provide?
TK: In five years we would like to increase our sales to 140 billion yen (US1.1 billion), and in the long-term expand sales internationally to 10%. We would like to expand our portfolio overseas, with Europe and the US being our prime targets, as they benefit from stable markets. We are aiming to expand the sales of the ceramic membrane technology for the drinking water market, especially for the Western Countries. But also we want to sell technology related to the wastewater treatment as well. In order for the overseas expansion, we have an alliance strategy to work with partners. We would like to find partners to sell our technology and products. And then for the Asian market we can expect some growth in the future. In Japan we have public-private partnerships for which we have many public customers. Based on this experience and many references we have in Japan, we would like to expand into other Asia countries.
WWi: You are perhaps best known in Europe for your partnership with Dutch company PWN Technologies. How does this partnership work financially?
TK: As part of the partnership with PWN Technologies, we supplied our ceramic membranes and basic operation know-how to the Andijk III drinking water plant in the Netherlands. PWN is experiencing a lot of activity and participating in plans for other drinking water plants, for example in the South West in the UK (South West Water). We're also aiming to establish partnerships with local companies and are also working on technological cooperation with RWB in the Netherlands, for which we share about 25% of their stock.
WWi: Ceramic membranes are reported to only have 2-3% market share for municipal water filtration compared to polymeric. Do you think this will change or will ceramics be better suited to industrial applications due to higher CAPEX?
TK: The initial CAPEX for the ceramic membranes is a little higher but if you look at the whole lifecycle cost, they still have the advantage. With polymeric membranes you need to make replacements once every five years or so. However, our ceramic membranes haven't been broken for more than 17 years at the moment. If you think about lifecycle cost, we have the advantage.
Also, another advantage with ceramic membranes concerns energy. For other filtration, you usually have to use high pump pressure. With ceramics they are very strong and have a very high permeability so you can use gravity systems if you have the height advantage. For example, we are using the gravity system in Kawai purification plant in the city of Yokohama. As there isn't a pump being used at all, that means you don't need much electricity. With ceramic membranes, the electricity consumption can be extremely low. Also, ceramics can be more stable to handle varying water qualities. For example, raw water from a lake can be poor however ceramics can handle this with good filtration functions.
WWi: You said 17 years unbroken for the ceramic membranes. How long do you think they will go on for?
TK: At the moment I cannot give you specific number but next year it will be 18 years! There are over 130 ceramic membrane plants in operation but none of them have broken to date. I hope it will be over 20 years for all plants to work well.
WWi: In 2014 the 120,000 m3/day Andijk III drinking water plant opened in the Netherlands and the 172,800 m3/day Kawai Ceracocca purification plant opened in Yokohama. Do you think now is the turning point for ceramic membranes globally?
TK: Of course domestically they are starting to be used but overseas, in Andijk and the US in Montanna, they are using ceramics because of the stable operation, the lifecycle cost and also the ease of maintenance. The value of the ceramic membranes is being understood gradually by the countries in our target area.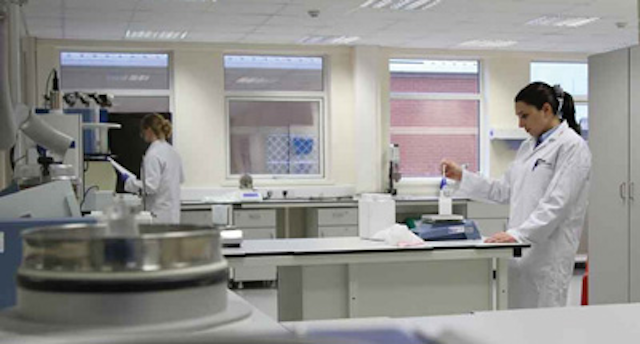 Strong: There are over 130 ceramic membrane plants with no reported breakages to date
WWi: Japan has always been known as a leading performer in water management. How would you describe the market now?
TK: The coverage rate for both water and wastewater systems is quite high in Japan. For drinking water, the coverage is nearly 100% and for the wastewater, it is almost 80%.We benefit from very wide coverage on both. The problem is the aging of the infrastructure.
Municipalities in Japan have a problem with a shortage of skilled staff members and the population is shrinking. So the privatisation of the water businesses is likely to be accelerated. In this situation, private companies are going to play a bigger role in Japan's future. Also regarding the public systems, due to the change of climate and environment, Japan often gets torrential rain and this affects urban areas. New technologies need to be devised to handle this and that will be very important to deal with water management in Japan's future.
WWi: How can what you've learned from the Japanese market be applied to public-private partnerships globally?
TK: Regarding the financing model for the wastewater treatment plant serving a fish processing factory in Onagawa, this was a unique model for Japan. This was the first time we were involved in the operation and maintenance (O&M) as well as bill collection. This is a model of the future for us.
In South East Asia we are doing some development and one of the examples is the pre-treatment trickling filtration systems for sewage. This system can save energy from 60-70%, compared with conventional activated sludge processes, and we're having some demonstration experiments regarding this at the moment with Japanese government and municipalities. This type of technology can support people in South East Asia who have been suffering with the shortage of energy.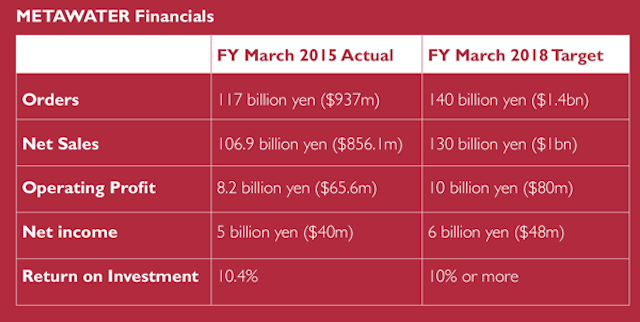 WWi: Interesting. So you're saying Metawater wants to position itself as a water treatment plant operator in the DBO model (design, build & operate), not just an equipment supplier?
TK: Yes. This is a comprehensive model and we wish to expand our business into in the future. I think that is going to be the next step. Currently regarding emerging countries we haven't established our brand name Metawater yet, as we're known for products and equipment. We would like to establish our brand first. In the other South East Asia countries we would like to pursue the PPP (public-private partnerships) collaborations with other companies. We are not saying we can win business by ourselves in these countries yet, but we need partnerships to do so.
---
Initial Public Offering (IPO)
Metawater raised JPY26 billion ($222 million) from floating the company in December 2014 on the Tokyo Stock Exchange, following the issuance of 5.9 million new shares and 5.6 million existing treasury shares.
Tom Freyberg is chief editor of WWI magazine. For more information on the article, email: tomf@pennwell.com
More Water & WasteWater International Current Issue Articles
More Water & WasteWater International Archives Issue Articles