Olivia Lum--The Secret Behind Singapore's Water Entrepreneur
Five years in the making, WWi was recently granted an exclusive interview with Olivia Lum, CEO of Singapore water firm Hyflux. Here she talks to Tom Freyberg about the Qurayyat deal in Oman, progress in India and what it takes to grow a multi-million dollar global water business
Jun 11th, 2015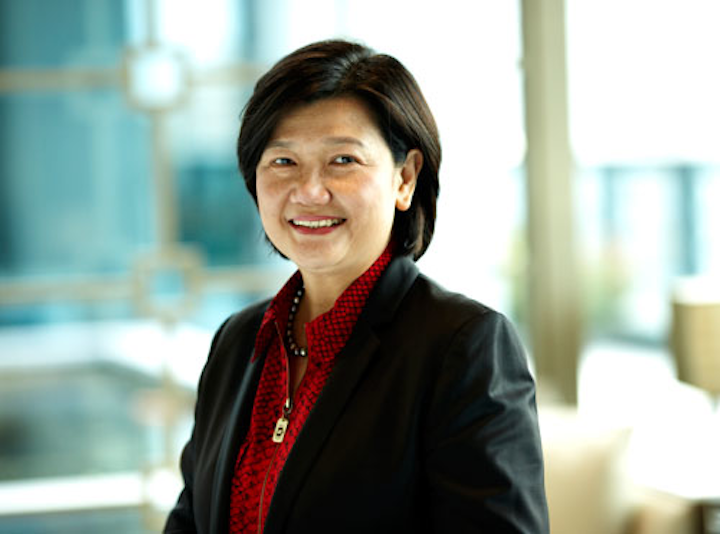 A graduate from the National University of Singapore in 1986 with an honours degree in chemistry, Lum built Hyflux to generate revenues of over S$650 million in 2012

Five years in the making, WWi was recently granted an exclusive interview with Olivia Lum, CEO of Singapore water firm Hyflux. Here she talks to Tom Freyberg about the Qurayyat deal in Oman, progress in India and what it takes to grow a multi-million dollar global water business
By Tom Freyberg
Singapore entrepreneur Olivia Lum's 'rags to riches' success story can be likened to her home nation. As an independent country back in 1965, Singapore lacked resources. Under the guidance of the country's first prime minister -- the recently deceased Lee Kuan Yew -- the nation fostered multinationals and educated its workforce, mandating that English was taught in schools. Today it's a thriving, self-sustaining economic hub in Asia.
The entrepreneurial spark
And the well documented rise of Hyflux's CEO is a similarly impressive tale. Adopted at birth, Lum didn't have it easy. "I went through a very poor childhood," she tells me, referring to a time when she grew up in difficult conditions.
Yet it was this period that could be attributed to the entrepreneurial spark that marks the difference between the good and great CEOs. "Earning your own pocket money was something that you really had to do -- otherwise you had no money," she says. "So, as a child how do you earn money? You sell papaya or fruit along the street. Maybe that was my training as an entrepreneur.
"It trains you how to approach customers. It trains you how to have a certain discipline that if you don't sell, you probably won't have money to get through the day."
From selling papaya many years ago, last year her company generated group revenue of S$321.4 million for the year ending December 31, 2014. Profit was S$57.5 million. The journey from survival to becoming one of Asia's top business women running a multi-million dollar business however was not all smooth sailing.
After graduating from the National University of Singapore in 1986 with an honours degree in Chemistry, Lum was picked up by Glaxo Pharmaceuticals as a chemist, where she was tasked with looking after wastewater treatment.
Two and a half years later "having no contact and not knowing the outside world", as she describes it, Lum moved forward with her dream to start her own business. Armed with only S$20,000 in 1989, she offered her services as an agent for large water companies.
She describes it as a "hard sell" knocking on people's doors and although wanting to give up in the first and second year, she never did. Despite selling other companies' products into Malaysia and Indonesia, Lum wanted to create and sell her own technology.
"During that time nobody had heard of membranes and I told myself that I needed to get into the membrane business because membranes are the most energy efficient operation compared to many operations, like distillation and evaporation and so on," she says. "I saw it as the most effective way to clean up water."
Membrane pilot and public listing
After getting support from her lecturers at the National University of Singapore, she built a small membrane-based pilot project in 1992. It was this foresight with a then unproven technology that could be attributed to much of Hyflux's success today.
"That's how I started water recycling in Singapore. People did not want to build a large scale plant because it [membranes] were still not tested," she says.
After nearly bankrupting the company by venturing into China, now offering built systems such as water filters and softeners, Lum survived the Asian financial crisis in 1997 while many of her competitors, involved in the Thailand, Indonesian and Korean markets, took a big hit.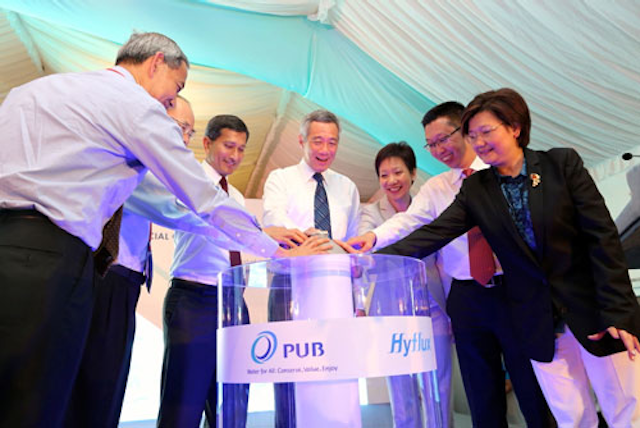 Powering ahead: The opening of the Tuaspring 318,500 m3/day project - Singapore's second desalination operation. A co-located 411 MW power plant, due to be commissioned later this year, will supply 50 MW to run the desalination plant
It was then in 1998 that the Singaporean government starting promoting water recycling. The companies "remembered us", Lum says, from her earlier work doing pilot plants and demonstrations, which she says "got us in". Lum then helped implement water recycling in Singapore for various industries.
In 2001 the CEO raised between S$6-$7 million from listing Hyflux as a public company, despite what could be called bad timing. "It was another financial crisis," she says. "It was the dotcom bubble burst. So nobody wanted to subscribe to my shares. We had to sell it very cheaply to the market."
SingSpring/Magtaa breakthrough
Four years later and in 2005 Hyflux was put on the map. It built and opened Singapore's first major desalination plant -- the 136,380 m3/day SingSpring project. "At the time I can claim I built the largest desalination plant globally," Lum says proudly.
"SingSpring was a real breakthrough for us," she adds. "It was a huge risk but because we had been handling membrane systems for a long-time from 1992, we had nearly nine years' experience. Membranes are a very scalable technology. It's like a fridge: you can build one fridge, you can build 10 fridges to 1000 fridges -- you just put them together. This project was the breakthrough for us -- we accepted the challenge and built the first one."
Pre-empting the needs of water supply utilities and communities falls in line with Lum's success. For SingSpring, she insisted that a membrane plant of this scale would work, despite the doubters and critics. The result? The largest membrane-based desalination plant in Asia at the time.

This was the same for Hyflux's winning bid for the Magtaa desalination plant in Algeria, North Africa. Lum insisted that a 500,000 m3/day plant using membranes would work for the region. The result? The largest membrane-based desalination plant in Africa. Notice a pattern here?
Despite delays, including a warehouse fire, Magtaa was inaugurated in November 2014. Water will be supplied to Oran, Algeria's second largest city and neighbouring provinces under a 25-year water purchase agreement with L'Algerienne Des Eaux and Sonatrach.
"We are now on the road to operating the Magtaa plant," the CEO says. "It's not 100% fully operating yet -- we are waiting to tie up with the main water pipeline but I expect full flow to be anytime."
Investing in Oman
In March Hyflux signed a water purchase agreement for its 200,000 m3/day independent water project (IWP) in Qurayyat, Oman. Construction of the US$250 million plant is expected "soon" with the project scheduled to start operation in May 2017. Water will be supplied to the Oman Power and Water Procurement Company (OPWP) under a design, build, own and operate model (DBOO).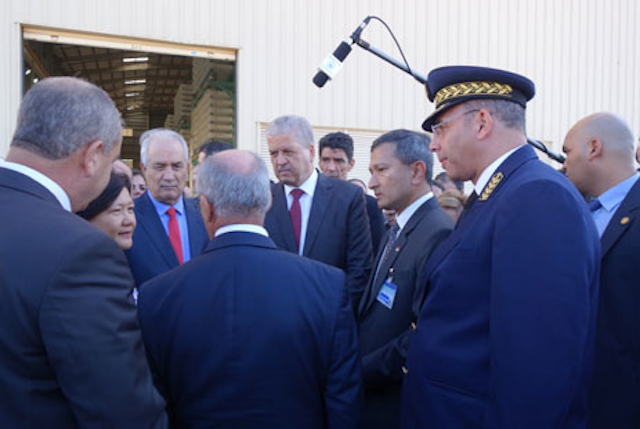 Going big in Africa: the inauguration of the 500,000 m3/day desalination plant in Magtaa, Algeria. Lum says Hyflux is waiting to tie up with the main water pipeline
"We're not new to Oman," says Lum. "We built a smaller plant as an engineering, procurement and construction (EPC) contractor a couple of years ago for Salalah. We look to Oman as a very progressive country when it comes to water conservation and management. Winning Qurayyat gives us more confidence in that country and also from Oman, we'll be able to launch into other countries nearby."
She adds: "We saw the [membrane over thermal] trend coming a couple of years ago but because of the Arab Spring and financial crisis, they have slowed down progress. Now there is pent up demand in the desalination market and membranes will be the choice compared to thermal."
The CEO believes that future desalination projects will be delivered across MENA as both mega plants -- at the scale of Magtaa -- particularly in industrial areas where water is needed but also smaller desalination plants, ranging from 10,000 m3/day -- 50,000 m3/day for coastline communities.
Three out of three in Singapore?
Singapore's second desalination project -- the 318,500 m3/day Tuaspring -- was also delivered by Hyflux as a DBOO project with a fixed low price of S0.45 per cubic metre for the first year. Uniquely, in the company's bid, Lum included a promise to build co-located a 411 MW combined gas turbine power plant.
The plan was that around 50 MW would be used to power the desalination plant with the remaining 361 MW being exported to the grid. This marked Hyflux's entry into the power project segment. The water production element of the project started operation in September 2013, with the power side expected to be delivered later.
"The power generation is now on track to start commissioning the second half of this year," adds Lum. "Next year will be full flow."
Power generation to one side, WWi recently reported how Singapore will soon be looking to build a third desalination plant, after SingSpring and Tuaspring. Will the CEO be looking to make it three out of three bid wins for Hyflux?
"Of course," she adds confidently. "We are keen on any large scale desalination plant, not just in Singapore but worldwide as well. The tender is not out yet so it's still too early to talk about it."
Insight on India
The start of engineering, procurement and construction of Hyflux's venture into India --a 336,000 m3/day desalination plant being delivered in partnership with Hitachi -- was highlighted in the Annual Statement as a reason for "lower revenue".
Lum is cautious when commenting on this project, saying "Dahej took longer than expected to close" and that partner Hitachi "is the one driving the project and they are still working on it with the Indian government". Naturally, the CEO does not want to put a timeline against the Dahej development at this time.
International revenues
Looking at the bigger picture, Hyflux to date now claims to have more than 1,300 membrane products and systems installed in over 400 locations worldwide. In FY2014, Singapore contributed 72% of total revenues, with China contributing 15%, MENA 7% and others 6%. Lum says with revenue dominated by EPC rather than operation and maintenance (O&M), this is reflected in the figures.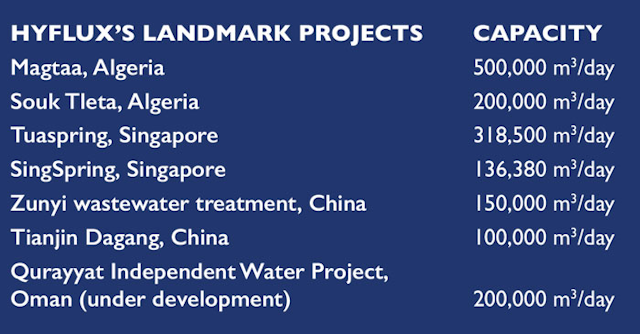 "The Hyflux business today is dominated by EPC revenue," says the CEO. "We do have O&M revenue but this is small and relative to the EPC business. It all depends on where the demand is. For example, when we have a big project like Tuaspring and we are executing the EPC phase, the revenue from this region will dominate."
Lum goes onto add: "Asia has grown very strongly so therefore you can see that we get a lot of our revenue from Asia. We do see a pick up from the Middle East, as well as Africa, so we do expect that over the next couple of years we will see some balance in revenue in Asia, Africa and Middle East."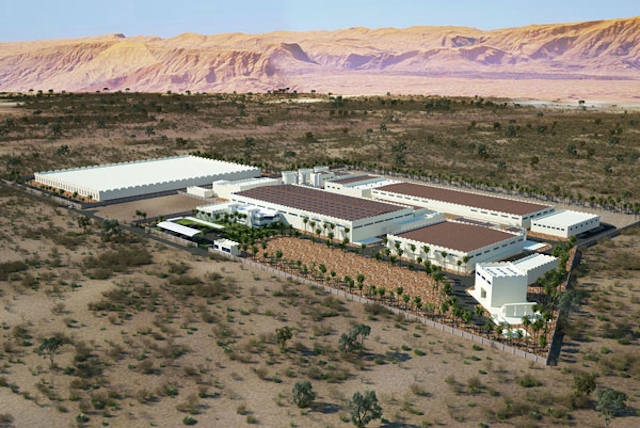 Omani opportunity: Hyflux will deliver the 200,000 m3/day Qurayyat project in Oman, slated to start in May 2017, supplying water to OPWP
Forecasts suggest recovery is in sight for the desalination market as project delays and cancellations gradually give way to new project announcements and tenders. With a 61% growth rate expected for the desalination market, expected to become a US$21 billion a year industry by 2019, this could help even out Hyflux's balance sheets.
Perseverance is key
There's so much I want to chat with Lum about it's almost impossible to squeeze it into a short telephone interview and article. There's the company's 30,000 m3/day "floating desalination vessel" it launched at the Singapore International Water Week '14. The CEO says they're working on many enquiries. And there's a partnership with Danish pump giant, Grundfos, to explore the potential of using pumps with ultrafiltration membranes in a packaged application. Results from this research are now in but Hyflux "has not decided what to do next".
Concluding the interview, I want to find out what has driven Lum to grow the business she has. What marks her different to other CEOs and why she, as female in a male engineering dominated industry, has succeeded where others have failed.
"Perseverance," she says astutely. "A lot of entrepreneurs may have a great idea, good products and good suggestions but they give up easily. They don't persevere enough. As an entrepreneur -- perseverance is a must have attitude. Water is a sunrise business. Don't easily give up. Water is becoming more and more scarce. Population and industrial growth mean there is more polluted water. These are critical elements that will propel water to the next level."
Hyflux's CEO finishes by saying: "There may be people who are not keen on the water industry or business but I think someone has to do something about it and that's what we're doing."
It's this humble attitude that has earned Lum the respect she deserves in the global water market. When retelling her story, she repeats the phrase "I told myself", when referring to making a decision on her next move: whether it's quitting Glaxo, launching her own water technology or bidding against the odds for SingSpring in Singapore or Magtaa in Algeria.
The CEO clearly has inner entrepreneurial voice guiding her, as well as a dogged determination that has driven her to scale up the business and keep growing.
Lum is an inspiration to every water professional out there wanting to grow a business, and human being -- no matter how tough your start in life -- on sticking with your dream until it becomes a reality.
Tom Freyberg is the chief editor of WWi magazine. For more information on the article, please email: tomf@pennwell.com
More Water & WasteWater International Current Issue Articles
More Water & WasteWater International Archives Issue Articles