World News
Collection of water and wastewater new headline from the World

Dec 1st, 2013
1 US: Missouri
The U.S. Metropolitan St. Louis Sewer District (MSD) selected a Black & Veatch-led team to manage the construction of more than $500 million in future tunnel projects. The tunnels are a significant part of the MSD's Project Clear – a multi-billion dollar effort to address sewer overflows and basement backups throughout the St. Louis area. The seven tunnels will range from nine feet in diameter to more than 20 feet.
2 US: Delaware
Revised wastewater system regulations in the state of Delaware kicked in at the beginning of January and aim to tackle excess nutrients in local rivers and streams. Currently many are said to be considered unfit for swimming due to high levels of nitrogen and phosphorous entering the waterways. The regulations set to protect homebuyers from buying malfunctioning septic systems.
3 Chile
Mining companies using more than 150 litres/second of water for extraction purposes could soon be mandated to install seawater desalination equipment, following the submittal of a new bill. A group in the lower house of the Chilean national congress submitted the bill in mid December and it is being considered by the Committee on Mining and Energy.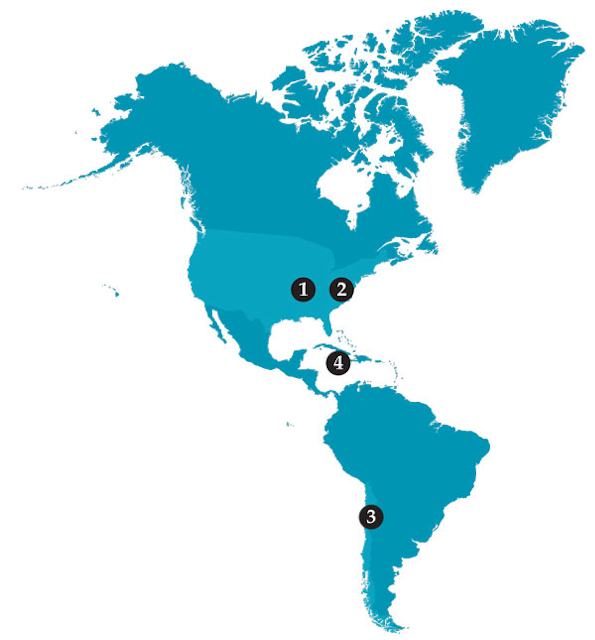 4 Jamaica
New regulations enacted in Jamaica will mean WWTP operators will require new licenses under three possible categories. This includes the construction of a new WWTP or reconstruction (rehabilitation and or upgrade) of an existing treatment plant; the operation of a wastewater treatment plant and the discharge of treated sewage and trade effluent into the environment.
5 Saudi Arabia
Middle East desalination powerhouse Saudi Arabia could be allocating the equivalent of $4.42 billion for desalination projects, according to a statement from the Saline Water Conversion Corporation (SWCC). The budget would be used in 2014 to complete the 1 million m3/day Ras al-Khair power and desalination plant.
6 Pakistan
Chemicals company Archroma has opened an effluent treatment facility for a textile operational site in Jamshoro, Pakistan, at an investment of 371 million PKR (US$3.5m). The plant is spread over an area of 25 acres consisting of flocculation, equalization, surface aeration, clarification, ultra filtration and reverse osmosis to yield colorless water with a COD and TDS of less than 75 ppm.
7 Abu Dhabi
With demand for potable water expected to double in Abu Dhabi, three major desalination projects are currently in the works. In line with the development and aligned with its commitment toward Abu Dhabi Vision 2030, Abu Dhabi Water & Electricity Authority (ADWEA) has formed a strategic partnership with PennWell Corporation in support of the upcoming WaterWorld Middle East and POWER-GEN Middle East conferences to be held in Abu Dhabi in October 2014.
8 Africa
A memorandum of understanding has been signed between the United Nations Industrial Development Organization (UNIDO) and DNV GL - Business Assurance to develop and implement joint projects in the field of water footprint measurement and promote water management best practices, with a particular emphasis on Africa. UNIDO and DNV GL will jointly develop a water footprint self-assessment tool to assist SMEs.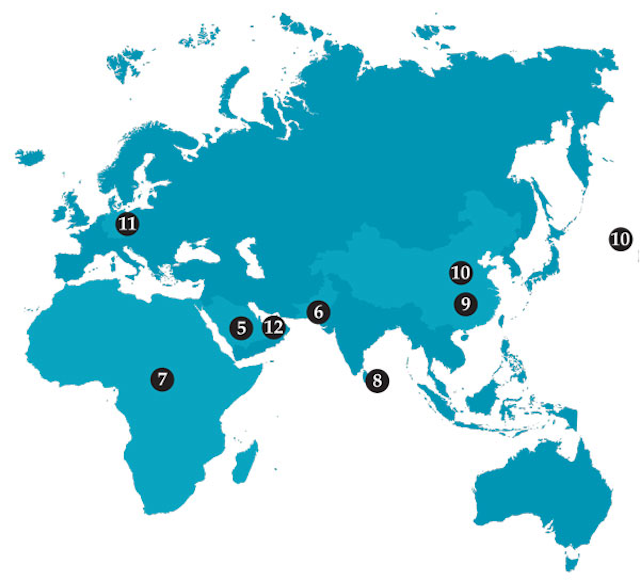 9 Sri Lanka
The island country of Sri Lanka will soon receive an integrated water supply program for the city of Badulla and surrounding communities of Ella and Haliela. Engineering company Tetra Tech will design and complete a new water supply treatment plant and associated works. The $74 million contract will be financed by the United States Export-Import Bank for the Sri Lanka National Water Supply and Drainage Board.
10 China
Sembcorp China will join forces with the Tangshan Caofeidian Yongtai Industry Co to build, own and operate an industrial WWTP to serve the chemical industrial park. With a capacity of 10,000 m3/day, the plant will begin operations in 2015 to treat high concentration industrial and high oil content wastewater. The industrial park is close to Tangshan City, which is rich in coal and oil.
11 Germany
The Dammweg thermal power station in Chmnitz, Germany has taken an order for 60 reverse osmosis (RO) membranes from Lanxess to treat 50-60 m3/hour of river water for steam generation. The membranes will be used in an RO facility designed by Veolia Water Solutions & Technologies' subsidiary Berkefeld.
12 CHINA
Sinpopec Jiujiang Petrochemical Company, Jiangxi province, has contracted Siemens Energy for the supply of a refinery wastewater treatment system to help meet new national discharge standards for wastewaster and water reuse. The wet air regeneration and wet air oxidation systems will treat oil wastewater for reuse in the refinery. Salty wastewater will also be treated before being discharged into the Yangtze River.