Let it Rain: UK Plays Catch Up on SuDS
Confusion over responsibility has meant England and Wales in the UK are playing catch up with global environmental leading countries when it comes to Sustainable Drainage Systems (SuDs).
Sep 1st, 2013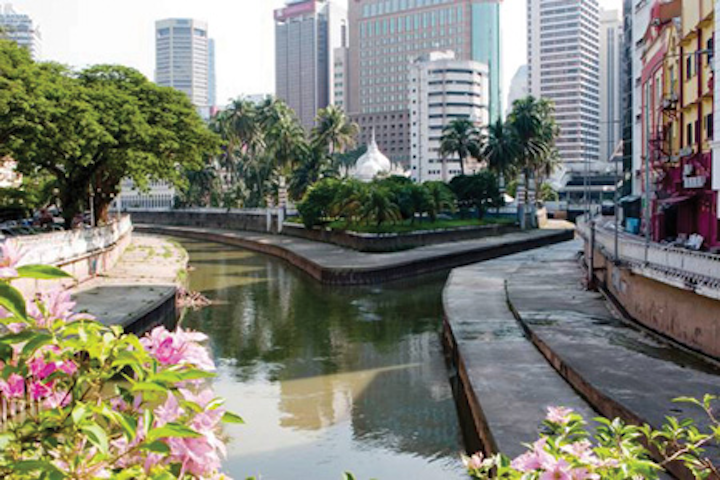 Confusion over responsibility has meant England and Wales in the UK are playing catch up with global environmental leading countries when it comes to Sustainable Drainage Systems (SuDs). A look at which councils have been more progressive and available commercial opportunities.
by WWi. magazine
Sustainable Drainage Systems (SuDS), also known around the world as BMPs (Best Management Practices) and LIDs (Low Impact Developments) have come a long way in a short time in England and Wales. Over a decade of doubt over responsibility forced the two countries playing catch-up with the rest of the world.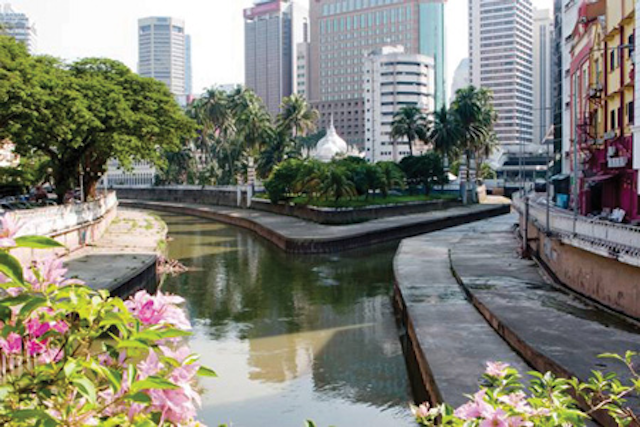 The confuence of the Gombak and Klang rivers in Kuala Lumpur
Early adopters such as the US are still generating headlines – a conference in New Jersey at the end of July held ambitious discussions about the use of green infrastructure (another commonly-used term) to manage stormwater and help communities to better withstand superstorms such as Hurricane Sandy.
Elsewhere in the US, the EPA recently invited Great Lakes cities to apply for up to $1 million in sliding-scale funding for green infrastructure projects to reduce urban runoff and sewer overflows.
The grants can be used to cover up to 50% of the costs of rain gardens, bio-swales, green roofs, porous pavements, greenways, constructed wetlands and other green infrastructure measures.
The search for stormwater attenuation methods has also spawned a vast amount of green roof research around the globe. Berlin, Germany, is one of the key centres of research, and there are a further 40 countries around the world involved in the push including ten centres in the US alone, which provides federal tax credits of $1.80 per square foot of green roof.
Shout from the [green] rooftops
In England and Wales, SuDS activities have until recently been moving at a far gentler pace than the US. This is because the legal situation regarding responsibility for construction, operation and maintenance has been remarkably murky. As a result Scotland has raced ahead with a variety of SuDS projects, while argument confined progress south of the border to a relatively few landmark projects. The situation is gaining welcome clarity now, however, which is driving a boom in SuDS. The government has stated that it aims to commence Schedule 3 of the Flood and Water Management Act in April 2014. This will make the right to connect to surface water drainage to the public sewer conditional on approval of SuDS by new local authority SuDS Approving Bodies for developments of more than one property, in line with new national standards.
Government is working through the various issues in inter-disciplinary task and finish groups comprising local authorities, developers and the water industry. The aim is arriving at an "innovative and practical solution" that all parties can sign up to. Recommendations for the national standards will be revealed this autumn.
Research body CIRIA's associate Paul Shaffer notes that: "Things are changing. Maybe not as fast as some people would like, but not as slow as others would."
He adds: "With the draft Standards developers and local authorities are looking at the destination of runoff now to manage peak flows, volumes and approaches to manage water quality, and how to ensure systems work as designed. This is placing local authorities in the driving seat."
Within this procedure there are obviously a few key questions that need to be answered, he adds, such as the costs of delivery, and of maintenance.
"Hopefully we are moving away from the question of who looks after SuDS," he adds.
On the costs side, he notes that "it is always a challenge to ensure there is not an added burden for developers. There is a growing body of evidence to suggest that if consultation between developers, their designers and local authorities happens early enough and follows SuDS principles of dealing with stormwater as close to the source as possible and on the surface, it is possible to get a low-cost scheme."
The SuDS bible
CIRIA completed guidance in 2012 on retrofitting SuDS to manage surface water in existing developed areas, and launched an innovative online community, Susdrain.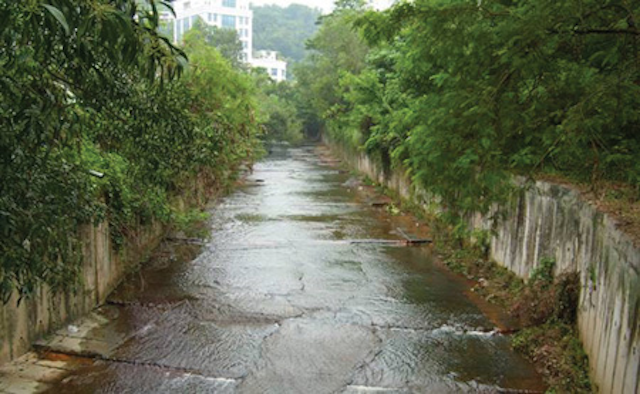 Cleaned-up: a water course in Kuala Lumpur into which a Downstream Defender discharges
The site has already had 5000 visitors per month, with many people downloading case studies and commenting on the blogs about issues such as affordability and local delivery.
CIRIA is also starting the process of updating the SuDS manual, the stakeholder "bible". This is being undertaken in recognition of the significant growth in stakeholder numbers since its publication in 2007 and the increasing number of SuDS schemes in the ground, which means that practice has also moved on. The revision also aims to fully support the national standards. "Guidance will likely be available in winter 2014/15, and we've undertaken consultation to get people's views on the original SuDS manual with a view to how to make changes going forward, starting this autumn," Shaffer adds.
The hope is that another project on demonstrating the multiple benefits of SuDS will help to establish the business case.
Cambridge leading the way
Among the lead councils in England now is Cambridge, which has provided another useful resource - guidance.
Simon Bunn leads the Sustainable Drainage design team at Cambridge City Council, which produced the award-winning Cambridge SuDS design and adoption guide in 2009.
He says: "This was in advance of any SuDS legislation and in response to the prospect of major growth in and around Cambridge. Adoption was seen as a barrier to the implementation of SuDS and our councilors took the decision in 2007 to adopt SuDS to promote their implementation within these areas of growth."
The Water Bill, which is currently going through Parliament, also provides for sewerage undertakers to build and maintain drainage to slow down or prevent surface waters entering a public sewer, using SuDS where possible. Online forums have been full of discussion of whether this clashes with the Flood and Water Management Act schedule.
Bunn sees the Water Bill's proposal to allow water companies to construct SuDS as a positive move, explaining that "in Cambridgeshire as part of the Cambridgeshire Flood Risk Management Partnership, which is led by the County Council, we are working together with Anglian Water on surface water management plans and some of the measures to reduce risk across the city might involve the construction of SuDS."
He cautions that the steps local governments should be taking to prepare for their enhanced roles are "very dependent on the commencement of schedule 3 of the Flood and Water Management Act and the associated National SuDS Standards and Guidance". Although it has been announced that it is the intention of Defra to aim for commencement in 2014, the detail of what actually will be commenced will define how local authorities should prepare for their role.
Commercial opportunities
Commercial companies are also noticing the sudden change in uptake.
Jeremy Hughes, the commercial manager of Formpave, which makes the Aquaflow permeable paving system, says one of the challenges is adherence to legislation.
Design services manager John Lloyd explains that 2008 planning legislation "removed the right of a domestic homeowner to connect to a sewer, and is intended to prevent private domestic homeowners discharging the water from a driveway onto a public footpath or road".
He adds: "The way this was envisaged as working is that all private homeowners would have to apply for planning permission for their new drives or hard standings/patio's over 5 m2 in area. The aim was that gaining the relevant permission was far more costly than just constructing the drive using a permeable pavement or soakaways. Unfortunately local authorities have yet to enforce these new planning laws."
The planning legislation was introduced in 2008 as a measure derived from the Pitt Report on the UK flooding in 2007, he explains.
He notes that local authorities have not had the funding to impose this ruling. "They are already very much stretched, and cannot employ people in the planning department to enforce this. It's disappointing, because it means that standard paving on driveways is still prevalent."
Hughes adds that concerns about maintenance costs and environmental impacts, and also whether permeable paving can be dug up and re-used, have stalled the process.
Permeable paving, he explains, is the top layer of a SuDS system that requires the creation of multiple layers that must be installed in a particular way. In addition, different manufacturers adopt different approaches to their construction. Local authorities, he explains, have expressed concern about excavations into these carefully-constructed systems, for instance for utility repairs.
Lloyd says that Oxfordshire has been adopting these systems for eight years and now has a good understanding of the costs of construction and maintenance. "They believe it is cheaper than traditional tarmac," he observes.
Water framework directive driver
Alex Stephenson of stormwater control and wastewater treatment specialist Hydro International adds that treatment is becoming a more and more important feature in SuDS schemes. He says this is partly due to potential Flood and Water Management Act requirements and also driven by the Water Framework Directive (WFD), which requires specific surface water quality improvements by set dates.
The Flood and Water Management Act requirements "if everything goes according to plan will be a tipping point," he adds. "Every decent sized development will have to include SuDS and local authorities will have to take responsibility."
Again, he points to the popularity of proprietary devices compared to the more extensive pond and swale systems. "If a development needs storage, control and treatment it can take up the space of seven houses. This is where proprietary devices are becoming popular."
SuDS are finally taking off
Phil Gelder, of consultant Richard Allitt Associates, notes that "at long last some of the blockages [to SuDS] are being removed. Some water companies, certainly Severn Trent, look at SuDS as a potential solution for dealing with sewer flooding."
In the business plans that the industry is currently preparing for the next AMP, he predicts that SuDS will be in the mix of projects.
He adds: "If people will embrace partnership working, it will work. We need people who are willing to work together for the benefit of everyone. Because there are so many partners involved in the water cycle, unless there is joined-up thinking we won't get it right". He nevertheless concludes: "These are very exciting times. Things are moving in the right direction."
For more information on this article by WWi magazine, email: tomf@pennwell.com.
---
Case study: Urban SuDS
One key perceived obstacle, retrofitting SuDS systems into built-up environments, is now being successfully overcome. Owen Davies of the London Borough of Lambeth explains that the council is undertaking some innovative SuDS schemes in one of the country's most urban areas.
The borough is experiencing a range of challenges that have put it at the forefront of urban SuDS development. Davies says: "We have 46,000 properties that suffer urban flooding, population increase and lots of land grabbing, with Victorian sewers almost at capacity."
When deciding what sort of SuDS system to adopt, the borough looked predominantly at land use. "15% of the borough is public highway, and there is other local authority property. So we are looking at constructed grass verges on SuDS principles."
Modeling showed one such verge would absorb 35% of runoff. The council has constructed 1115 m2 of verge in the past 15 months, and has also installed a rain garden. "Where the opportunity arises we are putting in green infrastructure/SuDS elements to slow water down," Davies explains.
Lambeth's work has been undertaken in the full knowledge that under the FWMA it will have to maintain the systems it installs. The verge construction has been undertaken opportunistically alongside highways work, at a standard cost. "It's all about being repeatable," he says.
The council is also considering two major schemes in parks, one of which will attempt to contain the rainfall in the park within the park, and the other diverting highway flows into the park, where they will be attenuated. "Hopefully both will be delivered this year," he says. The London Boroughs of Haringey and Kensington and Chelsea are also looking to deliver schemes this year.