Sludge Treatment
Collection of product and news annoucements focused on Sludge Treatment

May 1st, 2013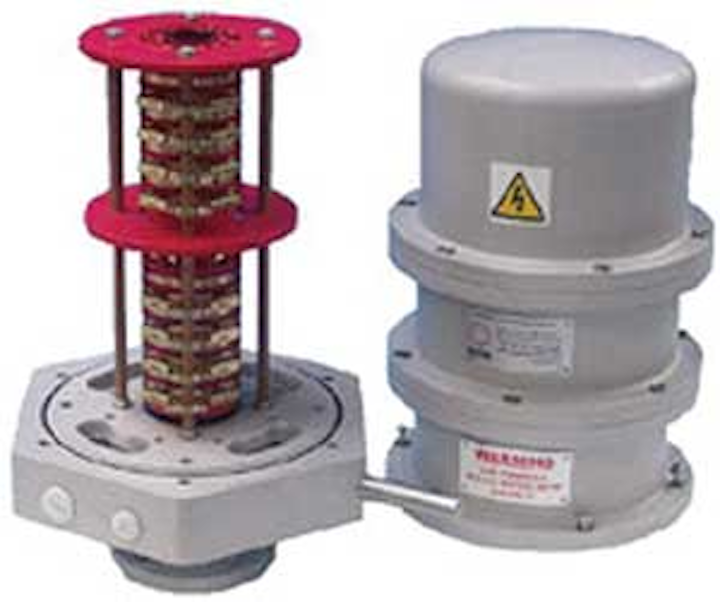 Slip ring collectors for wastewater applications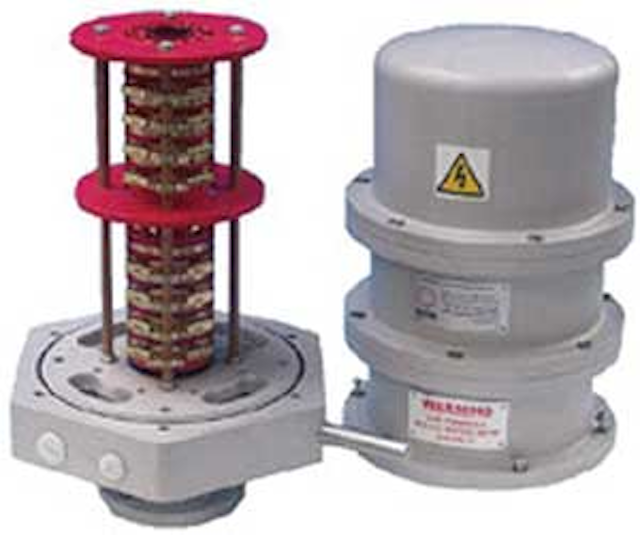 BGB Technology has introduced a "SPB" line of slip ring assemblies for use as collector columns within half bridge clarifier and scrapper systems. This line of slip ring collector systems uses fully standardized components and has ability to be refurbished and rebuilt, according to the company. The "SPB" 03 line of products are compliant to WIMES directive 2.01 section 6.12.2 for rotating half bridge scrappers, and are capable of both power and signal transfer, while offering a vandal proof enclosure system and I.P. 65 sealing. www.bgbinnovation.com
Integrated positioned linear actuator to control sluice gates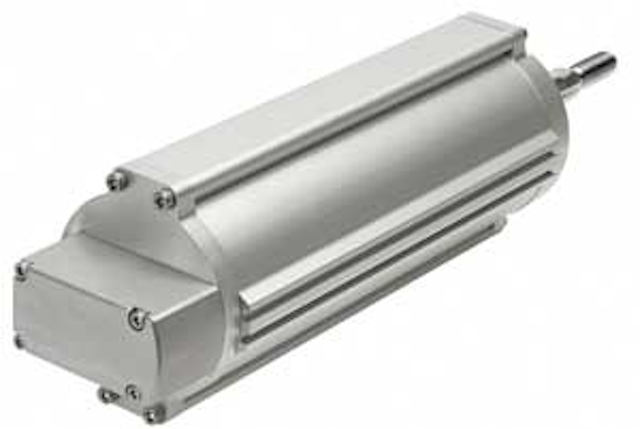 Festo has launched an intelligent linear actuator for process automation applications. The DFPI combines the functions of a linear actuator, a positioner and displacement encoder in one unit.
The DFPI solution has been designed to control knife gate valves and shut-off valves with regulated strokes and for use with all linear-actuated process valves. Festo said the DFPI is ideal for regulating knife gate valves in sewage plants, the bulk goods industry and any other applications in which the media in piping systems must be regulated.
For instance, it can be used to control sluice gates for the return sludge at final clarifiers; for the control of pump flow rate in cardboard production in the pulp and paper industry; and for the control of dart valves in many mining applications.
The DFPI has IP65, IP67 and IP69k protection and is designed to withstand harsh environments with moisture and dust, providing reliable operation. It also has high corrosion resistance class of CRC3. It is available in a wide variety of diameters (100, 125, 160, 200, 250 and 320 mm) and strokes from 40 mm up to 990 mm. Special designs above 990 mm stroke are also available on request.. www.festo.co.uk/dfpi
Sludge transfer problem solved in Germany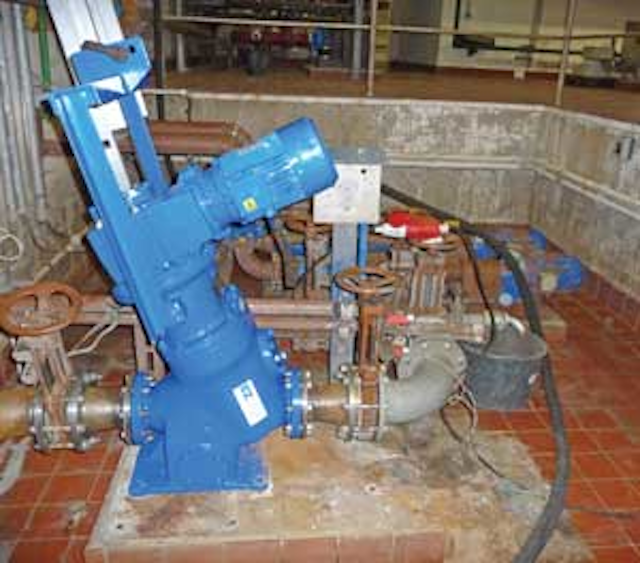 NOV Mono has helped solve an ongoing maintenance problem for a major German wastewater treatment plant with the installation of an EZstrip™ TR Muncher. The Mono Muncher® has dramatically reduced the number of pipeline blockages occurring at the Käranlage Jagersfreude plant – the largest facility of its kind in the Saarbrücken area.
The customer's previous macerator had been experiencing increasingly frequent blockages – often one each day - due to the 8-12% dried solids and fibre content of the raw sludge it was handling. The process of repeated de-ragging was both time consuming and expensive, so an alternative solution was sought.
The Muncher was designed specifically to provide efficient maceration of abrasive sludges in this type of application. The Muncher's layback cutter shafts are set at an angle to the incoming sludge flow, making it extremely effective in capturing and macerating solids held in the flow.
For the Käranlage Jagersfreude plant this helped to increase protection for pumps and other equipment further along the process line by minimising wear and so reducing the needs for spares to be held. www.mono-pumps.com
Sludge drying plant uses cooling screw technology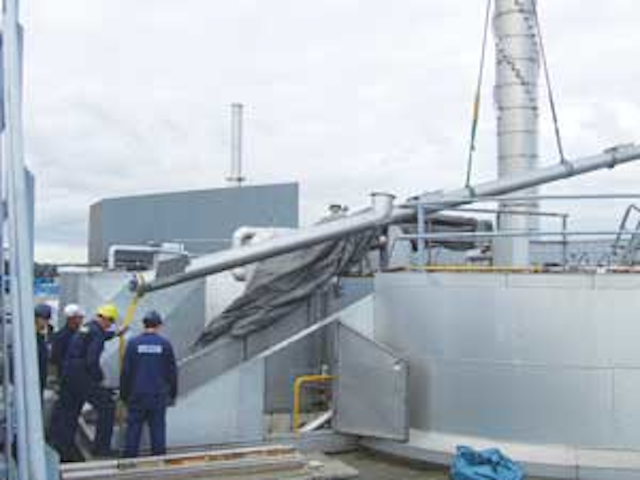 The sludge drying plant of the District Water Control Board of Holland North District (Hoogheemraadschap Hollands Noorderkwartier – HHNK) in Beverwijk processes waste 'sewage treatment sludge' into fuel for the HVC (Huisvuilcentrale) waste incineration plant in Alkmaar. They were said to have been battling for years with high maintenance costs, a high breakdown frequency and unsafe situations due to overheating, dust and odour nuisance. In cooperation with °Celsius BV from Drunen HHNK has upgraded its sludge drying plant into a safe, trouble-free and energy-saving plant.
During the treatment process the sewage treatment plant dewaters sludge to produce dry sewage treatment sludge. The dry matter content of this sewage treatment sludge is then only 18 to 23% and is not yet suitable as a secondary fuel for HVC. In the sludge drying plant the dewatered sludge first undergoes a drying and cooling process using a screw heat exchanger. The dried sludge leaves the drying process in pellet form and has then reached a dry matter content of 90 to 93%. Each year the HHNK sludge drying plant processes around 100,000 tonnes of dewatered sludge into 22,000 tonnes of fuel pellets.
The crucial improvement in the sludge drying process was to replace the long conveyor belt by a screw heat exchanger (or screw cooler) and two connected screw conveyors. The former conveyor belt could only carry pellets from the dryer to the storage silo. The screw cooler on the other hand transports and also cools the pellets by 30° to 40 °C. After this a long vertical tubular conveyor with an auger and a horizontal tubular conveyor with an auger transports the pellets to the storage silo. This improved set-up removes the danger of overheating in the storage silos and the pellets do now meet the HVC temperature requirement. www.celsius.nl
High-pressure couplings for sludge lines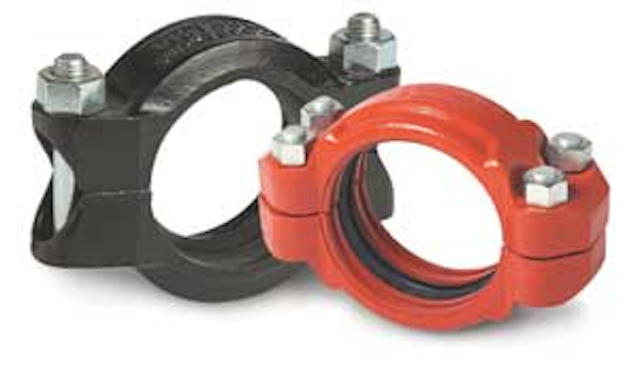 Victaulic high-pressure couplings, including the Style 808 and Style HP-70ES have been designed for joining sludge handling lines. They have pressure ratings of up to 4,000 psi (27,500 kPa), the Style 808 and Style HP-70ES.
The Victaulic Style 808 double-groove coupling engages into two grooves on each pipe end. This double-groove engagement of mating coupling keys provides superior joint integrity at high pressures by distributing pipe end loads. Double bolting on each side reinforces the double-groove positioning. The Style 808 coupling is capable of withstanding working pressures of up to 4,000 psi (27,500 kPa).
The Victaulic Style HP-70ES coupling features an EndSeal gasket with a center lip that positions between the pipe ends when the coupling is engaged, creating a smooth flow path. The heavy-duty housings in combination with the EndSeal gasket allow the coupling to accommodate pressures of up to 2,500 psi (17,235 kPa). www.victaulic.com