Europe
Collection of water and wastewater new headline from Europe

May 1st, 2013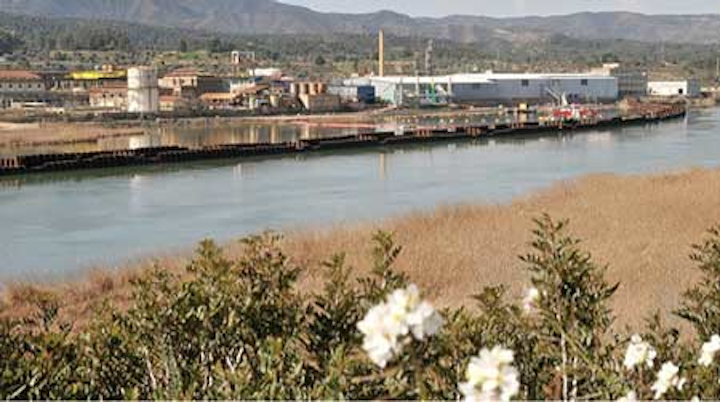 Contaminated Sludge Cleanup Begins on Spain's Ebro River to Reverse Toxic Legacy
A 200 million euro clean up operation has started to decontaminate the Flix reservoir on the Ebro River in Tarragona, Spain. The project was initially awarded to Spain's FCC in 2008 by Acuamed (a company owned by the national government and operated by the Ministry of the Environment).
Up to one million cubic meters of contaminated river sediment will be removed by the project to reverse more than a century of pollution. The pollution arises from toxic waste dumped into the Ebro by a local chlor-alkali plant which began operating in 1897, according to FCC.
It is estimated that the cleanup will take two years and eight months to complete. Project goals are to extract, treat and eliminate the contaminated sludge and subsequently restore the Ebro River and its ecosystem. FCC is responsible for constructing, operating, and dismantling the plant following the completion of the clean-up.
The sludge will be removed and treated in a process that will result in the restoration of the river water to its natural condition. The first step taken was to create a safe treatment location. A 1.3 kilometre-long double wall containment barrier was built to separate the worksite from the riverbed. The worksite was further isolated with the construction of a secant pile wall on the right bank.
The latest stage will see the extraction of about 960,000 cubic metres of sludge contaminated with heavy metals, organochlorides and a certain amount of radioactive elements. This sludge has built up along approximately 1,100 metres of factory wall and extends some 150 metres out into the river. It will be removed by an ecological dredging procedure and treated in the plants that have been set up nearby.
The treatment process will begin with wet sorting, where the materials will be separated and classified. Next the silt will be dehydrated. This dried material will be shipped to a warehouse where it will be stored and analysed so the appropriate treatment can be determined.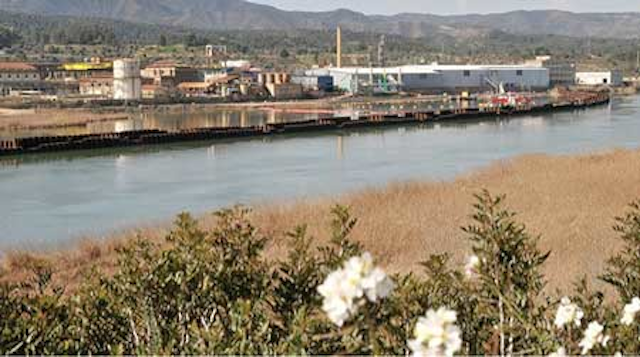 Meanwhile, all the water dredged out of the river and extracted during the treatment process will go to a water treatment plant, after which it will be returned to the protected area. Eventually all the material will be shipped to a landfill eight kilometres away that has been built specifically for this project.
The Flix Reservoir decontamination project draws 30% of its funds from the Spanish government and 70% from the European Union Cohesion Fund. There is also a Land Restitution Plan associated with the project, aimed at providing compensation for the people affected by the work.
This associated plan entails another 57 million euros investment, split between the national government (36 million) and the Catalan government (21 million), making for a total investment of over 200 million euros, the biggest investment ever for a decontamination project in Spain, according to the Ministry of Agriculture, Food and the Environment.
---
Pulp and paper sector to offer opportunities for membranes
Revenues of more than $983.9 million were made in 2012 from water solutions in the global pulp and paper market, with estimates suggesting this could reach $1.57 billion in 2020.
A new analysis from Frost & Sullivan (F&S), CEO 360 Degree Perspective on the Global Pulp and Paper Water and Wastewater Treatment Market, said that significant advances in closed-loop and minimal impact production facilities have added to market revenues.
Closed-loop systems are especially popular, as they enable the recycling and reuse of water within the pulp and paper industry, as well as recover excess pulp fibres in the wastewater, said F&S. A high water footprint and rising water prices have forced manufacturers in the pulp and paper market to adopt water-efficient and high-end equipment to treat wastewater and reduce water consumption.
The focus on water recycling, biogas generation and sludge management is sustaining strong investments in the water and wastewater treatment market for industry.
Pulp and paper manufacturers are switching from conventional treatment systems to more sophisticated solutions such as membranes to increase treatment levels and reduce the loss of raw materials. The large-scale implementation of this technology is predicted to become crucial to minimise the overall footprint of pulp and paper production. Customized treatment technologies from manufacturers are recommended to appeal to various end-users.
---
Bergkamp takes over as executive director of the IWA
The International Water Association (IWA) has appointed Ger Bergkamp as its new executive director. Bergkamp is taking up this position following the footsteps of former executive director Paul Reiter, who stepped into the role of IWA Strategic Counsel in December last year on a part time basis and relocated to work from the IWA Office in Singapore. The selection by the IWA Board was made after a global search and selection process, during which Bergkamp served as the IWA Interim executive director.
---
Desalination given solar boost in Spain
Spanish state-owned water company Acuamed has taken delivery of 804 kW of solar panels for its Murcia desalination plant in what is being called the largest rooftop PV solar installation located on a desalination plant. Construction of the 14,000 m2 rooftop installation began in September 2012 and was completed within three months.
The rooftop is expected to produce 1.2 million kWh per year, roughly equivalent to the total electrical needs of over 500 households. The energy generated will primarily be used to power the desalination process and to supply other operations in the plant in order to reduce energy costs.
---
Industrial UF membrane to be developed by Hyflux/Grundfos
Danish pump manufacturing giant Grundfos will be joining forces with Singapore firm Hyflux to develop a standardized ultrafiltration (UF) membrane-based sub-system for the treatment of surface and groundwater. It is hoped the development will enable both companies to include the supply of standardized UF sub-systems to system builders and OEMS.
One of the aims of the new UF system will be to handle varying types of feed water. The two firms have decided to formalize their collaboration after a joint period of conceptualization work and initial test phases.
This followed Grundfos announcing last summer an acquisition of US firm Enaqua, that specializes in ultraviolet technology, to help diversify into water purification from its main business of pumps.
It was during the Singapore International Water Week 2012 when Hyflux launched itsTri-bore membrane for water purification.
---
EC Closes Case on french price fixing
A year long investigation over allegations that French water firms Suez Environnement and Veolia Environnement fixed prices has come to end by the European Commission (EC). The case was opened following suspicions of a "cartel and abuse of a dominant position in the delegated water distribution and sanitation sector in France".
The EC reportedly did not find sufficient evidence against the French companies. The investigation started in April 2010 and formally opened in January 2012.
In a statement, Suez Environnement said: "SUEZ ENVIRONNEMENT and Lyonnaise des Eaux, which always fully contributed to the success of the investigation and cooperated confidently with Commission authorities, welcome this decision. It is in line with the reality of a highly competitive market, marked by more than 800 calls for tender per year, and water prices in France below prices in other European markets."