World News
Collection of water and wastewater new headlines from around the world

Nov 1st, 2013
1 Georgia, US
Siemens and Texas A&M AgriLife have signed agreements for research and development into efficient and cost effective technology to remove heavy metals from water and wastewater. A&M AgriLife is said to have developed a single process unaffected by temperature or pH-levels which can remove selenium, mercury, zinc, copper, chromium and other heavy metals, as well as metalloids to meet National Pollutant Discharge Elimination System limits.
2 New Jersey
Work is underway to develop a renewable energy facility at Middlesex Water Company's water pollution control plant in the Village of Ridgewood, New Jersey. The facility will feature an anaerobic digester that will produce biogas for energy generation. There will also be the potential to co-digest food waste.
3 Chile
Black & Veatch has been selected for a major desalination project at world's largest copper mine in Chile. The $3.43 billion Escondida Water Supply (EWS) project will provide water to support expansion of mineral production. Black & Veatch explained that its role is leading the engineering design, procurement, field inspection and pre-commissioning for the marine and desalination elements of the EWS project. Once complete the project will deliver 2.5 m3/sec of water to the mine, which majority-owned and operated by BHP Billiton.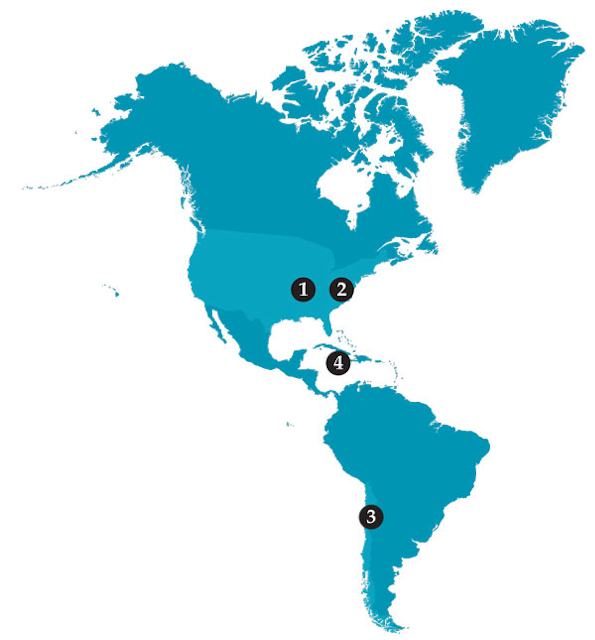 4 India
Xylem has won a contract for the installation of a biological wastewater treatment system in the Indian state of Gujarat.
The company said that it will be responsible for the new installation as well as providing on-going service and maintenance for the 700,000 m3/day wastewater treatment plant for the Jamnagar Municipal Corporation.
5 Bangladesh
The Asian Development Bank (ADB) has approved a $250 million loan to expand the coverage and quality of water supplies to nearly 11 million people in Dhaka, Bangladesh's fast-growing capital city. According to the ADB, Dhaka has been drawing heavily on groundwater, but the current rate of extraction is no longer sustainable with the water table falling by 2 to 3 metres a year. In total the project is expected to cost nearly $675 million and be completed by December 2019.
6 Israel
IDE Technologies has completed work on the 624,000 m³/day Sorek seawater reverse osmosis plant in Israel, which is now fully operational. Located to the south of Tel Aviv, IDE said that the $400 million plant is currently supplying 540,000 m³/day to Israel's water distribution system.

7 United Kingdom
In a recently published White Paper, analysts at Bloomberg New Energy Finance claimed that increasing wastewater charges from £70 to £80 per year, as proposed by Thames Water to pay for its new £4.1 billion 'super sewer', could correspond to a 24% post-tax return on equity invested - more than three times the average return in UK water assets. The analysts noted that the project has been controversial environmentally and also because of the need to raise water bills to finance it.
8 Vietnam
Municipal authorities in Ho Chi Minh need to issue policies encouraging private investment in wastewater recycling, delegates at a recent seminar in the city were told. According to a report in the Vietnam News, the city releases a total of around 1.7 million m3/day of domestic and industrial wastewater directly into rivers and canals, badly polluting the environment.
9 Sydney
A$10.4 million upgrade to Smeaton Grange wastewater system in Sydney, Australia is almost complete. Utility Sydney Water began construction in October 2012 with the replacement of wastewater pumps to increase pumping capacity of the station. Additionally, a large emergency wastewater storage tank was finished in June this year and the installation of the new wastewater pressure main is currently underway and expected to be completed by the end of this year.
10 Belgium
Water pollution caused by nitrates has decreased in Europe over the past two decades, but agricultural pressures are still putting water resources under strain, according to a new report on the Nitrates Directive by the European Commission.
However, the research went on to caution that while the overall trend is positive, nitrates pollution and eutrophication – the excess growth of weeds and algae that suffocates life in rivers and seas – are still causing problems in many Member States.
11 China
NanoH2O is to build a 10,000 m2 manufacturing facility in Liyang, China at a cost of around $45 million.
The El Segundo, California based manufacturer of RO membranes for seawater desalination, said that the facility in China will allow it to take advantage of the growing domestic market.
The company added that China represents 20% of the world's population but just 6% of the global fresh water supply, and plans to increase its SWRO capacity three-fold by 2015.
12 Philippines
An upgraded wastewater treatment facility has been opened in Quezon City, Philippines. The US$6.15 million facility was funded by a US$1.32 million grant under the World Bank's Global Environmental Fund. The new facility is said to be able to discharge up to 2,640 m3/day of treated wastewater.