Products & Services
Compilation of product and news announcements focused on Products & Services

Jul 18th, 2013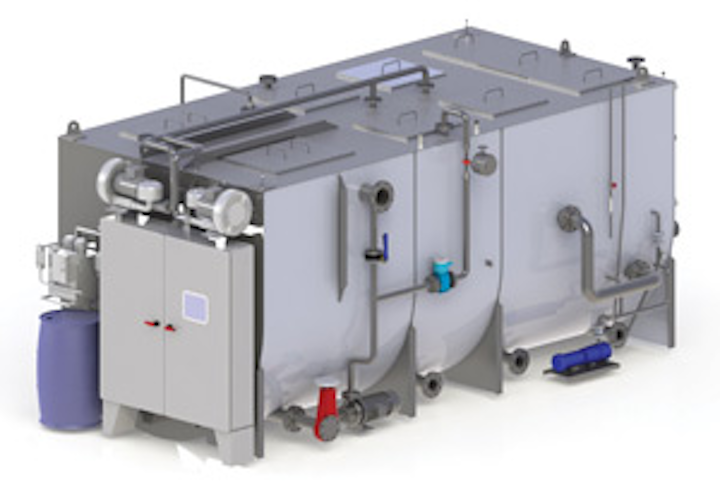 Compact MBBR unit for water reuse
The HIT-CS is a single compact unit that incorporates all the treatment stages required for producing effluent suitable for reuse. The compact system is comprised of equalization, pretreatment, ActiveCell® MBBR for BOD and nitrification, tertiary filtration, disinfection and is suitable for treating flows of up to 100 m3/day. The ease of operation with minimal maintenance means the plant can run for weeks and months without requiring dedicated.
We have further developed the system to produce secondary sludge at 8% dry solids and this has resulted in reducing sludge volume by half which reflects in half the disposal costs. Because of its super small footprint and excellent effluent quality produced, the system can be used for many different applications such as residential communities, labor camps, hotels and resorts, office buildings, construction sites, and decentralized systems.
---
Small Intrinsically Safe Flow Computer
Designed for operation with oval gear meters - the Titan Enterprises Metra-Smart is a small, intrinsically safe flow computer. The Metra-Smart was specifically designed for computing and displaying flow rates and totals as well as giving an analogue output proportional to flow. It can also give two pre-set flow switch points and calculate differential rates from two input sensors. The Metra-Smart will display Re-settable Total,
Accumulated Total and Flow Rate in engineering units as programmed by the user. Simple PIN protected flow chart programming with prompts guide you through the entire programming routine enabling effective use by even occassional operators.
Designed in glass reinforced nylon with stainless steel screws and Viton o-ring seals to suit harsh industrial and marine environments, the Metra-Smart is UV resistant and weatherproof to P67 (Nema 4X) standards.
---
Metering-surge bin for biomass materials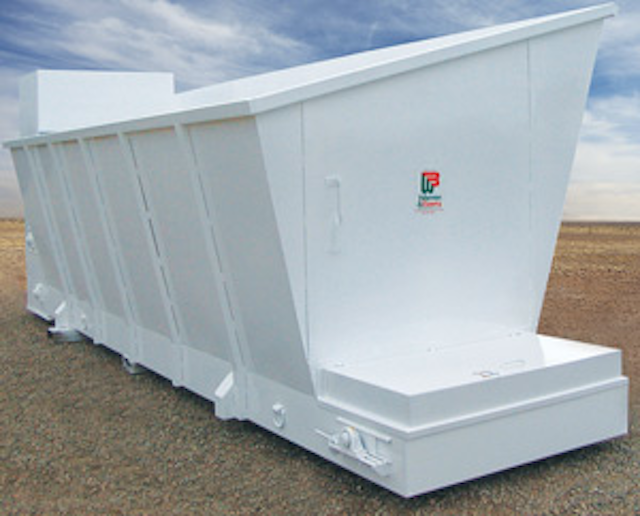 The Model MSB6-20-O Metering-Surge Bin can be used in the Agricultural, Biomass and Waste Industries. This latest generation of Metering Bin allows users to load fibrous materials with a Front-End Loader.
The Metering-Surge Bin provides a consistent, positive, and even flow of material for various applications. It provides cost effective metering of shredded or ground woods, stover, grasses, paper, cardboard, plastics, carpet and other similar materials from low rates to well over 100 tph.
The Metering-Surge Bin is built with straight side walls or can have a flared front and back walls for additional capacity and loading room. The flared back is gusseted and supported. There are two doffers up front and a V-Level rake before the top doffer. Depending on the out flow tonnage required, the floor drive motors are 2 horsepower or less and 7.5 hp or less on each doffer.
According to the manufacturer, the differences between this bin and existing models is its open for loading with a front-end loader, flared sides for more capacity and loading room, higher discharge flow rates.
---
Peristaltic hose pump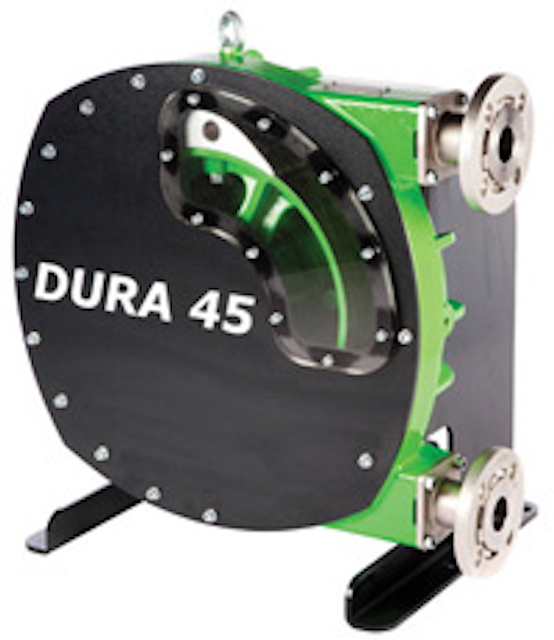 The Verderflex Dura 45 is the pathfinder in a new generation of medium flow, industrial hose pumps. The Verderflex Dura 45 combines a close-coupled pump's compactness with a long coupled pump's easy serviceability. Additionally, its patent pending flange design reduces downtime by speeding up hose changes while totally containing the pumped liquid inside the pump's housing eliminating any risk of workplace contamination.
Ideal for medium flow applications up to 12m³/h, the Verderflex Dura 45 solves pumping problems associated with dry running liquid streams, shear sensitive polymers, high viscosity sludge and pastes, variable speed dosing, abrasive solids in suspension and off-gassing fluids. This makes the Verderflex Dura 45 ideal for use in biogas production, brewing, chemical manufacturing, food processing, mining and water treatment.
---
Oxidator box for drinking water applications
The fluid technology specialist Bürkert has developed a ready-to-connect solution for automated oxidation air metering. The Bürkert oxidator box operates on the basis of a high-performance, flexibly configurable mass flow controller. The compact system solution can automatically regulate the gas quantity needed for oxidation based on different process parameters, to achieve optimal results with minimal gas consumption.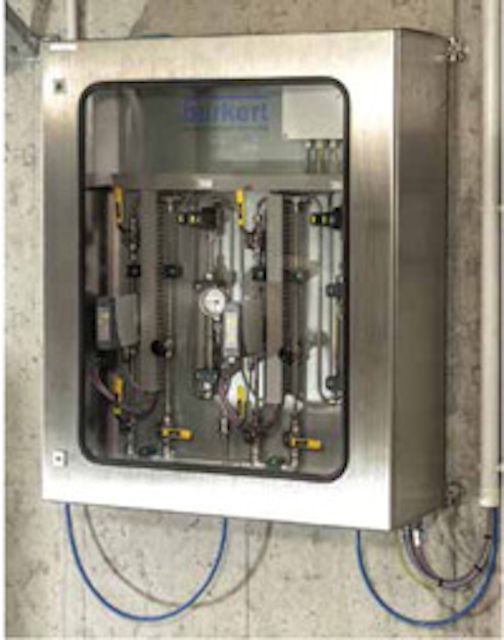 In addition to the treatment of municipal drinking water, the oxidator box is suitable for use in all applications where gaseous media have to be controllably metered into a liquid flow. One example is fish farming, which requires precise control of the oxygen content supplied to the breeding basin.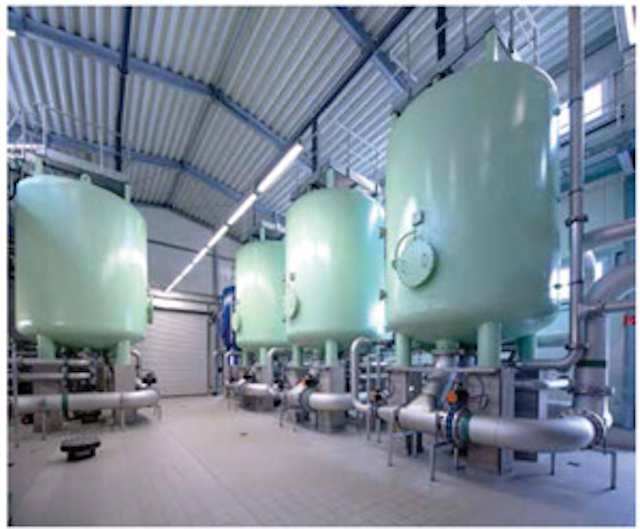 The flexible and cost-effective modular system is based on time-tested standard components and can easily and quickly be adapted to the requirements of individual users. The Bürkert mass flow controllers (MFC) Types 8626 and 8712 provide a high-performance basis for the oxidator box. Other safety-related functions such as pressure monitoring, emergency valves, check valves, optional manual operation or field displays are offered on an individual basis and delivered as a ready-for-connection solution in a stainless steel control cabinet or on a mounting base. "In the design and planning of the oxidator box we pay close attention to optimal cost effectiveness," Hartmut Schmalz explains. This means avoidance of over-dimensioning and non-relevant functions for the specific application.
Oxidator boxes used for oxygen are equipped only with oil- and grease-free components that are suitable for the application. All pipework is also oil- and grease-free.
Pipe couplings are used for the air inlet and outlet and cable glands are used for the sealed electric lines to the MFC. This construction ensures easy installation and trouble-free process connections.
---
2-Way AMI with Automated Leak Detection
Mueller Systems said soon utilities will have the ability to remotely detect and monitor water distribution main leaks through its latest advanced metering infrastructure (AMI) feature - Automated Leak Detection (ALD).
Set for commercial release in 2014, ALD integrates acoustic-based leak detection technology from Echologics with the Mi.Net(R) Mueller infrastructure network, Mueller Systems' fixed, two-way AMI network for utilities that fully automates the meter reading-to-billing process and provides remote access to real-time information, such as meter readings, alarm conditions and historical usage data.
It is anticipate that ALD should enable utilities to accurately detect and locate distribution main leaks - from their office - using laptops, smartphones and other web-enabled devices. This capability can help utilities more intelligently reduce non-revenue water while prioritizing and conducting repair projects by detecting leaks without using field crews, excavating potential leak sites or resorting to other costly and time consuming tasks normally associated with traditional leak detection methods.
The main component of ALD is Mi.Logger - a radio frequency transceiver featuring Echologics' sensors and algorithms housed in a cast-iron or high-density plastic enclosure that replaces the pumper nozzle caps of wet and dry barrel fire hydrants throughout a utility's service area. The Mi.Logger receivers collect acoustic data from pipelines before generating and wirelessly transmitting reports containing the data to the Mi.Net System's host software component - Mi.Host. Detected leaks, bursts, low flow and hydrant tampering can be viewed by utility workers online through the Mi.Host user interface, which is integrated with ESRI GIS Mapping software.
Workers can view the sizes and locations of leaks to determine whether or not immediate repairs need to be made, and they can compare collected data to reports transmitted by other Mi.Loggers to rule out false leak alarms.
---
Small testing device for detecting toxic blue-green algae
VTT Technical Research Centre of Finland has developed a testing device for detecting the presence of toxic blue-green algae in water.
Developed together with the University of Helsinki, the device is the size of a thermometer, and it contains antibodies that react to toxic bacteria found in a water sample. The test reveals in minutes whether the water sample contains toxic blue-green algae.
VTT said, at the moment, information on blue-green algal blooms in water is mostly based on visual inspections. However, visual inspections alone are not capable of determining whether an algal bloom is toxic. Until now, the toxicity of algae has generally had to be tested in a laboratory. For example, only approximately half of blue-green algal blooms in lakes are toxic and harmful to humans and animals. The new testing kit is designed to provide a fast and reliable means of determining whether a blue-green algal bloom is toxic.
Blue-green algae, also known as cyanobacteria, favour eutrophic and warm water. Cyanobacteria can be found in almost every terrestrial and aquatic habitat - oceans, fresh water, damp soil, temporarily moistened rocks in deserts, and even Antarctic rocks. Every year, they form extensive blooms e.g. in the Baltic Sea and other waters. The prevalence of algae each summer depends on factors such as weather and water nutrient levels. The first blue-green algal blooms begin to form when the surface of sea water reaches 15 degrees.
The testing kit for detecting toxic blue-green algae is in the process of being commercialised. The kits could be on sale within two to three years. www.vtt.fi
---
Floating aeration system to be installed in England
Utility Anglian Water, which provides water and wastewater services to over six million customers, has awarded Israeli firm Mapal Green Energy an aeration contract.
To begin with, Mapal's floating aeration system will be installed in a municipal WWTP (wastewater treatment plant) in Stanbridgeford, north of London. This installation presents an opportunity for Mapal to upgrade many WWTPs out of more than a 1,000 WWTP that Anglian Water operates.
Mapal claimed its floating fine-bubble aeration system can significantly reduce energy consumption and operation and maintenance costs of industrial and municipal wastewater treatment plants. The technology saves up to 70% of the energy cost of the wastewater treatment process, according to the manufacturer.
Mapal said: "The use of this unique technology also prevents environmental pollution by making it unnecessary to drain raw sewage into the environment during installation, as is often done in the conventional method."
Discussing the UK water utility market, Zeev Fisher, Mapal's CEO, said: "These private entities have a greater incentive to find methods and new technologies to reduce their O&M costs mainly the energy costs in the aeration process and to improve their profitability as they are rigorously regulated by the government in both water quality effluent and prices."
---
Val-Matic releases updated Swing-Flex and Surgebuster Check Valve brochures
Val-Matic has released updated versions of their Swing-Flex and Surgebuster Check Valve brochures. The Swing-Flex Check Valve features a streamlined contoured body which provides a 100% unrestricted flow area.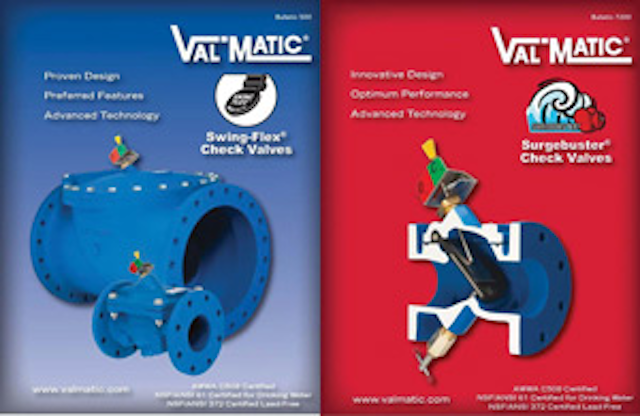 The Surgebuster Check Valve features the patented Disc Accelerator, which is a stainless steel mechanism that closes the valve disc rapidly thus avoiding slamming by flow reversal and allowing the disc to be stabilized under flow conditions. Additional features including drop tight seating and a 35° short disc stroke to help reduce the closing time of the valve minimizing flow reversal and the resultant water hammer normally associated with the sudden stoppage of reverse flow.
Val-Matic Swing-Flex and Surgebuster Check Valves are available in sizes 2"-48" with fusion bonded epoxy interior and exterior for pressure ranges up to 250 PSI. A variety of accessories are available including backflow actuators and disc position indicators. Both valves have been independently flow, cycle and proof of performance tested. These valves fully comply with AWWA C508, meet NSF/ANSI 61 for potable water use and are NSF/ANSI 372 Certified Lead-Free by WQA.