North Africa/Middle East
Sep 1st, 2010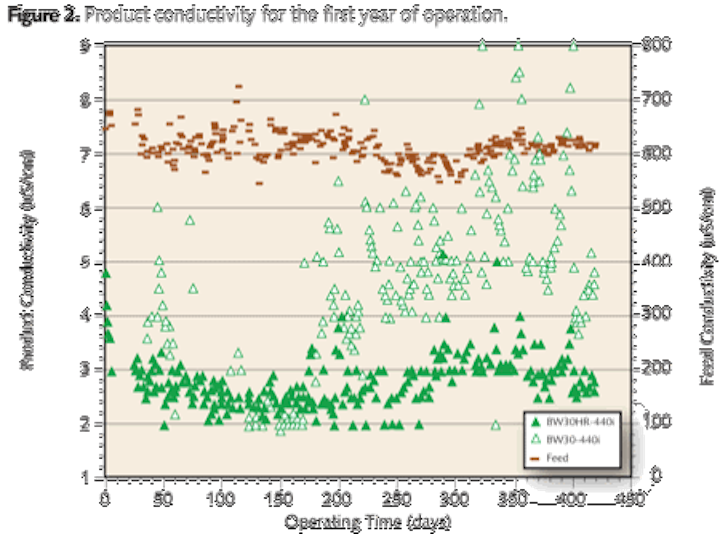 Omani commission proves membrane bioreactors in Middle East
A submerged membrane bioreactor (MBR) wastewater treatment plant in Muscat, Oman, has successfully gone through its proving process on its journey to eventually treat 220,000m3/day.
ACWA's MBR facility in Al Ansab will eventually treat an ultimate population equivalent of 900,000 and initial stage will treat flows of 76,000m3/day using 304 double-deck MBR modules —121,600 panels in total.
The client, the Oman Wastewater Services Company (now Haya Water), opted to use MBR technology because it required a "high-quality, economical water supply" for irrigation.
ACWA was awarded the technology contract to supply the membrane units, undertake process design and assist with detailed design, engineering, installation and commissioning of the plant three years ago. Plant design was undertaken in collaboration with KAME, the Metcalfe & Eddy joint venture with Lebanese consultant Khatib & Alami.
Peter Ripley, managing director at ACWA, said: "Membrane bioreactors are an extremely attractive option in the Middle East, where acute water scarcity means countries are increasingly looking to reserve expensive desalinated water for potable use alone. ACWA has sold 33 MBR plants in the region over the past five years."
During treatment, screened and de-gritted wastewater flows by gravity through the eight MBR tanks. Sets of four membrane units are coupled together and an automatic chemical cleaning system ensures minimum fouling and system downtime.
The BNR (biological nutrient removal) design, which incorporates both aerobic and anoxic zones within the main treatment structure, also enables denitrification of the effluent. Tests have also found minimal total dissolved solids (TDS) of 500mg/litre in the plant's final effluent, equivalent to the US standard for drinking water.
IN BRIEF
Investment scheme Aqua Resources Fund, managed by FourWinds Capital Management has subscribed for £2 million (EUR2.4 million) of secured loan notes in Bluewater Bio International (BBI) due 2012, together with warrants to subscribe for up to 5,714,285 ordinary shares (approximately 2% of the fully diluted share capital) in the capital of BBI. The investment was made alongside Water & Power Opportunities who also subscribed for £2 million Loan Notes on the same terms as Aqua.
Aqua made its first investment in BBI in April 2009 and currently holds approximately 17% of its fully diluted share capital. The further investment followed progress from BBI after initial investment with the Bahraini Ministry of Work for the upgrade of the Tubli wastewater treatment plant using BBI's proprietary technology, and receipt by BBI of orders for the supply of its wastewater treatment systems to several sites in South Africa.
South Korea's Doosan Heavy Industries and Construction Co has won a $1.46 billion contract to build a new desalination plant in Saudi Arabia, according to news service Reuters. The plant will produce 1.025 million cubic metres of desalinated water per day and will be integrated with a 2,400 megawatts (MW) power plant, in Ras Azzour, on the Gulf coast. Doosan had submitted the third lowest offer in the bidding process which closed on May 8. The contract was said to be lower than its $1.937 billion original bid.
More Water & WasteWater International Current Issue Articles
More Water & WasteWater International Archives Issue Articles