Pumps, Motor's & Drive System
Nov 1st, 2010
Submersible Pump Range from Grundfos
Grundfos has launched a new range of SL submersible wastewater pumps with the goal of minimising known risk factors and reducing maintenance requirements and costs.
Designed for submerged use in network pumping stations, wastewater treatment plants, public buildings, housing projects and industry, SL pumps have been designed to handle municipal or industrial wastewater, wastewater with fibers, drainage and groundwater, process and cooling water. A range of customising possibilities are available for more demanding applications, such as casted parts in various stainless steel grades.
The new SL range offers two types of impeller, including the SLV/SuperVortex Impeller. This pump type provides the free passage of solids up to four inches (100 millimeters) in diameter, making it ideal for liquids with a content of solids, fibers or gassy sludge. The second - the SL1/Channel Impeller also accommodates solids up to four inches, but is designed particularly for large flows of raw sewage.
Grundfos said the SL pumps offer a number of features, including:
- Eff1-type motor: The use of Eff1 components boosts motor efficiency while prolonging pump life

- Moisture-proof plug: A two-component sealant filling the plug prevents moisture from entering the motor via the cable core

- Short rotor shaft: The compact construction of the pump motor reduces vibrations, protecting shaft seals and bearings

- Double mechanical shaft seal: Primary and secondary seals are combined into a single cartridge to cut maintenance time

- Easy-to-open clamp: Enables the motor to rotate 180 degrees.
Thermoplastic, Low Profile Sump Pump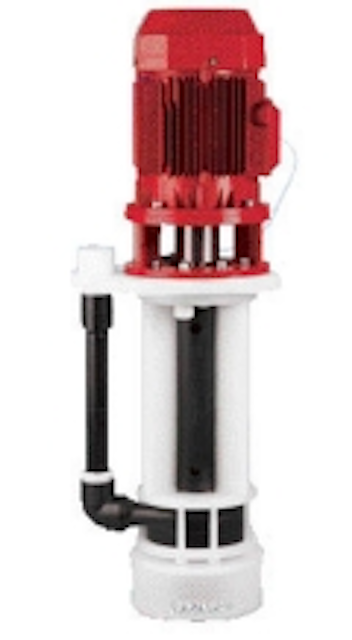 A new SUMP-GARD Model SGK PY800SP thermoplastic pump from Vanton features a close-coupled, cantilevered shaft that reduces headroom requirements and eliminates immersed bearings.
Hard coupling of the drive shaft to the motor shaft reduces height above the mounting plate by about 50%, allowing the pump to fit in restricted areas commonly encountered in replacement and OEM applications, while lowering the center of gravity.
The cantilevered, large diameter shaft eliminates the need for immersed bearings prone to fail in caustic, acidic and abrasive applications, and allows run-dry operation with no damage to the pump.
All wetted components, including a heavy wall shaft sleeve, are molded of solid polypropylene, PVDF or CPVC. This helps to eliminate corrosion associated with pumps constructed of stainless steel and high alloys, as well as delamination and wicking related to plastic-lined and fiberglass pumps.
Since all wetted surfaces are chemically inert, the pump is also rated for handling of reagent grade chemicals, high purity water and other fluids that must remain free of contamination.
Available in lengths to 1.2m with motors to 37 kW, the pump handles flows to 3028 lpm and heads to 55m at temperatures to 135°C.
Impellers are offered in closed and semi-open configurations, as well as recessed for pumping of slurries containing solids or stringy materials.
Welsh Water Installs EZstrip Cake Pump
As part of a drive to reduce maintenance downtime across the board, Welsh Water has installed a EZstrip™ Cake Pump from framework supplier NOV® Mono® at its sewage treatment works in Cardigan, West Wales.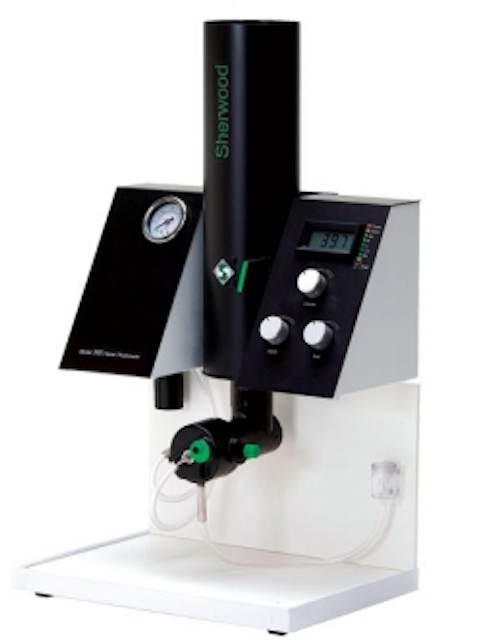 The Mono progressing cavity (PC) Cake Pump has been installed to transfer 22 – 28% sludge cake from the site's centrifuge dewatering process to a storage skip for later removal from site.
The new pump features a purposely designed feed chamber that is disconnected by removing only a few screws and allows access to the pin joint area for removal of any blockages or compressed cake. Once the rotor assembly is disconnected from the screw conveyor, the rotor and stator can be removed.
It also features a large auger inlet and screw conveyor which can be extended to the compression area to help push the sludge cake into the cavities of the rotor and stator and provide consistent pumping. A side inlet port allows the addition of thin sludge for blending applications or for draining the pump.
The range is available in cast iron, with a choice of rotor and stator materials as well as a variety of hopper sizes and has a capacity of up to 49 m3/h and 24 bar pressure. Typical applications include thickened sludge cake (up to 40% dry solids content), dewatered sludge, lime powder dosing, sludge blending and barrier layer injection.
Jonathon Kelly, project engineer at Welsh Water, said: "The installation of the new EZ strip cake pump will ensure the continuous reliability of the sludge treatment plant on site and reduce potential plant downtime allowing sludge to be processed with a reduced risk to the wastewater compliance on site."
Atlas Copco to Offer WEDA Equipment
Atlas Copco has announced that its established professional range of WEDA submersible pumps and accessories will now be offered through the Portable Air Division, to complement its portfolio of compressors and generators. Such pumps are designed for the mining, quarrying, construction, rental and defence industry sectors.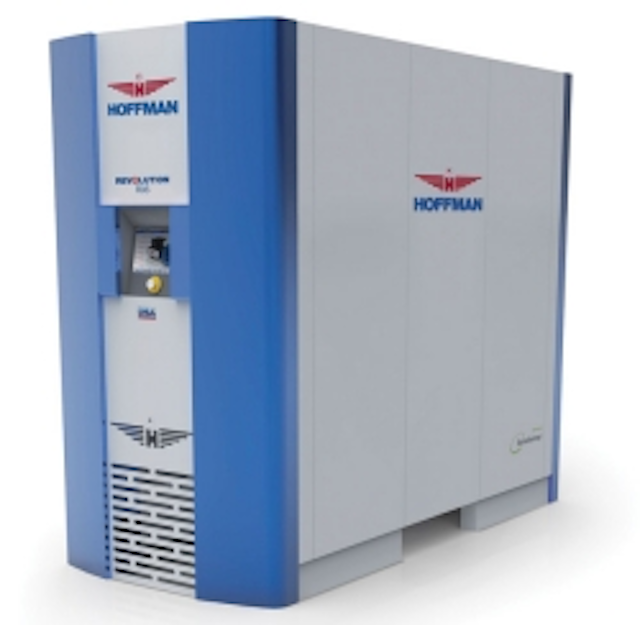 There are eight models in the WEDA range with flow rates from 600 – 20,200 litres per minute, plus a sludge pump version. These modular units have been designed to meet ISO 9001 and 14001 standards and to minimise downtime.
Atlas Copco said a combination of fewer component parts and sealing system means that on-site maintenance can be carried out in minutes; all the stainless steel fixings used are the same size so it is possible to use one tool to complete the entire operation. The pump's compact design, housed within lightweight aluminium casing, are designed to make it easy to handle and operate the units.
Other major features include built-in starter and motor protection, hardened high chrome impellers, optional automatic level control, zinc anodes for all pumps, silicon carbide mechanical seals, and adjustable wear- resistant rubber diffusers. There are Instant Service Pac sealing solutions for specific pump sizes and special-purpose epoxy and corrosion-free coatings are available.
More Water & WasteWater International Current Issue Articles
More Water & WasteWater International Archives Issue Articles