Philippines' Water Thrilla in Manila
Frequent typhoons are proving a huge challenge for utilities in the Philippines to ensure consistent water supply. And a quarter of the population still lack access to sustained potable water, despite abundant rainfall and water sources. Jeremy Josephs looks at privatisation developments and how a water utility is expanding globally via Vietnam.
Dec 1st, 2011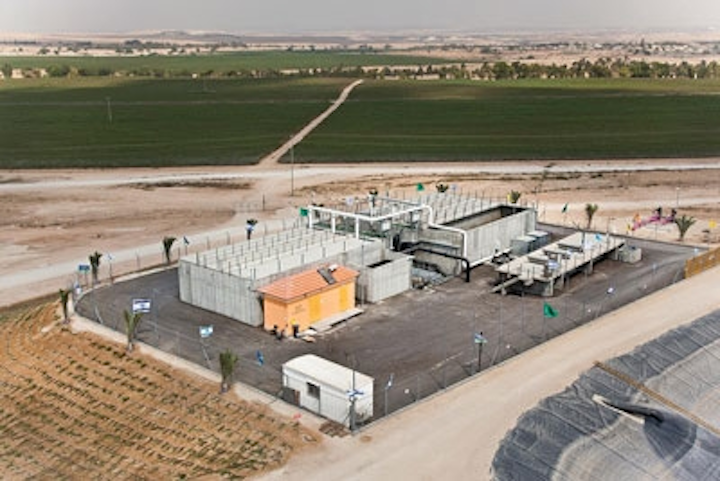 Frequent typhoons are proving a huge challenge for utilities in the Philippines to ensure consistent water supply. And a quarter of the population still lack access to sustained potable water, despite abundant rainfall and water sources. Jeremy Josephs looks at privatisation developments and how a water utility is expanding globally via Vietnam.
Manila may well have hosted the famous boxing match between Muhammad Ali and Joe Frazier back in 1975, but more recently the capital city is part of a larger development in the Philippines' water sector. The country's President, Benigno S. Aquino III recently suggested to the Inter-Agency Committee on the Water Sector that they come up with a master plan. He stated that it should effectively address all issues and concerns relating to the water sector. And that they should do so fast.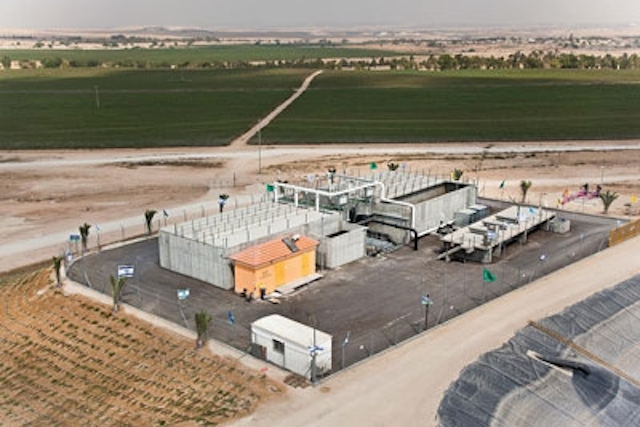 Current projects are trying to reduce MWC's non-revenue water rate of 11%
The reason for launching the enquiry, and his impatience to act upon its results, was no doubt prompted by Pedring and Quiel, two devastating typhoons which caused massive flooding in wide areas of Luzon.
More recently Typhoon Washi prompted the president to declare a national calamity, with nearly 1000 people reportedly killed.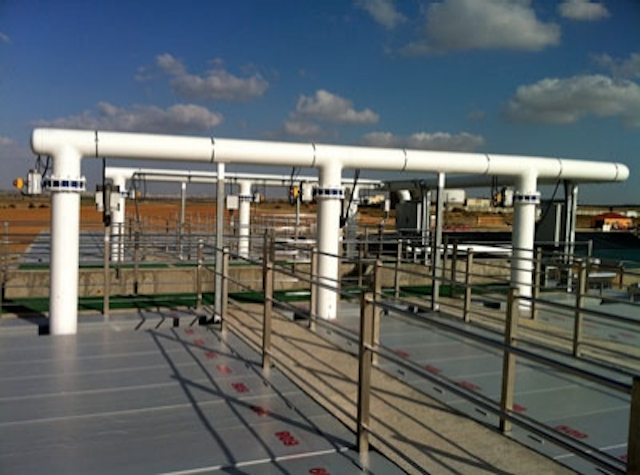 Yet Rogelio Singson, the Philippines' Secretary for Public Works and Highways will have a much wider, and in some respects even more formidable brief, coming up with suggestions as to how to clean up the Philippines' river system which, though abundant, is terribly polluted and in the throes of dying and drying up at an alarming pace.
Of course the story of the Philippines water should be a good one - a country blessed with abundant rainfall and numerous sources of water. However, almost a quarter of the country's population of 92 million still do not have access to potable water on a sustained basis. It would appear then that Singson, the so-called 'water Czar' in the country will have his work cut out as he attempts to get to the root of what has led to his country's poor record in water and rain management and, more importantly, what can be done about it.
Groundwater contamination
The Philippines continue to suffer from low investment rates, an extensive network of small and inefficient supply systems and tariffs which are mostly too low to recover costs. Above all, it has been the neglect of a coherent environmental policy which could be blamed for well over half of the country's groundwater being contaminated.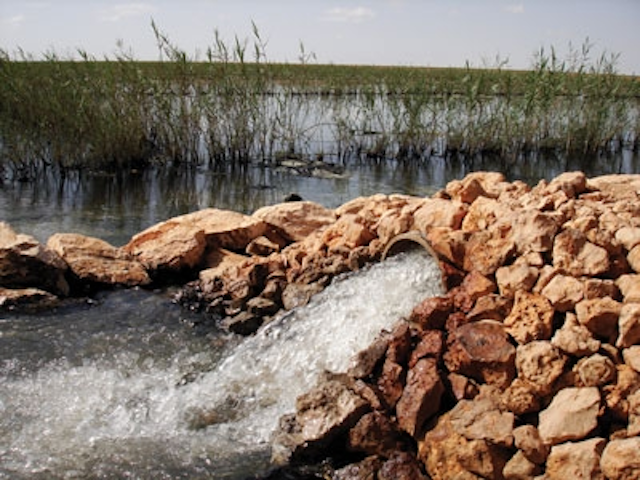 Wide access: more than one million households in the east are supplied with water from MWC
The cause? Untreated domestic and industrial wastewater which has given rise to this appalling statistic – that only one third of Filipino river systems are considered suitable for public water supply. Of course there is the inevitable knock-on effect in terms of major industries such as tourism and fishing. Most alarming of all, though, is that it has been estimated that if things proceed as they have been in recent years, then by 2025 water availability will be marginal in most cities and just under half of the 19 major river basins. In light of the challenges faced, the private sector has been active and has spread to south-east Asia and beyond. In fact water privatisation began in Manila back in 1997, with the award of two high profile concession contracts for the eastern and western halves of Metro Manila. These represent the largest population served by private operators anywhere in the developing world. One might be tempted to say that it's been a tale of two cities – but in truth it has been a tale of east and west.
East is East
The East has been, generally speaking, a positive news story. And the East means MWC – Manila Water Company, a subsidiary of the Ayala Corporation, the country's largest and oldest conglomerate with a net income of some 200 million US dollars. It provides water services to more than one million households in the east concession area though more than 800,000 water service connections and over 50,000 sewer service connections.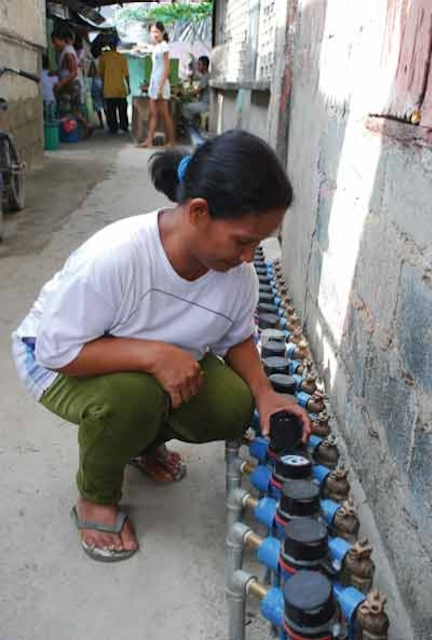 MWC is due to undergo a Rate Rebasing exercise in 2012
MWC is proud to boast one particular figure – that of the more than six million people connected to the water network, 1.6 million (or 275,000 households) belong to low-income communities. This was achieved via its flagship programme Tubig Para Sa Barangay – or 'Water for the Poor' which, as its name suggests, was specifically designed for informal settlers and where there was inferior water quality arising from the proliferation of illegal water service connections. This has led to a significant reduction in water-borne diseases and the improvement of overall sanitation conditions. Small wonder, then, that MWC is often cited as an example of a highly successful privatisation.
In terms of its overall strategy MWC is continuing to focus on the east zone as its core business. Expansion programmes are now well underway to provide 24/7 water supply to several towns in Rizal Province (east of Metro Manila) such as Antipolo, Taytay, Angono and Binangonan.
A parallel focus is also being given to wastewater programmes with the construction of more wastewater treatment plants (WWTPs) as part of the company's Wastewater Master Plan to support the clean-up of the three river systems in Metro Manila – namely the Pasig, Marikina and San Juan rivers. This is in addition to contributing to a major clean-up of Manila Bay. Over P50 billion Filipino pesos (1.15 billion US dollars) has been earmarked for this Three-River System Project during the course of the next decade.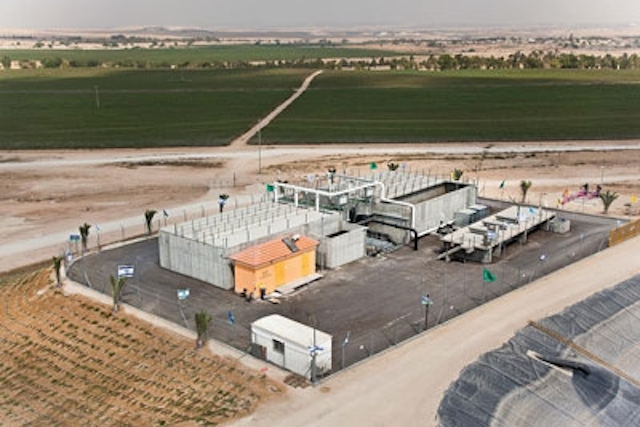 MWC is working with MWSS on wastewater to help harness additional water sources
While the Philippines might well have a poor track record in relation to the environment, at MWC they are peddling hard and fast to compensate for the errors of the past. In coordination with the Metropolitan Waterworks and Sewerage System (MWSS) the company is giving impetus to its Water Source Development Roadmap. This is designed to provide and harness additional water sources to meet the future water demand.
On the topic of tariffs, MWC said it is also due to undergo another Rate Rebasing exercise next year. This will be anchored on environmental sustainability both for water resources and wastewater management. A critical component part of this plan will be to ensure that programmes will address the potential impacts of climate change and disaster risk management and mitigation.
Still, many challenges remain. Given the impact of typhoons, a major issue is clearly to work out how to ensure 24/7 water supply in the wake of natural calamities. And Manila Water has already implemented a number of programmes to reduce its system loss and non-revenue water (11% to date).
Harnessing additional water sources will also be imperative to lessen the company's dependency on a single source of supply - from Angat Dam. Plans are thus afoot to harness Laguna Lake to augment water supply for the province of Rizal.
At the same time as doing this, however, there is clearly a pressing need to inform, educate and communicate to stakeholders that both wastewater treatment and management are major contributors in reducing the pollution of the Philippines' waterways.
Asian expansion
This is not to suggest, however, that MWC does not see opportunities further afield. Far from it. Expansion towards the east of Metro Manila is clearly an opportunity, given that horizontal expansion and industrialisation are now going out of Metro Manila and into its adjacent provinces, Rizal included. The company is also exploring initiatives locally outside Metro Manila similar to the one in Laguna and Boracay, where Manila Water has already formed subsidiaries.
While East is East and West is West, MWC has been busily eyeing additional and bigger projects further East still – in Vietnam. To be precise, its expansion in the Asia Pacific region continuing apace, and where the company hopes to replicate its success in the Filipino capital.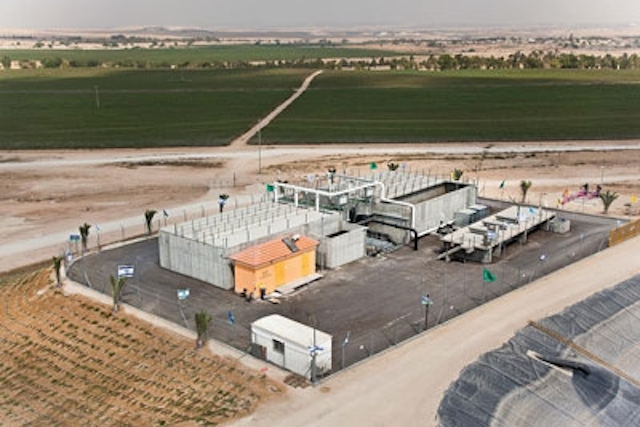 MWC expansion programmes are underway to provide water supply to several towns in the Rizal Province, including Antipolo and Taytay
MWC president and chief executive Geraldo Ablaza Jr. said: "We've been in Ho Chi Minh for three years now so we know how to operate in that market. We're prepared to undertake higher risks because we're confident that we can be successful, given our experience."
Since the awarding of their contract in 2008 MWC had been exceeding its service level targets in its performance-based leakage reduction and management services contract with the Saigon Water Corporation or Sawaco, a project funded by the World Bank and which comes under the auspices of the Vietnam Urban Water Supply Development Project. MWC also has operations elsewhere in the region with contracts and investments in India and Australia too.
West is West
It has not been such a happy tale, alas, in the western half of the city, the concession failing when the company Maynilad (Maynilad Water Services) went bankrupt in 2003. But since being sold to new investors in 2007 (DMCI Holdings and Metro Pacific Investments Corporation won 84% of the water company's shares in a public bidding), performance has improved considerably. The company is now the water and wastewater services provider for the 17 cities and municipalities that comprise the west zone of the greater Metro Manila area.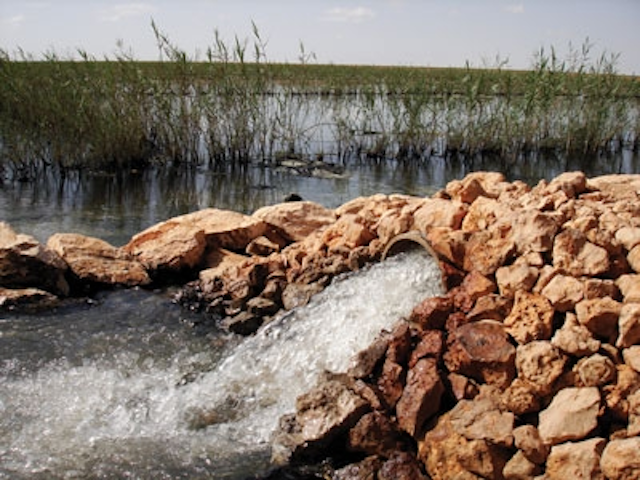 Clean up: over 50 billion Filipino pesos has been earmarked for the Three-River System Project during the course of the next decade
Slowly but surely the company has been making up for lost ground, recently signing a Memorandum of Understanding with the Canadian company Pure Technologies, to form a Joint Venture to deliver pipeline inspection services to the water sector in the Philippines and to other selected markets. Pure was already providing Maynilad with leak detection technology and technical support as part of Maynilad's ongoing water loss reduction programme.
Global private sector activity
Veolia remains a key player in the country's water sector, managing a major contract covering water and wastewater services in Clark, through subsidiary Clark Water Corporation, around one hour north of Manila. Last October the same French group signed a 62 million US dollar agreement to design and build Manila Water Company's Marikina North Sewage Treatment Plant. The objective is to achieve the goal of expanding the wastewater collection network - part of a permanent, and ongoing, effort to improve the water quality of the troubled Marikina River.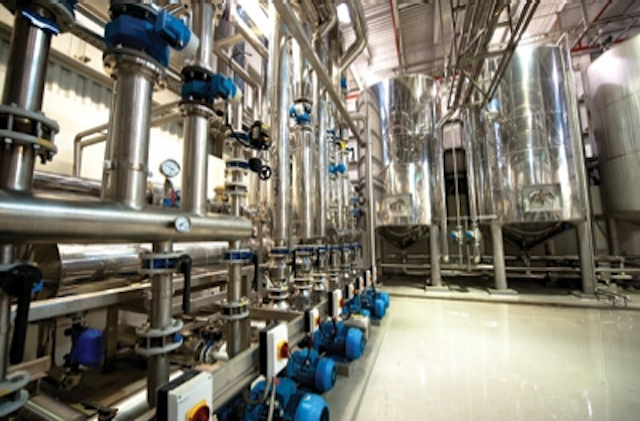 Resource recovery: harnessing additional water sources will help reduce dependency on the Angat Dam
A new sludge dewatering facility will also be provided, in addition to an odour treatment system and an assortment of other abatement measures. Suez Environnement, meanwhile, is active through its Eau et Vie programme, a social entrepreneurship and training programme on water distribution in the slum areas of Manila. In conjunction with NGOs specialising in water management, Suez Environnement has been supporting local micro-enterprises, sponsoring the training of field workers, with some 50,000 people being supplied with drinking water as a result.
Despite such privatisation, it would appear however that the Philippines will be unlikely to meet the Millennium Development Goals (MDG) by 2015. In the water sector many formidable obstacles have still to be overcome.
And the country lags behind in respect of other key indicators such as achieving universal primary education, promoting gender equality, empowering women, reducing child mortality and improving maternal health – to name but a few. Still progress is undoubtedly being made.
Not fast enough to those who point the finger at the slow pace of change. But there is progress nevertheless.
One can only conclude by wishing Rogelio Singson, the Philippines' recently appointed 'water Czar' the very best of luck. Most commentators would be unlikely to take issue with the assertion that when it comes to overhauling the Philippines' water sector he is going to need all the luck he can get. WWi Enquiry No. 101
Author's note:Jeremy Josephs is a freelance correspondent for Water & Wastewater International magazine. For more information please email WWi on tomf@pennwell.com.
More Water & WasteWater International Current Issue Articles
More Water & WasteWater International Archives Issue Articles