Europe/Middle East/Africa
Sep 1st, 2011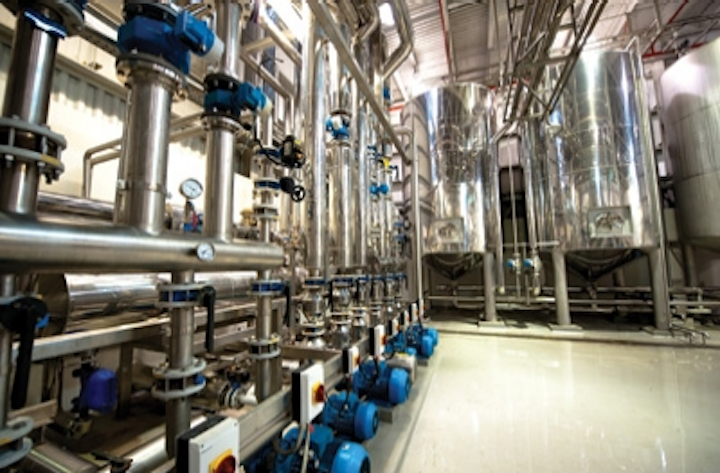 Wastewater air intake efficiencies to save utility up to £300,000 per year
A water company in England has reduced energy costs by between £150,000 to £300,000 per year by improving the air delivery system at a wastewater treatment plant.
Wessex Water completed the £400,000 upgrade, which included introducing improved diffusers and a better designed delivery system, to reduce the air demand from 18,000 m3/hr to less than 5,000 m3/hr by using a fine bubble diffuse air system.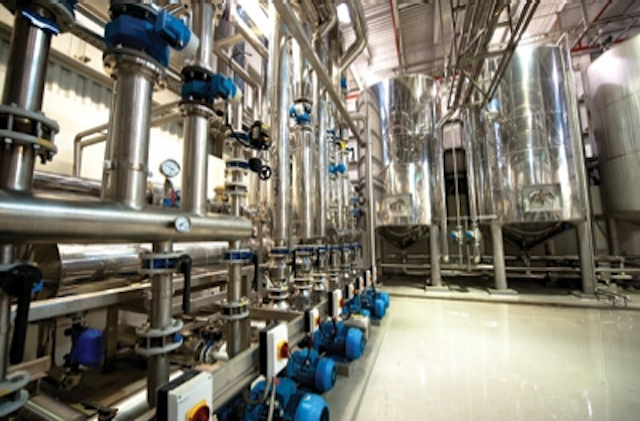 Modifications were carried out while the facility remained in operation. As part of the upgrade, diffusers on four basins were replaced, with each one taking two to three weeks to complete.
Dave Durkin, Wessex Water's head of operational services, said: "Work involved sequentially draining down the four basins, each containing 6.5 million litres of effluent, while maintaining the overall operation of the plant.
"Since the capacity of the site was reduced during the work, it was carried out under the sanction of the Environment Agency, which visited the site to witness the work. Once drained and cleaned, 2,000 diffusers and 1 km of pipe work was installed in each basin, before the unit was partially refilled, tested, and then re-commissioned."
Wessex Water said the modified treatment process provided better effluent quality and with less air consumption the treatment plant had a lower carbon footprint.
The firm said it may look to roll out similar energy reduction schemes at other sites across the region is serves.
Wastewater fuel cell technology to be commercialized by 2013
Israeli firm Emefcy's technology that uses naturally occurring bacteria in a biogenic reactor to treat wastewater and feeds resulting energy to the grid has attracted international attention from investors.
Instead of aerobic or anaerobic digestion processes, which the firm said are "energy intensive", wastewater flows through a reactor made of tubes, inside which water and air flow alongside each other but are separated by a membrane. Bacteria grows on an electrically-conductive surface, which is connected to both surfaces.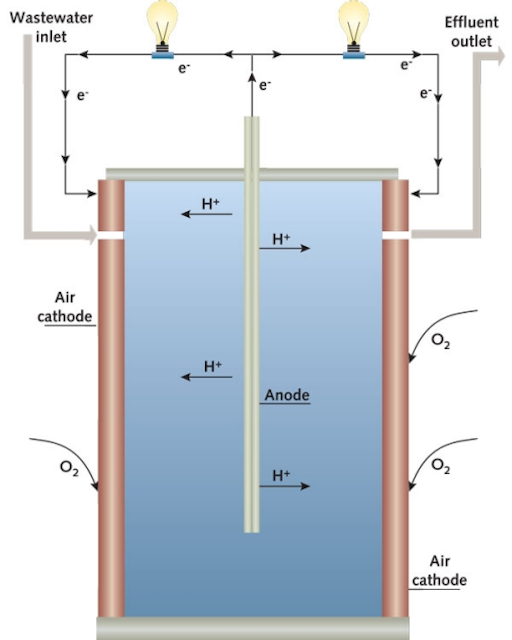 In Massachusetts Institute of Technology (MIT) Technology Review in July, it said Emefcy's process could generate enough energy to power the entire treatment process. Excess electricity is then fed back into the grid at a profit.
Ely Cohen, vice president of marketing at Emefcy, reportedly said that the process could reduce the total cost of wastewater treatment by 30% to 40%.
Back in June joint venture Energy Technology Ventures, comprising GE, NRG Energy and ConocoPhillips, invested into the Israeli firm to help it reach full-scale commercialization by the end of the year.
While financial details were not fully disclosed by the firm, Bloomberg revealed that Emerfcy has raised about $10 million from investors to date. The report claimed the firm is forecasting an annual revenue of $100 million by 2017 through sales in Europe and the U.S.. With wastewater treatment estimated to consume 2% of global power capacity such solutions are likely to be welcomed in the sector.
Non-revenue water targeted in Kenya
A 1.1 million euro contract has been awarded to develop a non-revenue water (NRW) strategy and to help procure and install a new water billing and accounting system in Kenya. Funded by the International Development Association under the Water and Sanitation Service Improvement Project, the assignment has been contracted to Pöyry's Water & Environment business group by the Coastal Water Service Board.
Aims of the project are to improve the technical and financial performance of water services and to facilitate the recruitment of a management operator after the completion of the project. Services will include assessment of water transmission pipelines and non-revenue water, preparation of tender documents, supervision of rehabilitation works, and technical assistance and capacity building to improve the client's operations. As well as the NRW strategy, pipeline maintenance plans will also be produced.Elsewhere in the country, the Kenyan state corporation - Athi Water Services Board - was recently contracted to improve water sanitation infrastructure across Nairobi.
Bahrain commences work on wastewater network upgrade
As part of a project to end the problem of flooding and overflowing septic tanks, Bahrain's Ministry of Works has started construction efforts in East Riffa. Plans are to eventually provide around 38 km of pipes varying in diameter and depth, as well as establishing four lifting stations and three pumping stations.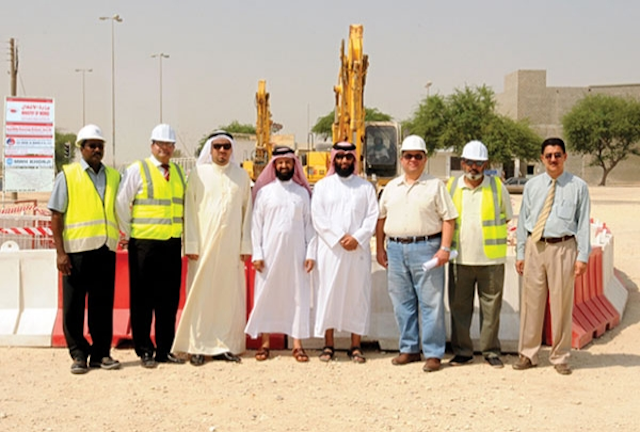 Originally commissioned at the end of June, the sixth phase of the project covering four blocks is worth BD6.8 million (£10.9 million) and is set for completion in December 2013.
Energy efficient aeration process breakthrough
Swedish aeration firm Sorubin has received five new orders for its technology following a trial with utility Scottish Water. The trial with Scottish Water ran from February to August this year using the company's Microluft wastewater aerators, which it claimed could improve energy efficiency by 20%. The new set of orders came from four municipalities and one food producer in Sweden.
This included the Vasteras municipality for the treatment of water in a landfill leachate dam; Kretsloppsparken in Kristianstad to treat wastewater and previous client, Härnösand Energi & Miljö, a municipality owned company, for the treatment of landfill leachate.
Stefan Sandström, CEO, said: "Aeration is a very high energy consuming process and many industries, municipalities and utilities are eager to reduce these costs in the light of ever-increasing energy costs and new environmental legislation."
It is also hoped the technology will be retrofitted to a wastewater facility in Dalderse following the trial in Scotland.
More Water & WasteWater International Current Issue Articles
More Water & WasteWater International Archives Issue Articles