Technology Round-up: Sludge Treatment
May 20th, 2011

Alfa Laval win major sludge treatment order in United States
Heat transfer, separation and fluid handling technologies company Alfa Laval has received an order to supply decanter centrifuges to one of the largest wastewater treatment plants in the world which serves a population of around 2.5 million people.

The order, valued at 250 million Swedish Krona (£24 million approx.), covers the supply of decanter centrifuges to thicken sludge generated in the biological treatment process at the facility, which is located in Chicago, USA.
www.alfalaval.com/Pages/default.aspx
Japan Sewage Works Agency Project Cuts Excess Sludge by 80%
An 18-month pilot project conducted with the Japan Sewage Works Agency (JS) has demonstrated the effectiveness of the sewage-processing system based on Teijin's Multi-Stage Activated Biological Process (MSABPTM) wastewater treatment technology, including reductions of excess sludge by over 80%, energy consumption by up to 10% and CO2 emissions by up to 15%.
The pilot project demonstrated that MSABP-based systems can reduce excess sludge by over 80% compared with conventional treatment methods. In addition, the system can be operated under optimised air supply conditions to the aeration tanks, helping to lower the total energy consumed in sewage treatment by up to 10%, as well as cut CO2 emissions by up to 15%.
The joint pilot project will continue for another year to evaluate its effectiveness in processing raw water before it enters the primary settling pond. The aim is to further reduce total sludge generation, as well as raise energy-consumption cuts to over 20%. Teijin and JS also will evaluate effective methods for incorporating MSABP into existing facilities.
Teijin's goal is to develop wastewater treatment solutions for a variety of global applications, including through incorporation of advanced processing technologies such as MSABP and multi-stage ozone treatment system with hydrogen peroxide. It is hoped that these solutions will contribute to wastewater reuse, energy conservation and reduced emissions of CO2.
The MSABP system uses special biological carriers packed with high concentrations of microorganisms in multi-stage aeration tanks. The resulting food chain enables wastewater treatment with reduced sludge, reduced energy consumption and low maintenance.
The MSABP system has already been used in facilities that need advanced wastewater treatment, including chemical, dyeing and food manufacturing plants in Indonesia and China. Teijin has also participated in a field test of MSABP in the Yixing area of Jiangsu Province, China, where it will be used to provide sewage infrastructure to the local farming community.
http://www.teijin.co.jp/english/
Super critical water oxidation in Ireland following trials
Cork, Ireland-based waste treatment and recycling company Eras Eco has placed the first commercial order of SCFI's AquaCritox® technology to process organic wet waste. The system will be installed at the Eras Eco plant in Foxhole, Youghal in October 2011, and forms part of a €10 million (£8.5 million) investment to improve the environmental credentials of the site.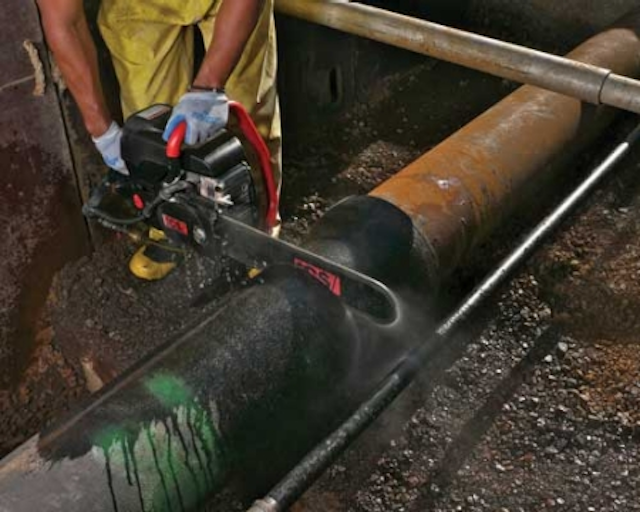 The new technology will process waste from pharmaceutical companies in the Cork region, which until now has been shipped internationally for thermal treatment. The process will use super critical water oxidation, which is achieved when water temperature exceeds 374oC and is pressurised to 221 bar.
This moves water into a super critical condition or 'fourth phase,' where the water is neither a liquid nor a gas, but a homogenous dense fluid. In its super critical state, water becomes a universal solvent for gases and organic compounds, even those that are normally insoluble in water.
By adding an oxygen supply, a very rapid and complete oxidation reaction takes place, according to SCFI, which not only generates thermal energy, but also converts all organic materials in sewage sludge into CO2, nitrogen and clean water. The nitrogen can be safely released into the atmosphere, said the company, and the CO2, may be sold on for industrial applications or dry ice production.
Inorganic materials are easily separated and treated in a separate step to recover phosphorus or in the case of drinking water sludge, coagulants. The technology is a full destruction, rather than reduction technology, so does not fall under the Waste Incineration Directive.
The AquaCritox plant at Eras Eco will work alongside a new above-ground anaerobic digestor, which will be used for the enhanced treatment of biosolids. The methane gas produced from the system will be used to produce electricity for use on site through a combined heat and power generator.
Over $40 million has been invested into the development of the technology, including three years of testing at SCFI's facility in Ringaskiddy.
David Kerr, chief operating officer at SCFI, said: "Years of development and testing of AquaCritox have proven the extensive benefits super critical water oxidation delivers when processing pharmaceutical waste."
More Water & WasteWater International Current Issue Articles
More Water & WasteWater International Archives Issue Articles