Corrosion Control
Mar 1st, 2011
Corrosion evaluation for use outside of labs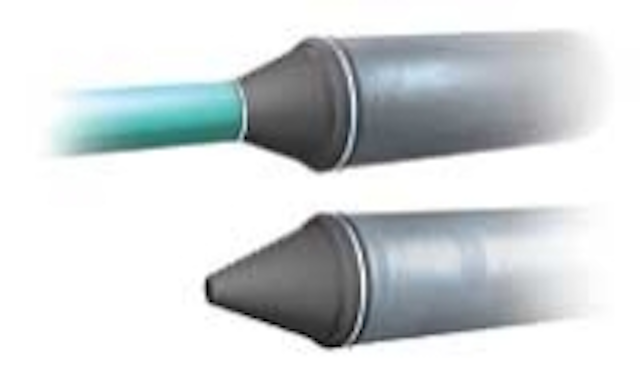 Pepperl+Fuchs has introduced its CorrTran® AQUA designed to meet the corrosion monitoring needs of municipal and industrial water and wastewater treatment facilities. CorrTran AQUA continuously monitors water and wastewater processes for general and localised corrosion, enabling users to determine the effectiveness of their corrosion inhibitors, and to detect and correct corrosion issues through upkeep and preventative maintenance before they become a costly problem.
CorrTran AQUA transmitters use a new algorithm of the LPR (Linear Polarization Resistance), HDA (Harmonic Distortion Analysis) and ECN (ElectroChemical Noise) measurement for maximum corrosion monitoring accuracy. They also automatically calculate and update the Stern-Geary value (B-value) due to changes in other process variables to maintain maximum accuracy.
Corrosion resistant materials for tanks and labs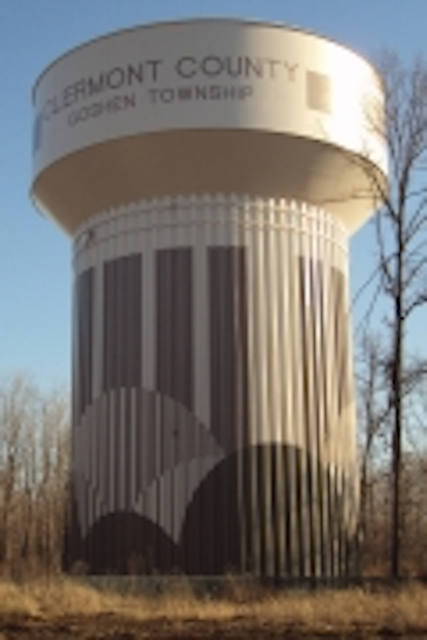 Olefin and PVC solutions manufacturer Vycom has consolidated its number of products designed for use in the chemical and corrosion industry under the newly launched Corrtec family of chemical, corrosion and moisture-resistant materials in several polymer options, including PVC (Type 1 and II), CPVC, HDPE, PP and CoPP formulations and provides the largest olefin sheet sizes on the market. These materials are designed to meet requirements in wastewater management, chemical handling, air processing, industrial tanks, pharmaceuticals and many other applications. The Corrtec family of products includes:
- Hitec® HDPE suitable for food processing, tanks, secondary containment, material handling, guides and wear plates. Hitec can also be used in the medical field, for orthotics and prosthetics. It is easy to fabricate and replaces wood or metal in many applications. Hitec HDPE is available in oversized sheets and several color options and thicknesses, with low minimums on custom orders.
V-Cone Flow Meter Withstands Corrosion In Harsh Processes
Prolonged equipment exposure to water, acids, fuels, solvents, high temperatures and high pressures creates a constant corrosion problem in many process industry plants. Ammonia, chlorine, cyanide, hydrochloric acid, hydrogen sulfide, methane and other harsh substances cause corrosion that requires extra maintenance or reduces the life of instrumentation, pumps, valves and piping. Corrosion-related maintenance activity shrinks plant product throughput and increases operating costs.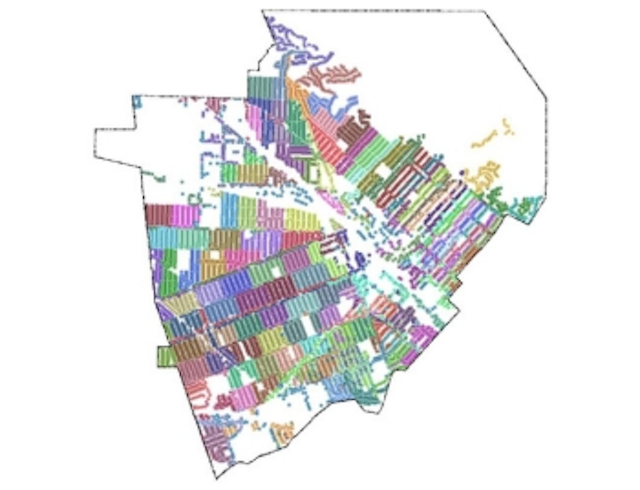 McCrometer's new Corrosion-Resistant V-Cone® Flow Meter is designed for high accuracy measurement with "virtually no maintenance and long life under the most challenging conditions".
The V-Cone Flow Meter aims to provide precise flow measurement in liquid, steam or gas media and the manufacturer said it requires virtually no maintenance in the most demanding processes where corrosive conditions exist.
It has been designed for use in a wide range of industries that include chemical, electric power generation, food/beverage, oil/gas production and refining, pharmaceutical, pulp/paper and more.
The design of McCrometer's V-Cone Flow Meter is based on advanced differential pressure technology and requires no-moving parts, which may break due to corrosion or clog during use. Built-in flow conditioning allows the V-Cone Flow Meter to achieve measurement accuracy of +0.5%, with a repeatability of +0.1. It operates over a flow range of 10:1 and services line sizes from 0.5 to 120 inches.
The V-Cone Flow Meter is available in standard configurations that may be specified with either stainless steel or carbon steel materials. It can now also be constructed from a wide range of other materials to meet specific plant operating and maintenance requirements. Optional materials that are available include: Hastelloy C-276, Duplex 2205, Chromeloy P22/P11, Monel K400/K500, Inconel 625 and many more.
McCrometer said the V-Cone Chem Flow Meter eliminates the need for up/down stream straight pipe runs required by other DP technologies, such as orifice plates and Venturi tubes. The V-Cone conditions fluid flow to provide a stable flow profile, which is said to improve accuracy. The flow sensor's design features a centrally-located cone inside a tube. The cone interacts with the fluid flow and reshapes the velocity profile to create a lower pressure region immediately downstream.
Low profile sump pump eliminates corrosion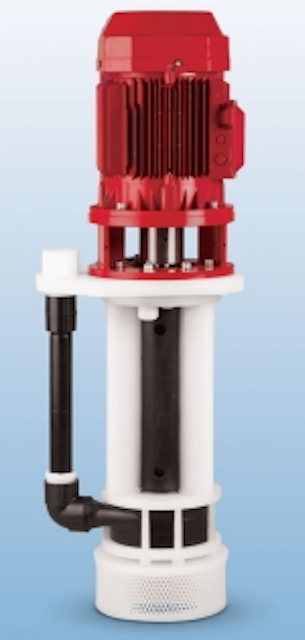 A SUMP-GARD® Model SGK PY800SP thermoplastic pump from Vanton features a close-coupled, cantilevered shaft that reduces headroom requirements and eliminates immersed bearings.
Hard coupling of the drive shaft to the motor shaft reduces height above the mounting plate by about 50%.
According to the manufacturer, this allows the pump to fit in restricted areas commonly encountered in replacement and OEM applications, while lowering the center of gravity.
The cantilevered, large diameter shaft eliminates the need for immersed bearings prone to fail in caustic, acidic and abrasive applications, and allows run-dry operation with no damage to the pump.
All wetted components, including a heavy wall shaft sleeve, are molded of solid Polypropylene, PVDF or CPVC, eliminating corrosion, which Vanton said is "associated with pumps constructed of stainless steel and high alloys, as well as delamination and wicking related to plastic-lined and fiberglass pumps".
The company added that since all wetted surfaces are chemically inert, the pump is also rated for handling of reagent grade chemicals, high purity water and other fluids that must remain free of contamination.
More Water & WasteWater International Current Issue Articles
More Water & WasteWater International Archives Issue Articles