Actuators' Essential Role in the Water Industry
While they don't grab the limelight, electric actuators as geared motors for remote control of valves remains crucial to water and wastewater applications, as shown in this Irish example.
Sep 1st, 2008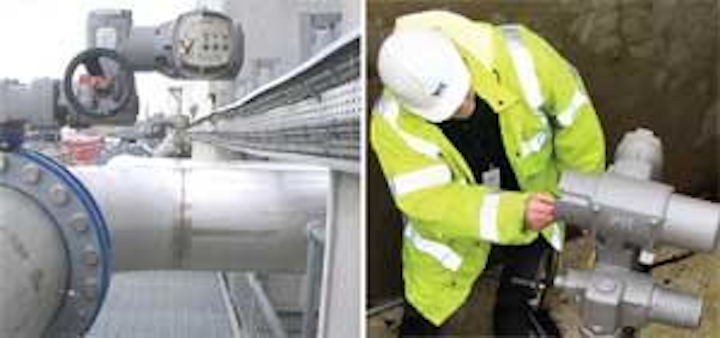 By Ian Sully
AUMA reports that, without actuators (left), the 24-7 efficiency of WwTWs would be compromised. AUMA actuators have been supplied by Williams Industrial Services to a number of Ireland's wastewater treatment works including Cookstown (right)
Click here to enlarge image
Actuators consist of a motor driving onto a worm gearbox which provides the output torque required to move a valve. In short, they're electronically powered devices that convert a control signal into a rotary or linear movement which, via a valve unit, changes the flow of a fluid.
For over a century, actuation technology has played an essential role in the water and wastewater industries in a wide range of areas including water treatment plants, pumping stations, water pipelines, dams, sluice gates and sewage works. Integrated into control systems and converting signals into mechanical motion, actuators are linked to control centres or monitoring consoles. Alternatively, electric actuators rely on their own intelligent electronics to perform their primary function of controlling valves. In water sector applications, these valves link to treatment plants or filtering systems.
Actuation solutions can be used for open/close valve applications to divert flow to respond to the works' treatment requirements. Alternatively, actuators perform flow control duties to operate the valve in modulating mode. In modulating applications, the actuator precisely controls the flow to adjust the amount of medium passing through the valve into or out of the treatment plant.
Actuator specification is driven by the requirements of the valve application and environment but essentially two types are used. Part turn actuators drive butterfly valves and are used to control ball and plug valves. Multi-turn actuators are used primarily for wedge or knife gate valves and for pen-stocks.
Increasing adoption of digital or fieldbus technology in water sector actuation applications has led to a substantial increase in the feedback of process information. Providing almost unlimited data feedback, precise information can be gained regarding the site's processes. The water industry has embraced fieldbus on an international scale and digital technology is adopted around the world for potable treatment plants, filtration plants and wastewater treatment works.
A more recent technology initiative for electric actuators has come with the introduction of Bluetooth which provides a rapid and reliable solution for data transfer.
Widespread Adoption
While technology advancements encourage the uptake of actuation, widespread adoption has been significantly assisted by the availability of truly modular solutions. The key benefit of modular actuation technology is its ability to meet the precise process requirements of current needs of the wastewater treatment works (WwTW), while supporting any future upgrades without having to remove the actuator from site.
Taking the example of Ireland's water and wastewater treatment industry, AUMA reports widespread growth in demand. Initiatives to upgrade works across both Northern and Southern Ireland have used AUMA's modular actuation solutions in a range of applications including Sequencing Batch Reactor (SBR) technology and penstocks.
Significant moves to improve water quality in Ireland include a number of enhancements in line with EU Urban Wastewater Treatment Directive policies. Cookstown WwTW, in County Tyrone west of Northern Ireland's Lough Neagh, is one example. The site has undergone an upgrade programme to substantially improve discharge and AUMA actuators have been deployed in a range of flow control applications.
John Bell, contracts manager for Belfast-based Williams Industrial Services, a partner of AUMA that has used the company's actuators at over 20 Irish sites, comments, "By providing the 'front end' intelligence for valves, actuators play a key role in the enhancements to Ireland's WwTWs. The AUMA solution with its adaptable design is proving particularly popular – for example, it is not always possible to mount actuators in accessible locations and this is where AUMA products have a particular strength. Some actuation technology at Cookstown is mounted at an awkward angle which provides challenges for the user, however, the modularity of the AUMA design means that controls can be rotated and accessed as required."
Conclusion
Actuators tend not to take the limelight at WwTWs. This is primarily because, if actuators are effective in their job controlling valves, they are undemanding and unobtrusive. Still, actuators are essential in ensuring the management of the flow of water or other medium at the works and, without them, the 24-7 efficiency of the plant would be compromised. WWi
Acknowledgment:
Williams Industrial Services has worked in partnership with AUMA since 2003 serving the Irish actuation market. AUMA actuators are supplied as part of Williams' portfolio of instrumentation and electrical mechanical equipment.
---

Author's Note:
Ian Sully is UK managing director for AUMA Actuators Ltd., of Clevedon, UK, which is part of the global AUMA Group based in Müllheim, Germany. The company's range features multi-turn/part-turn actuators plus bevel, spur and worm gearboxes. Contact: +44 (0) 1275 871141, iansully@auma.co.uk or www.auma.com