Grappling with Temperature Extremes in the Great White North
Due to a growing tourism industry in British Columbia, the Cultus Country Resort – 60 miles east of Vancouver – is in need of wastewater treatment.
Apr 1st, 2008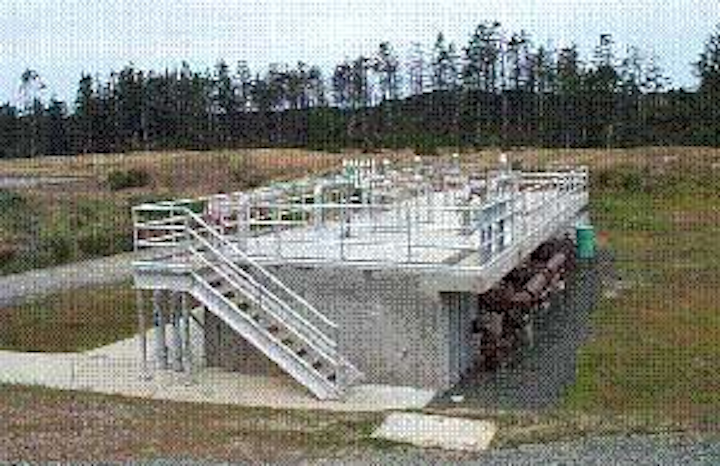 A British Columbia resort offers a case study of an innovative MBR design that takes advantage of temperature extremes to improve sludge thickening in winter months and storm event control in summer.
Due to a growing tourism industry in British Columbia, the Cultus Country Resort – 60 miles east of Vancouver – is in need of wastewater treatment. For utilities, water systems and water products company Corix, an opportunity to build and operate a wastewater treatment plant in its native Canada was too good to turn down. It has extensive experience in the water treatment industry and has now turned its interests to designing, building and operating its own MBR plants in Canada. Since Eimco Water Technologies is also interested in the Canadian market, the two Canadian companies started talking. Some of the factors considered in the decision-making process included current and future permit compliance issues, fluctuating loading conditions and treatment capacity.
After considering bids from several vendors, including at least two Canadian companies, Cultus Country Resort selected the team of Corix and Eimco Water Technologies to install a membrane bioreactor (MBR) system using Kubota submerged membrane equipment. Cultus is Eimco Water Technologies first fully designed Enviroquip™ MBR System for a wastewater treatment plant in Canada. .
The Drivers
When asked about some of the drivers that led to the Enviroquip system's selection, Corix engineer John Sainas said, "In BC, all developers must complete an environmental study. The environmental study mandates what treatment quality is required. For this developer the fact that there were water wells in the area was key in setting low effluent specs: BOD < 10 mg/L, TSS < 10 mg/L, and fecal coliforms < 2.2 CFU/100 ml. While there are other ways to achieve this, membranes are in vogue and their dependability is proven, enabling Corix to make a decision to go with membranes."
Additionally, because Corix will operate the facility, Sainas adds, "It was really our ability to work on an OEM basis with Eimco Water Technologies that was the key. It enables us to make a profit and add value to our delivery."
The Process
Cultus Country Resort serves summer tourists to British Columbia's beautiful Cultus Lake. The Harsh Canadian winters minimize tourism during the cold season and, consequently, the selected wastewater treatment system design for the resort had to be flexible enough to handle a range of hydraulic demands.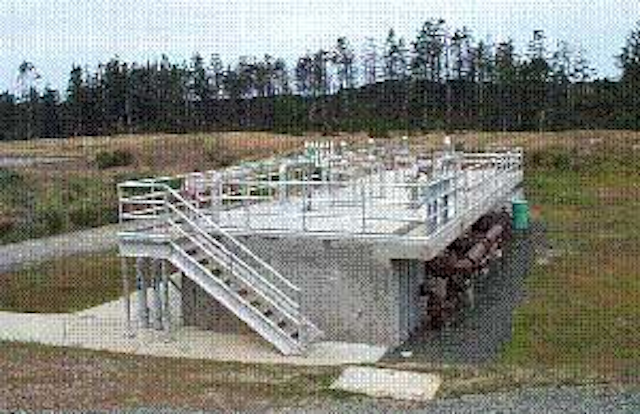 Under construction, the Cultus Country Resort WWTP ¢ Enviroquip membrane bioreactor - Hidden in plain sight was scheduled for commissioning in April 2008. Pictured here is a similar plant (design and capacity) currently in operation at Bandon Dunes Resort, a premier golf facility on Oregon"s southern coast.
Click here to enlarge image
Using the concept of biohydraulics, the Cultus Country MBR system was designed to exceed biological treatment objectives over the range of expected operating conditions. The resort's WWTP is comprised of two independent process trains that include one anoxic zone and one MBR zone and uses the Storm Master™ configuration. With this configuration, which offers a cost-effective means of handling storm events that can significantly reduce solids handling costs, the plant is capable of transforming into a sludge thickening system during the low flow winter months. This capability minimizes hauling requirements and will thus save the plant thousands of dollars in hauling expenses.
The Storm Master design is an important feature of the Cultus Country Resort WWTP because it further reduces overall plant operating costs by putting offline membrane capacity to beneficial use. During extremely low flows, one of the process trains treats incoming wastewater while another to digests and thickens solids to 3% before further treatment. As flows increase, the plant computer brings all trains online to treat peak flows.
Flexibility and Reliability
Using Kubota flat plate submerged membrane units (SMUs), the MBR system is designed to handle average daily flows of 200 m3/day (~53,000 gpd) with the ability to expand to 300 m3/day (~80,000 gpd) with the addition of two more Kubota ES-200s. Additionally, because tourism in this region of Canada reaches is apex in the summertime, an unusual step was taken to incorporate the proprietary flux enhancing polymer MPE50™ (from Nalco) during the summertime to increase membrane flux as opposed to more typical scenarios that see higher flows during the colder months (i.e., rainy seasons). Since this technology can take advantage of membrane thickening capabilities, extreme ranges of low and high flows are handled with ease.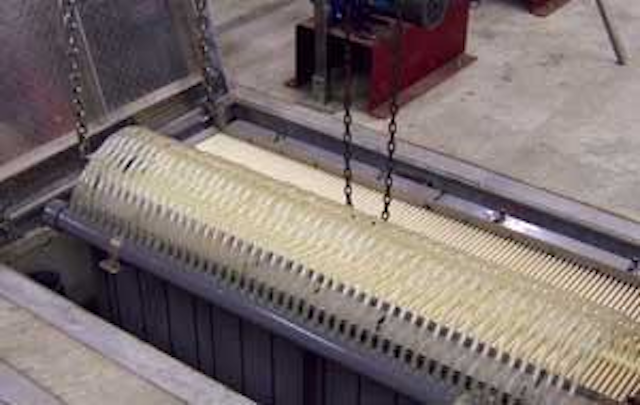 Enviroquip membrane bioreactor - Hidden in plain sight
Click here to enlarge image
The ability to accommodate such a wide range of operating conditions gives operators time and confidence to manage system upsets. Additionally, the ability to operate the plant manually, in the event of an emergency, provides another level of reliability that can be invaluable. Unlike many membrane systems that require complex automation and constant adjustments, the plant can be run in a manual mode to protect against power surges, brown outs, or a loss of network communications that may temporarily interrupt automation (even with necessary built in redundancy).
Conclusion
With this first leap into the Great White North, the horizon looks very promising for Eimco Water Technologies efforts in Canada. More importantly, the competitive cost and proven capabilities of the system to produce reuse quality effluent over a broad range of loading conditions demonstrates the ability of MBR systems to be competitive and reliable options to conventional technologies.
---

Author's Note:
Christopher Lewis is an MBR systems sales support applications manager for Enviroquip, an Austin, Texas, USA-based division of Eimco Water Technologies LLC, with offices in Oakville, Ontario, Canada. Contact: 512-834-6000, info.ewt@glv.com and www.glv.com