Smart wiring delivers dependable water
Due to heavy sludge co-production and a crucial need for quality process water, a German glassmaker designs its control panels with built-in redundancy.
Apr 1st, 2008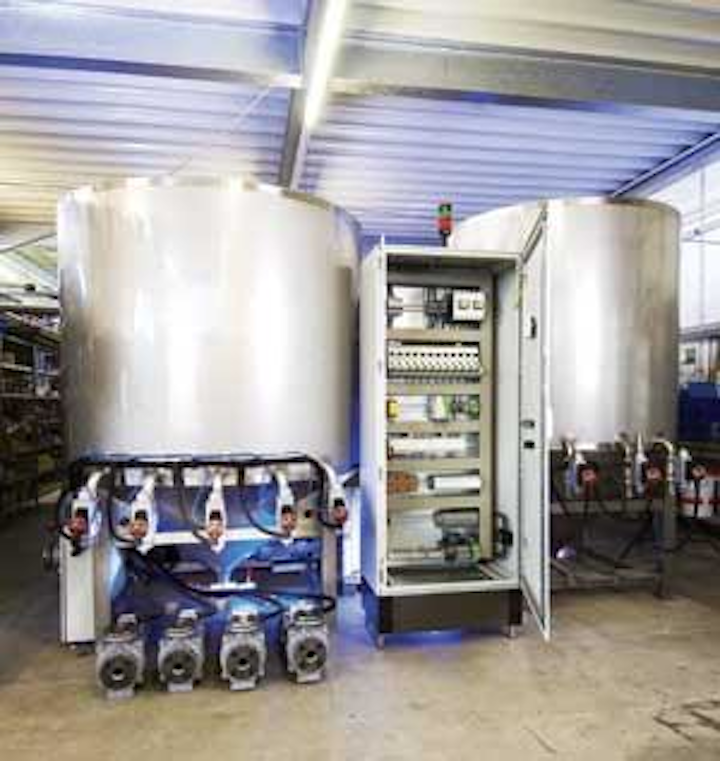 Due to heavy sludge co-production and a crucial need for quality process water, a German glassmaker designs its control panels with built-in redundancy. Moeller Electric's SmartWire system helps it maintain a good price/performance ratio.
Cutting, grinding, sawing, drilling – modern glass processing machines, fitted with diamond tools, can carry out all these tasks and more. During operation, though, they require large amounts of clean water for rinsing and cooling the glass. In fact, the largest machines produced by flat glass processing expert Glastechnik Holger Kramp need 3,000 litres per minute (lpm) of pure water.
Taking such a large amount of water direct from the mains would be costly as well as environmentally unsound, so Glastechnik Holger Kramp, of Stockelsdorf, Germany, equips its machines with sophisticated water treatment systems. These take contaminated water produced during glass processing, which typically contains as much as 200 grams of sludge per litre, and purify it so it can be re-used.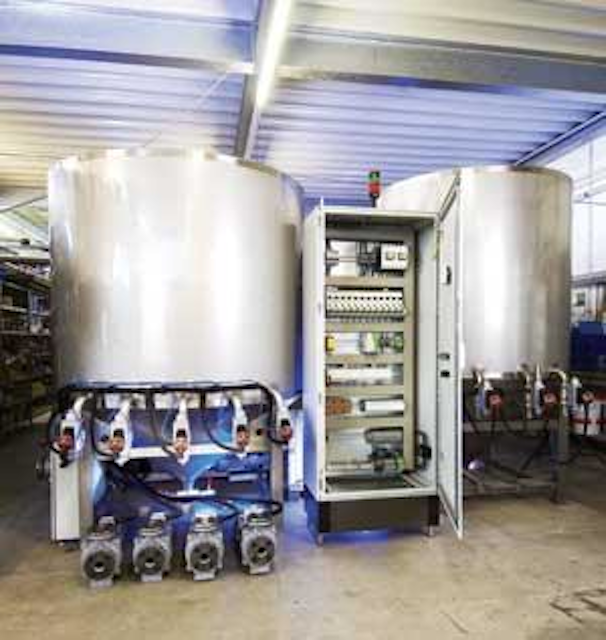 SmartWire replaces virtually all control wiring between motor starters and I/O level.
Click here to enlarge image
The process for treating the water involves pumping it through specially shaped vessels, adding a flocculating agent to help sludge form into clumps, and finally separation of the waste material by gravity. Up to a dozen pumps, including duplicate redundant units and those needed to circulate the water to the glass-processing machine itself, are used.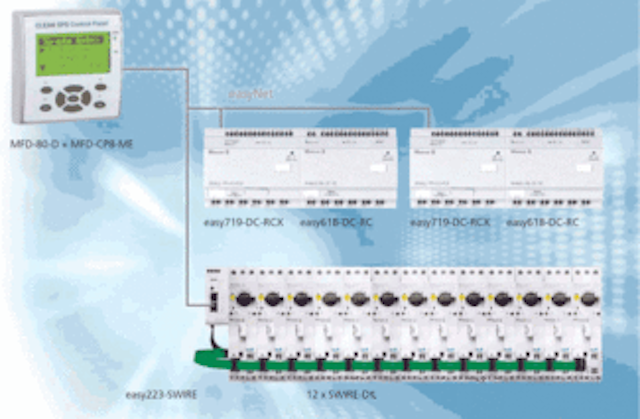 Moeller Electric's MFD-Titan easyHMI unit
Click here to enlarge image
To control the machine's many pumps and valves, the engineers at Glastechnik Holger Kramp wanted a control system that's versatile so it could be easily configured to suit different machine options, cost-effective and dependable. For motor starting, it chose Moeller Electric xStart starters with integrated motor protection circuit breakers. These units are compact, competitively priced and well proven in the field, but they also have another advantage that was very important to the German company – they're fully compatible with the new Moeller Electric SmartWire panel wiring system. This new panel wiring system replaces the cumbersome and bulky wiring between the motor starters and other key control system elements, such as variable speed drives, and the panel's main controller which, in this case, is a rugged Moeller Electric easy800 intelligent relay.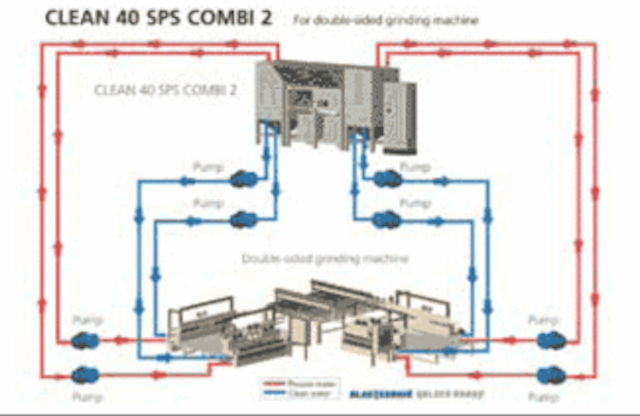 Glastechnik Holger Kramp water cleaning process
Click here to enlarge image
With the new wiring system, starters are simply fitted with adapters, in the same way an ordinary auxiliary contact block is fitted, and then control wiring is completed with preassembled plug-in leads. Connections allow contactors to be operated by the controller and also provide feedback signaling whether the contactor is open or closed as well as the trip status of the motor protection circuit breaker. Although starters needed for the 56kW pumps used in the largest versions of the glass processing machines cannot be directly fitted with SmartWire modules, this presents no difficulty as the range also includes I/O modules with four inputs and two outputs. These can readily be used to provide connections for starters of any size. The power connections for all of the starters in the panel are implemented using standardised links from the Moeller Electric range.
"Not only does the SmartWire system greatly reduce time taken to wire the panel," said Michael Kramp of Glastechnik Holger Kramp, "it also saves more time during testing and commissioning since, with the plug-in arrangement, it's virtually impossible to make wiring mistakes. In addition, setting up the system is as easy as pressing a button – the device addresses are assigned automatically. These cost-saving benefits allow us to keep the price of our machines very competitive, even though key elements in the control panels, including starters and drives, are duplicated to ensure maximum reliability." The easy800 relay used by Glastechnik Holger Kramp to complement the system is an ideal choice for this application. It supports SmartWire directly, has the capacity to handle 300 I/O points and is very easy to program. These features mean it can readily be configured to suit all the company's existing products with ample spare capacity to cope with future developments.
To provide the glass-processing machine with a convenient and intuitive user interface, Glastechnik Holger Kramp engineers chose Moeller's MFD-Titan easyHMI system. This inexpensive and compact IP65 unit has a backlit 132-x-64-pixel graphics-capable display, plus nine operating buttons, the functions of which can be customised to suit user requirements. Programming and display design for it is carried out quickly and easily using the easySoft- Pro software package.
"We jealously guard the excellent reputation of our products for quality and performance," said Michael Kramp, "and that means we need innovative high-end control technology. This advanced technology cuts our costs, while giving us the versatility we need to meet our customers' exact requirements."
Moeller Electric's SmartWire system, which is at the heart of this glassprocessing machine application, is part of the company's Darwin Technology initiative. This marks a fundamental shift in the way control panels are wired, by providing a convenient bridge between the world of automation and power switching devices. Ultimately, Darwin Technology will cover the whole Moeller Electric product portfolio for control panels.
Moeller Electric Ltd.
Aylesbury, Bucks, United Kingdom
www.moeller.co.uk

Enquiry No. 201
---

Improved grinder efficiency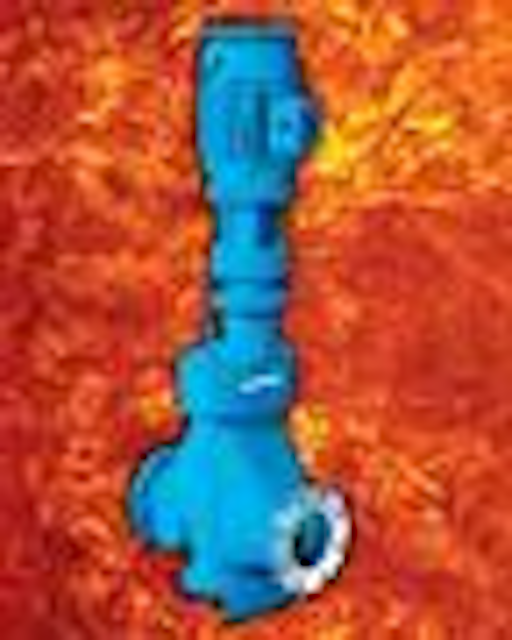 Click here to enlarge image
The Moyno® Annihilator™ is a twin shaft solids reduction unit designed for trouble-free performance in industrial and municipal installations including sewage lift stations, head works and sludge processing systems. Its field-proven, counterrotating, hexagonal shaft design coupled with 5-tooth, hardened steel cutters provide maximum shredding strength to process from 300-to-4,250 gpm (0.43-to-6.12 MGD) of influent. Properly specified, the grinder prolongs service life of downstream equipment such as pumps, sensors, monitors and valves. For greater performance, it's fitted with patented, toothed cutting spacers that increase efficiency, further decrease particle size and reduce failure risk from ragging. An exclusive seal cartridge assembly with mechanical seal and bearing on separate stainless steel sleeves allows for fast, easy replacement without purchasing complete cartridge designs. Other features include:
Complements Moyno's extensive wastewater treatment product offering
Dimensionally retrofits other twin shaft grinders Electronic control panel offers protection from overload
Various drive, housing, cutter, spacer/cutter and shaft options 3-to-5 hp motors
Moyno Inc., A Unit of Robbins & Myers Inc.
Springfield, Ohio, USA
www.moyno.com

Enquiry No. 202
---

Mixing solutions throughout the water treatment process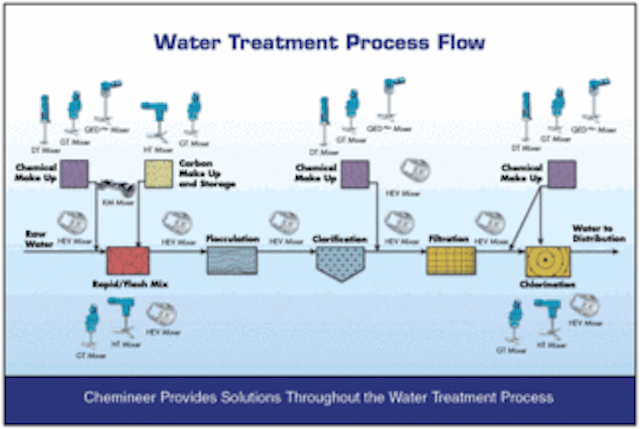 Click here to enlarge image
An extensive line of Chemineer turbine agitators with advanced impeller design options, and Kenics static mixers provide beneficial solutions for effective water treatment. With over 50 years experience, the company is a recognized leader in advanced mixing solutions for the municipal and industrial water treatment markets. Process applications include raw water and rapid/flash mixing to flocculation, clarification, filtration and chlorination preparing the water for distribution. Chemineer also maintains a high-tech test lab with advanced testing techniques to optimize water treatment applications. It has operations in Dayton, Ohio, and North Andover, Massachusetts, in the USA; Mississauga, Ontario, Canada; Derby, England; Mexico City; Singapore, China and India.
Chemineer Inc.
Dayton, Ohio, USA
www.chemineer.com

Enquiry No. 203
---

Turning sewage to energy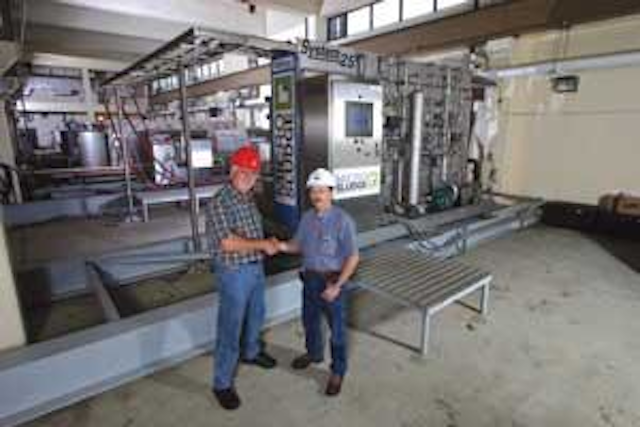 Royce Hammitt, WRF facilities manager (left) shakes hands with Paradigm Environmental president Gordon Skene at commissioning of MicroSludge System in Des Moines
Click here to enlarge image
MicroSludge® System has been installed to convert sewage to energy at the Metropolitan Wastewater Reclamation Authority (WRA) facility in Des Moines, Iowa, USA, which is jointly owned by 16 area communities. Installed in late 2007 with cost savings data to be collected over the first six months of operation, the technology processes sewage sludge and recaptures biogas which contains methane that can be used by power generators.
This new source of energy generated by the wastewater plant can be used at the facility for other operations, such as heating the buildings, reducing electricity purchased by the plant. Its creator Paradigm Environmental Technologies says the WRA system is the third full-scale system in operation and first commercial installation in the United States.
The Water Environment Research Foundation included MicroSludge in a 2005-06 research project evaluating technologies that reduce sewage biosolids generated at wastewater treatment plants. This involved a full-scale installation at the Los Angeles County Sanitation District (LACSD) Joint Water Pollution Control Plant. After a year of operation, researchers found it reduced odor of co-digested residuals by over 50%.
"MicroSludge allows wastewater treatment plants to generate clean, sustainable bioenergy from sewage. Wastewater treatment plants use considerable amounts of energy and are greenhouse gases generators, but with our technology, plants can become much more energy self-sufficient and reduce pollution," said Dr. Rob Stephenson, the process' inventor and Paradigm chief technology officer.
Enhancing anaerobic digestion and thereby reducing operating costs and increasing plant capacity, MicroSludge can also be used to process industrial waste, including petrochemical waste, and pulp and paper waste in addition to municipal applications. The technology has already demonstrated considerable benefits in earlier demonstrations. By converting much more sewage sludge to biogas, less sludge is left for disposal by the plant. And with a modular design, it can be easily deployed at existing facilities.
Paradigm Environmental Technologies Inc.
Vancouver, BC, Canada
www.microsludge.com

Enquiry No. 204
---

Water expertise lands key role on sludge digester
Further bolstering its strong reputation in the water sector, the Stockton-on-Tees office of international project management and cost consultants, Faithful+Gould won a key role on Northumbrian Water Ltd's (NWL) £28 million project to extend its Regional Sludge Treatment Centre (RSTC) at Bran Sands in Teeside.
Appointed to NWL's five year capital maintenance framework in 2005, its team – led by water expert Sean Lynch – adds to a significant portfolio of work attained locally in the past year with a national portfolio of about £10 million. After a strategic review of its sludge strategy, which included the Bran Sands site, NWL found its sludge treatment processes at the RSTC too energy intensive with high maintenance requirements. A major investment to improve the RSTC is under way to minimise whole life plant costs, whilst producing an enhanced, treated product suitable for disposal. Faithful+Gould will support and assist the Engineering Construction Contract (ECC) project manager MWH, preparing monthly cost reports and assisting NWL in risk management. The project is due to be complete in June 2009, with site work having commenced in October 2007. Other professional firms working on the project include Kvaerner Engineering Services and Entec UK.
Faithful+Gould, A Member of Atkins Group
London, England
www.fgould.com

Enquiry No. 205
---

Producing Class A Biosolids made easy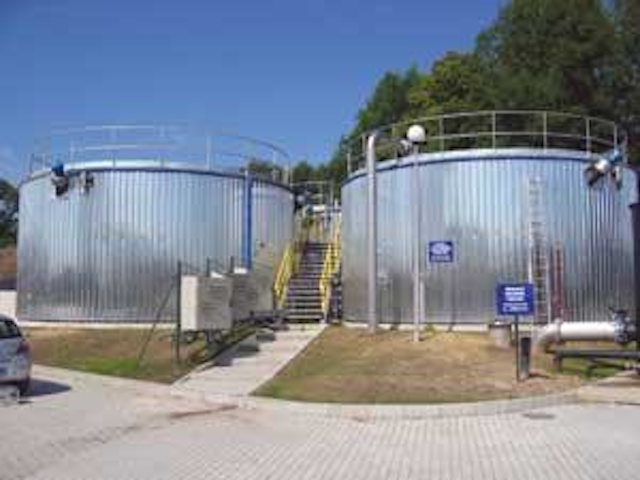 First European ATAD AIC™ installation in Poland
Click here to enlarge image
With over 80 installations on four continents, Autoheated Thermophilic Aerobic Digestion (ATAD) has been a sludge treatment process of choice for small- to mid-sized wastewater treatment plants for over 30 years. Being the first to include advanced peripherals, the new Fuchs ATAD Advanced Integrated Concept (ATAD AIC™) adds versatility to a flexible process. The first ATAD AIC installation in the USA started up in January in Weirton, West Virginia. The biosolids treatment plant consists of three reactors and total treatment volume of about 185,000 gallons (700 m³). It features the new reactor configuration which provides improved process efficiency at retention times as short as 7-9 days. This technology uses a flexible two-stage batch process designed for stability, reliability and maintenance easy. Having two different sized stages with a bigger first stage, it further improves overall heat balance of the process and makes feeding/discharge cycles more microorganism-friendly. Focusing on excellent dewaterability of treated sludge, the new concept features sludge thickening without use of polymers. Off-gas is treated with photocatalytic oxidation (PCO), an effective, reliable and nearly maintenance-free technology. Integration of the new Fuchs Centrox- Aerator is a further addition. The new aerator is able to draw in foam and mix it with the sludge, so oxygen trapped inside the foam layer can be utilized for the process. As result of all these improvements and new innovative equipment, plants designed according to the new ATAD AIC are able to produce high quality Class A Biosolids at minimum cost.
Fuchs Gas- und Wassertechnik GmbH
Mayen, Germany
www.fuchs-germany.com

Enquiry No. 206