IFAT & IWEX
Blue I Water Technologies, a specialist in advanced water quality control systems for municipal and industrial applications, introduces a new level of precision to meet the complex needs of municipal water management with its HydroGuard 702 water quality analyzer.
Apr 1st, 2008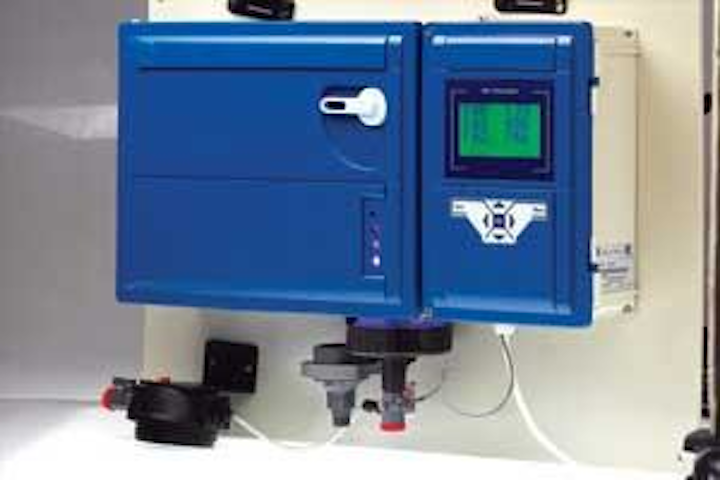 Precision municipal water quality control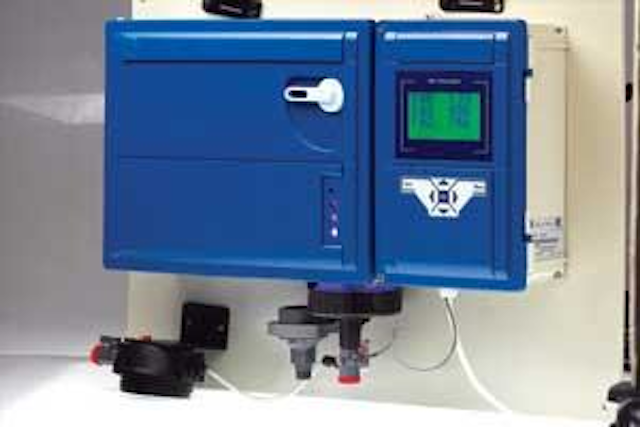 Click here to enlarge image
Blue I Water Technologies, a specialist in advanced water quality control systems for municipal and industrial applications, introduces a new level of precision to meet the complex needs of municipal water management with its HydroGuard 702 water quality analyzer.
The company has pioneered a new method of implementing colorimetric chlorine measurement that's reliable and simple to maintain over long periods of time. As a result, municipalities and businesses of all sizes can benefit from accuracy of colorimetric measurement without the usual maintenance overhead. Its solutions – operating in even the most difficult conditions, such as seawater – address a variety of industries including potable water, sewage treatment, power plants, pharmaceuticals, marine, desalination plants, and more.
The analyzer allows for selection of up to eight configurable parameters: free chlorine, total chlorine, conductivity, turbidity, pH, ORP and flow rate. Automatic re-calibration before each measurement enables the system to ignore potential disturbances in the water that could affect measurements. The entire system, including electrodes, is protected against water shut-off, and automatically resumes operation. The advanced, self-cleaning mechanical structure – plus high quality pumps and tubes – prevents clogging. Reagent consumption is very low, and replacement is fast and simple. An easily installed wireless communication network enables ongoing, real-time receipt of alerts and information from the field (via the Internet, telephone or mobile phone) providing a cost-effective, automatic remote management system. Blue I's sophisticated, modular products analyze multiple parameters in one platform, providing a unique level of flexibility that enables major system alterations to be accomplished via simple component exchanges.
Blue I Water Technologies
Kefar Saba, Israel
www.blueitechnologies.com
IFAT Hall A4, Stand No. 319
---

Showcasing disinfection solutions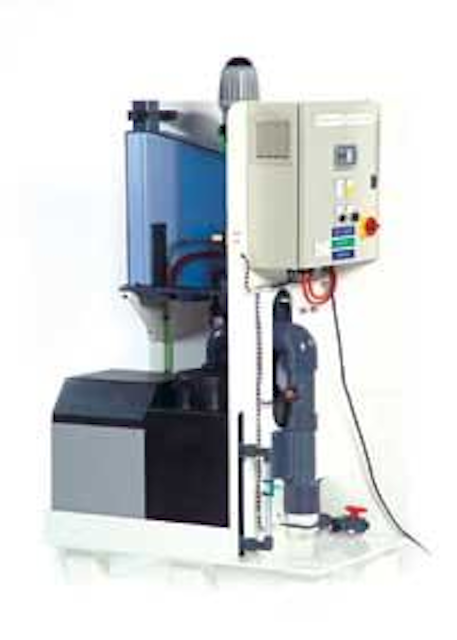 Click here to enlarge image
Severn Trent Services will spotlight at IFAT its ClorTec® SCT mini on-site sodium hypochlorite generating system – a compact, innovative new product that offers a safe alternative to transportation of hazardous chemicals. The company has installed over 3,500 ClorTec systems worldwide since 1988 for use in swimming pools, cooling towers, food and drink applications, and more.
Event attendees will also see the new MicroDynamics™ microwave UV disinfection solution. With a 3-year bulb life guarantee (three times that of competitive brands), the unit's electrode-less design avoids detrimental effects to the bulb from being switched on and off – a feature not possible with systems containing electrodes.
For clean water filtration projects, information on TETRA® LP Block™, a dual-parallel lateral underdrain filter floor for RGF and GAC filters, will be available. With excellent distribution of both backwash air and water for more efficient bed cleaning and lower operating costs, the product recently won several contracts for pre-treatment at European desalination plants.
Visitors can also learn about TETRA tertiary wastewater filtration solutions. TETRA DeepBed™ filters, a down-flow sand filter for filtration of effluent from municipal wastewater treatment plants, now treat over 1 million m3/d in Europe alone. The TETRA NSAF is a submerged aerated media process for the tertiary removal of ammonia (nitrification) from municipal and industrial wastewaters. And the TETRA SAF (Sumerged Aerated Filter) is available for BOD or BOD and ammonia removal.
Lastly, the Jet Aeration Sequencing Batch Reactor (SBR), an aeration process that can remove BOD, ammonia and suspended solids in a single tank for the complete treatment of sewage and industrial wastewaters, will be spotlighted.
Severn Trent Services
Fort Washington, Pennsylvania, USA
www.severntrentservices.com
IFAT Hall A2, Stand 504
---

Highlighting wastewater treatment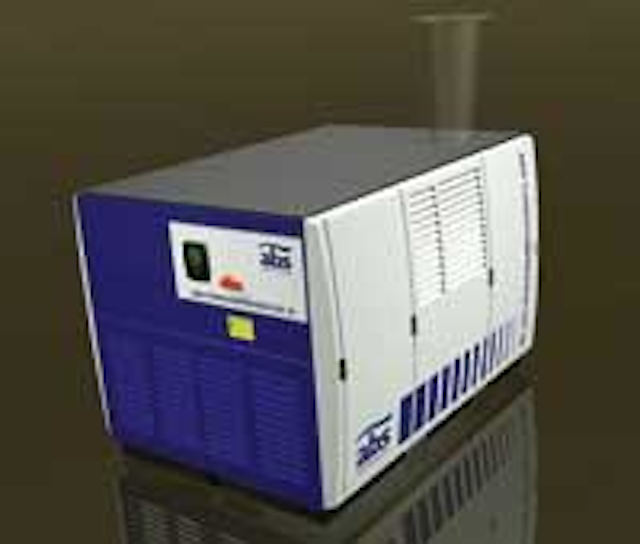 Click here to enlarge image
ABS will emphasize its strengths in wastewater technology with products and solutions presented at IFAT. Focusing on cost savings and maximized reliability, applications displayed cover the wastewater cycle – domestic installations, pressurized systems, collection network and terminal pumping stations, and biological treatment at the wastewater treatment plant.
New products on exhibit include:
The new ABS turbocompressor HST 40 – further extending this range, it offers one of the best running costs in the industry.
The new range of ABS pump controllers – simple-to-use and tailor made specifically for pumping applications.
The new complete family of ABS lifting stations Sanimat 1000 to Sanimat 2002 – easy to install, self-adjusting controls, small footprint and low noise level.
ABS can meet all requirements for safe wastewater investments – from system design, model testing, product selection and installation to service, maintenance, system optimization, and refurbishment projects.
ABS Group AB
Malmö, Sweden
www.absgroup.com
IFAT Hall A5, Stand 215/312
---

Innovative biological wastewater treatment
Click here to enlarge image
A new innovation for municipal and industrial wastewater treatment, the AqWise Remot N' Control process is easily operated and able to produce effluent to meet the most stringent nitrogen requirements in remote/small municipal plants/organizations. The patented DenitriFiltration (DNF) unit combines effluent filtration with denitrification, with technology based on AqWise Biomass Carriers, which offer a unique aero-dynamic design with extended surface area for biofilm growth, as well as a heavy duty structure and durable surface specially designed to protect biomass from abrasion and sheer without compromising mass transfer efficiency. It produces an effluent with very low (<3 mg/L) total nitrogen, as well as TSS concentrations comparable to those from an activated sludge system. The company's proprietary AGAR® bio-reactor family of solutions also increases capacity of BOD and nutrient removal in treatment works, and may be used for rapid, scalable and economical upgrade of existing plants or for new plants which require a limited footprint. AqWise's solutions are successfully installed worldwide in dozens of municipal and industrial plants, in fields such as oil & gas, pulp & paper, food & beverage and aquaculture farms.
AqWise - Wise Water Technologies Ltd.
Herzliya, Israel
www.aqwise.com
IFAT Hall A3, Stand 300
---

Pumps, screens & packaged systems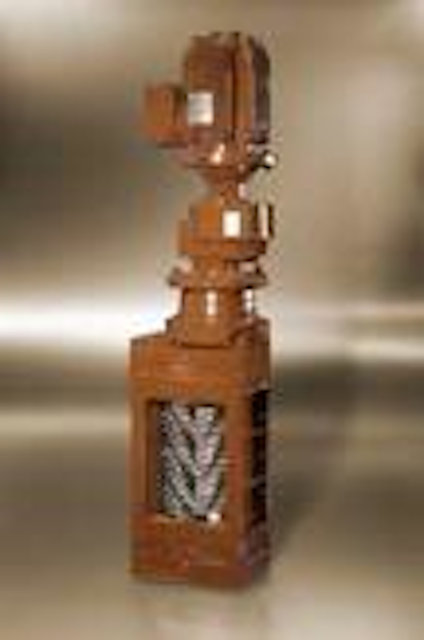 Click here to enlarge image
Mono NOV, a manufacturer of pumps, parts, grinders, screens and packaged systems, is promoting its high performance products and solutions for the water and wastewater industry at IFAT in Munich as well as IWEX 2008 in Birmingham, England, the latter in association with British Water.
At IFAT, Mono is exhibiting alongside its Muncher® grinder and screen distributor, VTS. In addition to showcasing individual products, Mono will be launching a new high performance packaged system, providing visitors with an exclusive first look at this innovative new pump protection solution. It incorporates progressing cavity pumps, Munchers and Discreens® specially designed to work together to maximise efficiency and performance. For example, Munchers can be combined with a Mono pump to create a complete packaged solution, which simultaneously macerates and pumps a product, smoothly and efficiently. These will also be on display at IWEX.
Mono marketing manager Nichola Vasconcellos said: "A key part of the EU Water Framework Directive looks at how water used for domestic, commercial and industrial purposes is treated and returned to water courses. As such, upgrading effectiveness of treatment processes has been a priority in the current 5-year spending round. It's likely this theme will continue in the forthcoming AMP (Asset Management Plan) 5 round, which starts in 2010; which, it's anticipated, will focus on improving lifetime cost-effectiveness of treatment processes."
Mono's products and systems are designed to ensure these facilities can operate more effectively and efficiently to meet regulatory goals. Typical applications include packaged pump stations, in flow disintegration and inlet screening, stormwater screening, sludge treatment, bio-waste maceration and final effluent pumping..
Mono Pumps Ltd.
Manchester, United Kingdom
www.mono-pumps.com
IFAT Hall A2, Stand No. 219/316 and IWEX Stand No. K40
---

Advanced wastewater solutions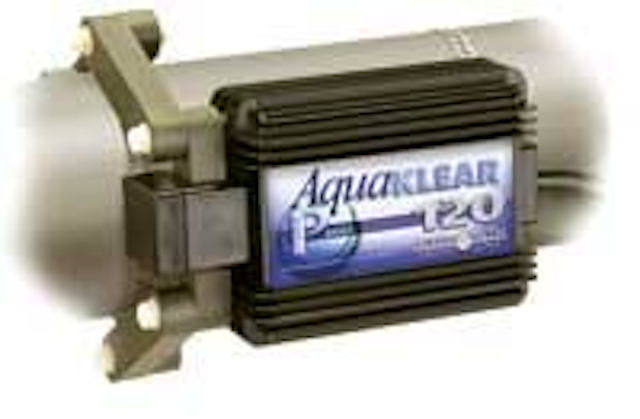 Click here to enlarge image
Hydro International will exhibit at both IFAT and IWEX. At IFAT, it will unveil its new Up-Flo™ Filter filtration technology, which can be configured to remove a range of pollutants, as well as Downstream Defender®, a separation system for removing silts and sediments at all flow speeds. Hydro's Storm King® Overflow with Swirl-Cleanse™ Screen for wastewater treatment plant protection will also be featured. At IWEX, the company will demonstrate its range of high performance, minimal maintenance and low lifetime cost wastewater solutions. Exhibits include a working model of Hydro's DynaSand® continuous sand filter system, which removes suspended solids and phosphates, converts ammonia and denitrifies wastewater – in addition to drinking water applications. Other wastewater treatment offerings on display include the DynaDisc™ microscreen filtration unit for tertiary wastewater treatment, Zickert low profile sludge tank scraper system, SludgeScreen™ compact, versatile sludge separator, and Grit King® Separator and cleaning process for WWWT plant protection. To reduce cost of ownership, all Hydro's high efficiency wastewater treatment solutions for utilities or industry are designed for minimum power use, low maintenance and renewables, and a long working life.
Hydro International
Clevedon, United Kingdom
www.hydro-international.biz
IFAT Stand No. 103, Hall A1 and IWEX Stand No. E22, Hall 9
---

Pumps, macerators & accessories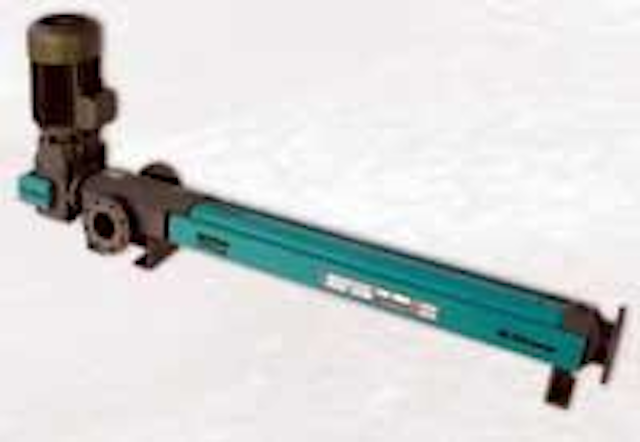 Click here to enlarge image
Progressing cavity pump manufacturer NETZSCH Pumps will be exhibiting a range of pumps, macerators and accessories designed for water and wastewater treatment applications at this year's IWEX. The company's iFD Stator, which is now fitted as standard to many pumps in NETZSCH's NM Series, will be on display for the first time at the event and will be featured alongside products including the modular, block-constructed BY and compact, highly efficient NEMO® M.Champ progressing cavity pumps; the company's recently launched M-Ovas range of macerator/grinding machines; and Tornado industrial rotary lobe pump. New NETZSCH UK managing director James Harvey said: "Our progressing cavity pumps have many benefits for the water and waste treatment industry. We have installations at some of the largest plants in the UK and Europe, some significantly reducing maintenance bills leading to reduced whole life costs."
NETZSCH Pumps Ltd.
Aldridge, Walsall, United Kingdom
www.netzsch-pumps.com
IWEX Stand No. J24
---

Making carbon reduction count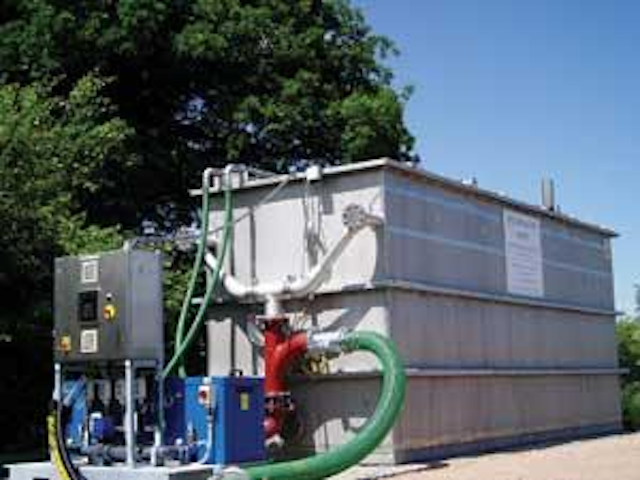 Click here to enlarge image
Launching the UK government water strategy for England, Future Water, Secretary of State Hilary Benn emphasised the need for industry to reduce CO2 emissions by improving efficiency. Wastewater treatment is thus set to be a focus as companies are forced to sign up to the Carbon Reduction Commitment scheme, which will entail major reductions in a company's carbon footprint.
With wastewater treatment, accounting for a significant proportion of power consumption, many visitors to IWEX will be looking for a solution to this problem. Brightwater FLI's HSAF® submerged aeration filtration delivers high efficiency at minimal air and power needs. With a typical life of 20 years, the technology's attainable energy savings can cut a major slice off both the financial and environmental bottom line.
This biological process efficiently reduces BOD and ammonia via the company's unique BMax® floating media, which is manufactured from recycled plastics. Over 40 units were installed in the last 12 months in both municipal and non-municipal applications such as food & beverage and landfill sites. The system delivers high quality effluent (1mg/L ammonia in tertiary mode) with an exceptionally small physical footprint. Available as a package or a bespoke system, the plant can be purchased or hired. Four standard sizes are offered that can treat up to 1000 PE in a single unit, with bespoke systems available to serve larger schemes.
Brightwater FLI Ltd.
Letchworth, Hertfordshire, UK
www.brightwaterfli.com
IWEX Stand No. K40
---

Chemical-free water conditioning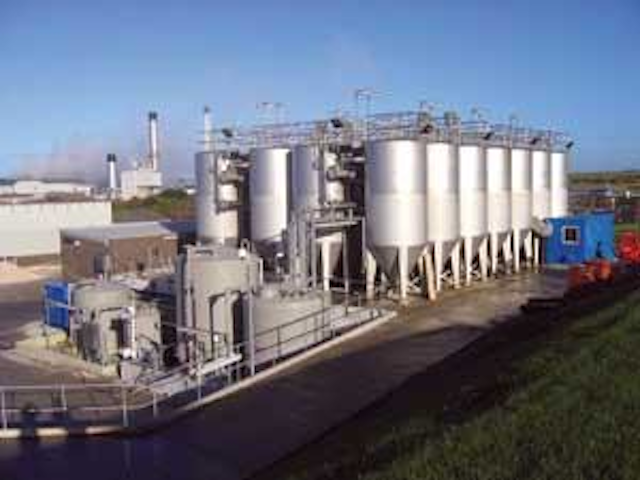 Click here to enlarge image
Hydropath will be displaying its range of chemical-free electronic water conditioning products at IWEX 2008. With experience in five continents, the company has over a decade of expertise combating limescale, bacteria and algae. It offers environmental solutions and cost-saving benefits for HVAC, swimming pool/club and agricultural markets, as well as other water treatment fields.
The anti-scale deposition technology encourages this natural physical reaction to occur not on the heat exchanger or internal surfaces but in suspension. It works by emitting randomly varying electric fields throughout the system, enhancing precipitation of bicarbonates from solution to suspension. Clusters of ions are generated and these clusters act as seeds for calcite precipitation in suspension, rather than adhering to pipe work or internal surfaces. As such, they're washed away with the flow or during blow down.
To avoid the high operating costs of complicated chemical disinfection and dosing programmes, Hydropath also has also developed water conditioners to reduce bacteria and eradicate algae. These conditioners have the effect of killing bacteria and algae by applying a charge which causes them to hydrate with a pure water layer that's absorbed by osmosis creating osmotic pressure that bursts the membrane thus killing the organism.
As such, the technology can help with reduced dosing regimes, reduced backwashing, improved filtration and other benefits.
Hydropath (UK) Ltd.
Nottingham, England
www.hydropath.com
IWEX Stand No. K40