Mexican Auditorium System Debuts to Encores
The new 3,500-seat, 52,000-square foot Carretera Nacional in Acapulco features innovative wastewater treatment with SBR, infiltration system from Infiltrator Systems Inc. and septic tank.
Jul 1st, 2008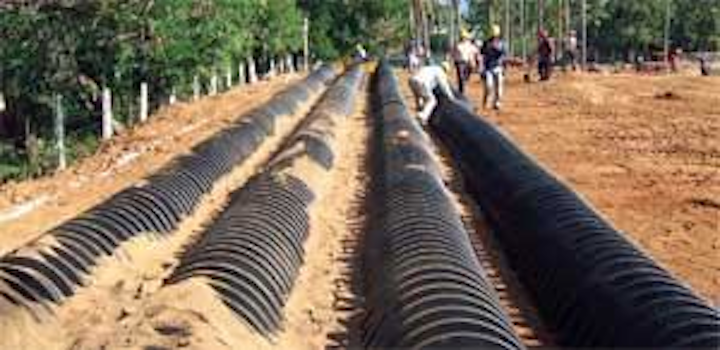 By Dennis F. Hallahan, PE
The new 3,500-seat, 52,000-square foot Carretera Nacional in Acapulco features innovative wastewater treatment with SBR, infiltration system from Infiltrator Systems Inc. and septic tank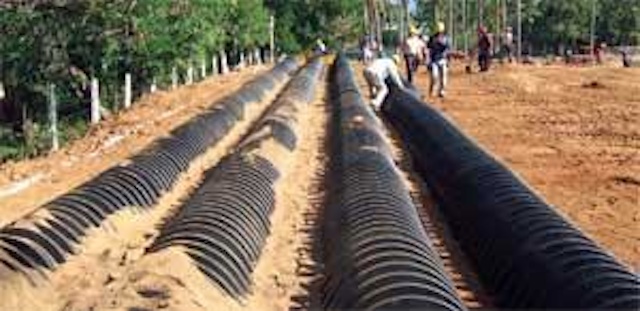 500 Quick4 infiltration chambers were installed in clean sand for new Acapulco auditorium.
Click here to enlarge image
The Carretera Nacional auditorium in Acapulco, Mexico, is touted as a showcase of the area. With a seating capacity of 3,500 and area over 52,000 square feet, the municipal project is one of the largest new developments in the Zihuatanejo province. The challenge for engineers – Jesus Alfredo Pacheco Concha, Jorge Langrave Campos and Jose Rodolfo Marques Herrera – in developing the facility was to design an effective wastewater treatment solution. Not only did the system need to fulfill environmental regulations for residual waters legislated by the state of Guerrero, but it also needed to accommodate intermittent usage and large peak flows typical for auditorium systems.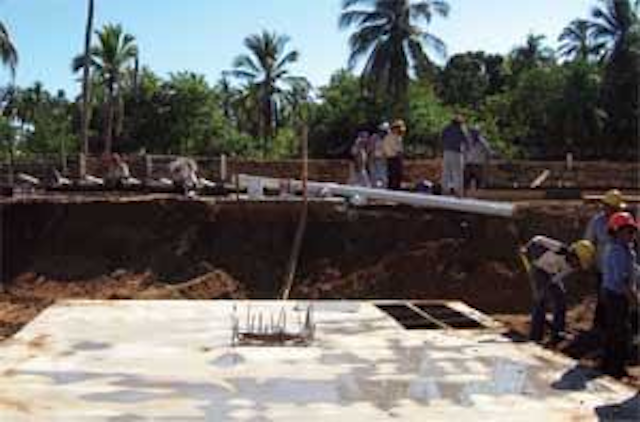 A 19,020-gallon capacity septic tank is included in installation.
Click here to enlarge image
With a total project area of 226,628 square feet Pacheco began his research for a viable solution. With the two-to-three day a week intermittent usage issue, functional usage cost considerations were key factors in the system design and operation. Several research studies and past laboratory work were reviewed to analyze similar situations at auditoriums and municipal buildings in an effort to proceed toward a solution.
The site was previously undeveloped, thus picking a wastewater treatment system that would protect the shallow aquifer (about one meter in depth) from contamination by residual waters was a priority. This aquifer is directly connected to the Coyuca de Benites lagoon behind the property which is one of the greater lakes of Guerrero. This series of lakes is known for outstanding bass fishing and the lagoon is a well-known tourist spot.
Engineers reviewed a number of options including a plant for residual water treatment, but it was determined that a plant wasn't an option due to the high cost of construction and intermittent usage of the auditorium. These factors would combine to greatly increase the overall cost of treatment. Based on this and a further analysis of available research, engineers decided on design and installation of a sequencing batch reactor (SBR) treatment plant with an infiltration system at the site. Prior to beginning any construction, regulations required a detailed assessment of the quality level of treated effluent that would be generated after the treatment process.
Although an SBR hadn't been used on this scale before in the region, research data and lab testing supported the technology's selection including an infiltration treatment system incorporating Infiltrator Quick4® High Capacity chambers similar to those used in stormwater treatment. The engineers had good experience with these chambers in the past due to successful prior use as part of the wastewater treatment system at a smaller auditorium.
To ensure maximum system efficiency, a study of groundwater mechanics and percolation rates in the installation area was done to determine proper system sizing as well as quantity and type of infiltration chambers optimal for treatment. This resulted in selection of the Quick4 chamber, which offers installation flexibility, contouring capability and multiple piping options. The shorter four-foot chamber length offers greater design and installation flexibility, and the MultiPort™ End Caps include molded-in inlets/outlets to allow piping to enter or exit the system from various directions.
In order to use the chambers for the installation at Carretera Nacional, though, a mound system would be required. This meant construction of a one-meter embankment above the ground surface level to protect the groundwater. Over 2,300 cubic meters of soil was used to form the mounds where the 500 Quick4 chambers were sited. The chambers were then covered with 40 cm of soil.
All the residual wastewaters is channeled from the men's and ladies restrooms to a 19,020-gallon septic tank. The tank is constructed with a series of baffles for a primary settling of the organic matter over a 24-hour retention time for the effluent water. The system also includes a holding tank with two distribution boxes from which the effluent exits via nine distribution lines and is dosed intermittently to the infiltration chambers.
The installation was completed in the first two weeks of January 2008 as planned and during the first event at the auditorium in early February, everything performed as designed. The final test will be in late spring when the auditorium begins to be used consistently and the system receives continuous flow.
---

Author's Note:
With 15+ years of on-site wastewater treatment systems design and construction expertise, Dennis Hallahan is technical director at Infiltrator Systems Inc., of Old Saybrook, Connecticut, USA. Contact: 800-221-4436 or www.infiltratorsystems.com