Valves Allow True Colors to Shine at Spanish Textile Plant
Barcelona's CEPEX supplies Astramatic with 865 valves for water regeneration and recycling plant (RRP) at Fibracolor textile tinting operation in Tordera, Spain.
Jul 1st, 2008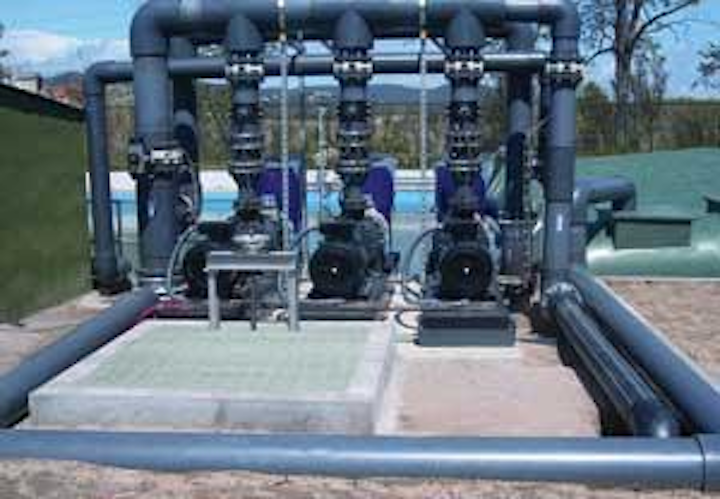 By Iván Chica
Barcelona's CEPEX supplies Astramatic with 865 valves for water regeneration and recycling plant (RRP) at Fibracolor textile tinting operation in Tordera, Spain.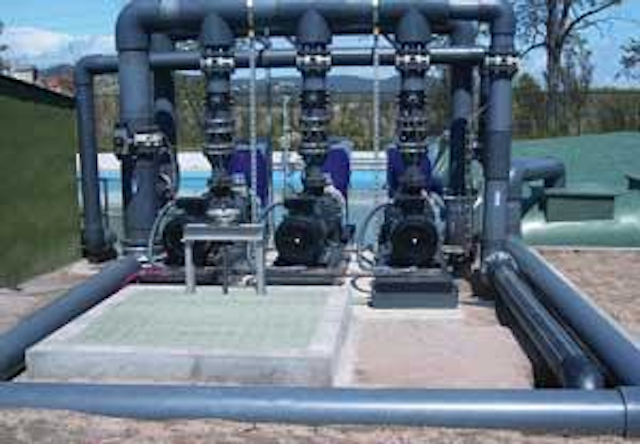 The Fibracolor RPP project was among those honored at Smagua 2008 for sustainable achievement.
Click here to enlarge image
Industrial water recycling is essential for sustainable management of the environment and its natural resources. Therefore, thermoplastic valve and fitting specialist CEPEX designs its products as an integral element and has implemented various policies aimed at reducing the environmental impact of its products, installations and industrial processes. Like many companies, it's continously developing new ways of minimizing product residues, reducing its greenhouse gas emissions and preventing any contamination resulting from its activities.
The Client
Astramatic is an engineering and consulting company with over 30 years of experience. The company near Barcelona, Spain, designs, builds, manufactures and maintains industrial process water treatment plants adapted to a variety of applications. Its know-how and efficiency are the keys for water potabilisation and tertiary wastewater treatment for reuse after neutralisation.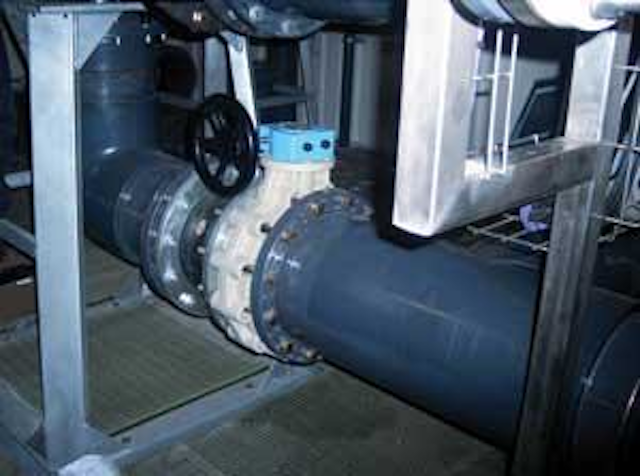 Cepex' installation of 865 valves in the Fibracolor factory in Tordera (Barcelona, Spain), of which 32 belong to its new industrial DN315 series
Click here to enlarge image
The conception and construction of water treatment plants on a turnkey programme basis enables Astramatic to be a specialist able to adjust its competence to virtually any customer's needs and according to legal or regulatory specifications. Its projects add value to its client's operations and are fully customized to those client's needs.
The Project
In the middle of 2007, work started on the Fibracolor's regeneration and recycling plant (RRP), an important Spanish textile tinting company, in which Astramatic had decided to install PVC valves and accessories from the CEPEX range of products. The goal is to use this treatment plant for tertiary wastewater treatment of EDAR, a reversed osmosis purifying plant for wastewater in Tordera (Barcelona). The water treatment is divided into four different phases: main pumping, filtering, ultrafiltration and RO. The RRP will recycle the water that's currently pumped into the discharge water used by Fibracolor's other industrial facilities, putting it through the multiphase treatment regimen to prepare it for reuse, thereby reducing the company's overall water consumption.
With each multiphase treatment process, 600m3/h of water can be recycled and the plant is projected to be fully operational by summer 2008. When finished it will be the first industrial RRP in Spain and the second one in Europe using the integral four-phase recycling process. Moreover, the whole installation is operated by PLC control centers that, using touch screens that can control the movements of all water conduits and valves.
The Solution
PVC is used for all conduits, tubes and valves due to its high resistance against wear and tear, temperature fluctuations and corrosion. Most metal corrodes easily, is much heavier than PVC and is often non-recyclable.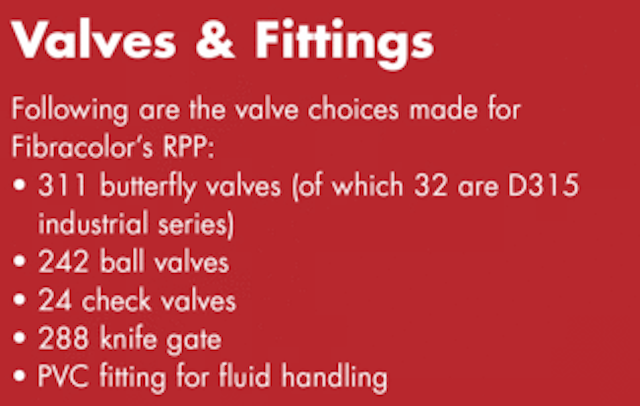 Click here to enlarge image
The DN315 (12") butterfly valves installed belong to the new range of butterfly valves specially developed for industrial applications. The valve has heavy duty construction to support severe conditions and to avoid corrosion problems. Its high impact resistance, UV stabilization and lightness make it easy to install and offers reduced handling, labour, freight and installation costs. These industrial butterfly valves are available from DN63mm (2") up to DN315mm (12") – one of the few available in plastic with these features – in PN10 (150 psi) with gear box, electric and pneumatic actuation options. This valve is a perfect choice with respect to plants for the chemical industry, wastewater technology, water treatment facilities and in drinking water supply systems.
Without the proper fittings and valves to ensure water travels reliably where and when it should without undue leakage, such recycling and reuse efforts would not be successful in improving the bottom lines of end-users or reducing the impact on water supplies and our environment. Thanks to the RRP a more sustainable water management is achieved.
---

Author's Note:
Iván Chica is marketing and communications manager for CEPEX Holding, one of Europe's largest manufacturers and suppliers of fluid handling materials. Contact: +34 93 861 27 43 or www.cepex.com