VIDEO: MABR tech is "moving the needle" - Henry J. Charrabé, CEO of Fluence Corp
Henry J. Charrabé, CEO of Fluence Corporation sets out his strategy to go after China's rural wastewater market...
Jul 31st, 2017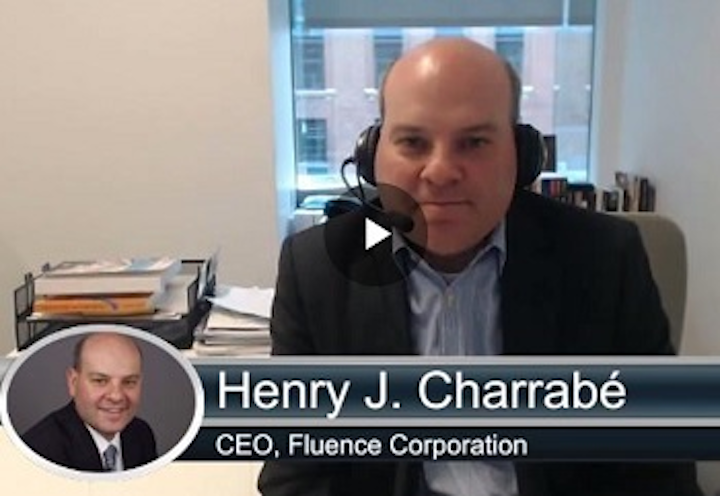 Henry J. Charrabé discusses his ambitions for Fluence Corporation - a newly formed company between long-standing RWL Water and Israeli firm Emefcy...
LONDON, England – Earlier this month Fluence Corporation was launched following a merge between long standing RWL Water and Israeli new entrant Emefcy.
Using Membrane Aerated Biofilm Reactor (MABR) technology, the company intends to go after the decentralised, wastewater market in rural China.
This is estimated to be worth $15 billion over the next five years as a result of plans from the Chinese government to provide wastewater services for 440 million people.
A major shareholder of the new firm is billionaire Ronald Lauder, youngest son of cosmetics giant Estee Lauder, who founded RWL Water and which carried his initials.
Henry J. Charrabé was appointed as the CEO of Fluence Corporation following his role as CEO of RWL Water.
In a video interview with WWi magazine (watch above), as part of its ongoing #waterchat series with industry thought leaders, he discusses why he thinks MABR is a game-changing technology for the industry.
The full write-up of the interview will appear in the August-September edition of WWi magazine.
###
Read more
Fluence targets rural China after RWL Water/Emefcy merge
Ethiopia MABR wastewater deal marks international expansion for Emefcy
Emefcy's MABR China roll out helps push up share price
RWL water granted 5.8MGD seawater desalination project in California, Mexico