The Dubai Strategic Sewerage Tunnel megaproject to be 'development of the century'
Construction could start as soon as 2019 on Dubai's deep-tunnel wastewater treatment system costing AED30 billion...
Jul 13th, 2017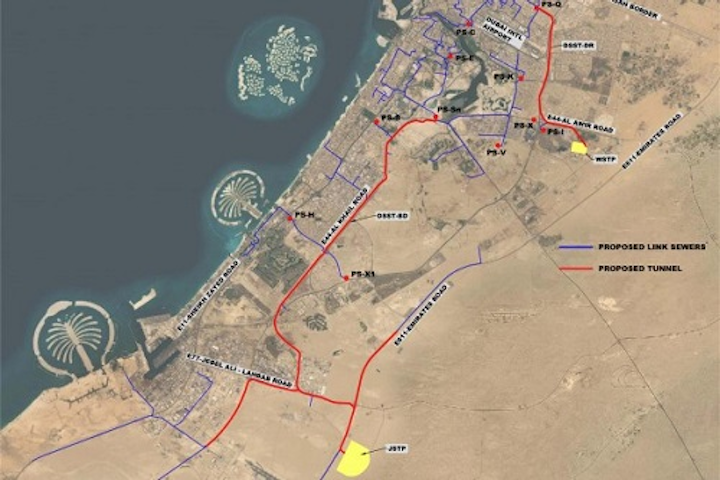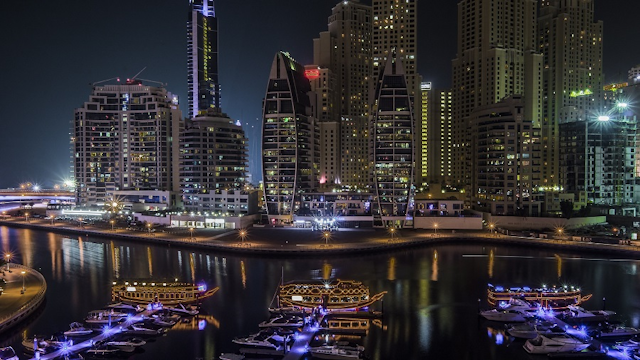 DUBAI, UAE – Plans in Dubai for a deep-tunnel wastewater treatment system costing AED30 billion (US$8bn) are progressing with construction expected to start as soon as 2019.
Feasibility studies for the multi-phase development are now said to be complete.
The project, dubbed as the 'development of the century', will be executed over six years in two phases, with the first to be launched in Deira District and the second in Bur Dubai.
The two tunnels are required to support Dubai's strategic 50-year master plan and cover the two key catchments.
Once complete, the development is expected to help reuse wastewater and generate "millions of cubic metres of irrigation water", the Dubai news agency WAM reported.
A total of 100 pumping stations are expected to be replaced once Dubai's project is complete.
Engineer Hussain Nasser Lootah, director general of Dubai Municipality was quoted saying that the system will significantly reduce the running cost of the current wastewater system.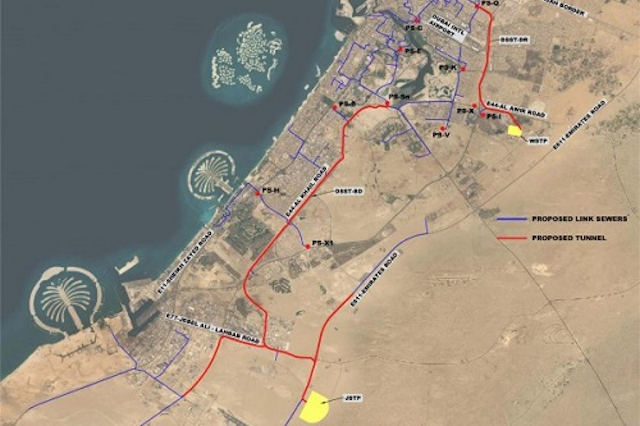 In May 2016 consultancy Parsons secured the contract from Dubai Municipality to provide feasibility studies, preliminary design, tender preparation and support.
This will then be followed by program management of the detailed design and construction phases, as well as supervision of the construction phase of the primary tunnels and pumping station.
Meanwhile, Abu Dhabi has been progressing with its billion dollar Strategic Tunnel Enhancement Programme (STEP) infrastructure programme.
As WWi reported earlier this year, three new pipelines will be added, connecting the remaining areas of the Emirate State to the network and allowing Abu Dhabi to collect and reuse 100 percent of its wastewater by 2019.
Costing $1.9 billion and started in 2008, STEP includes a 41-kilometre long sewer tunnel and also 43 km of smaller diameter new link sewers (watch video interview).
Tripling Abu Dhabi's sewerage network, the system will provide for an average wastewater flow of 800,000 m3/day, with an ultimate capacity of 1.7 million m3/day by 2030.
Elsewhere in the Middle East, Qatar has started work on its Inner Doha Re-sewerage Implementation Strategy (IDRIS), costing US$2.7 billion but reports early last year suggested the development had been halted by the public works authority, Ashghal.
Doha News reported that in a letter sent to contractors, project managers CH2M Hill ordered firms to "suspend the works with immediate effect".
The following was quoted from a sent letter: "The reason for this suspension is that the Authority is presently anticipating the termination of the Contract for the Authority's convenience, pursuant to Sub-clause 18.5.1 (b) of the General Conditions of the Contract."
###
Read more/watch more
VIDEO: Abu Dhabi to reuse 100 percent wastewater by 2019
VIDEO INTERVIEW: Abu Dhabi STEPs up wastewater treatment
VIDEO INTERVIEW: DTSS2: Singapore's next deep tunnel
Singapore's DTSS Phase II: Five key facts you need to know
Digging deep in Singapore: Getting ready for DTSS Phase II