OriginClear agrees to pilot program at Sinopec Shale Gas Site in China's Shandong Province
Regional partnership for proving program signed at provincial government ceremony.
Apr 11th, 2017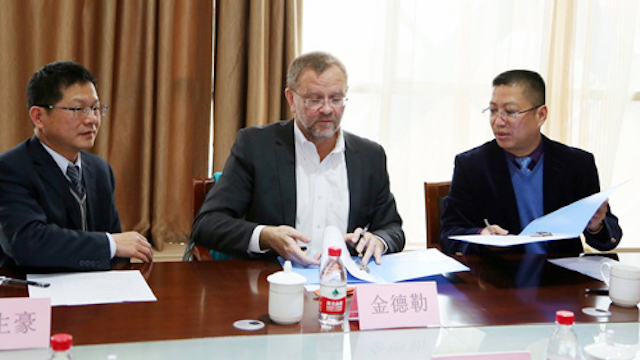 Signing the Agreement. L to R: Stephen Jan of OriginClear HK, JL Kindler of OriginClear, Tian LuXing (president of Shandong Tong Heng Environmental Protection Engineering Co.,Ltd)at Dong Ying, Shandong Province, China. Photo: Sinopec Group.
LOS ANGELES,APRIL 11, 2017--OriginClear Inc. (OTC/QB: OCLN), a leading provider of water treatment solutions, today announced its partnership with a regional organization in the Chinese province ofShandongfor remediation of a shale gas site operated by the government-ownedSinopecGroup,Asia'slargest oil and gas company, and the second largest in the world, as listed in theFortune Global 500.
The two- to three-week pilot at Sinopec's FuLing shale gas site inChongqing, a major city inSouthwest China, is intended to qualify OriginClear'sElectro Water Separation™ (EWS™) technology for integration into a multi-stage process that's designed to process hydraulic fracturing and flowback water for on-site reuse.
"As water quality regulations tighten and water becomes increasingly scarce, wastewater treatment technologies will become more of a necessity and less of a choice. This is the problem we are facing here on the FuLing site," said Dr. Wang, Project Site Manager at Sinopec Energy Saving & Environment Protection Co., Ltd., the site operator. "We're proud to see OriginClear leading the way with a process that is chemical free and extremely energy efficient while simultaneously saving operators money."
OriginClear Technologies (Hong Kong)signed a sales license agreement with Shandong Tong Heng Environmental Technologies (SDTH) onMarch 24thin DongYing, the capital city ofShandong Provincewhere SDTH is headquartered. The agreement was signed at a ceremony hosted by theShandong Provincelocal government, represented by Mr.Li Dongzhi, director of the Dongying Economic & Technological Development Zone.
"This opportunity to demonstrate our success at a site operated by a Top Three global oil and gas company will validate our technology and potential to disrupt the Chinese market," said 'JL' Kindler, President of the OriginClear Technologies Division. "We intend to scale up our operations inChina, with the support and sponsorship of provincial governments."
The pilot test will run for approximately two to three weeks. During this time, OriginClear'sElectro Water Separation™ (EWS™) technology will remove total petroleum hydrocarbons and suspended solids from the wastewater, prior to a reverse osmosis treatment. Following confirmation of EWS performance and successful removal of contaminants, the water will be deemed suitable for reuse on this site's hydraulic fracturing process. Hydraulic fracturing requires clean water to ensure proper dosing of the variety of chemicals being used in the process.
According to the United Nations, despite having a population of 1.35 billion – 21 percent of the world's population –Chinaonly has 7 percent of the world's freshwater supplies. One large contributing factor isChina'srapid economic growth, fueled by heavy water consumption for production processes. Furthermore, considering60 percent of the country's underground water is polluted, the country's pollution problems also contribute to the freshwater supply shortage. Capital expenditure on industrial water and wastewater treatment inChinais setto increase by nearly 25 percent over the next five years, reaching$6.8 billionin 2020.
About OriginClear Inc.
OriginClear is a leading provider of water treatment solutions and the developer of a breakthrough water cleanup technology serving the rapidly growing$500 billionworld market. Through its wholly owned subsidiaries, OriginClear provides systems and services to treat water in a wide range of industries, such as municipal, pharmaceutical, semiconductors, industrial, and oil & gas. To rapidly grow this segment of the business, we strategically acquire profitable and well-managed water treatment companies, which allow us to expand our global market presence and technical expertise. To enable a new era of clean and socially responsible water treatment solutions, we invented Electro Water Separation™, a breakthrough high-speed water cleanup technology using multi-stage electrolysis, that we license worldwide to water treatment equipment manufacturers. Water is our most valuable resource, and the mission of the "Family of OriginClear Companies" is to improve the quality of water and help return it to its original and clear condition. To learn more about OriginClear®, please visit our website at www.originclear.com.