PRODUCTS & SERVICES — TANKS, STRUCTURES
Caldwell Tanks offers custom-built water tanks that have been turned into community attractions...
Jul 1st, 2005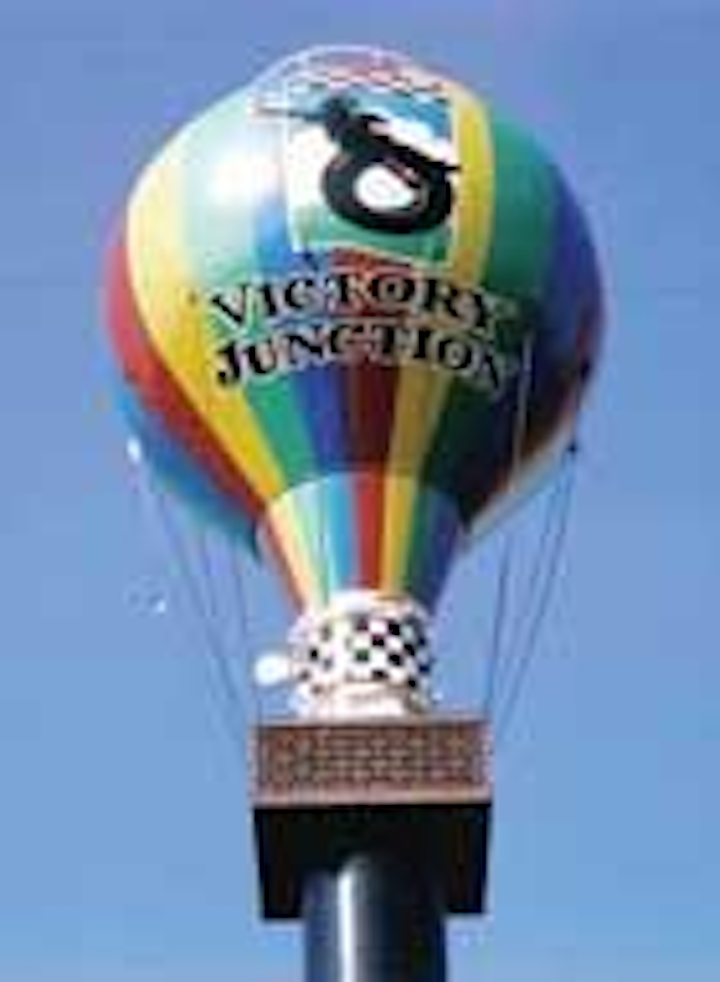 Custom water tanks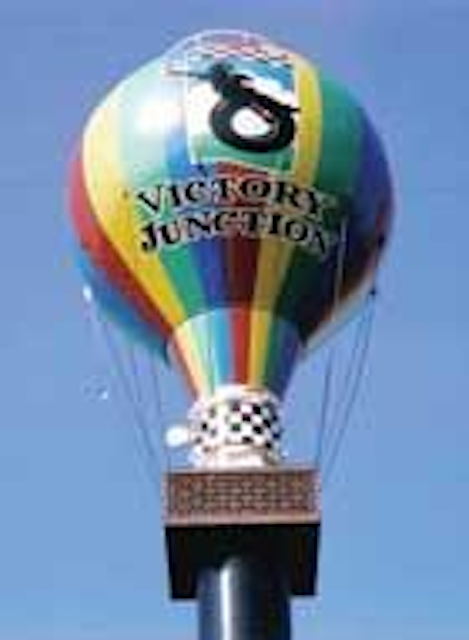 Click here to enlarge image
Caldwell Tanks offers custom-built water tanks that have been turned into community attractions, celebrations, and pieces of architecture that bring communities together throughout North America. The company custom designed and built the brightly painted hot air balloon-shaped water tank that welcomes chronically ill children to Victory Junction Gang Camp each summer in North Carolina.
Caldwell Tanks
Louisville, KY
Tel: 502-964-3361
Web: www.caldwelltanks.com
Reservoir mixing system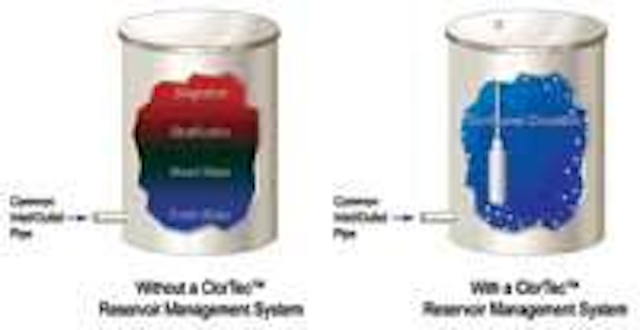 Click here to enlarge image
Severn Trent Services' Reservoir Management System (RMSTM) is designed to manage, maintain and control chlorine residual levels across varying municipal, commercial and industrial applications; optimizing water quality, reducing cost and energy consumption while maintaining full system capacity.
Severn Trent Services
Torrance, CA
Tel: 800-524-6542
Web: www.severntrentservices.com
Tank, pump system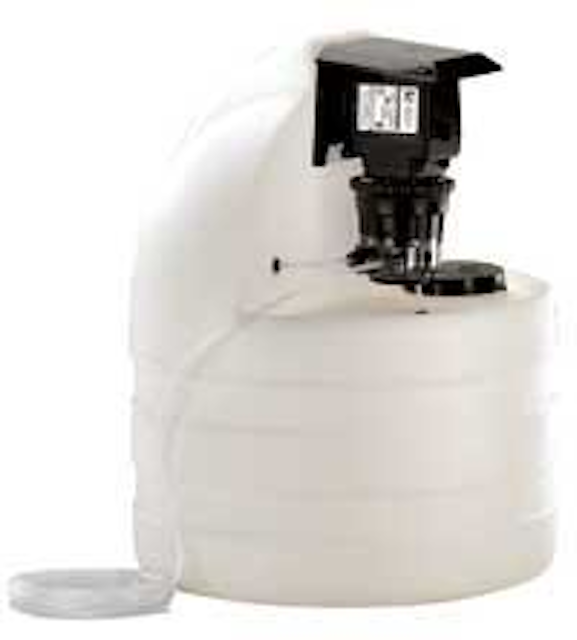 Click here to enlarge image
G.H. Stenner, manufacturers of peristaltic metering pumps since 1957, has combined their pumps with the convenience of a tank. The systems are completely assembled at the factory and shipped ready for easy installation and start up. The tanks are available in 30 or 15 gallons, UV resistant gray or natural and constructed of polyethylene for indoor or outdoor applications.
G.H. Stenner & Co.
Jacksonville, FL
Tel: 800-683-2378
Web: www.stenner.com
Polymer coating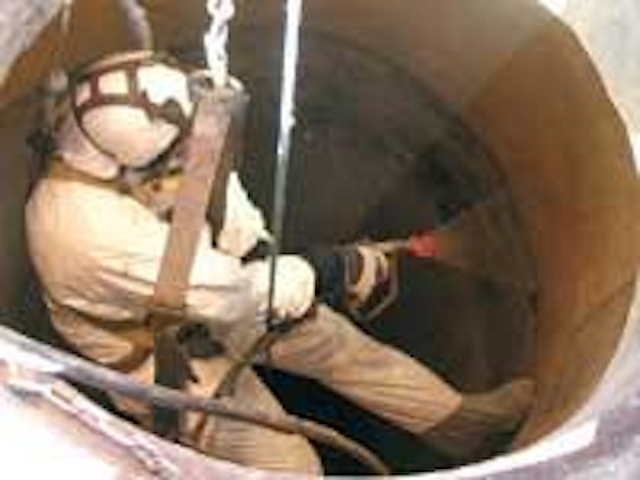 Click here to enlarge image
Sauereisen recently introduced the latest variation of its SewerGard family. SewerGard Glaze No. 210G is a polymer coating that provides longevity where either a topcoat or economical, stand-alone lining is required to protect wastewater infrastructure. The glaze is composed of 100% solids epoxy and shares the same chemical resistance as the company's proven No. 210.
Sauereisen Inc.
Pittsburgh, PA
Tel: 412-963-0303
Web: www.sauereisen.com
Zinc-rich primer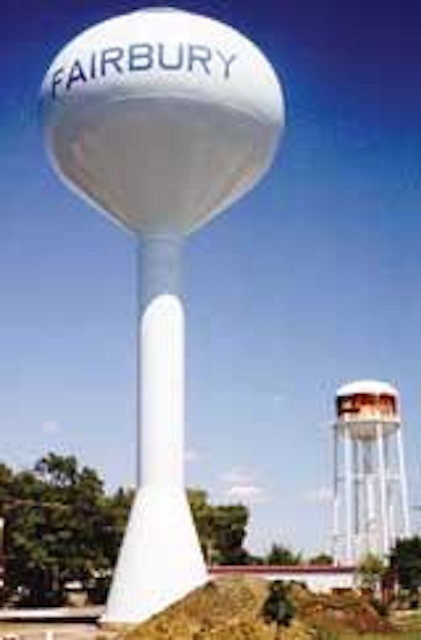 Click here to enlarge image
Tnemec offers 91-H2O Hydro-Zinc for use on water tanks and potable water treatment facilities. A moisture-cured zinc-rich urethane primer, it reduces application costs and extends the service life of tanks and treatment facilities, such as the water tank pictured from Fairbury, IL. The primer is ANSI/NSF Standard 61 certified for potable water.
Tnemec Co.
Kansas City, MO
Tel: 816-483-3400
Web: www.tnemec.com
Panelized tanks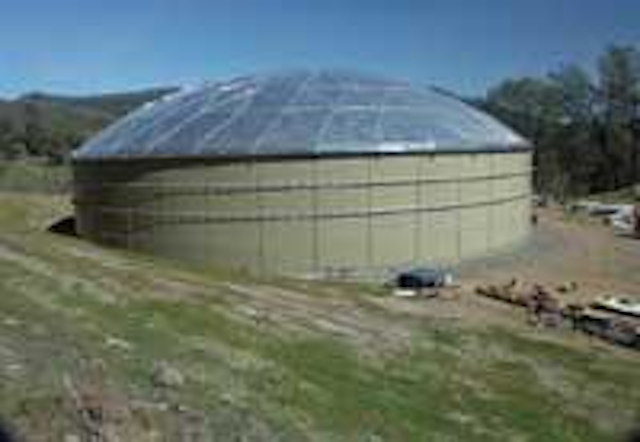 Click here to enlarge image
All State Tank Manufacturing Co. designs, engineers, manufactures, installs and services a full line of panelized tanks and silo's at its new 46,000 sq. ft. facility in Grove, OK. The company has a 30 year history in the construction, erection and service to the storage tank community. It has the ability to deliver turn-key liquid and dry particulate systems and offers single source accountability and its inherent advantages to all customers.
All State Tank Mfg.
Grove, OK
Tel: 918-787-2600
Web: www.allstatetank.com
Double wall tanks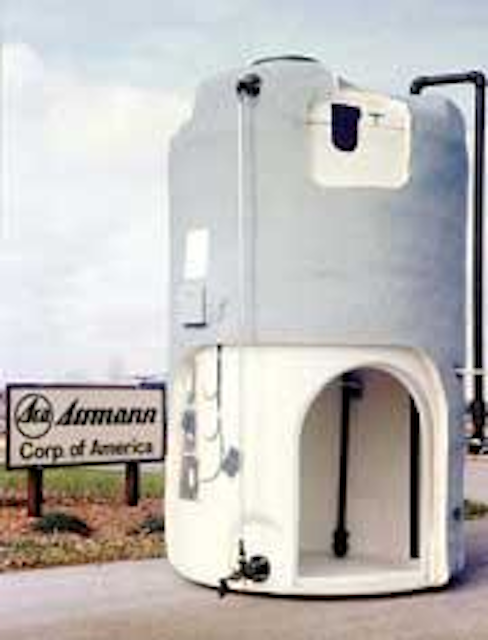 Click here to enlarge image
New, cylindrical double-wall tanks from Assmann Corp. eliminate chemical spills and prevent dome collapse without the expense of lined concrete containment. The company's molding process provides a heavier-top sidewall and dome to prevent dome collapse, while the primary inner tank and a secondary locked-on outer tank ensures against chemical spills.
Assmann Corp.
Garrett, IN
Tel: 888-357-3181
Web: www.assmann-usa.com
Railing base mounts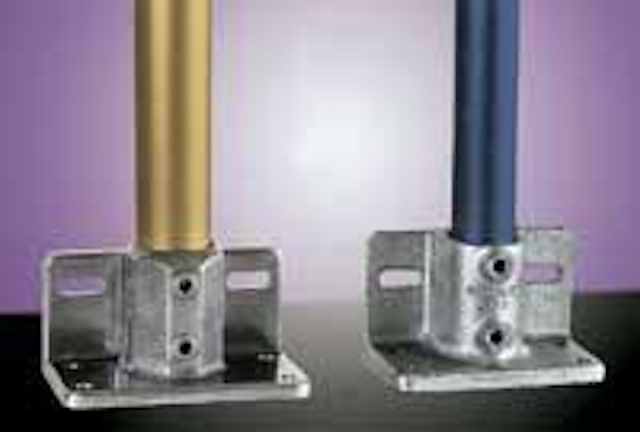 Click here to enlarge image
Kee Industrial Products has introduced two new base mount structural pipe fittings for use with toe boards that need to be attached to the base of railings, balustrades and other tubular pipe structures. The new Kee Klamp® Model 69-8 malleable cast iron and Model L69-8 aluminum slip-on fittings are corrosion resistant and fit size 8 (1 ½" diameter) standard pipe.
Kee Industrial Products Inc.
Buffalo, NY
Tel: 800-851-5181
Web: www.keeklamp.com
Prestressed concrete tanks
Prestressed concrete tanks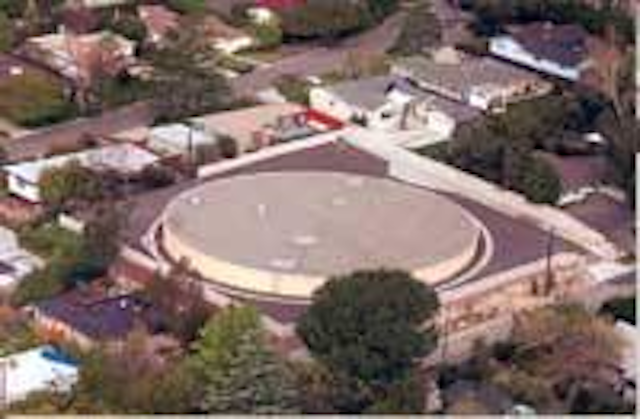 Click here to enlarge image
The City of Sierra Madre, CA, was challenged with replacing an existing water storage tank with two new tanks but had only one piece of land available. Construction of a 2.8 million gallon prestressed concrete tank with a concentric concrete inner wall inside an outer tank solved the challenge. This tank-within-a-tank project allowed for reservoir separation while accommodating two tanks on one site.
DYK Inc.
El Cajon, CA Tel: 800-227-8181 Web: www.dyk.com
Tank mixing system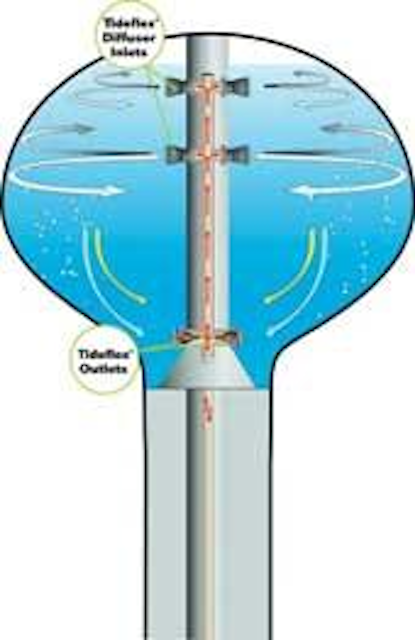 Click here to enlarge image
Tideflex Technologies' Tideflex® Mixing System (TMS) improves the quality of drinking water in finished water storage reservoirs. The TMS is a combination of patented Tideflex® Check Valve technology and a piping manifold that separates the inlet and outlet. The system can be installed in new or existing water storage tanks of all shapes and sizes to eliminate stagnation and short-circuiting.
Tideflex Technologies Inc.
Pittsburgh, PA Tel: 412-919-0919 Web: www.tideflex.com
Tank lining system
Carboline's Carboguard 691 recently passed the testing and review process for drinking water applications under the ANSI/NSF Standard 61 for drinking water components. The product joins a number of other Carboline approved lining materials for this use. The lining is high solids, will cure down to 20°F, and can be applied up to 20 mils in a single coat.
Carboline Co.
St. Louis, MO
Tel: 800-848-4645
Web: www.carboline.com
Water-based coating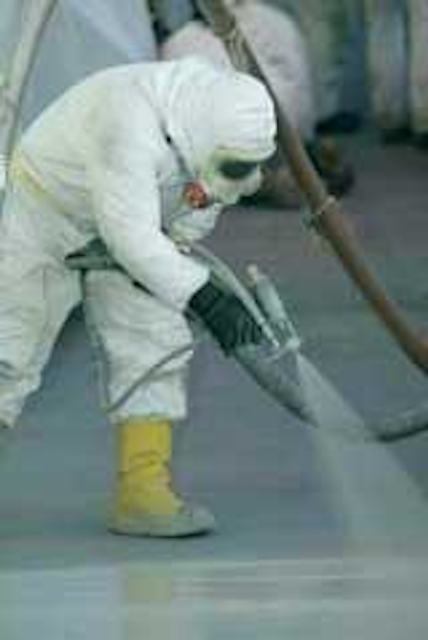 Click here to enlarge image
New Hydrogloss™ Single Component Water-based Urethane from Sherwin-Williams delivers VOC compliance and performance comparable to a two-component water-based urethane, but with the ease of application available only in a one-component coating. Formulated to provide a high gloss finish with outstanding interior and exterior color and gloss retention, the coating resists yellowing.
Sherwin-Williams Ind. and Marine Coatings
Cleveland, OH
Tel: 800-524-5979
Web: www.sherwin-williams.com/im
Aluminum roofs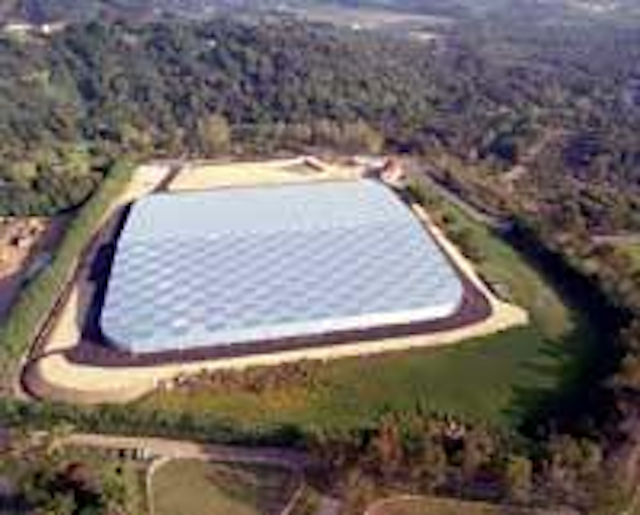 Click here to enlarge image
Conservatek designs, fabricates, and installs clear-span aluminum domes and aluminum roof structures for use on tanks of various shapes and sizes. Typical applications include water storage, wastewater treatment basins, and bulk storage enclosures. A recent installation was a triangulated truss supported cover for a water reservoir. The basin dimension is 337' x 337'. The cover is supported by a truss system that spans 337'-6" with a mid support at the center wall.
Conservatek
Conroe, TX
Tel: 800-880-3663
Web: www.conservatek.com
Storage, brine tanks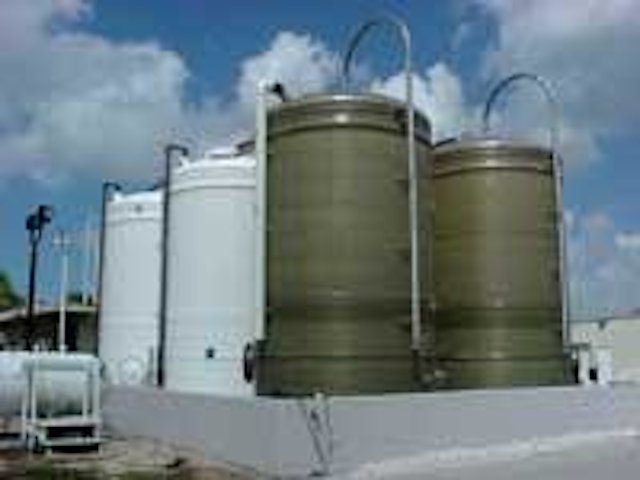 Click here to enlarge image
The Bryneer™ is a bulk salt storage and brine-making unit, which is used extensively in water softening processes and in on-site sodium hypochlorite generation systems. The tanks are certified by NSF International to conform to the requirements of NSF/ANSI Standard 61 - Drinking Water System Components - Health Effects. The bulk storage brinemaker is designed and manufactured by Plas-Tanks Industries Inc., a fiberglass reinforced plastic (FRP) fabricator.
Plas-Tanks Industries, Inc.
Hamilton, OH
Tel: 513-942-3800
Web: www.plastanks.com
Solids-handling pump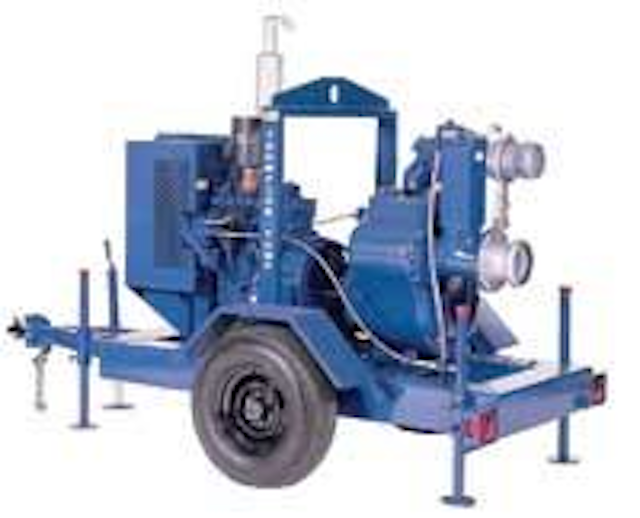 Click here to enlarge image
Thompson Pump's TSC and HTC series of compressor-assisted dry prime trash pumps range in size from 4"-12" and handle tough sewer bypass situations using the environmentally safe Enviroprime® system. Engineered to handle solids up to 3.35" in diameter, these pumps are specifically designed to prevent fluids, such as sewage or other contaminants, from entering the venturi and eventually spilling onto the ground.
Thompson Pump & Manufacturing, Inc.
Port Orange, FL
Tel: 800-767-7310
Web: www.thompsonpump.com
Concrete water proofing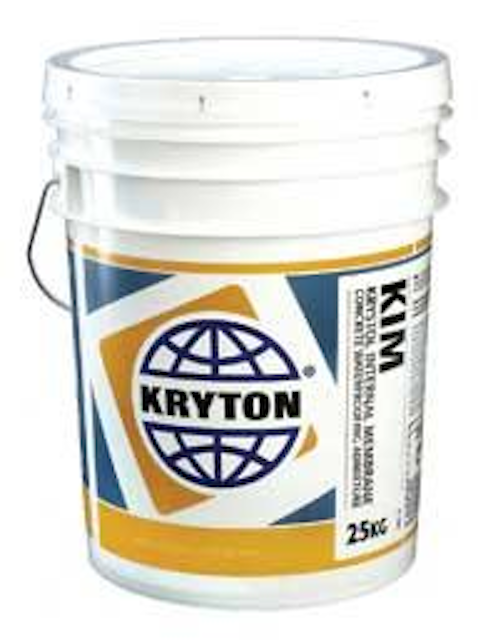 Click here to enlarge image
Unlike other concrete joint design systems that rely on a simple physical hurdle to block water, the Krystol Waterstop System turns porous concrete into a permanent waterproof barrier. Based on Kryton International's proprietary Krystol technology, the system self-seals small cracks, reducing ongoing maintenance.
Kryton International
Vancouver, B.C.
Tel:800-267-8280
Web: www.kryton.com
Tank lining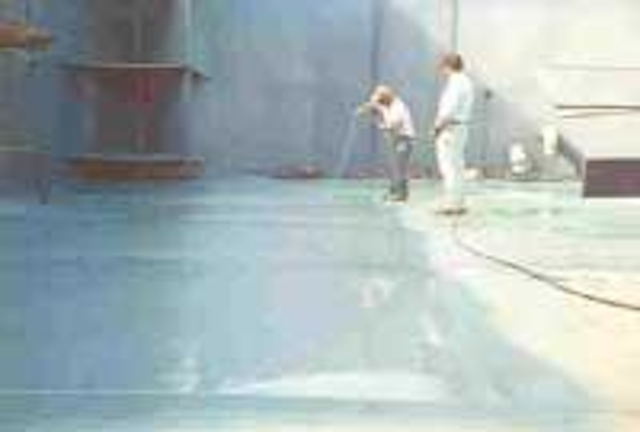 Click here to enlarge image
Steelcote Manufacturing's EPO-Line 164 is a high solids, self-priming (over steel) epoxy tank lining formulated to provide chemical resistance to most acids, alkalis, solvents and other harsh solutions. The product is particularly well suited to containing wastewater in concrete or steel tanks during the processing phase. The product is odorless and it does not impart any smell or taste into drinking water.
Steelcote Manufacturing
St. Louis, MO
Tel: 800-737-0282
Web: www.steelcotemfg.com
Solids contact clarifiers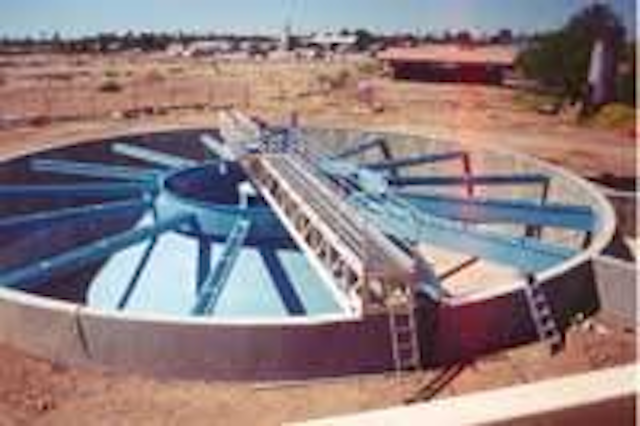 Click here to enlarge image
Hi-Tech offers a line of solids contact clarifiers for water treatment applications, including turbidity, color and phosphorus removal as well as lime softening. The heavy duty design incorporates a draft tube and concentric mixer for re-circulation and rapid settling of solids. Radial effluent launders and reaction cones are used to provide a high quality effluent.
Hi-Tech Environmental Inc.
Birmingham, AL
Tel: 800-264-7005
Web: www.hi-techenv.com
Floating cover system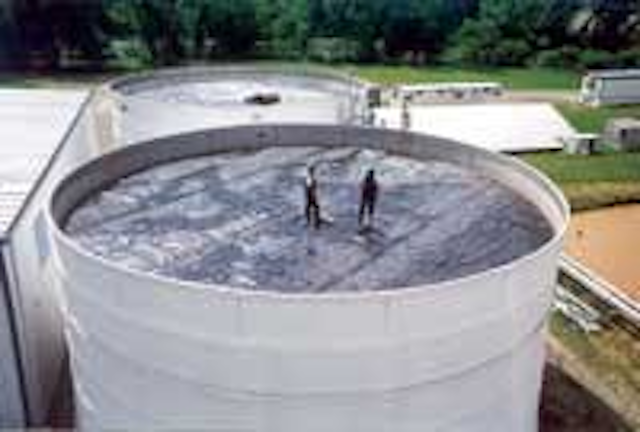 Click here to enlarge image
GTI's modular floating cover systems control algae in tanks and lagoons. These durable, UV protected covers float on the water in a tank or lagoon and block sunlight, thus controlling algae growth. The covers can also be used to provide insulation and reduce odors. GTI covers are custom-fabricated to fit specific applications and can be removed and reinstalled.
Geomembrane Technologies Inc.
Fredericton, New Brunswick Tel: 506-452-7304 Web: www.gticovers.com
Aluminum covers
Ultraflote designs, manufactures and installs aluminum covers for the water and wastewater industry. Its UltradomeTM roof is custom engineered for specific design requirements. The self-supporting dome allows for maximum overhead space and provides interference free operation for equipment. The Quad-SealTM flat cover, for both rectangular and round tanks, consists of individual, interlocking panels made of reinforced extruded aluminum planks.
Ultraflote Corporation
Houston, TX Tel: 713-461-2100 Web: www.ultraflote.com
Epoxy coating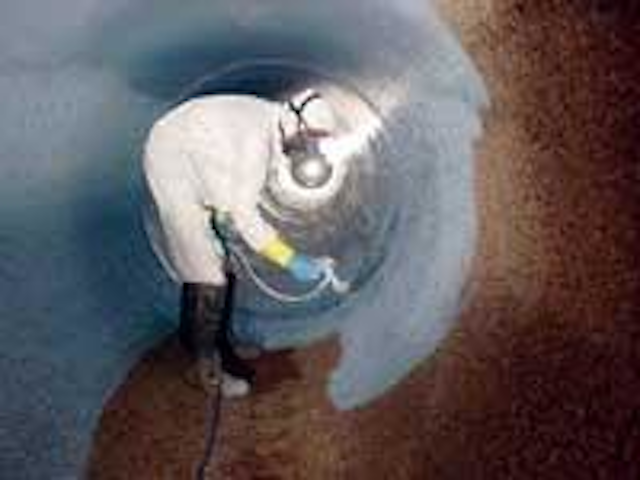 Click here to enlarge image
AquataPoxy A-61, available from Raven Lining Systems, is a solvent-free epoxy certified to meet the potable water requirements of ANSI/NSF Standard 61 and IAPMO IGC 189-2003. The coating boasts a five hour potable water return-to-service certification. The 100% solids epoxy coating was formulated for superior adhesion and low permeability, and is for immersion duty.
Raven Lining Systems
Tulsa, OK
Tel: 800-324-2810
Blower enclosures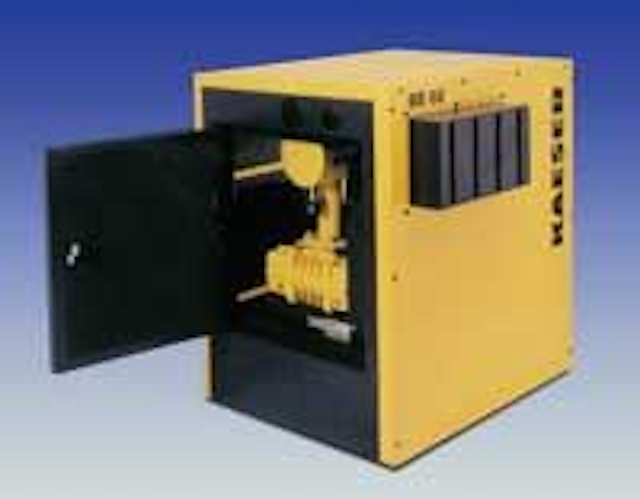 Click here to enlarge image
Kaeser Compressors offers heavy-duty, sound-reducing enclosures for its line of Omega-paK blower packages. The enclosures are effective in reducing noise levels up to 20 dB(A). They feature a compact design with lockable, wide-opening maintenance doors and provide easy access for oil checks and changes, filter checks and v-belt tensioning.
Kaeser Compressors Inc.
Fredericksburg, VA
Tel: 800-777-7873
Web: www.kaeser.com