New Security Guidelines Issued For Water Utilities
Drinking water and wastewater utilities working to incorporate enhanced security measures into facility design and operation will benefit from...
Feb 1st, 2005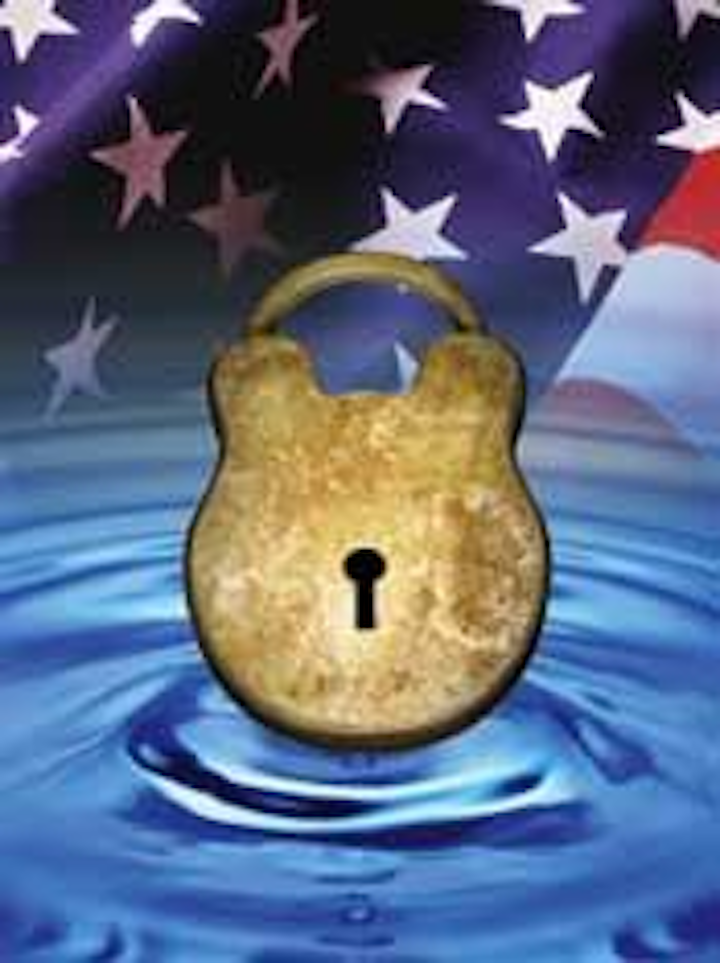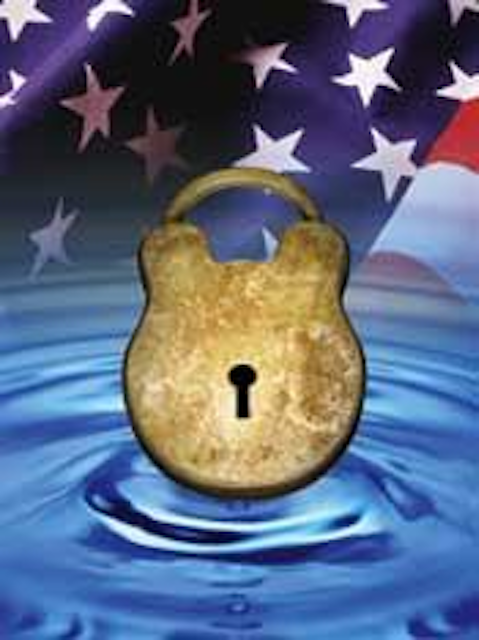 Click here to enlarge image
Drinking water and wastewater utilities working to incorporate enhanced security measures into facility design and operation will benefit from three new interim voluntary security guidance documents that were funded by a grant from the U.S. Environmental Protection Agency (EPA).
The voluntary guidance documents provide drinking water, wastewater and stormwater utilities with practical advice on improving security in new and existing facilities of all sizes. They include information on risks from managerial, operational, construction and design perspectives.
The documents include: Interim Voluntary Security Guidance for Water Utilities (developed by AWWA), Interim Voluntary Security Guidance for Wastewater/Stormwater Utilities (developed by WEF) and Interim Voluntary Guidelines for Designing an Online Contaminant Monitoring System (developed by ASCE).
"Americans should feel confident, when they turn on the tap, that they have access to some of the cleanest, safest water in the world," said Benjamin Grumbles, acting assistant administrator for water at EPA.
"Our society depends on a safe and reliable water supply, not only for human consumption but also for other needs such as industry, agriculture, and even fire protection," said Pat Natale, P.E., F.ASCE, executive director for the American Society of Civil Engineers. "These new security guidelines will help water utilities take the necessary steps to ensure the safety and quality of our water supply for domestic and commercial use in light of the potential of both natural and man-made disasters."
"The development and implementation of these guidelines represents an important component of WEF's overall commitment to assisting water and wastewater utilities enhance their security capabilities," said Bill Bertera, executive director for the Water Environment Federation. "The Federation is pleased to be part of this distinguished team of professional organizations as we continue our mission of protecting public health through the preservation of the global water supply."
"The guidance encompasses the ideas and experience of some of the very best minds in the water community," said Jack Hoffbuhr, American Water Works Association executive director. "Utilities now have a comprehensive tool to help them address security considerations from design, managerial and operational perspectives."
Following the events of Sept. 11, U.S. water, wastewater and stormwater utilities analyzed existing security measures with renewed focus on the possibility of intentional attack. Drinking water utilities serving more than 3,300 people have completed vulnerability assessments and emergency response plans as required by the 2002 Public Health Security and Bioterrorism Preparedness and Response Act.
The AWWA and WEF guidance documents provide information for designers and owner/operators of drinking water and wastewater/stormwater facilities on design upgrades that improve physical security and management and operating practices to reduce their vulnerability to malevolent events. The guidance documents address such issues as risk assessment, threat analysis, financial and communications planning, human resources management, operational maintenance and emergency response strategy.
The ASCE guidance provides information on designing online contaminant monitoring systems, including assessing the need for a monitoring system, locating instruments and sensors, and responding to suspected contamination events.
The documents are available on each organization's Web site: www.awwa.org, www.wef.org and www.asce.org.
Training and outreach materials for each of the guidelines are currently being developed and will be available in spring 2005. The guidance documents, along with feedback from industry professionals and additional research, will be the basis for the development of voluntary consensus standards to be published in late 2006.