News Briefs
News from around America concerning the water industry.
Apr 1st, 2016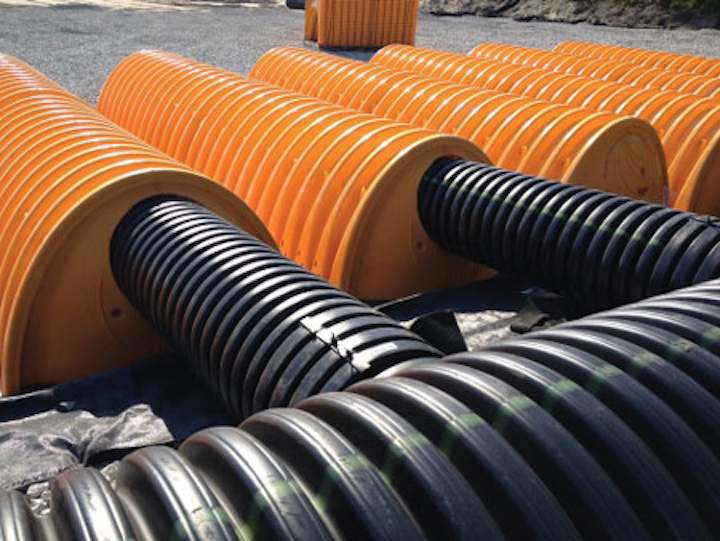 Wastewater Treatment Plants Significant Source of Microplastics in Rivers
Millions of tiny pieces of plastic are escaping wastewater treatment plant filters and winding up in rivers where they could potentially contaminate drinking water supplies and enter the food system, according to new research.
Microplastics - small pieces of plastic less than 5 millimeters (0.20 inches) wide - are an emerging environmental concern in ocean waters, where they can harm ocean animals.
Although the majority of ocean debris - including plastics - is transported to oceans from rivers, much less is known about how microplastics are entering rivers and affecting river ecosystems, according to Timothy Hoellein, an assistant professor at Loyola University Chicago.
Hoellein previously found that water downstream from a wastewater treatment plant had a higher concentration of microplastics than water upstream from the plant. Now, new research by Hoellein and his colleagues studying 10 urban rivers in Illinois supports this initial finding. Although initial estimates suggest that wastewater treatment plants are catching 90 percent or more of the incoming microplastics, the amount of microplastics being released daily with treated wastewater into rivers is significant, ranging from 15,000 to 4.5 million microplastic particles per day per treatment plant, according to the new research.
Wastewater treatment plants were a source of microplastics in 80 percent of the rivers studied, regardless of the size of the river or the size and type of wastewater treatment plant. The new research also found that in each river, the tiny plastic particles that escaped the wastewater treatment plants were home to bacterial communities that were more likely to be potentially harmful than the bacteria found in the rivers.
"[Wastewater treatment plants] do a great job of doing what they are designed to do - which is treat waste for major pathogens and remove excess chemicals like carbon and nitrogen from the water that is released back into the river," Hoellein said. "But they weren't designed to filter out these tiny particles."
Advanced Drainage Systems Opens Distribution Center in Florida
Advanced Drainage Systems, Inc. (ADS), a global manufacturer of water management products and solutions for non-residential, residential, infrastructure and agricultural applications, has opened a new distribution center in Panama City Beach, Fla. The Panama City Beach location is the company's fourth in the state and will increase the local supply of the company's products and improve customer service.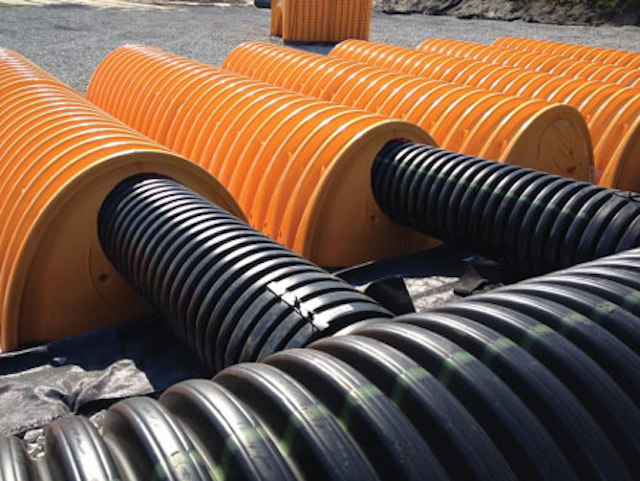 Having recently undertaken several major construction projects, the Panhandle of Florida is a rapidly growing area. This new location is an example of the company's commitment to servicing customers' water management needs with local inventory.
ADS water management solutions are used in a diverse range of construction projects, including streets and highways, non-residential, residential and industrial projects, golf courses, athletic fields and other construction projects. The company has a network of 61 manufacturing locations and 31 distribution centers in strategic locations worldwide.
Saline Groundwater Better Option for Desalination, Finds Study
Saline groundwater from coastal aquifers is a better alternative water source than seawater for reverse osmosis (RO) desalination due to reduced membrane fouling and pre-treatment costs, researchers at Ben-Gurion University of the Negev (BGU) have found.
The study was published in Environmental Science & Technology and conducted by researchers at the BGU Zuckerberg Institute for Water Research, the BGU Department of Geological and Environmental Sciences and the Israel Geological Survey.
In the study, vertical wells were used to take samples from the saline groundwater. All the wells were a maximum of 300 feet (100 meters) from the shoreline. Researchers said that other saline groundwater benefits include consistent annual water temperatures, and lower levels of dissolved oxygen, silt density and phytoplankton. It also decreases the cost of desalination, researchers said.
"Decision-makers in both California and Israel can use this research to seriously consider saline groundwater as a realistic alternative when planning future large-scale seawaterdesalinationfacilities," explained Dr. Roni Kasher, a senior lecturer in the BGU Zuckerberg Institute's Department of Desalination and Water Treatment. "In Israel, seawater desalination accounts for 60% of the total freshwater supply, so these findings are significant."

BGU researcher Shaked Stein said: "Saline groundwater results from seawater intrusion into coastal aquifers, shifting the fresh-saline water interface upward and landward, and replaces fresh groundwater with saline groundwater. TheRO processin coastal aquifers will be helpful in restraining seawater intrusion.
"The study showed that aquifer filtration increases the feed water quality and reduces the need for extensive pre-treatment processes. RO desalination with saline groundwater as feed water is also more efficient, with higher freshwater recoveries, less chemical use and maintenance, and therefore less overall operational costs."
Due to seasonal seawater characteristic fluctuations, Stein specifically recommended using saline groundwater in the summertime rather than seawater since the research identified higher membrane fouling in summer. "Salt rejection decreases in elevated temperatures due to changes in membrane permeability and mass transfer."
Saline Groundwater from Coastal Aquifers as a Source for Desalinationresearch receivedsupport from the Water Authority of Israel.
Gray, Ga, awarded $810,135 loan for water meter upgrades
The city of Gray, Ga., has been awarded a $810,135 Drinking Water State Revolving Fund loan by the Georgia Environmental Finance Authority (GEFA) executive committee. The loan will finance replacing approximately 1,825 water meters throughout the city with an automatic meter reading system. This project will help reduce water meter inaccuracies estimated between 10 and 25 percent and reduce the labor and expense associated with monthly meter readings.
Gray will pay a 1.03 percent interest rate on the 20-year loan. The loan qualifies for a reduced interest rate because it's an eligible water conservation project, and includes principal forgiveness up to $324,054 if all funds are drawn.
"GEFA's water and sewer programs assist local governments with improving their environmental infrastructure. As part of the Drinking Water program, cities and counties can also receive affordable financing for water conservation projects," said GEFA Executive Director Kevin Clark.
The DWSRF, a federal loan program administered by GEFA, provides communities throughout Georgia with low-interest loans to fund water infrastructure projects that deliver safe, affordable drinking water. The program is jointly funded by the U.S. Environmental Protection Agency and the state of Georgia. Eligible projects include a wide variety of public health or compliance-related water supply projects. These projects conserve and improve water resources, and facilitate economic growth and development. Low-interest loans from this program are available up to $25 million.
U.S. Water Alliance Announces New Board
The U.S. Water Alliance, a national organization advancing a sustainable water future for all, has realigned and refocused its work around the guiding principle of "One Water, One Future," naming several individuals to its Board of Directors.
The newly restructured U.S. Water Alliance Board of Directors includes: Angela Glover Blackwell, Founder & Chief Executive Officer, PolicyLink; Michael Carlin, Deputy General Manager, San Francisco Public Utilities Commission; Al Cho, Vice President for Business Development and Strategy, Xylem; Julius Ciaccia, Chief Executive Officer, Northeast Ohio Regional Sewer District; Paul Demit, Vice President, MWH Global; Snehal Desai, Global Business Director, Dow Water & Process Solutions; Monica Ellis, Chief Executive Officer, Global Environment and Technology Foundation & Global Water Challenge; Hank Habicht, Managing Director, SAIL Capital Partners; Jo Ann Macrina, Commissioner, Atlanta Department of Watershed Management; Erik Meyers, Vice President, Conservation Fund; Andy Richardson, Chairman & Chief Executive Officer, Greeley & Hansen; Kevin Shafer, Executive Director, Milwaukee Metropolitan Sewer District; Elisa Speranza, Corporate Director and Senior Vice President, CH2M; Cindy Wallis-Lage, President, Global Water Business, Black & Veatch; and Roger Wolf, Director of Environmental Programs & Services, Iowa Soybean Association.
The first full meeting of the newly elected Board of Directors is scheduled for April 12, 2016, in Washington, D.C.
The new Board of Directors will steer the organization into its next phase of expansion, with a focus on three strategic priorities: 1) educating and inspiring the nation about the true value of water and need for investment by hosting and staffing the Value of Water Coalition; 2) accelerating the adoption of one water management strategies; and 3) celebrating what works and driving innovation in the water sector.
U.S. EPA, Reclamation partner with Western Water Districts on grant program
Three of the West's largest municipal water agencies have partnered with federal agencies to kick off the latest round of an expanded competitive grant program aimed at discovering the next generation of water-saving devices and technologies.
For the first time, the U.S. Environmental Protection Agency is participating with the U.S. Bureau of Reclamation as well as the Central Arizona Project, the Metropolitan Water District of Southern California and Southern Nevada Water Authority in the Innovative Conservation Program. The program, which includes Southern California Gas Co., seeks to advance water-saving efforts by finding new and innovative methods for using supplies more efficiently.
"As Western states brace for another year of drought, many are regarding dry conditions as the new normal," said Tomás Torres, EPA's water division director for the Pacific Southwest. "By supporting the ICP, we're investing in innovative solutions to help communities meet the challenges of tomorrow - today."
This year's $500,000 ICP cycle focuses on water-saving devices, technologies and strategy proposals that address the water/energy nexus. Awards will be made in two funding categories: up to $30,000 and between $30,000 and $100,000. Proposals that address other aspects of water-use efficiency also will be considered. All proposals are due May 23.
More WaterWorld Current Issue Articles
More WaterWorld Archives Issue Articles