Sign of the Times: Water, Wastewater Utilities See Trend Toward Consolidation
Throughout most of the 20th century, each little community had its own grade school and high school, and that seemed to work well.
Feb 1st, 2016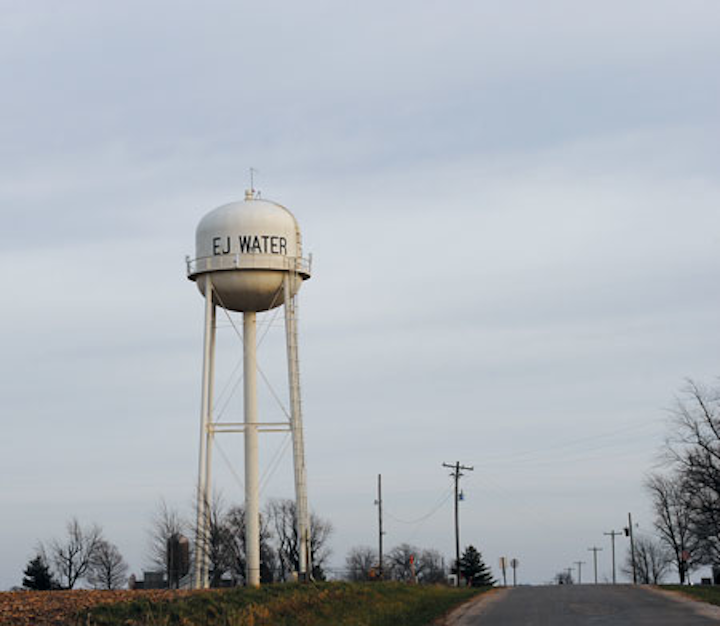 By William Atkinson
Throughout most of the 20th century, each little community had its own grade school and high school, and that seemed to work well. However, over the past 20 to 30 years, as teacher salaries and demand for educators with more specialized knowledge have increased, schools have adopted computers and other high-tech equipment, and expenses for building new schools to replace crumbling buildings have skyrocketed, many smaller school districts have been absorbed into larger ones.
A similar trend is beginning to impact the water industry. "This is a highly-fragmented market," said Bill Teichmiller, CEO of EJ Water Cooperative Inc. (Dieterich, Ill.). He pointed out that, according to the U.S. Environmental Protection Agency (EPA), there are nearly 53,000 water suppliers in the United States. "That's in contrast to the U.S. electric industry," he said, "which only has 3,300 electric providers." Further, according to Teichmiller, about 42,000 of these water suppliers provide water to populations of 3,300 or less.
These numbers are at the core of the growing trend toward consolidations and acquisitions in the water industry. "Because of the low margins, water needs to be high-volume in order to be profitable," Teichmiller explained. "In addition, there are declining populations in many rural markets and - with limited budgets - a lot of these smaller systems lack experienced staff." Furthermore, smaller systems often lack the resources to replace aging infrastructure or remain compliant with EPA regulations. Further exacerbating the challenges, "the vast majority of these utilities don't engage in any long-term strategic planning related to infrastructure," he said.
Teichmiller's company, EJ Water Cooperative, has acquired a number of smaller water utilities in recent years after being asked for help by small town mayors or other local water board presidents. "In one instance, the mayor was the one responsible for doing the utility locates, and he wasn't even getting paid for doing so," said Teichmiller. The utility also had financial problems: in a community where everyone knew each other, it didn't want to shut anyone off for non-payment.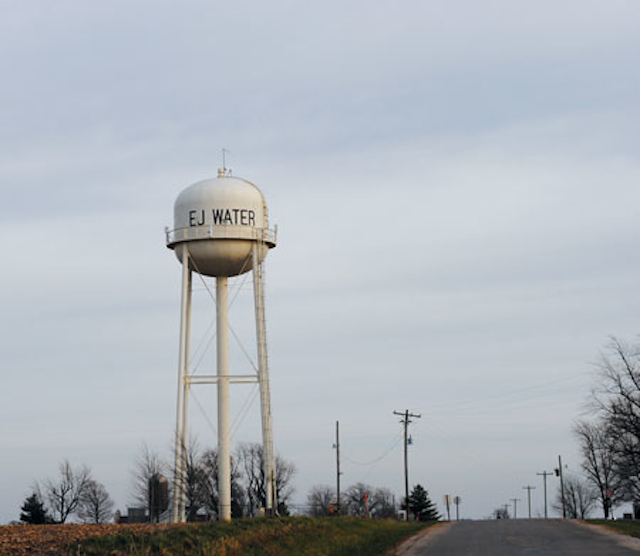 EJ Water formed in 1989 to bring water to the community of Dieterich, Ill. Since then, it has acquired several small water systems in need of assistance.
EJ Water Cooperative has a P.E. on staff who is able to provide a lot of added value when the company acquires a water utility. "In some cases, we've found that smaller utilities have actually over-engineered certain things in their systems because they don't realize that they don't need them," said Teichmiller. Examples include oversizing water plants or refurbishing water towers that don't need refurbishing.
Brunswick County Public Utilities (Bolivia, N.C.) is another water utility with experience acquiring smaller systems. Over the past dozen years, Brunswick County has been one of the fastest growing counties in the nation, with its population growing at a rate of four percent per year.
Jerry Pierce, director of public utilities for the county, said one reason for the growth was the implementation of a regional sewer initiative in 2003. Prior to that, the county only provided sewer service within an industrial park; all other sewer service was either septic systems, or provided by developers (within their own developments). "This limited the growth of the county," he said.
But in 2000, the Board of Commissioners decided that the county should be the regional provider of wastewater collection and treatment within the areas outside of the municipalities. The first regional wastewater treatment plant was placed into operation in 2003, followed by the completion of a second regional wastewater treatment plant in 2006. After acquiring seven private systems and four municipal systems, Brunswick County now has over 37,500 water customers and 15,500 sewer customers.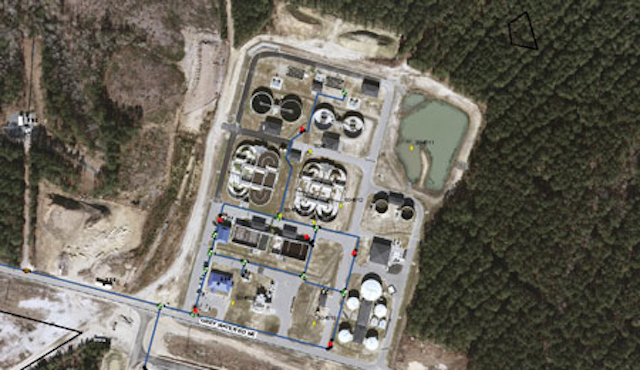 Fast-growing Brunswick County (N.C.) attributes its population boom to the establishment of a regional wastewater collection and treatment system. Shown here, the West Brunswick WRF.
Progressive infrastructure management has been "front and center" during the many private and public acquisitions over the years, Pierce said. "The privately owned sewer systems that we acquired were constructed by developers who wanted to build projects prior to the county having regional sewer service available," he explained. "As real estate developers, they had no interest in owning or operating sewer systems and were eager to turn the responsibility over to the county." In exchange for the transfer, the developers wanted assurances on available capacity and a reduction in any connection fees that the county would charge as the developers developed their properties.
The county also acquired two privately-owned systems in which the owner had declared bankruptcy. In those cases, the systems were in such poor condition that they were facing regulatory action. "In those cases, the county made the improvements to the systems and constructed new pump stations to eliminate the failing treatment plant," said Pierce.
As noted earlier, the county also acquired four municipal systems. In two instances, the municipalities wanted to have wastewater collection systems constructed within significant portions of their communities. The county offered to either sell wastewater treatment capacity to each municipality or construct the wastewater collection within the municipality if it would turn over ownership of its water system to the county.
"One municipality turned its water and sewer system over to the county when it was faced with significant expenditures to upgrade its system," he said. The county then made the improvements in exchange for the transfer of ownership.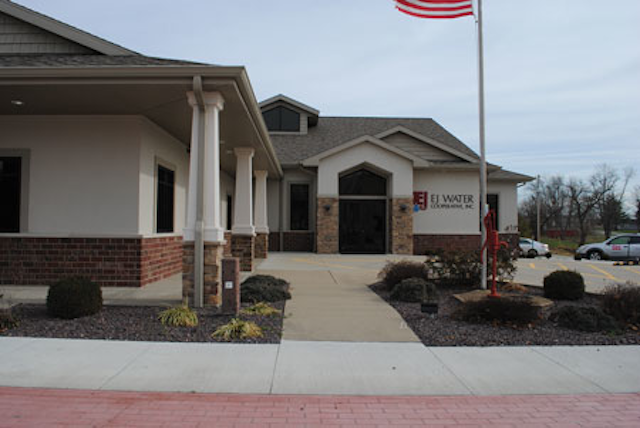 EJ Water's corporate office in Dieterich, Ill., which houses the utility's GIS, business development, wastewater, customer service, purchasing and accounting departments.
The other transfer was the result of the need for a significant rate increase by the municipality to operate a newly-constructed sewer system. Due to the limited number of customers, though, municipality officials made the decision to transfer the system to the county, and the county agreed to implement its rates within the municipality. These rates, it turned out, were actually lower than the municipality's existing rates.
In all acquisition cases, both public and private, the county has had to make improvements to the systems being acquired in order to bring them up to current county standards. "At a minimum, the county has had to install county-compatible SCADA equipment at major facilities in the new systems," said Pierce. In newly-acquired sewer systems, the county has always taken the wastewater treatment plant out of service and replaced it with a pump station, which subsequently pumps the wastewater to one of the county's regional wastewater treatment plants for treatment.
Over the past twelve years, the county has learned a number of valuable lessons related to acquiring water and wastewater systems. "First, each acquisition request must be evaluated on its own merits," said Pierce. Second, a deal will not occur if it does not benefit both parties. Third, to the extent possible, each acquisition is evaluated on its technical and financial merits. Fourth, it is important to understand that, although due diligence has been done on a newly-acquired system, there will always be surprises when the system begins operating on a daily basis. "Finally, staff flexibility and buy-in are critical in a successful assumption of operational responsibilities," said Pierce.
Over the past two decades, given their close proximity to each other, Little Rock-based Central Arkansas Water (CAW) and Maumelle Water Management (MWM) had been having discussions about possible partnership opportunities, primarily the possibility that MWM would become a wholesale customer of CAW. Formal engineering evaluations, however, indicated that such a partnership would not make economic sense.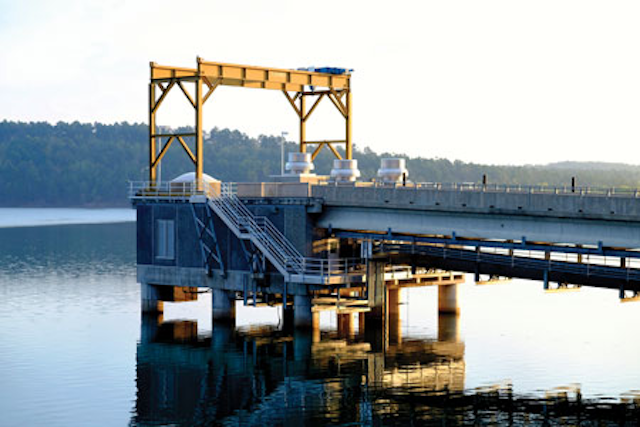 CAW's Lake Maumelle raw water intake structure.
However, in June 2015, MWM gave preliminary approval for a 48.5 percent increase in its water and sewer rates, plus a 50 percent increase in debt service fees over the course of three years. The rate increase proposal was met with significant concern from Maumelle residents and the city council. "The rate increase would also have led to approximately $15.6 million in water and wastewater infrastructure improvements, which would present significant obstacles for any future consolidation with CAW," said John Tynan, director of customer relations and public affairs for CAW.
Shortly after the proposed increase, CAW staff met with MWM to discuss possible consolidation opportunities for the two water systems. In October, following a feasibility study, the two utilities agreed that it was in the best interest of both utilities and their customers to consolidate their operations.
Although the MWM system was relatively new, having been installed in the 1970s, its water supply wells were becoming increasingly unreliable as a result of climatic variability as well as increased demand. In addition, with the growth of the Maumelle community over time, MWM's water treatment plant was operating at 97.7 percent of peak demand, straining the system's infrastructure. The combination of these two issues presented MWM with a choice: face significant capital infrastructure needs for system growth or consolidate with CAW to take advantage of the economies of scale. MWM opted for the latter.
Upon connection to the CAW distribution system, which is expected to take place by spring 2016, MWM will receive enough water to satisfy Maumelle's peak water demands at full build-out, eliminating the risk of water shortages - which had actually occurred in 2012. MWM will also avoid the costly water supply and treatment capacity expansions that would have been necessary to address capacity issues. "Even at full build-out, MWM's peak demand represents only 6.7 percent of CAW's treatment capacity," said Tynan.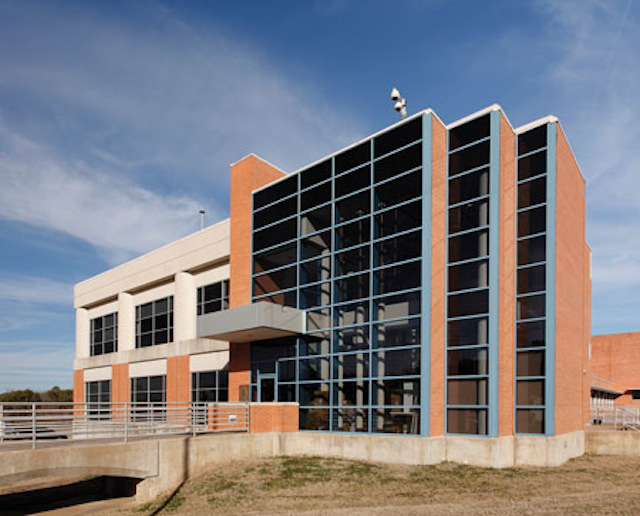 Central Arkansas Water's Jack H. Wilson Treatment Plant in Little Rock, Ark.
CAW will also be able to handle additional infrastructure requirements. Upon consolidation, all of MWM's water-related assets will become CAW assets. "CAW will utilize its work order management system to monitor repairs and other infrastructure demands of the MWM system," said Tynan. The former MWM assets will also be entered into CAW's GIS database and asset management plan database. "This data and ongoing analysis will allow CAW to identify and prioritize assets within the MWM service area for replacement in the same manner with which CAW currently evaluates its own assets," he said.
Consolidation is not a simple decision, but for underfunded and understaffed water utilities struggling with aging infrastructure and regulatory compliance, it may be worth considering in order to gain access to the resources they need to survive.
---
About the Author: William Atkinson is a correspondent for WaterWorld Magazine. He has been a full-time freelance business magazine writer since 1976, specializing in infrastructure, sustainability, supply chain, risk management, and safety/health.
More WaterWorld Current Issue Articles
More WaterWorld Archives Issue Articles