New Water Treatment Facilities Help Newport Meet Drinking Water Regulations
Design-build approach ensured cost, schedule and quality goals were met
Mar 1st, 2016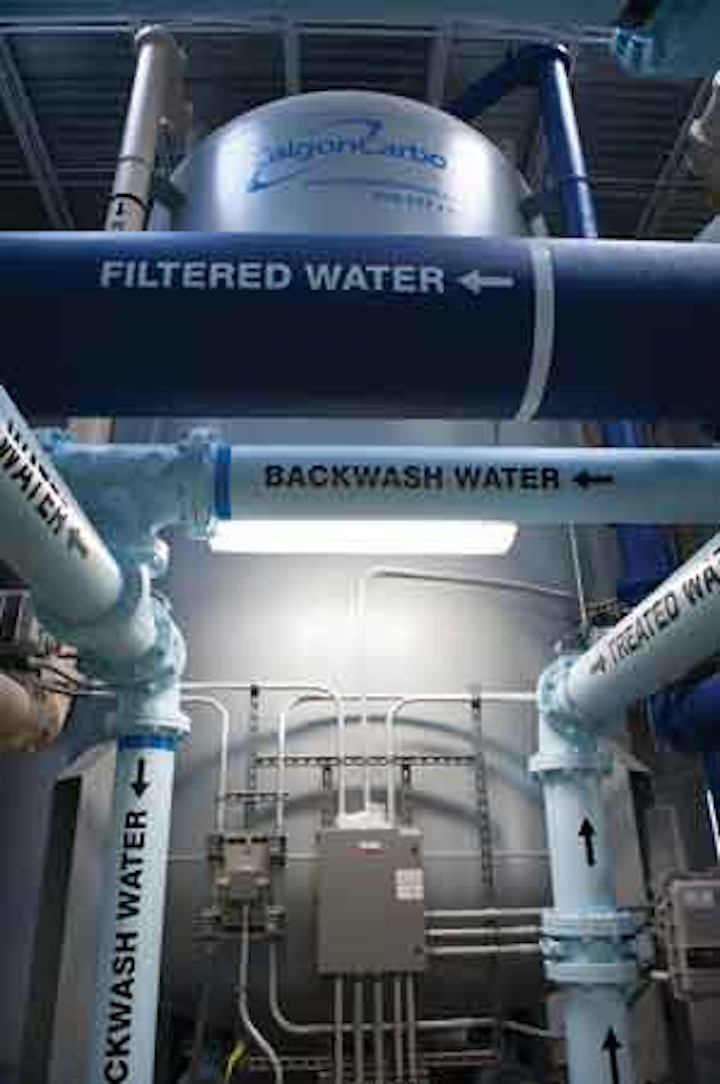 By Rhonda M. Pogodzienski and Ryan Irwin
As a resort community, Newport, R.I., is faced with higher water demands during the summer when raw water quality is at its poorest. The difficulty of increasing the water supply is heightened by more stringent water quality regulations, limited water treatment plant capacity and issues of reliability. The situation prompted the city to seek a solution that would serve the interests of local residents and businesses alike.
The Newport Water System is a regional system that provides public drinking water to three communities, including both retail and wholesale customers. To meet its goals of quality, cost, schedule and risk, the city elected to use design-build delivery for its water system improvements. AECOM and C.H. Nickerson partnered as a joint venture (JV) to develop an innovative approach to resolve these issues.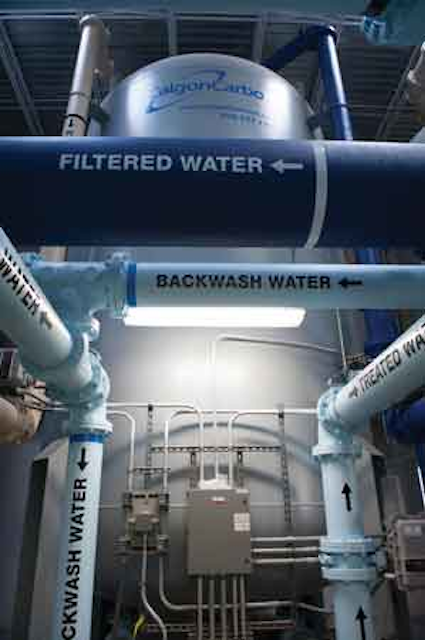 Post-filter granular activated carbon (GAC) adsorber contactors and associated piping.
The heart of the project was the replacement of an aging water treatment plant at Lawton Valley, located in Portsmouth; and the upgrade of a second facility, the Station No. 1 Water Treatment Plant (WTP), located in Newport. A comprehensive design-build scope for both water treatment plants, which included permitting, design, construction, start-up training, operations and maintenance manual development and commissioning, was developed.
A primary focus of the new water treatment process was to reduce the amount of total organic carbon (TOC) in the source water. If not removed, TOC can be converted to disinfection byproducts - total trihalomethanes (TTHMs) and haloacetic acids (HAAs) - when combined with chlorine used for disinfection. Historically, the city has been challenged in meeting the required levels of TTHMs and HAAs in the finished water, which is regulated by the U.S. Environmental Protection Agency (EPA).
Station No. 1 WTP
The 25-year-old Station No. 1 WTP, with an original design capacity of 9 million gallons per day (mgd), was in need of significant upgrades. Close coordination and interface with plant staff at the facility was critical, as major process renovations occurred while maintaining the plant operation and service to customers. Major project elements included implementation of a new supervisory control and data acquisition (SCADA) system, demolition of pulsator clarifiers and construction of high-rate dissolved air flotation (DAF) equipment, as well as implementation of new chemical systems, new high-service and intermediate finished water pumps, a new laboratory and common areas, and the new advanced water treatment system - which consists of 11 granular activated carbon post-filtration contactors. These improvements were necessary to meet U.S. EPA water quality regulations.
Lawton Valley WTP
The new Lawton Valley WTP replaced a 1940s-era U.S. Navy-constructed facility on the existing constrained site. To address the logistical challenges at this location, AECOM developed a solution that included a 1-million-gallon interim bolted steel storage tank placed in the site's corner to provide water to the existing plant operations as well as distribution during the construction of the new facility. This allowed the buried reservoir to be demolished early in construction and for the new plant to be built at the preferred location.
The new 7 mgd plant includes an operations building that houses new DAF and granular activated carbon filtration facilities, chemical feed equipment, a new laboratory, pumping systems and a state of the art SCADA and instrumentation monitoring system.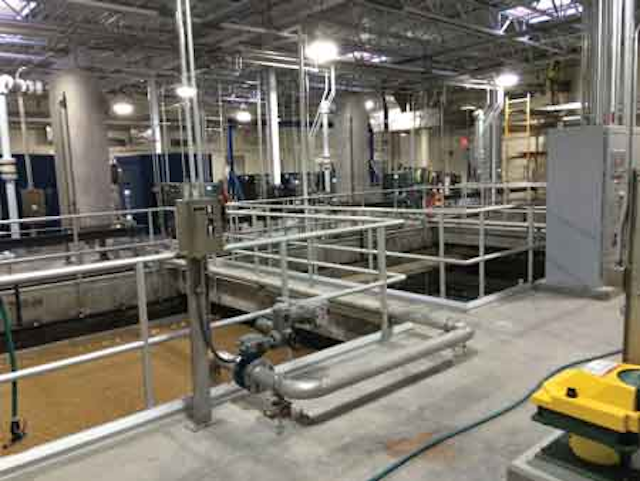 Process deck overlooking dissolved air floatation basins.
In a separate building, post-filter adsorbers are located over a new clearwell for finished water storage. A new elevated water storage tank is provided for finished water storage prior to distribution. A bolted steel tank and recycle pumping station are provided to capture and recycle spent washwater from the filters into the raw water flow system.
The design features multiple chemical dosing applications to provide maximum flexibility to treat changing water conditions. The Lawton Valley WTP has a water recycling system, making the overall plant 99.5 percent water efficient. High-efficiency motors, variable frequency drives and a design approach focusing on LEED-certified standards have made the plant one of the most energy-efficient and cost-effective facilities in the Northeast.
Design Elements
One of the key design challenges for the Station No. 1 upgrade was providing the required treatment modifications while maintaining the necessary finished water supply during construction. Upgrades to improve the process train from pulsator clarifiers to high-rate DAF at the existing plant had to be carefully planned and sequenced, so that current operations were maintained and water was delivered to city customers throughout the process.
When originally constructed, the capacity of Station No. 1 was 9 mgd. However, over time, the maximum water treatment production decreased to 6 mgd due to water quality and an aging treatment system. The retrofit design provided a firm capacity of 6 mgd of clarified water with the installation of two new DAF clarifiers. This resulted in no reduced water flows to the city's distribution system during the next high-demand summer season. An additional DAF clarifier also was installed following the first summer to bring total throughput back to 9 mgd. The design afforded the city several key risk mitigation measures aimed at preserving water supply quantity and quality.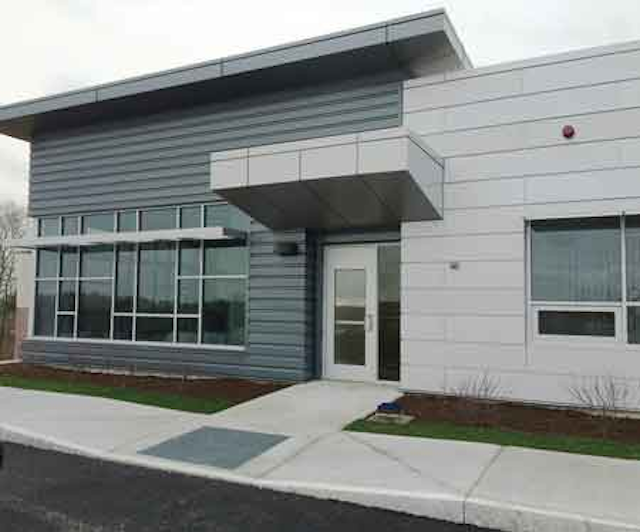 Storefront entrance at New Lawton Valley Water Treatment Plant.
At Lawton Valley, a 1-million-gallon interim water storage tank was provided to store finished water from the city's existing facility prior to distribution to the city's water system during the construction of the new facility. This allowed the new plant to be constructed at the preferred location within the footprint of a 4-million-gallon water storage reservoir taken out of service for construction of the new plant. This location also was chosen due to the elimination of costly sludge pumping, storage and backwash tanks and pumps, resulting in an overall lower cost than other possible site locations.
The operations building at the Lawton Valley plant incorporates many sustainable design features. These include an aesthetically pleasing, highly functional system that emphasizes durability, reliability and easy maintenance. The building contains a new state-of-the-art laboratory, control room, electrical room, mechanical room and operator training room. Here, an operations and maintenance information system was developed to offer easy access and the ability to link key reference materials directly to an operator's computer. A computerized maintenance management system was included as well.
The building's single-level structure has a floor plan that provides separation between process and administration areas, as well as supporting spaces for building operations that are located next to the process and administration areas.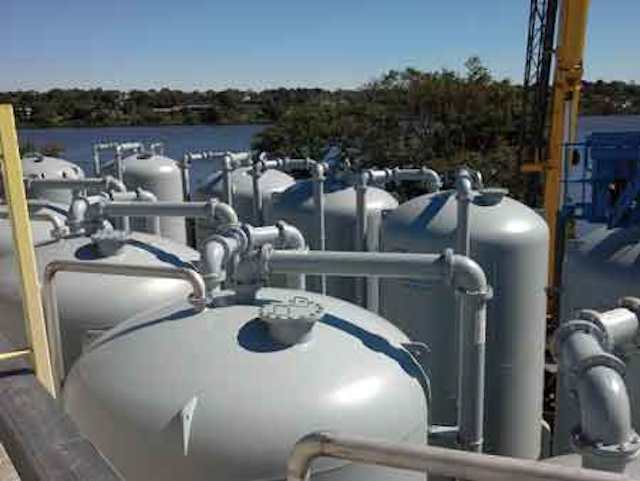 Post-filter GAC adsorber contactors and associated piping. Contactors were put into place on the foundation slab (11 at S1; 9 at LV) and then the building was put up around them. Contactors are approximately 30' tall.
The treatment trains and process chemicals at each facility were designed to be essentially identical so that city operators could work at either site. Construction with precast structural panels with architectural finishes allowed for modular construction, schedule savings and easy maintenance.
The designers developed a detailed project schedule and employed highly skilled subcontractors who were able to perform construction activities simultaneously at both work sites throughout the duration of the project. The new treatment processes deliver finished water to the distribution system that exceeds all regulatory requirements and significantly improve the quality of the water.
The Lawton Valley and Station No. 1 plants are the first water treatment facilities in the Northeast to use high-rate DAF and advanced water treatment to specifically target difficult-to-treat surface waters and significantly reduce regulated TTHMs in the finished water. The advanced water treatment system can be easily operated at any time to address seasonal water concerns regarding water quality compliance.
Editor's Note: This project was awarded the Design-Build Institute of America's 2015 National Award of Excellence in the Water and Wastewater category.
---
About the Authors: Rhonda Pogodzienski, PE, is a design manager with experience in water resources planning, permitting, engineering, and the planning and design of water treatment and distribution systems. She was responsible for the design management for the Lawton Valley and Station No. 1 Water Treatment Plants Design Build Project. Ryan Irwin is a business developer for AECOM's water design-build business unit.
More WaterWorld Current Issue Articles
More WaterWorld Archives Issue Articles