2015 Legislative Round-Up
The More Things Change, the More They Stay the Same
Jan 1st, 2016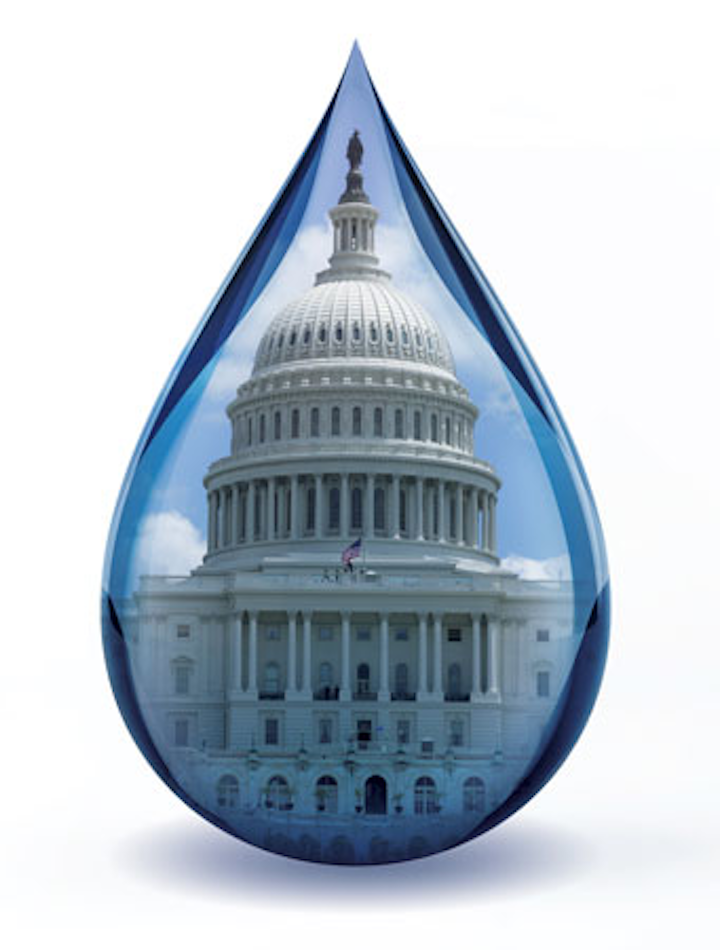 By Sarah Fister Gale
At the risk of sounding like a broken record, this year's annual regulatory and legislative round-up sounds a lot like last year's: plenty of talk but not much action, at least not in areas that matter to the water and wastewater industry. "Congress had its mind on other things," said Claudio Ternieden, director of government affairs for the Water Environment Federation (WEF). "We are entering an election cycle, which means there wasn't much focus on infrastructure or water."
No Funds for WIFIA
This lack of focus resulted in a lot of unfinished business, most notably with the Water Infrastructure Finance and Innovation Act program (WIFIA). Enacted in 2014 as part of the Water Resources Reform and Development Act (WRRDA), WIFIA is a five-year pilot program to help municipalities secure low-interest federal loans and loan guarantees to finance up to 49 percent of major water and wastewater infrastructure projects. WIFIA is viewed as a complementary program to the clean water State Revolving Fund (SRF), which supports smaller community initiatives. WIFIA, by contrast, is designed to support the big infrastructure projects, like new drinking water systems, wastewater treatment plants, desalination plants, water supply facilities, and levee and flood control projects.
WIFIA's passage "was a significant win for the water sector," Ternieden said. But it's of little use without any money to back it up, and therein lies the problem. Congress was expected to fully fund the program, to the tune of $25 million, through a resolution in its appropriations bill in 2015, but so far it hasn't happened. As of the writing of this article, Congress is still hammering out its budget, but industry leaders are not optimistic that it will include WIFIA funds.
This puts the U.S. Environmental Protection Agency in a frustrating situation, as the agency has proven it can stand up the program but now has no budget to run it, said Tracy Mehan, executive director of government affairs for the American Water Works Association (AWWA). And it's delaying critical upgrades for aging and ailing infrastructure. "WIFIA is a great deal for taxpayers to leverage federal support for these much needed projects," Mehan said. And the industry can use all the help it can get: experts estimate that water and wastewater infrastructure upgrades in the United States could top two trillion dollars over the next 25 years.
Along with the push for funding, industry leaders have been fighting to repeal the ban on the use of tax-exempt bonds to cover the remaining 51 percent of the cost of WIFIA-funded projects. As it was written when enacted, the program prohibited tax-exempt bonds for these projects, which effectively eliminated the most cost-effective tool for communities in need of water infrastructure loans, and limited their ability to bring these projects to fruition.
In early December, the water and wastewater industry claimed a major victory: The $305 billion transportation bill passed by Congress included a fix to the WIFIA language. Utilities will now be able to use lower-cost, tax-exempt debt for the non-WIFIA share of project costs, lowering the overall cost of using the WIFIA program.
"By removing the ban on using tax-exempt bonds with WIFIA loans, Congress has freed WIFIA to do its important work in addressing America's enormous water infrastructure challenge," said AWWA CEO David LaFrance. "We now urge Congress to move swiftly to appropriate the necessary funds for WIFIA to do its important work."
At the time of this article, the transportation bill awaits the President's signature.
Rail Rule Paused in its Tracks
While WIFIA is top of mind for many in the industry, there are other rules and regulations in various stages of development that are also of concern. Ternieden points to the proposed EPA spending package, which includes a troubling provision in section 428, sponsored by Senator Mark Kirk (R-IL). The provision would prohibit all combined sewer overflows (CSO) to the Great Lakes and its tributaries and prohibit all direct and indirect dischargers from using any form of bypass, including blending to manage flows during rain events. "We think this provision is misguided," Ternieden said, noting that setting additional rules for overflow only complicates matters for communities rather than solves them. "There is no magic piece of legislation that will solve combined sewer overflows," he said, adding that if Congress - and Senator Kirk - really want to prevent pollution to the Great Lakes, they would be better off supporting funding for WIFIA so communities have the resources to build adequate infrastructure to prevent these wet weather events.
Congress did listen to industry leaders who pushed for an extension for train operators to comply with the Positive Train Control regulations, which regulate the speed and track movements of trains carrying substances dubbed an inhalation risk, said Vanessa Leiby, executive director of the Water and Wastewater Equipment Manufacturers Association (WWEMA). "That was a positive thing to come out of Congress this year."
A majority of freight railroads weren't ready to meet the December 31, 2015, deadline and thus were planning to stop shipments of the chemicals in question, which include chlorine, a key chemical used in water treatment. In a last minute move, the Senate passed a bill that would extend their deadline for compliance by three to five years. "This rule was a major concern for utilities," Leiby said. "Access to chlorine for water treatment is key to public health."
WOTUS in Limbo
The Clean Water Act (CWA) also garnered a lot of attention this year when EPA and the U.S. Army Corps of Engineers finalized the rule to clarify the definition of "Waters of the United States" (WOTUS). This came on the heels of a series of court rulings over the scope of CWA jurisdiction over streams and wetlands adjacent or connected to "navigable" waterways. According to EPA and the Corps, the new version of the rule "ensures that waters protected under the CWA are more precisely defined and predictably determined, making permitting less costly, easier, and faster for businesses and industry." The Agency said the rule does not create any new permitting requirements for agriculture and maintains all previous exemptions and exclusions.
While most industry organizations generally support the rule, groups like AWWA and WEF are encouraging the authors to consider the rule's impact on drinking water supplies, and to be sure they balance the broad interests of protecting the nation's surface waters without unduly affecting utilities' ability to support drinking water and wastewater utility operations. "We think it's important to protect the wetlands and we support some provisions of the rule, but we are concerned that there is a lot of room for misinterpretation," Ternieden added. For example, it's not clear how tributaries and adjacent agencies will be defined. There is also the question of whether it will be implemented nationwide.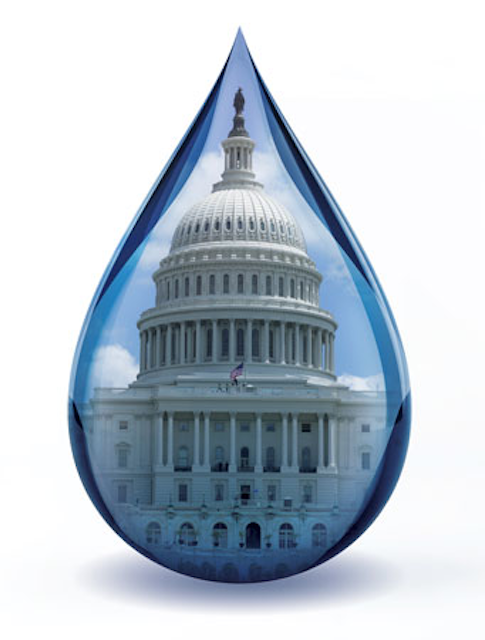 In October, following an injunction blocking the enforcement of the Clean Water Rule in thirteen states, the U.S. Court of Appeals issued a nationwide stay on the rule. The case is pending further action as the court decides whether it has jurisdiction over the case. "Right now we are in watch and see mode," Mehan said, noting that it is likely the ruling will go back to the Supreme Court before it is settled.
Industry leaders are happy about EPA's Electronic Reporting Rule for the National Pollutant Discharge Elimination System (NPDES), which was approved in 2015. The new rule will replace most paper-based permitting and compliance monitoring reporting requirements in the CWA with electronic reporting. "This is an important step that will add cost and time efficiencies for filing," Ternieden said. Though it's unclear yet how effectively it will be implemented, and how issues like data access and cyber security will be handled.
More of the Same in 2016
Looking ahead, most industry leaders don't expect 2016 to be much different from the previous twelve months. "Congress will be more distracted by the elections, and what's happening with defense and ISIS," said Leiby, which means there will little time to focus on domestic infrastructure and other water-related issues until 2017 at least. "EPA will continue to work on regulations and Congress will continue to throw up hurdles," she said. "But it won't stop EPA from doing what it thinks is right."
For EPA, Ternieden predicts the study of coliphage and virus risks will get more attention this year, which could impact utility operators. In 2015, EPA did a literature review of coliphages as possible indicators of fecal contamination for ambient water quality and how utilities can better understand how viruses should be addressed in water management. "If EPA sets virus and coliphage limits, it could change the way we treat wastewater across the board," he said. That could have a huge impact on upgrades to disinfection systems, especially those using UV technology. While there are no rules being reviewed now, WEF and other organizations are working with EPA to ensure the best resources are used to make any decisions. "We want to be sure their information is complete, that the data is relevant, and that the correlations are in place," he said.
In the meantime, he urged utilities to stay abreast of all legislative and regulatory issues that could impact the cost and direction of their infrastructure planning and treatment choices. "Take a step back and think broadly about what's going on in your plant," he said. "You have to look holistically at all the factors that will impact your operation going forward."
---
About the Author: Sarah Fister Gale is a Chicago-based correspondent for WaterWorld. Over the last 15 years, she has researched and written dozens of articles on water management trends, wastewater treatment systems and the impact of water scarcity on businesses and municipalities around the world.
House Passes Legislation Banning Microbeads
In early December, the House of Representatives approved H.R. 1321, the Microbead-Free Waters Act of 2015. This bipartisan bill, sponsored by Reps. Fred Upton (R-MI) and Frank Pallone (D-NJ), bans the manufacture of rinse-off cosmetics containing plastic microbeads by July 1, 2017, and bans the delivery of these products by July 1, 2018.
Plastic microbeads have become a topic of concern among clean water advocates given that they are difficult to remove during typical wastewater treatment processes and can therefore pass through treatment plants and into waterways, causing harm to aquatic life and ecosystems.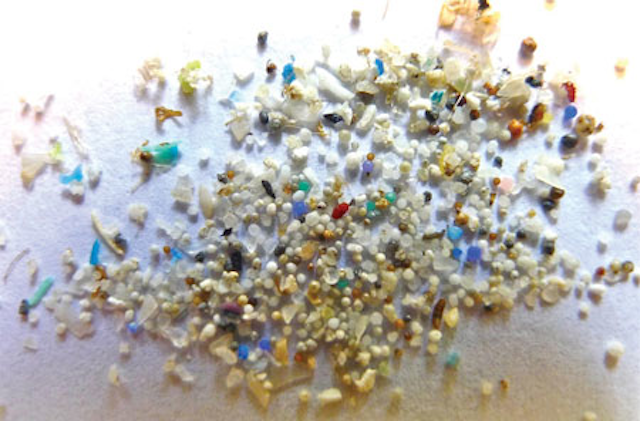 "We are pleased to see this legislation pass with strong bipartisan support as well as with the support of the personal care product industry to protect our critical water resources from products too small to be captured by the municipal wastewater treatment process," said Adam Krantz, CEO of the National Association of Clean Water Agencies. "This is an important step towards increased collaboration among key stakeholder groups to improve our nation's water quality."
The legislation will next head to the Senate.
More WaterWorld Current Issue Articles
More WaterWorld Archives Issue Articles