Patterning Precipitation
Rain gauges are critical tools for those tasked with studying or monitoring everything from irrigation runoff, erosion and flood control to water resources and environmental watershed sustainability.
Jan 10th, 2014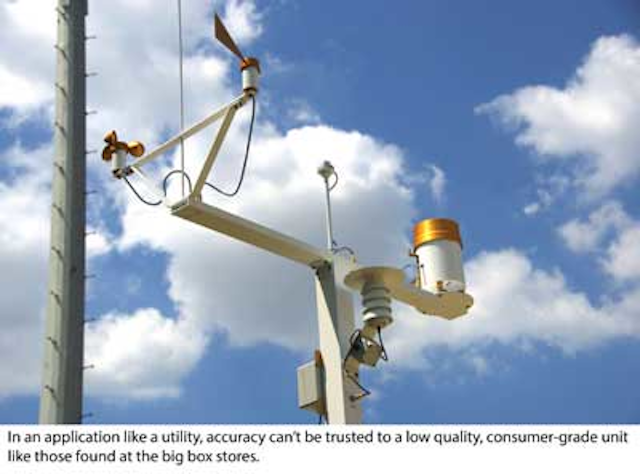 In an application like a utility, accuracy can't be trusted to a low quality, consumer-grade unit like those found in big-box stores.
Rain Gauges Help Municipalities Monitor Stormwater More Reliably and Accurately
Rain gauges are critical tools for those tasked with studying or monitoring everything from irrigation runoff, erosion and flood control to water resources and environmental watershed sustainability.
With so much depending on the accuracy and reliability of liquid precipitation data in various locations and microclimates within a region, the placement, quality of construction, and ability to withstand years of harsh weather conditions all factor into the integrity of the information collected.
Fortunately, improvements in rain gauge design are delivering research-grade results to professionals across a range of water-related disciplines.
Increasing Data Accuracy
Many factors contribute to the accuracy and reliability of rain gauges. To start, there is the quality of the device itself. Rain gauges come in many different styles, including standard weighing, graduated-cylinder and tipping-bucket gauges.
Although the concept and design of most gauges are relatively simple, the quality of construction and materials has a tremendous impact on accuracy.
Rain gauges sold in big-box stores are typically constructed primarily of plastic, while industrial-grade rain gauges are constructed of more durable materials, such as aluminum exteriors that are anodized and powder-coated. The difference can be as significant as a rain gauge that produces years of reliable and accurate data versus one that swiftly degrades and proves unreliable in the field.
Rain Gauges Options
Standard rain gauges consist of a funnel that empties into a graduated cylinder inside a larger container designed to catch overflow. This type of gauge requires in-person monitoring and measurement and does not indicate the "character" of the rainfall (light, medium or hard) over time.
Weighing-style gauges involve a storage bin that is constantly weighed and the results recorded. The advantage of this type of gauge is that it can measure other forms of precipitation, including hail and snow. Although quite accurate, these gauges are much more expensive and require frequent maintenance.
Perhaps the most popular rain gauge in the industry today is the tipping-bucket style. This gauge utilizes a funnel to direct rainfall into a seesaw-like bucket that tips and empties when full. With each tip of the bucket, an attached magnet actuates a sensor switch. Further, connecting the sensor to an electronic datalogger event counter or existing data acquisition system enables automated recording of accumulated rainfall. Such devices require little to no attention or servicing.
Tipping-bucket style rain gauges, however, have a few inherent design limitations that can impact accuracy under more extreme weather conditions.
Fortunately, manufacturers of industrial-grade rain gauges like Dallas-based Texas Electronics, a company specializing in the field of quality meteorological instrumentation since 1956, have preserved the advantages of the tipping-bucket style rain gauge while addressing some of its inherent design issues.
Most of the design improvements center on the collection device and are intended to improve its ability to capture each droplet of rain possible, even under extreme conditions such as extremely heavy winds and intense rainfall.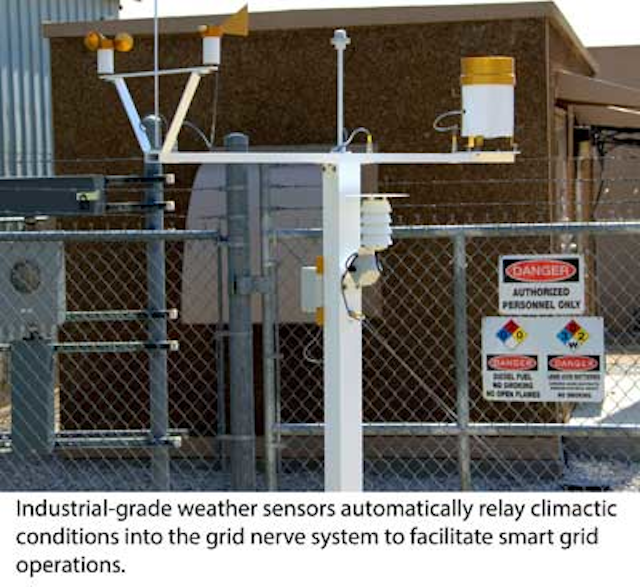 Industrial grade weather sensors automatically relay climactic conditions into the grid nerve system to facilitate smart grid operations.
For this, improvements that increase the accuracy of tipping buckets include an ultra-sharp lip edge designed for better capture and to eliminate high winds from blowing rain off the funnel edges. Other features include a deeper collector to prevent rain from splashing out during high wind conditions and heavy rainfall from overflowing, as well as an optional siphoning system that regulates the flow rate into the tipping bucket to minimize faults caused by high rainfall intensities.
Rain gauge accessories available from almost any rain gauge manufacturer can also assist in improving accuracy. When temperatures drop close to or below freezing, snow or ice may accumulate and block rainfall from entering the device. A tipping bucket with a heater element can melt any blockage to allow for accurate measurements.
The Value of High Quality Gauges
For Mike Liquori of Sound Watershed in Northern California, measuring rain accurately is vital to his work. "Sound Watershed works with a variety of organizations and authorities on different applications, many of which depend in some way on rain gauges," Liquori said.
According to Liquori, flood control, excessive erosion, stream restoration, sustainable land-use projects, urban development, agricultural business, and forestry protection all fall within the purview of his company.
Liquori emphasized the importance of having numerous high-quality instruments. "We have over 70 tipping-bucket style rain gauges from Texas Electronics actively in use throughout a wide range of settings: dense urban environments, sub-urban and semi-rural landscapes, and industrial wetlands."
In Liquori's realm, conditions can quickly become dangerous without accurate information. In a dense urban environment, major stormwater runoff from a multitude of rooftops and parking lots can quickly lead to floods.
"When it rains, we monitor storm runoff very closely," explained Liquori. "Situations in cities here can quickly elevate to flood warnings, and critical time for response makes dependable rain gauges a high priority. Our ability to assess rapidly-changing situations where stormwater runoff occurs is important for safety and environmental reasons."
Strategic Placement
Another factor that plays a role in accuracy is placement. To obtain the most reliable measurements and accommodate variances in weather patterns in locations even a few miles apart, rain gauges are often installed in tight grids to assure the accuracy of the information gathered.
"It may be raining one tenth of an inch in one area, and just a mile away a storm cell is dropping five inches," said Layne Marlow, a field technician at the South Plains Underground Water Conservation District (Brownfield, Texas). "Knowing this information on such a small territorial basis is very important in a region like this."
Marlow tends to 33 Texas Electronics rain gauges spread across over 902 square miles of the Southern High Plains of Texas. About 450,000 acres are under cultivation across this rich farmland, with 150,000 acres irrigated using groundwater. Rain gauges are vital in determining the rate of groundwater recharge.
The Edwards Aquifer Authority in San Antonio provides another example of groundwater monitoring. The Authority regulates an area about 180 miles long and anywhere from five to 40 miles wide for a total of 3,600 square miles.
As the senior hydrogeologist and aquifer science expert for the Authority, Dr. Marcus Gary's primary mission is to maintain investigative studies to quantify how the Edwards Aquifer recharges and discharges in this semi-arid region of Texas. Naturally, rain gauges comprise a major part of that ongoing work.
In addition, Dr. Gary has utilized rain gauges for the unique purpose of measuring moisture from cave ceilings. "Aquifers like ours feature sinkholes and caves," said Dr. Gary. "In some large limestone caves, we have specially-modified rain gauges to measure the moisture that drips from the cave ceiling. Everything is important in managing groundwater; even micro-amounts of rainfall contribute to recharge and are important."