Flexibility Key to Underground Water Reservoir Rehabilitation
Martin Reservoir, one of the drinking water storage facilities in Tucson, AZ, required a new coating and lining system after 47 years of nearly non-stop service. A 20-million-gallon concrete underground water facility built in 1964, the reservoir stores potable water for Tucson and surrounding areas, with an average flow of 6 million gallons per day.
Nov 1st, 2012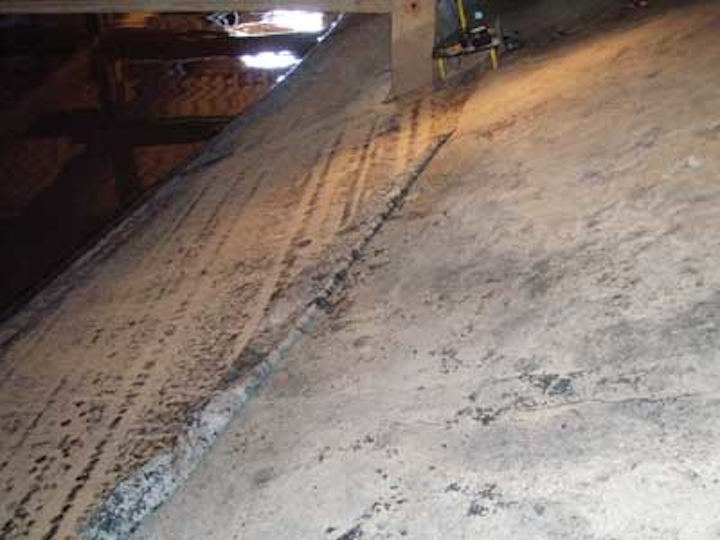 Tucson, AZ, reaches such scalding temperatures natives and visitors can sometimes see the air bend with heat. Tucson Water's 65 water storage facilities must provide sustainable and efficient water deliveries that can reach peak demand of 165 million gallons daily in summer.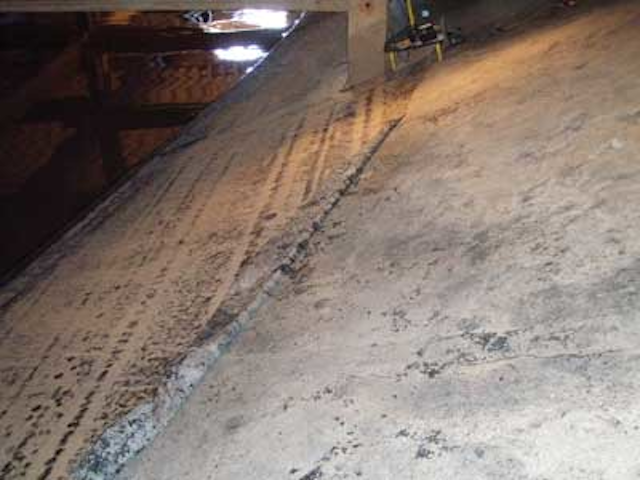 The tank surface had bumps, cracks and ridges. Rebar was exposed and rusting in some places
Martin Reservoir, one of the city's storage facilities, required a new coating and lining system after 47 years of nearly non-stop service. A 20-million-gallon concrete underground water facility built in 1964, the reservoir stores potable water for Tucson and surrounding areas, with an average flow of 6 million gallons per day. The reservoir was the largest and most critical storage tank to the system when it was first built, and now is a component of the city's sustainable water policy that stores a combination of ground water and water pumped from the Colorado River into the Tucson Basin. Reservoir inspections reported signs of a deteriorated lining, bringing urgency to the rehabilitation project.
After a competitive bidding process, Tucson Water awarded a contract to Ashton Contractors and Engineers of Tucson, who subcontracted with Murphy Industrial Coatings, Signal Hill, CA, to find a flexible lining with fast cure time, low solvents and high durability paired with on-site training for rehabilitation staff. Martin Reservoir would be out of service for three months while rehabilitation teams drained the tank, stripped its deteriorating butyl rubber liner, and prepared and recoated the concrete surface.
With counsel from RFI Consultants, Phoenix, AZ, Tucson Water selected Sherwin-Williams' SherFlex™ Elastomeric Polyurethane, a 100 percent solids, spray applied, aromatic polyurethane coating and lining that can be applied at thicknesses of 30-250 mils in multiple passes during a single application. SherFlex is designed for use in immersion service as part of a tough, flexible, impact resistant coating and lining system in potable water tanks of more than 3,000 gallons. Its fast cure time, durability and no VOCs, along with the company's on-site training capabilities, made it a fit for the project.
"Choosing a coating isn't like going down to your local Sherwin-Williams store and picking up a gallon of paint," said Eric Brackman, owner, RFI Consultants LLC. "These coatings are demanding. You have to know what you're doing, especially when the surface is in poor condition. Once we pulled the existing liner, it looked like the dark side of the moon."
Because the liner in the reservoir had not been replaced since its construction in 1964, Tucson Water had informed contractors that it was likely the surface would not be ideal for applying a new liner. After stripping the tank, the project team found the surface was in need of repair before coating. It had bumps, cracks and ridges throughout the 22-degree slopes from floor to ceiling. Rebar was exposed and rusting.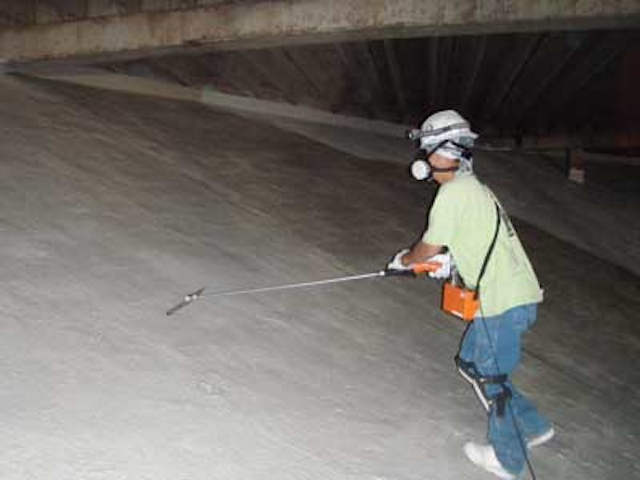 Every inch of the coating was holiday tested to insure complete coverage.
With oversight by RFI Consultants, Ashton, Murphy and Tucson Water collaborated on repairs to the concrete. It was determined that an application of Fox Industries FX-262 Repair Mortar would be used to restore the substrate and provide an even surface.
After abrasive blasting, Murphy Industrial Coatings smoothed the surface of the sloped concrete using the recommended Fox Industries FX-262 Repair Mortar. Ashton Contractors and Engineers removed and repaired exposed rebar, and cut and cleaned what was salvageable. The tank's concrete substrate was cleaned and profiled using a dry abrasive blast, according to NACE 6/SSPC-SP13 Surface Preparation of Concrete.
The reservoir was primed using Sherwin-Williams' Dura-Plate 235 PW, a modified epoxy phenalkamine NSF 61 certified as a tank lining for potable water storage tanks. The team then applied the SherFlex coating to the surface using a plural component spray system with 450 feet of heated hose line.
"It was tricky," said Brackman. "You had to walk up a slick, primed concrete slope at a 22-degree angle, and then be able to move side to side and walk backward down the slope while the applicator was continuously spraying. The coating needed a monolithic and pinhole free surface to avoid water leaks, which was one of the main reasons for rehabilitating in the first place. After the first day of application, we noticed that just spraying the coating was not covering the concrete like we hoped. It was not the fault of the material or the application technique. The problem was with the roughness of concrete."
But low temperatures underground gave RFI Consultants time to search for a solution. They were able to manipulate the coating during application. Teams sprayed the coating and back-rolled it using a three-quarter-inch Nap roller to push the material into cavities and crevices. Then, they sprayed over the surface one final time to achieve the desired filling capabilities and thickness.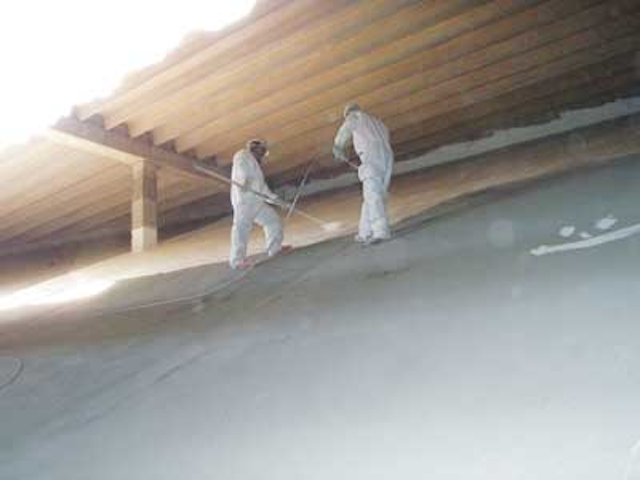 Application involved spraying on the coating and then back-rolling with a three-quarter-inch Nap roller to push the material into cavities and crevices.
"I holiday tested every inch to make sure there were no leaks," said Brackman. "Because the tank had been in service for so long, it had absorbed a lot of water. Even the ceiling had absorbed water. When the sun would be at its peak, moisture from the roof leaked and dripped onto the floors. With SherFlex being moisture sensitive before it cures, I would identify any blistered areas and mark them for repair. Murphy had a dedicated team that would go back and make the needed repairs."
Because of the coating's flexibility and fast cure time, along with its ability to be applied in just one coat, Tucson Water was pleased with the product.
"Our major concerns are safety and constructability but we have to be mindful of cost savings as well," said Dorothy Dolan, Martin Reservoir project manager of the Planning & Engineering Division, Tucson Water. "Murphy anticipated considerable savings by going with SherFlex, rather than the originally specified coating. In addition, the original coating would require two coats, whereas the Sherwin-Williams coating only called for one, a major time savings."
With an out-of-the-box method of coatings application, Tucson Water, RFI Consultants, Murphy Industrial Coatings, Sherwin-Williams and Ashton Contractors and Engineers put Martin Reservoir back in service one week early, before the summer peak when the need for water would be at its highest.
"SherFlex's one-coat application system meant that the initial thickness would be accurate and the cure time would be reduced, allowing our reservoir to return to service faster than expected," said Dolan. "Time was an important component. Once we got started, we worked non-stop until finish – 24 hours a day, 5 days a week."