Modeling System Helps Authority Plan for Water Supply Needs
Formed in 1982, the Peace River/Manasota Regional Water Supply Authority includes the member counties of Charlotte, DeSoto, Manatee and Sarasota, FL.
Nov 1st, 2007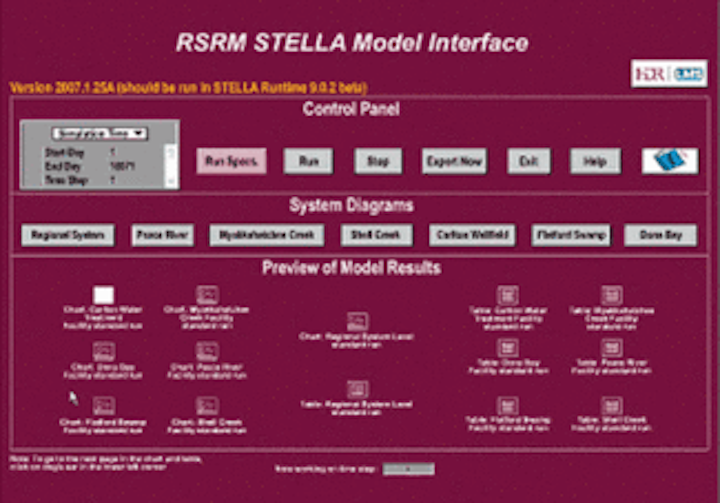 by Charles Beckers, Emilie Moore, Mike Coates and Susan Hochuli
Formed in 1982, the Peace River/Manasota Regional Water Supply Authority includes the member counties of Charlotte, DeSoto, Manatee and Sarasota, FL. The Authority provides potable water to these four members as well as to a customer, the City of North Port. It is an independent special district of the state of Florida, charged with providing its customers reliable supplies of high-quality water in a way that protects and preserves the environment. The Authority owns and operates the Peace River Facility, a 24 mgd surface water treatment facility in DeSoto County, which also includes a 625 mg off-stream surface water reservoir and 21-well aquifer storage and recovery system.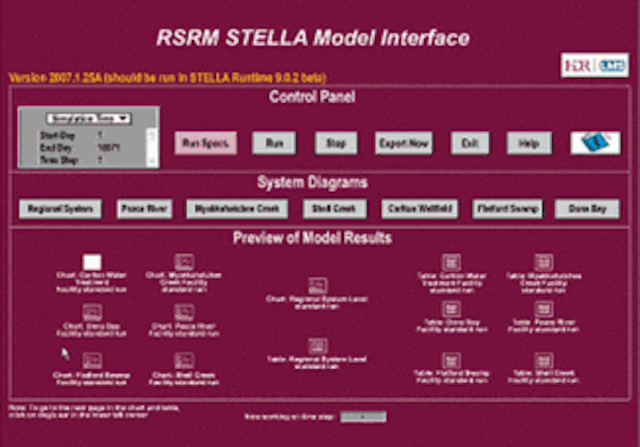 The main core model (STELLA) interface form.
Click here to enlarge image
To ensure it can meet contractual obligations based on increased customer demand forecasts, the Authority Board selected HDR to develop its Integrated Regional Water Supply Master Plan. Its primary objective is to identify water supply sources and major capital improvements needed to ensure a safe, reliable and environmentally responsible water supply for this region through 2025.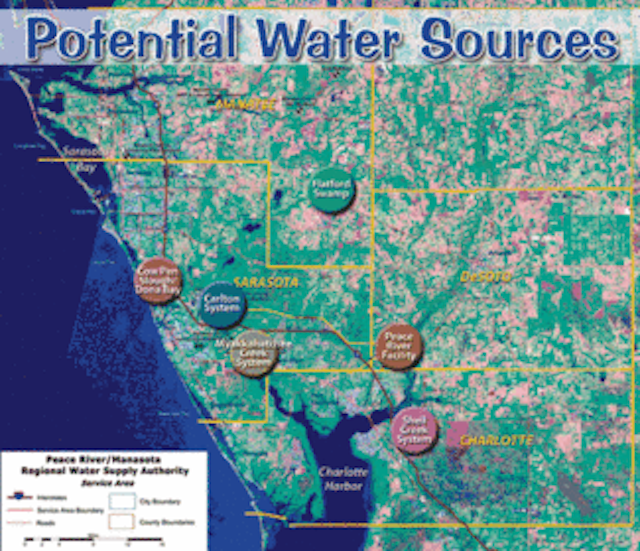 Click here to enlarge image
Per direction of the board, six water supply source projects were evaluated as regional system components, including:
Carlton Wellfield
Cow Pen Slough/Dona Bay
Flatford Swamp
Myakkahatchee Creek
Peace River
Shell Creek/Tippen Bay/ Long Island Marsh
Sarasota County uses groundwater from the Carlton Wellfield as the raw water source for its water treatment plant. The City of North Port uses surface water from Myakkahatchee Creek as the raw water source for its water treatment plant. The Authority uses surface water from the Peace River as its water supply source for the Peace River Facility, and the City of Punta Gorda uses surface water from Shell Creek as the raw water source for its water treatment plant. The Dona Bay, Flatford Swamp, and Shell Creek/Tippen Bay/Long Island Marsh projects are surface water restoration projects expected to improve environmental conditions and yield substantial sources of water supply.
Regional System Reliability Model
To aid in understanding potential system performance, the Authority wanted a model-based, source-water planning tool that could provide an estimate of reliability for each candidate system. The modeling tool would compare candidate systems based on ability to meet projected future demands for water. This ability is a function of both the actual raw water supplies available and configuration of the system components-the reservoirs, wells and water treatment facilities that produce finished water.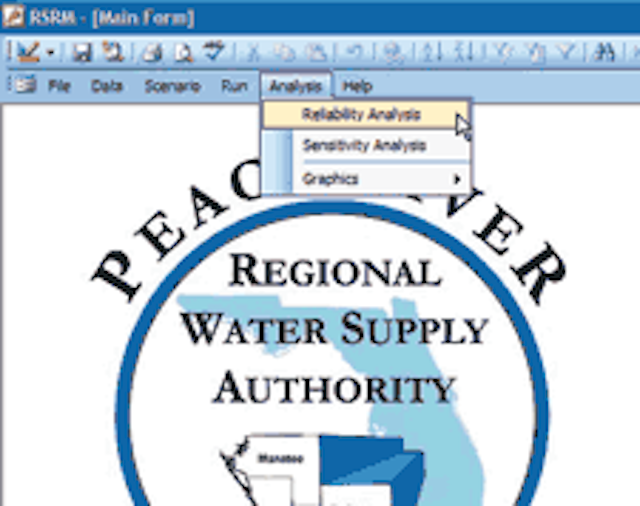 Example of data input for scenario setup.
Click here to enlarge image
The Regional System Reliability Model (RSRM) is a sophisticated, computer-based water resource modeling tool that enables the Authority to evaluate how regional water supply sources could help them meet future regional water demands in the most reliable way. Its purpose is to provide an estimate of reliability of the sources of supply available to the regional system, both individually and in combination.
The RSRM relies on the assumption that future resource conditions will be similar to regional conditions in the recent past. This approach is preferred because it is not possible today to produce credible long-range forecasts of raw water supply. The RSRM estimates reliability of a candidate system by answering the question: "What would have happened if the candidate system and forecast regional demands had been in place during the historical period for which we have raw water supply data?"
The RSRM played three primary roles in development of the master plan, specifically:
It enabled the Authority and its customers to develop a better understanding of their complex regional water supply system
It assisted the team developing the master plan in quantifying the ability of proposed future system configurations to meet growing regional demand for water
It established a valuable tool for future "what-if" evaluations of proposed changes to the regional system, including the incorporation of additional sources of water supply
Modeling Approach
Depending on project needs and system characteristics, water supply models can be based on a number of modeling platforms. Working closely with Authority staff, the development team devised goals for selection of the modeling platform and evaluated a number of candidates. A key consideration was the expedited master planning schedule, which required RSRM development to occur within six months.
The process led to the selection of a combination of modeling platforms based on the STELLA systems dynamics modeling framework and employing Microsoft Access to manage datasets, facilitate user interaction and perform final reliability calculations.
Definition of Reliability
The Authority's earlier water supply model, BESTSM, computed system reliability as the number of days in which the candidate system would have satisfied projected demand during the historical period of record, divided by the total number of days in that record, expressed as a percentage. That definition of reliability was carried forward into the RSRM, because a consistent measure of system performance was desired for comparing all prior and ongoing evaluations of the regional system.
Reliability Model
The RSRM consists of a graphical user interface (GUI) programmed using Microsoft Access and Microsoft Visual Basic for Applications, and a core model programmed using STELLA. The RSRM can be used in either two modes: Standard, in which system operation is evaluated for just one set of conditions, and Sensi (for "sensitivity") mode, in which system performance is evaluated over a range of conditions such as varying reservoir size.
The main GUI form gives users access to all RSRM features, including the STELLA core model, using drop-down menus. They are used to set the model "scenario," the actual supply and demand conditions that the user wishes to analyze as well as the system configuration. Once scenario parameters are established, the user initiates a run of the core model by clicking a button in the GUI. The GUI ensures that all necessary inputs have been set, facilitating creation of the necessary input file.
The STELLA form allows the user to monitor core model computations, review final results and export results to the GUI. It also lets users examine details of the system model by clicking the buttons labeled by source of supply or demand. The core model consists of several layers of modeling; each rectangle on the Regional System diagram represents a more detailed, lower level of modeling and computation.
When the user determines whether the core model results are acceptable, the "Exit" button returns the RSRM to the GUI. The user can either revise the scenario or proceed to calculation of the regional system reliability using the GUI. Reliability can be calculated for the regional system as a whole, or for each individual water system in the region, at time scales ranging from daily to annual. Results can be presented in either graphical or tabular format.
Applying RSRM to Peace River/Manasota
The RSRM was used to evaluate proposed system configurations for each of the next 20 years in concert with master plan development. A system configuration includes the source water supply as well as associated off-stream or in-stream reservoirs, water treatment facilities, and pumping and conveyance systems. All six water supply sources were considered when developing suggested implementation schedules. Minimum target reliability for each system configuration was 95 percent likelihood of meeting a projected water demand plus a 6-percent rotational and reserve capacity over the historical period of streamflow data. The period from January 1, 1961, through December 31, 2004, was used in each evaluation.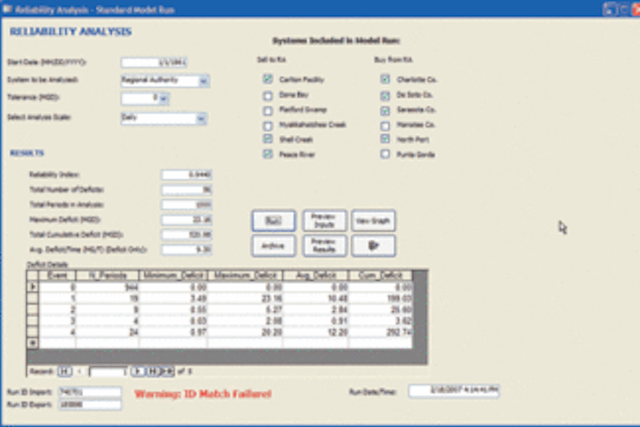 Example of the reliability analysis form for a standard (non-sensitivity) plan.
Click here to enlarge image
Typically, when a new water supply source and its companion water storage, treatment and pumping components was brought on line, system reliability would increase to greater than 95 percent. Sources with larger source water capacity would generally have greater than 95 percent reliability for a longer period of time (e.g., five to six years) than sources with smaller capacity (e.g., three to four years). The results suggested that sources with larger capacity can be brought online sooner, because they can provide greater reliability during drought events and are generally more cost-effective than smaller-capacity sources. For example, based on streamflow data, the Shell Creek/Tippen Bay/Long Island Marsh system has a source capacity greater than the capacity of Dona Bay and Flatford Swamp, and was recommended in the master plan as the next source water project to be developed.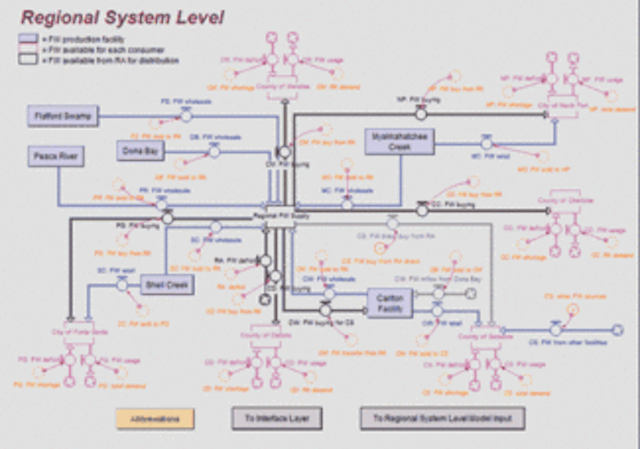 Example of a STELLA model diagram, the Regional System.
Click here to enlarge image
Modeling results also indicated that including more drought-resistant sources (e.g., groundwater, saltwater) does more to improve system reliability than surface water sources, due to variability of surface water flows. Therefore, the master plan recommended a balance between more drought-resistant and less-drought resistant water sources.
Effective Planning Tool
The Authority desired a model-based planning tool to help identify reliability of its regional system as proposed sources of water supply are brought online. The RSRM combines Microsoft Access and STELLA to handle data management/statistical evaluation and system simulation, respectively. The RSRM was an integral element in development of the Authority's master plan. The RSRM enabled the planners to provide a suggested implementation schedule for bringing sources online to meet regional system reliability goals of greater than or equal to 95 percent. The RSRM is an active model that is intended to be updated as needed to evaluate potential future source water projects. It is an effective planning tool that has helped identify planning-level source water projects. Details of the recommended projects will be further developed during implementation of feasibility studies.
About the Authors:
Charles Beckers, P.E., is a Senior Project Manager for HDR in Pearl River, NY. He may be contacted at charles.beckers@hdrinc.com. Emilie Moore, P.E., is a Senior Project Manager for HDR in Tampa, FL. She may be contacted at or emilie.moore@hdrinc.com. Mike Coates, P.G., and Susan Hochuli, P.E., are both with the Peace River/Manasota Regional Water Supply Authority in Bradenton, FL.