Reservoir management system improves water quality in California
Severn Trent Services' new system helps maintain consistent chlorine residuals, improving water quality in a reservoir serving a South Orange County water district in the US state of California.
Oct 1st, 2003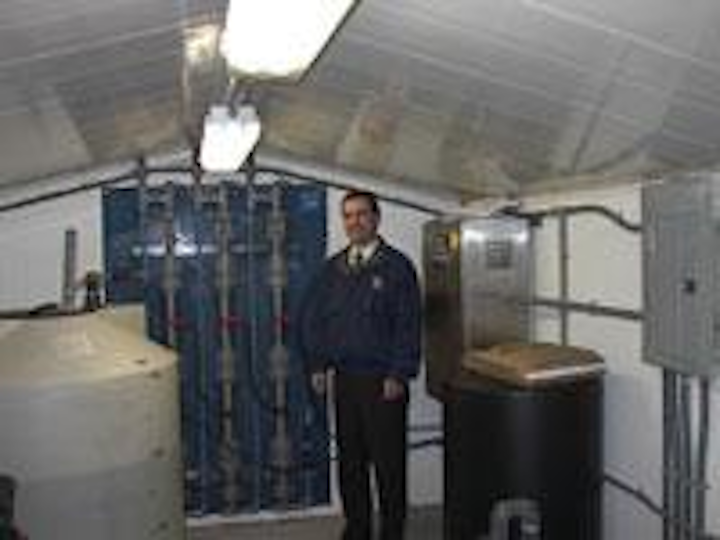 By Larry Dees
The Moulton Niguel Water District (MNWD) in Laguna Niguel, California, USA, has implemented a two-phase approach to install Severn Trent Services' reservoir management system (RMS) technology in its 28 reservoirs.
STS reports that the system has resulted in more consistent, uniform chlorine residuals, improving water quality and reducing maintenance requirements and costs. The reservoirs serve approximately 160,000 residential customers.
Chlorine is widely used as an economical disinfectant for municipal reservoir systems; however many water systems operators struggle to maintain uniform levels of chlorine throughout storage reservoirs and ground tanks. Stagnation and stratification in reservoirs, insufficient feeding and blending, and ineffective analysis techniques often lead to chlorine levels that are either too high or too low.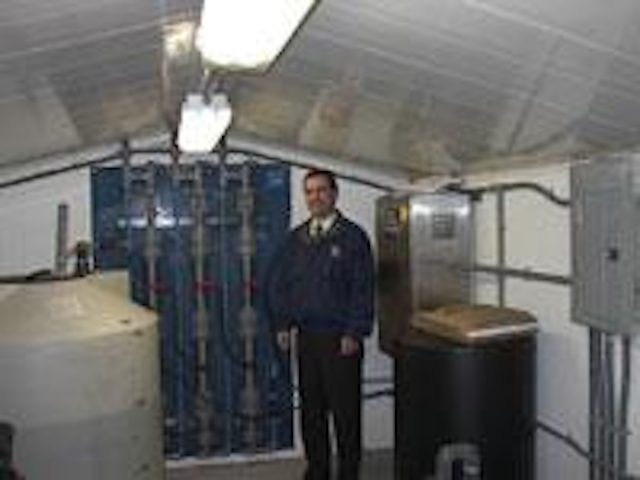 All installations in the Moulton Niguel Water District will be turnkey projects, including on-site generation, ammonia refrigeration and storage, PLC-based control systems with operator interface, free-chlorine residual analysers, total chlorine residual analysers, chemical metering pumps, RMS assemblies, recorders and associated valves and tank level controls.
Click here to enlarge image
In the Moulton Niguel district reservoirs, the water can contain unacceptable nitrification levels with little disinfectant, potentially causing biofilm growth in the reservoir and bacterial growth in the distribution lines. To solve this problem, the district tried reducing reservoir levels to less than half capacity to increase cycling frequency, preventing thermal stratification while continuously monitoring the chlorine residual. As residuals fell to unacceptably low levels, chlorination equipment was physically transported to the remote site and appropriate levels of chlorine were manually added into the reservoir tank through a pipe connection.
This solution created problems. The addition of chlorine did not always properly re-establish an effective chlorine residual level due to inaccuracy, and the process of manually feeding the chlorine into the system was time-consuming. Strict regulations governing the transportation of bulk chlorine also required risk process safety management, training and planning that increased operational costs associated with the treatment method.
Increased water temperature can cause warmer water to form a stagnant layer at the top of the reservoir even with proper residual levels, resulting in poor water quality and potential distribution issues. Common inlet/outlet pipe connection construction at the bottom of a reservoir can cause the ebb and flow of water to result in unpredictable chlorine residual in the lower part of the tank, as well as a slug of stagnant water that can rise and fall.
The district installed a paddle wheel, propeller-type mixer to recirculate water throughout the storage tank to alleviate these problems. However, large energy consumption requirements made the paddle wheel system cost-prohibitive, so the district performed a cost analysis on the Severn Trent Services' ClorTec Reservoir Management System (RMS) and found it to be efficient and effective.
The ClorTec RMS system was installed in 2000 with no system downtime at the four-million-gallon Nellie Gail Reservoir. The RMS system relies on a patented submersible pump/mixer assembly installed through the roof of the tank and suspended about three feet from its floor. These components create a significant upward flow of water, thoroughly mixing the tank's contents and eliminating thermal and residual stratification, while delivering a live sample to a monitor.
Using real-time water quality samples from inside the reservoir, the system includes analysers to measure free and total chlorine residual levels. If either analyser senses a deviation from a predetermined set point residual level, a dedicated PLC-based control calls for the injection of ammonia and/or hypochlorite via conventional chemical metering pumps until proper residual levels are restored. The circulation pump runs continuously, providing a fresh sample stream to the analyser while continuing to blend the various flows in the reservoirs regardless of flow through the reservoir. The PLC-based control communicates all system operating parameters, residuals, etc., directly to the district's SCADA system where data is trended and analysed.
An installed Severn Trent Services ClorTec on-site hypochlorite generator system produces 0.8% sodium hypochlorite at the Nellie Gail site, eliminating the need for chemical transport and handling of chlorine.
Improved mixing and real-time chlorine analysis have allowed the district to maintain a more homogeneous water quality with consistent chloramines residuals throughout the tank. Once the system is installed district-wide, the MNWD will benefit from the equivalent of three five-million-gallon reservoirs and one additional two-million-gallon storage tank, by effectively using current water supplies.
---
Author's Note
Larry Dees is the director of operations for the Moulton Niguel Water District in Laguna Niguel, California, USA.