Water Pumps in the Pride Lands: Operation AfriQUA Launches
Around the world 11% of the population lack access to safe drinking water. Tom Freyberg addresses the situation in sub-Saharan Africa, focussing on Malawi and explores how the launch of Operation AfriQUA from WWi magazine and Pump Aid will tackle the situation.
Jul 1st, 2012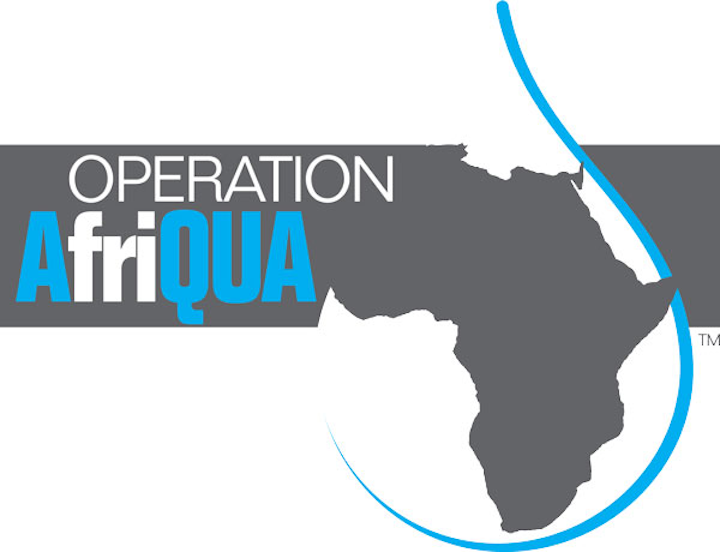 Around the world 11% of the population lack access to safe drinking water. Tom Freyberg addresses the situation in sub-Saharan Africa, focussing on Malawi and explores how the launch of Operation AfriQUA from WWi magazine and Pump Aid will tackle the situation.
In developed Western nations it is hard to imagine what life would be like without water. Turning on a tap knowing that clean and safe water will come out, is taken for granted. By delivering this service without true recognition, water companies around the world are, perhaps, one of the biggest unsung heroes of modern times. It is only when supplies are temporarily stopped that utilities' efforts come under scrutiny. Mild panic sets in when people can't access water.
Now instead imagine having to walk miles to collect water. The duty falls on the women of the household. They can't manage to draw water from boreholes single handedly, so children have to drop out of school to help. Difficult to imagine? Around the world this is a common situation for developing nations.
Malawi
According to the UN at least 11% of the world's population still lack access to "improved" drinking water. That's a whopping 783 million people. This is the official number but in reality, it looks as if at least 1.5 billion people could lack access to "safe" drinking water. Sub-Saharan Africa bears the brunt of the drinking water crisis. Over 40% of all people globally who lack access to drinking water live in this region alone.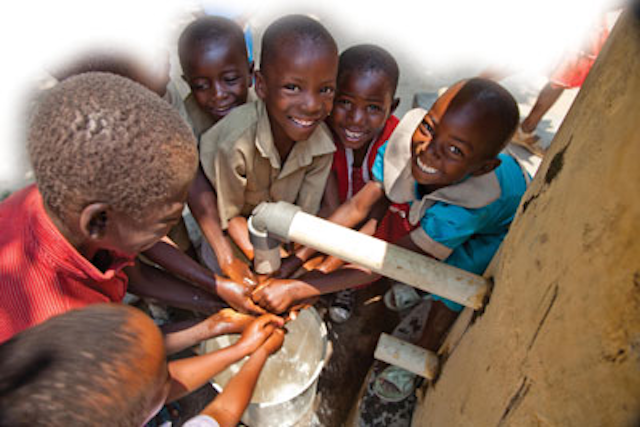 And Malawi, a landlocked country bordered by Zambia and Tanzania in southeast Africa, paints an even darker picture. The country has a low life expectancy and high infant mortality rate. One of the reasons related to this is a historic lack of access to drinking water and sanitation, among other factors.
For example, in urban areas, household access to piped water fell from 42% in 1990, to 35% in 2000, and to just 28% in 2010.
"This is pretty well the only reliable indicator of real service delivery, as there is no playing around with definitions — you either have a household tap or you do not," Dr David Lloyd Owen, managing director of consultancy Envisager and ambassador of charity Pump Aid tells WWi magazine.
It is the definition of "household access to piped water" that is difficult to apply in rural areas, and even harder to monitor. Around 85% of Malawi's population live in rural areas and many villages take the water from contaminated, open sources or wells; a far cry from piped infrastructure.
Owen adds: "The percentage of rural people with 'improved' (but not household piped) water increased rose from 33% to 78% but again, we do not know how this translated in terms of genuine access to safe drinking water."
Sources suggest that current coverage for water is 95% urban and 78% rural with total average of around 80% (compared to around 40% in 1990). However, the water stats come from national surveys, which do not consider distance to source (national standard is within 500 meters) or number of people using the facility.
Other factors come into play when discussing rural water supplies; distance and danger. The responsibility of collecting water often falls to women and children but they also have to walk many miles to the water source. The risks of violence and rape increases with distance from the home village.
"The time taken to collect water is also critical - 24% of urban and 46% of rural populations take more than 30 minutes per trip," says John Pinfold, chief of the WASH programme for UNICEF (United Nations Children's Fund) Malawi.
Sanitation
With regard to sanitation UNICEF cites national surveys that suggest that over 90% of Malawi's population now have access to a toilet. However, over a quarter of these are shared facilities (27%) and some are defined as unimproved (8%). So really, only 56% use what is considered "improved" sanitation facilities, normally deemed as a pit latrine.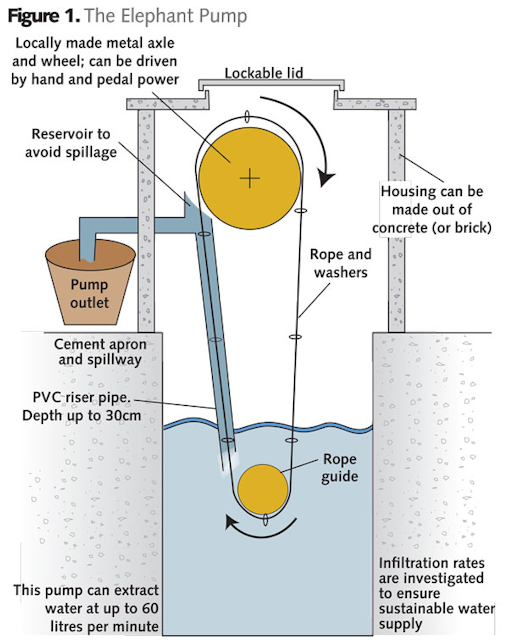 Other commentators are cautious when it comes to sanitation coverage.
John Kandulu, Malawi country director for charity Pump Aid, adds: "The MDG [Millennium Development Goals] target for adequate sanitation is unlikely to be met by 2015. It will take concerted efforts by all engaged in the sub-sector, and considerable levels of investment for both software (advocacy and awareness building) and support for hardware activities to meet the MDG target. Without this, the target will be missed by 2015."
Pump functionality
Kandulu also warns that the percentage of unreliable and broken water pumps is often underestimated.
"These seemingly high rates however mask the fact that the functionality rate of rural water systems, especially from groundwater sources, which form the bulk of rural water supplies, can be as low as 60-65%," adds Kandulu. Unicef's Pinfold believes this rate could be even lower.
"This is a challenge in most countries particularly sub-Saharan Africa," he says. "The often quoted figure for Malawi is that only 70% of water points are functional but this is mainly old gravity systems that we built a long time ago."
Launch of Operation AfriQUA
In response to the urgent requirement for safe drinking water in Malawi, Water & Wastewater International magazine (WWi), together with charity Pump Aid, is trying to make a difference. In partnership we are launching a project named Operation AfriQUA: Installing Pumps. Improving Life.
This project is designed to help bring together the capability of the developed water sector with the water needs of developing Sub-Saharan Africa. It builds on Pump Aid's progress of already having provided 1.1 million people in the region with clean, safe and accessible water.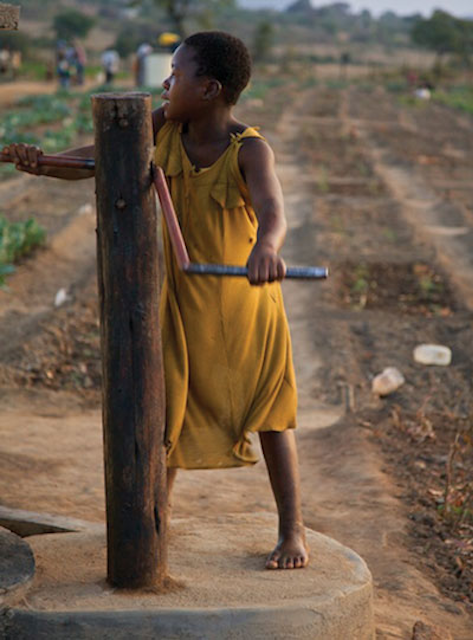 So how is Operation AfriQUA and pump provider Pump Aid different to other efforts already underway in Malawi?
Usual water supply schemes supported do not often fund small and isolated communities. They do not form enough mass to justify investment. Furthermore, equipment needed to build water infrastructure cannot reach remote areas.
Instead of building new large infrastructure, Pump Aid focuses on upgrading existing water sources - mostly shallow open wells which communities have been using for many years. The wells are deepened, lined and the water made safe for human consumption and for everyday domestic and community chores.
Elephant Pumps
The key part of Pump Aid's delivery is the Elephant Pump, a low-tech and very simple hand powered pump that can be repaired by local people with local materials. Pump Aid fabricates the Elephant Pump mostly from locally sourced materials such as mild steel bars, metal plates and cement (see box out below for step by step installation process). Few parts are imported, notably the rope and washers although efforts are underway to identify locally available substitutes.
Communities are fully involved in the construction of the improved well. By watching and learning how the pumps are put together, they learn and know how to fix them should something go wrong. It creates a sense of ownership and is one way of solving the pump functionality challenge.
Pump Aid says that a representative sample of Elephant Pumps in Malawi was checked and 92% were working. In Liberia this was reported at 97%.
Benefits
The immediate heath impact can be noticed after providing secure water supplies in rural Malawi. Clean water means fewer people suffering from diarrhoea and waterborne diseases. Furthermore, the gender equality and education impact cannot be ignored. A community pump can save many hours a day that women and girls spend collecting water. These saved hours can be put to better use: girls can attend school and fewer days are lost to illness. Economically, too, vegetable patches grown as a result of the water supply provide income and better nutrition for villages.
Comments from the Water Point Committee trained up in Chiponde village, in Kasungu District, Malawi are testament to the difference an Elephant Pump makes.
"Before the Elephant Pump was installed in our village, life was difficult because it was not easy to access safe and clean water for our households," the Malawi villagers say. "The nearest source of safe water was more than 7 km away. As a community, we used to drink from the same water source with cattle, pigs and goats. As a result, the prevalence of water borne diseases was high. The health assistants distribute chlorine for free, especially during the rainy season, but it is not enough or always effective."
The committee in Chiponde village says that life has greatly improved since the pump and there are reduced cases of waterborne diseases such as diarrhoea and cholera.
How you can help
The international water industry doesn't have to sit back and ignore these issues. You can make a difference. By funding the delivery of an Elephant Pump, water will be provided for 100+ villagers who previously relied on contaminated sources. Operation AfriQUA will have its own dedicated microsite on: www.waterworld.com/operation-afriqua.html.
Each sponsored project will be documented with articles on the pump installation and follow up reports addressing educational and economic benefits. Furthermore, the company will be listed as a "supporting company" in Operation AfriQUA material going forward, as well as featuring on www.pumpaid.com.
Access to clean water is more than just providing a pump. An educated community can sustain themselves in future years and greatly improve their quality of life. "Installing Pumps. Improving Health" is not just a tagline of Operation AfriQUA — it's a goal for all of us.
Author's note: For more information on Operation AfriQUA and how to fund the delivery of an Elephant Pump, please contact Tom Freyberg: tomf@pennwell.com.
Elephant Pump Installation Timeline
Step-by-Step
| | | |
| --- | --- | --- |
| 1 | 2 | 3 |
| | | |
| Site identification: the open well that the women of Chiponde village, in Kasungu District, Malawi, used to draw water from. | The alternative water source, outside the village, isn't any better or safer. In response, the suitability of a site is assessed by examining the depth of ground water, as well as other factors such as proximity to possible sources of contamination (pit latrines, animal pens etc), the time it takes for the groundwater to reinfiltrate and the time taken to and from the water source. | Well preparation: a new well is dug, or the existing unprotected well is renewed by deepening, cleaning and lining with bricks. This ensures that a well does not collapse and is sufficiently deep to refill with clean and safe groundwater at the ideal rate. |
| | | |
| --- | --- | --- |
| 4 | 5 | 6 |
| | | |
| Manufacturing the metal pump parts: the entire pump is produced locally, either at a Pump Aid metal workshop, or by local welders under our supervision. Welders make the wheel, the axle and the ratchet from locally sourced steel. | Finished wheel. This will be used as a pulley to hold and wind the rope and bring water to the surface | Manufacturing the concrete pump parts: in order to avoid costly and risky transportation, the concrete casting normally takes place at a site close to the build location provided by the district authority. The housing protects the well and pump mechanism from exposure and damage. |
| | | |
| --- | --- | --- |
| 7 | 8 | 9 |
| | | |
| Training: before the Elephant Pump is installed, Pump Aid teams teach the Water Point Committee about maintenance and repairs. Local artisans, builders and welders are trained in Elephant Pump construction and well preparation. Communities retain necessary knowledge and skills to maintain the pump after Pump Aid has left. | All households in Malawi are able to produce bricks. All communities contribute bricks, stones and sand and labour to the construction of their new Elephant Pump. | Input from community members is crucial in creating a true sense of ownership of the water source. Men, women and children all help. |
| | | |
| --- | --- | --- |
| 10 | 11 | 12 |
| | | |
| Concrete cases are placed at base. These act as a safety barrier to prevent animals falling in and contaminating supplies. | The pump is tested to check water flow, the wheel and handle | Remaining concrete casing is fitted to seal the Elephant Pump |
| | | |
| --- | --- | --- |
| 13 | 14 | 15 |
| | | |
| Water channel to funnel pumped water is built, cemented and finished | The finished Elephant Pump. All built components can be seen working together: handle, wheel, piping, concrete casing and channel | After installation, the community in Chiponde celebrates around the finished pump. Pump Aid frequently revisits communities to monitor progress and answer questions from users. The technical monitoring includes testing the water's quality, gathering data such as dry-month water table depth. Surveys are undertaken to gather data on the impact of the pump on wider health, education, economic, gender and other community issues. |
More Water & WasteWater International Current Issue Articles
More Water & WasteWater International Archives Issue Articles