Los Angeles Rolls Out a Shady Solution to the Drought Problem
An innovative project to install 'shade balls' in Los Angeles reservoirs has caused quite a stir among the local community. So, what exactly are shade balls? And how can they be used in the water and wastewater treatment sectors?
Nov 1st, 2015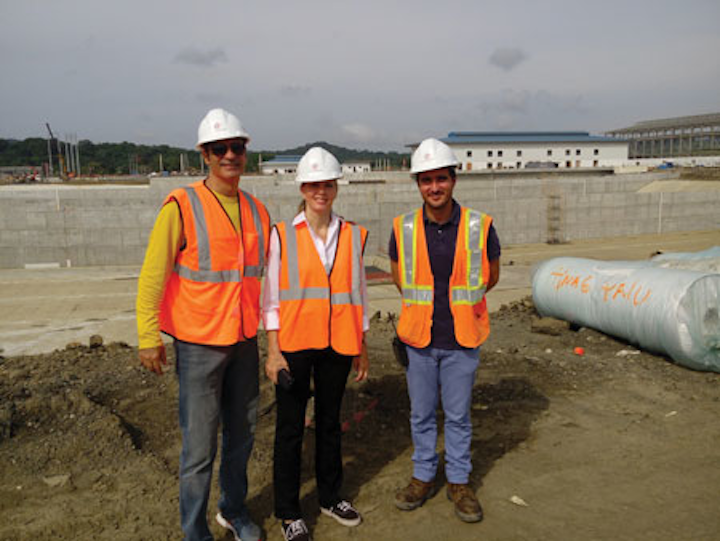 An innovative project to install 'shade balls' in Los Angeles reservoirs has caused quite a stir among the local community. So, what exactly are shade balls? And how can they be used in the water and wastewater treatment sectors?
by Andrew Williams
During August, the Los Angeles Department of Water and Power (LADWP) completed the deployment of 96 million water-filled shade balls in the L.A. reservoir. The initiative follows the earlier release of a further three million balls at both the Ivanhoe and Elysian reservoirs and 6.4 million air-filled balls at Upper Stone Canyon reservoir.
Shade balls are 4" blow moulded ballasted spheres made from high density polyethylene (HDPE) resin with a carbon black colorant that serves to inhibit ultra-violet light degradation - using a material and moulding process that is certified as acceptable for drinking water. When deployed in large numbers they form a floating cover that shades water from sunlight and protects water quality by preventing sunlight-triggered chemical reactions, a major component in formation of algae.
Shade ball covers also discourage birds from landing on reservoirs - helping to mitigate the amount of deposits associated with their presence. They also reduce evaporation by approximately 91% and decrease the amount of chemicals needed to begin the process of preparing the water for human consumption.
Low maintenance
The shade balls for the Los Angeles Reservoir were provided by Artisan Screen Printing, a small blow-moulding business based in Azusa - which contributed 89.6 million balls - and Glendora-based XavierC, which provided 6.4 million balls.
According to Sydney Chase, president at XavierC, one of the main advantages of using shade balls is the fact that, once deployed, they require "very little maintenance". They are also are "much safer" than a solid cover and easier to install, she says.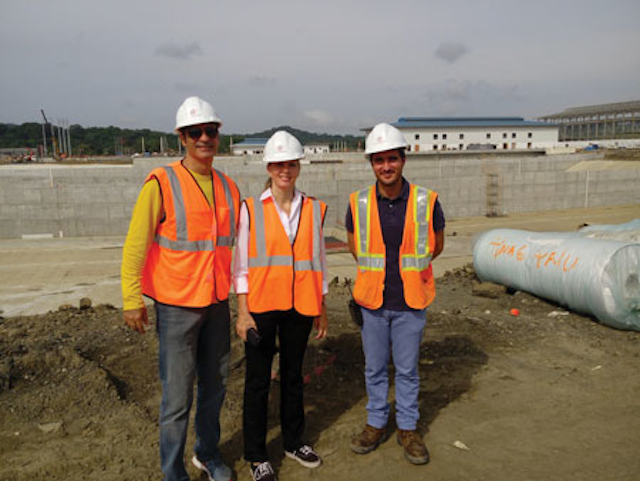 Sydney Chase from XavierC, with George Conte of Ecologic of Panama and Ramon Cascante, Panama Canal Authority
"There is no need to remove them to access the water if needed for fire fighting purposes as they simply move aside as the helicopter hovers to pull water then recover the water when it moves away. Shade balls are safe for use in drinking water, effective, easy to use, need little or no maintenance and are 100% recyclable," Chase adds.
Meanwhile, Paul Sachdev, president at Allentown, Pennsylvania-based Orange Products - another manufacturer of shade balls - agrees that a key advantage of the balls is the fact that they are easy to install by simply rolling down an embankment onto the surface of the water.
"They are also relatively maintenance free as they roll, rise and fall with changes in the liquid level, and hence prevent the growth of plants on their surface," he adds.
Californian drought
Another key benefit of shade balls is the sheer volume of water that can be saved from loss via evaporation in the hot Californian climate, where drought continues to be a very serious issue.
According to the LADWP, they are a "cost-effective investment" that, as well as helping to bring the Los Angeles Reservoir into compliance with federal water quality mandates, are "expected to save $250 million when compared to the number and magnitude of alternate projects and solutions considered to meet that goal".
These alternatives included dividing the reservoir into two by constructing a bisecting dam, or installing a pair of floating covers that would have cost in the region of $300 million. Instead, official LADWP figures reveal that each shade ball cost only 36 cents to put in place - equating to a total cost of approximately $34.5 million for the entire Los Angeles Aqueduct project.
In all it is estimated that the shade balls will prevent the annual loss to evaporation of some 1.4 million cubic metres of water from the 176 acre reservoir.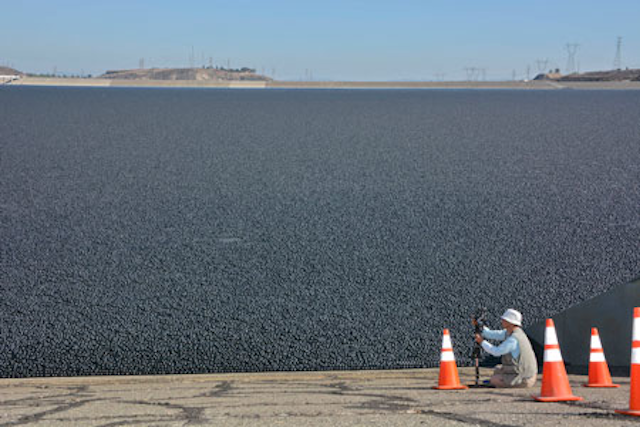 Credit: Art Mochizuki, Los Angeles Department of Water and Power
"If simply covering reservoirs will save that much water ... it would suggest that we have the technology to save a tremendous amount of water if we take action to do so," says Chase.
"This is particularly important because the United Nations Environment Programme (UNEP) cited that on a global basis, more water evaporates from reservoirs than is consumed by humans."
The Los Angeles project was first conceived in late 2008 as a result of the need for LADWP to find suitable methods of complying with California State regulations regarding the protection and covering of drinking water - and respond to ongoing issues with algae-bromide, which in high concentrations are known carcinogens.
Dr. Brian White, an LADWP biologist who has since retired, first came up with the idea of using shade balls for water quality when he observed the application of so-called 'bird balls' in ponds alongside runways at airports.
This led to the development of an in-house solution and the deployment of shade balls at the Ivanhoe reservoir in September 2008, the Elysian Reservoir in February 2009 and the Upper Stone Canyon Reservoir in April 2012 - where they have since helped to reduce evaporation off the reservoir surfaces by 85 to 90%.
Rolling On Out
Looking ahead, Chase believes that a key challenge to the continued roll out of shade balls is the need to ensure that those global communities suffering most from drought can source the financial assistance they need to fund the shade ball covers. "Many suffering from the effects of the drought, such as farmers, are also suffering financially from the consequences," she says. "There is a protracted length of time in addition to a lack of understanding on how and to whom to turn to in such a situation."
Although the Orange Products shade balls carry a ten year warranty, Sachdev also points that they will still need to have to be disposed of at some point - and he admits that as yet there is "not much experience with collecting and recycling shade balls that have to be destroyed".
In pure technological terms, Chase also argues that there is currently a "great misunderstanding over just how difficult it is to manufacture a high quality product and the associated costs".
"I repeatedly see those with no experience in the production of these products citing just how easy it is," she says. "I read an advertisement the other day that claimed to provide shade balls 'at a fraction of the cost that LADWP said they paid' - and that truly scares me. This product and its quality is very critical."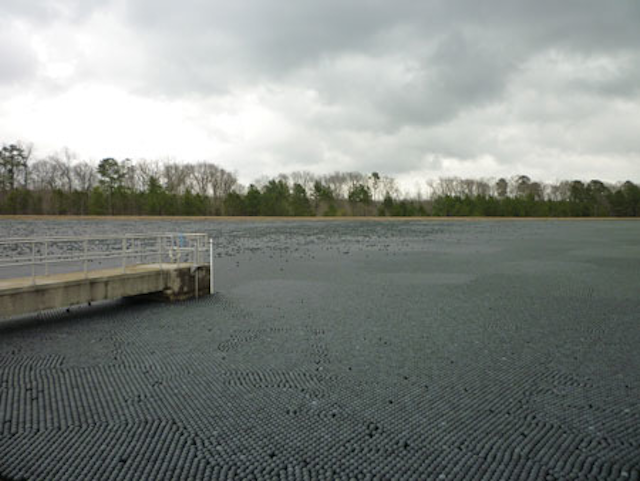 Shady solution: the balls are 4" blow moulded ballasted spheres made from HDPE and prevent evaporation by 91%
"Often times when new markets emerge, people with absolutely no experience or understanding whatsoever in the complexity of a product actually destroy the promise that is offered by an apparently 'easy' product to manufacture by flooding the market with substandard materials. Human nature is to buy the least expensive product available," she adds.
However, Chase is at pains to point out that quality is 'absolutely critical' in view of the fact that the balls are being used alongside human drinking water.
"They are hollow and ballasted with potable drinking water," she says. "The integrity of that seal and envelope of the ball are absolutely critical to the performance of the product. If the balls leak, they can also siphon in the medium they are floating on. This has many ramifications. It will be imperative that regulators and specifiers, mandate the quality that is needed to perform under such conditions."
Chase adds: "LADWP like anyone else wants to save money, but not at the expense of their customers and the health of the drinking water. I try to explain that though making a product that costs a lot less is possible, using regrind, lesser quality resin, recycled concentrates, a high percentage of leaking balls and so on is possible - and believe it or not more profitable for the moulder - the quality is critical in this case and must not be compromised."
Panama Canal
Looking ahead, Sachdev is confident that, in addition to deploying shade balls on drinking water reservoirs, they could also continue to be used to reduce foul odours and emissions from water treatment tanks and ponds, and as 'bird balls' to conceal water surfaces near airports and help to prevent birds flying in the path of airplanes.
Keith Stuck of Wilmington, North Carolina-based ECC, which is responsible for the sale and distribution of Orange Products shade balls, says: "Shade balls are a very simple solution to a complex problem. Some municipalities are even considering building reservoirs underground to essentially accomplish the same thing as covering with shade balls. The future looks good for shade balls - we feel there will always be a place."
Meanwhile, Chase reveals that XavierC is currently working on a project to 'present and provide' shade balls to the Panama Canal authorities for use in the new water saving basins created alongside the latest shipping lane.
"We have made several presentations and are working with those in charge to provide a test installation to aid in the reduction of algae and water evaporation where feasibly possible," she says.
"The magnitude of this project is very apparent as are the environmental consequences of proactively taking steps to reduce the infusion of algae into the ocean from the fresh water required to transit the ships through the canal. This project will provide evaporation savings for water available for processing into drinking water in excess of that needed to serve 15,000 families of four each year," she adds.
XavierC is also working on a test installation for the U.S. Department of Agriculture aimed at addressing both algae and drought issues, as well as "many projects" for water departments, wastewater treatment plants, farms and petrochemical companies.
---
Andrew Williams is a freelance contributor to WWi magazine. For more information on the article, email: tomf@pennwell.com
More Water & WasteWater International Current Issue Articles
More Water & WasteWater International Archives Issue Articles