Going Off The Grid: The Case For Decentralised Artificial Aquifer Recharge
Decentralised wastewater treatment is being used to recharge aquifers and combat coastal seawater intrusion. Using case studies from Australia, South Africa and Los Osos in California, this article addresses the most efficient ways to implement Artificial Aquifer Recharge (AAR).
Nov 1st, 2015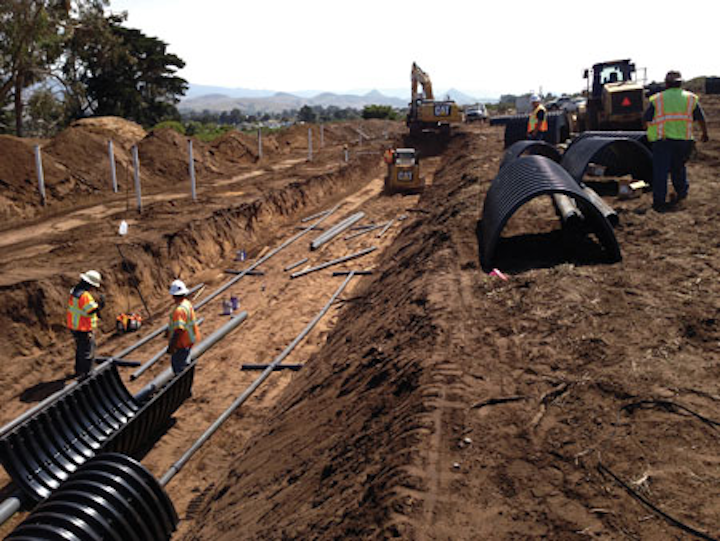 Decentralised wastewater treatment is being used to recharge aquifers and combat coastal seawater intrusion. Using case studies from Australia, South Africa and Los Osos in California, this article addresses the most efficient ways to implement Artificial Aquifer Recharge (AAR).
By Dennis F. Hallahan
Traditionally water scarcity has been limited historically to arid regions. However, water resource concerns have been starting to occur in non-historical locations.
There are many causes of scarcity. In centralised water/wastewater infrastructure, water is drawn from an aquifer, consumed, and then discharged a great distance from the source. This process short-circuits the natural water cycle for aquifer replenishment. In addition, each wastewater district may have thousands of miles of piping for collection and the piping system often consists of old and new pipes that are far from watertight. The process of inflow and infiltration that results is an additional vehicle by which aquifers are depleted or polluted.
Another contributor to aquifer depletion is water supply wells for municipal water systems and irrigation of crops. Wells can draw vast quantities of water out of an aquifer exceeding the rate of replenishment from rainwater.
Los Osos: Feasibility studies deemed an ocean outfall cost prohibitive, paving the way for a decentralised solution
These activities, coupled with lean rainfall amounts and in some cases drought conditions, are creating severe demands on water resources in unexpected areas. In the American west, the state of California is in its fifth year of record breaking drought. Across southern Asia, the major aquifers are in a severe decline from over pumping.
Artificial Aquifer Recharge (AAR) is a growing method of water table stabilisation and water supply. The United States Environmental Protection Agency (USEPA) defines aquifer recharge as, "… the enhancement of natural ground water supplies using man-made conveyances such as infiltration basins or injection wells."
As currently defined by the US EPA, aquifer recharge systems are typically used in areas with limited ground or surface water availability.
ARR in Barbados & S. Africa
Conventional methods of ARR include recharge basins and injection wells to recharge the aquifer. An additional AAR option is decentralised wastewater systems.
These types of systems have the capacity to discharge large quantities of wastewater into the underlying soils, making them one of the most passive and sustainable forms of ARR. Decentralised wastewater systems provide both wastewater treatment and groundwater recharge in one step and also be beneficial in protecting water resources from saltwater intrusion.
On the island of Barbados it is estimated that about half of that island's water used for domestic consumption is returned to the groundwater as septic tank effluent, according to one water resources study. For an Island nation this source of water is useful for both water supply and combating saltwater intrusion.
On a larger scale, in Polokwane, South Africa, AAR has been a technique implemented for over 30 years. This has supplied the city with an additional four million cubic metres of water annually. The Polokwane AAR design discharges treated effluent to recharge basins where the water slowly percolates to recharge the underlying aquifer.
One of the most efficient ways of implementing AAR is by using treated wastewater; this is water that would otherwise be discarded and wasted due to discharging to rivers or ocean outfalls.
The keys to effective decentralised systems adequately accepting wastewater into the underlying soils include the permeability of the native soils, distance to any type of limiting layer, and proper siting, installation, and maintenance.
In the past, many of these factors led to sites being connected to a centralised sewer, however as technology continues to advance, more sites have become viable candidates for decentralised systems. These decentralised wastewater systems are increasing the volume of groundwater recharge critical to maintaining a healthy water supply.
While traditionally thought of as a single-home wastewater treatment solution, decentralised systems can be designed to treat large volumes of wastewater as well. Community decentralised systems can be designed where individual site conditions limit the use of soil-based treatment systems.
Large systems can also be developed for high flow commercial and industrial sites where nearby centralised systems are often at capacity and thus too small to accept the increased volume of wastewater generated. These large publicly- and privately-owned community systems are now being managed in the same manner as centralized systems.
Two AAR Systems in Action: Village of Omemee Large Wastewater System Recharges The Acquifer
Located within the City of Kawartha Lakes in Ontario, the Village of Omemee had choices to make. Flow to the existing wastewater system of lagoons and spray irrigation was exceeding the system's capacity. Just as critical, the current system was discharging to a nearby river. The village was placed under regulatory orders, halting community growth until a solution was provided.
Initial proposals recommended a "Big Pipe" solution for water and wastewater servicing, however the high capital and operating costs of such a system was not palatable to the residents.
Due to the presence of permeable soils and deep position of the water table on the site, engineers determined that a large subsurface disposal system could be an effective solution. With development in the Village halted by the Ministry of the Environment and the need for a year-round solution they could afford, approval for the subsurface system was granted.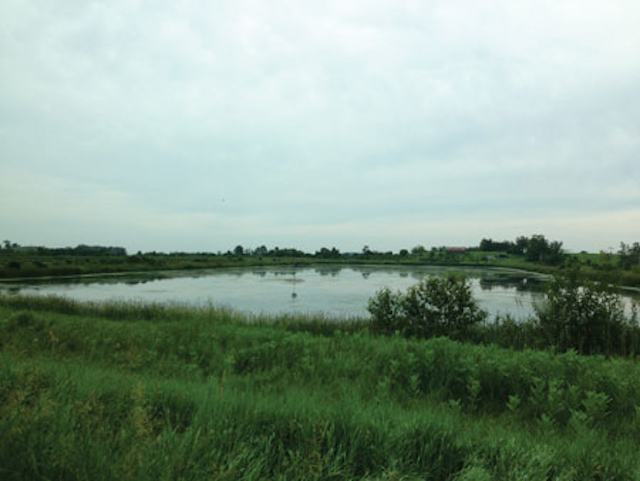 Omemee: The disposal system eliminates the need to discharge lagoon sewage directly to the Pigeon River
A major benefit of this system is the resulting recharge to the vital aquifer supplying water to the wetland and river in contrast to a centralised solution where it would have been piped out of town.
The modular recharge system design, sized for 1,353 m3/day, handles the existing flow and allows for community growth. Even better, the cost was less than $3 million; a dramatic savings compared to the $14.9 million cost of a centralised solution.
The communal disposal field allows for year-round disposal of effluent and Village growth, without the exuberant capital cost of constructing and maintaining a "Big Pipe" system. The disposal system also eliminates the need to discharge the lagoon sewage directly to the Pigeon River, protecting an important recreational resource in the area.
According to Kevin Warner, senior project manager and senior hydrogeologist for project engineers Cambium, the modular design of the system enables potential expansion in the Village. The residents are content with a "Made in Omemee" solution for their wastewater servicing.
CASE STUDY: Los Osos Community Wastewater Treatment System
For generations the coastal community of Los Osos, California had met their wastewater needs with onsite wastewater treatment systems that had become outdated. As urban density increased, code-compliant systems could not be designed to fit the small lots.
Additionally, the coastal, agricultural community was experiencing saltwater intrusion as groundwater was pumped to meet demand and hence saltwater began to intrude further inland. The Regional Water Quality Control Board declared a prohibition zone and a building moratorium.
Originally, a new centralised wastewater treatment plant was proposed for Los Osos. However, initial exploration of this approach revealed that the discharge for a centralised wastewater treatment system, which is typically to surface water, would require an ocean outfall.
This raised concerns that this outfall could exacerbate the saltwater intrusion due to the absence of the recharge that the current onsite systems were providing.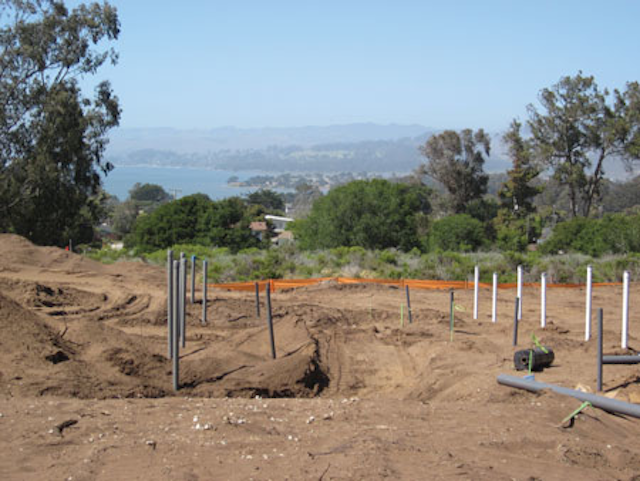 The completed Los Osos decentralised system will include collection, conveyance and treatment to reuse wastewater
Further feasibility studies of the ocean outfall option demonstrated that to the outfall would be cost prohibitive. Ultimately, a decentralised solution that includes final discharge to a community drainfield, recharges the groundwater supplies, minimises saltwater intrusion, and will serve the community for the future was selected.
The completed decentralised community system includes collection, conveyance, treatment, and recycled water reuse. The conventional gravity collection system includes pump stations to deliver effluent to the wastewater treatment plant, which uses membrane treatment technology to remove the nitrogen.
By providing final discharge of highly treated effluent subsurface to a large subsurface community disposal and recharge field, the system has the added benefit of replenishing the groundwater supply in the area, thereby helping to minimise the effects of saltwater intrusion.
The treated effluent is then pumped up a hillside where the large subsurface disposal and recharge system is located under a three-hectare field that will remain as open space.
The disposal and recharge system uses approximately 6,100 meters of infiltration chambers installed in a series of trenches that offer enhanced infiltrative surface area to return the treated effluent back into the soil to replenish groundwater supplies.
Conclusion
Our environment is changing and our water resources are at critically low levels worldwide. Solutions to the depletion caused by years of aquifer depletion from a number of manmade and natural causes are available.
Sustaining the existing water supply, and replenishing the aquifer to protect communities and agricultural needs for the future is key to survival and a challenge that many are working to solve including those in the decentralised wastewater treatment industry as AAR projects are designed and installed around the globe.
---
Dennis F. Hallahan is technical director of Infiltrator Water Technologies.
More Water & WasteWater International Current Issue Articles
More Water & WasteWater International Archives Issue Articles