Life Underground: Mapping Additional Groundwater Supplies in Kenya
The discovery of over 200 billion cubic metres of water in Kenya has made headlines around the world but what technology was used to find this miraculous amount of water?
Nov 1st, 2013
The discovery of over 200 billion cubic metres of water in Kenya has made headlines around the world but what technology was used to find this miraculous amount of water? What could the technology mean for water scarcity across the rest of Africa?
by WWi magazine
Out of Kenya's 41 million people, 17 million lack access to safe water. Kenya is classified among the most water scarce countries in the world. The region of Turkana is one of the hottest, driest and poorest parts of the country and devastating droughts are not uncommon. With many of the region's inhabitants being nomadic herders, the lack of rain and water has a huge impact on day-to-day activities where water is followed to sustain life.
Facing such severe challenges, Kenya was one of five countries including India, Morocco, South Africa and Tanzania selected for studies into the management of groundwater sources. The results were published in a 2011 World Bank report titled "Kenya – Groundwater governance case study".
It did not however make for positive reading. Aquifers that do exist and were actively being used in the country were criticized for not being "managed" properly.
And one major scheme designed to project the Nairobi aquifer system was slammed for completely failing to "achieve this objective". The report concluded that "despite its importance, the value of groundwater is not appreciated, nor is its vulnerability understood."
The study attributed the "weak and ineffective" groundwater management to a "perception that groundwater is an inexhaustible resource".
It went onto say that: "This perception is caused by poor knowledge of groundwater resources, general weakness in institutional capacity, limited technical capacity that is not appropriately deployed, poor funding and weak political commitment at the senior policy-making level."
Such a prognosis wouldn't not have been welcomed in any country, let alone one where every drop of water really counts.
Aquifer Discovery
Fast forward two years and more positive news about Kenya's aquifers positive made headlines around the world. Findings from a UNESCO project backed by the Government of Japan were announced in capital city Nairobi. Under the GRIDMAP project (Groundwater Resources Investigation for Drought Mitigation in Africa Programme), two new groundwater sources were identified and proven following drilling.
First up was the Lotikipi Basin Aquifer, located west of Lake Turkana, the world's largest permanent desert lake.
Second was the smaller Lodwar Basin Aquifer, which was touted to serve as a strategic reserve for the development of Lodwar, capital city of Turkana County. Situated a short distance from Turkana's oil reserves, the second reserve is fed by the perennial Turkwel River and has an estimated reserve of 10 billion cubic meters.
Judi Wakhungu, cabinet secretary of the Ministry of Environment, Water and Natural Resources, said at the time: "The news about these water reserves comes at a time when reliable water supplies are highly needed. This newly found wealth of water opens a door to a more prosperous future for the people of Turkana and the nation as a whole. We must now work to further explore these resources responsibly and safeguard them for future generations."
So what do these discoveries mean in numbers? The study found that Turkana hosts a minimum reserve of 250 billion cubic meters of water, which is recharged mainly by the rainfalls of the Kenyan and Ugandan highlands at a rate of 3.4 billion cubic meters per year.
The water source alone is said to be twice the amount Kenyans consume today and could boost the country's share of water by 17%. Considered to be the same size as the US state of Rhode Island, the aquifer replenishes at a rate of 1.2 billion cubic meters a year.
With experts around the world warning that natural groundwater sources are being depleted by industrial, agricultural and human needs, such an enormous discovery of water in an area in such dire need, could not have come at a better time.
Mapping Technology
With such impressive amounts of water discovered, this raises two questions: why were they not discovered before, considering the region suffered from such severe drought and what process was used to locate the aquifers that differs from current methods?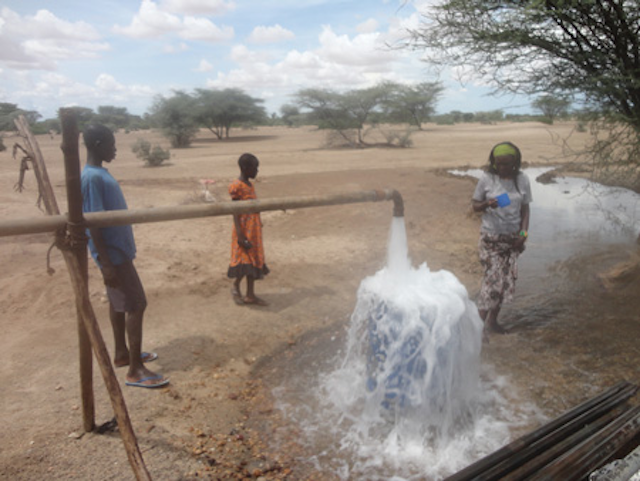 Local area chief, Mrs Elamach, undertakes rapid quality assessment at the test pumping site in Napuu Borehole
The company behind the system used is France-based Radar Technologies International (RTI).
RTI's remote-sensing and geophysics based water exploration technology, otherwise know as the WATEX System, was used in the Turkana project. The technology combines remote sensing, seismic and conventional groundwater information to explore and map groundwater occurrence over large areas in short periods of time.
Satellite and radar imagery is combined with geographical surveys, climate maps and seismic data to give what could be likened to an MRI scan (magnetic resonance imaging) of a human being.
Rather than being used to diagnose health conditions affecting organs, tissue and bones on a person, this instead system detects the porous geological formations, or materials that are likely to hold water wells on land.
Maps generated by WATEX are claimed to have a 6.25-meter surface accuracy and RTI claims can locate underground water with over 94% certainty in many areas.
Prior to the UNESCO project in Kenya, the system had been used for international aid agencies and foreign governments, most recently in Ethiopia, Angola, Chad, Darfur and Afghanistan. Importantly, WATEX works without the need for drilling boreholes – a practise which in the past, solely by itself, has been criticised as inaccurate.
Airborne electromagnetic surveys (AEMs) of land to map groundwater have been common in the past, particularly in Nebraska's Ogallala area in the US, where water depletion issues are serious. To obtain this data helicopters fly 30 metres above the surface, sending electromagnetic rays into the earth, measuring the resistance.
Report recommendations and challenges
In its final technical report, RTI says that the "large Lotikipi Basin Aquifer System will "no doubt play a vital role in the economic security of the country". An annual replenishment rate of 1.2 km3 represents 6% of the nation's total renewable resources (20.2 km3/year).
RTI says: "The importance of the findings of this study as a scientific advancement cannot be understated; both in terms of the potential impact these findings may have on future human development and in terms of their contribution to hydrogeological science in Kenya and the region."
Discovering new water sources is one thing, but the next stage is assessing quality and putting in the right infrastructure for distribution.
Karen Villholth, senior researcher in groundwater management in the southern African office for the International Water Management Institute (IWMI), told National Geographic that there still needs to be more study before the water can be used.
"Some of these areas are inflicted with civil unrest between different populations or ethnic groups, which could slow down or even impede immediate development," she reportedly said.
"Oil has also been detected in the Turkana region, showing that integrating the development of these resources will be crucial."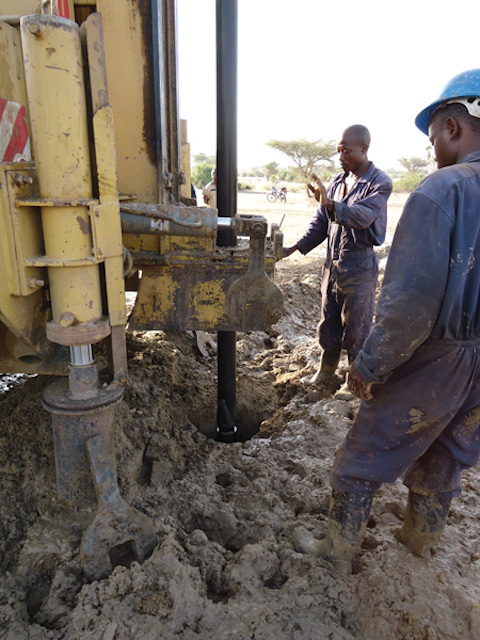 A drilling technician positions the drilling bit onto the expected geo-coordinates with precision
Furthermore, although the multi-billion cubic metre aquifer source has been heralded by the world's media a potential answer to Kenya's water woes, challenges could remain in making sure the country's farmers had access to it.
Tapping into groundwater requires a major shift in irrigation practices, says the IWMI, not only requiring tangible equipment such as pumps and pipes, but policies and strategies to catalyze change.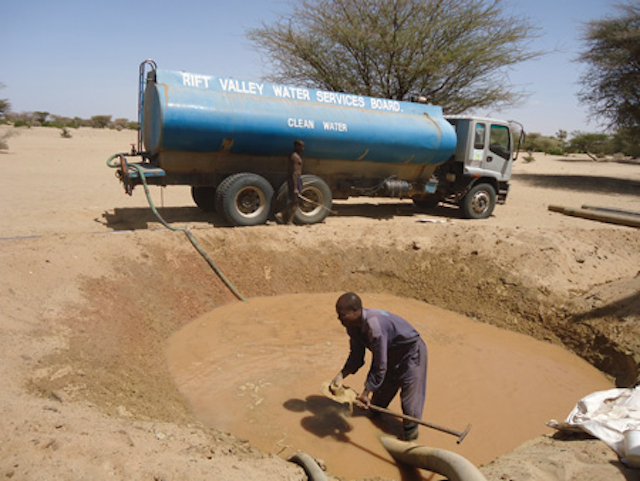 A water bowser providing water necessary for mud-drilling
Interestingly, the IWMI says that only 3% of sub-Saharan Africa's groundwater resources are used for irrigated agriculture. In a special edition of Water International journal, scientists from the institute – including Villholth – set out to answer the question of why groundwater is underused?
Coming back to the World Bank report, the issue of effective management is again brought up.
"Governments have to realize their dual role as facilitator as well as regulator in the development of groundwater irrigation in SSA and across relevant sectors," says Villholth.
"Understanding the groundwater resources and its users are managing them require up-front attention and integration into policy and decision making. This becomes more critical as larger shares of groundwater are being taken for agriculture."
Gaining a respect for water
The discovered 250 billion cubic metre water reserve found in Turkana is enough to warrant calling it a "larger share" of groundwater. The challenge lies in conducting further studies into water quality and whether the source can be appropriately managed and distributed in a region where management and respect for water has historically been lacking.
This article was written by WWi magazine. For more information, please email: tomf@pennwell.com