Koch's Manny Singh helps solve global water crisis one city at a time
Singh experienced the global water crisis firsthand when he was child.
Mar 22nd, 2016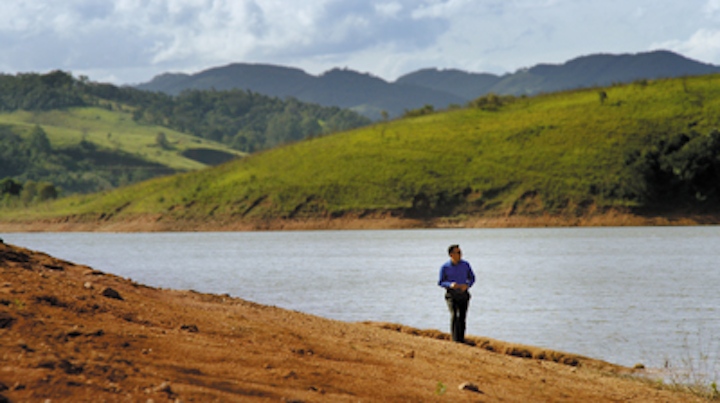 WICHITA, KS., March 22, 2016 -- Manny Singh experienced the global water crisis firsthand when he was child. Today at Koch, he's helping solve it — one city at a time.
There is a global water crisis. There was one decades ago when Manny Singh encountered it as a young boy in India. And there is still one today. But the same boy that saw his family and friends suffer from lack of access to clean water is now one of the people trying to find a solution. So much so that he's made it his life's work. And he's starting in one of the hardest hit cities — São Paulo, Brazil.
"All of these problems impacted me personally and they're still impacting others here," said Manny as he sat in a dry section of the São Paulo reservoir that was once full to the brim. "That's why I went to college for chemical engineering and immediately began to work in water research."
Manny's research focused on how to take the water we already have, such as surface and wastewater, and turn it back into clean drinking water through membrane technology. He's spent his whole career working with membranes and water. He became so engrained in membrane filtration systems he earned himself a nickname.
"My old bosses used to call me Membrane Singh," said Manny.
Now, President of Koch Membrane Systems (KMS), Manny is the boss. He helps KMS develop and manufacture some of the world's most innovative membrane filtration systems for water and wastewater, as well as industrial life sciences.
In 2014, the Alto da Boa Vista (ABV) drinking water plant in São Paulo, Brazil, installed the first ultrafiltration system in South America using KMS membranes. It is the largest system of its kind in the entire southern hemisphere. But Manny knows this is just a drop in the bucket.
"There's a lot of work left to be done to solve this global crisis, but we're getting there," said Manny. "I really feel proud and fortunate to be part of the solution. In Brazil, India, and beyond."
For more information or to view the video, click here.