Xylem's UV disinfection technology approved by State Water Resources Control Board, California
Wedeco LBX UV reactors will help further water reuse effort in California.
Aug 29th, 2016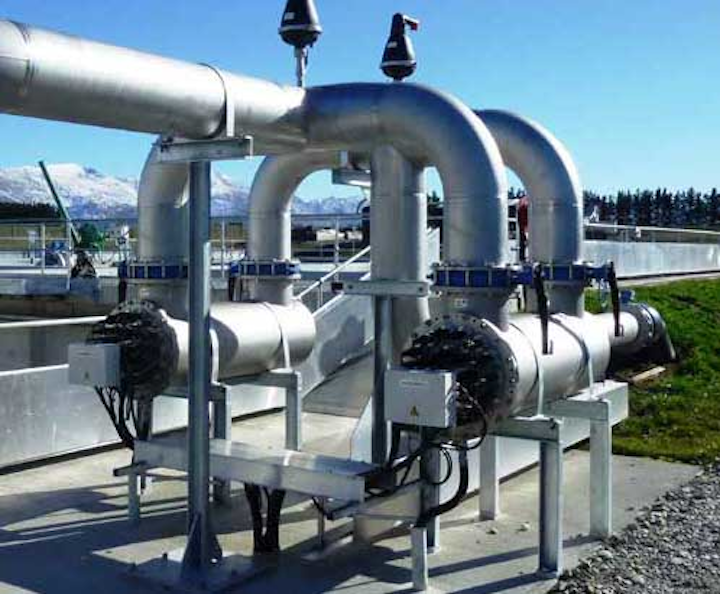 Xylem's Wedeco LBX UV reactors will help further water reuse effort in California. Photo: Xylem Inc.
SAN DIEGO, CA, AUGUST 29, 2016 -- Xylem announced today that both its Wedeco LBX 850e and LBX 1500e ultraviolet (UV) disinfection systems have received acceptance from the California State Water Resources Control Board's Division of Drinking Water. These closed-vessel UV systems are now validated and approved for unrestricted reuse applications to meet the stringent water disinfection standards as required by Title 22 of the California Code of Regulations. The acceptance of the LBX 850e and 1500e UV systems adds to the existing portfolio of Wedeco UV systems approved for Title 22 reuse applications including the LBX 90e, LBX 400e and LBX 1000e along with the open-channel TAK55 and recently approved open-channel Duron, the first Title 22 reuse approved disinfection system with an inclined lamp array.
"The approval by the State means that Xylem's Wedeco brand can provide its customers in California and beyond with one of the broadest portfolios of approved UV disinfection systems for water reuse of any manufacturer," said Richard Loeffler, Wedeco Senior Sales Engineer for Xylem. "This allows us to partner with engineers and utilities to find the best water reuse solution that is both safe and sustainable."
As California continues to address water shortages due to urbanization and long-term drought, water reuse is an essential and sustainable solution that will help secure the state's water needs. Water reuse is a proven approach that can help meet growing water demands, while safeguarding existing water supplies. Water reuse technology produces high quality water at a lower life-cycle cost than developing a new water supply, and delivers a resilient, drought-resistant water source with valuable economic and environmental benefits. UV disinfection is a sustainable alternative to chemical-based disinfection such as chlorine which may create harmful disinfection by-products.
Earlier this year, Xylem launched a survey of California residents which revealed that they are overwhelmingly supportive of using recycled water in their everyday lives. The survey found that 76 percent of respondents believe recycled water should be used as a long-term solution for managing water resources and 89 percent of residents are more willing to use recycled water after learning about the advanced treatment processes used to make it clean and safe.
"Approval of the Wedeco LBX 850 e and LBX 1500e under Title 22 legislation is great news for Xylem and our customers. As California regulations are recognized in many markets worldwide, this approval will open up new markets for our technology - which is equally good news globally for those looking for sustainable reuse technology options. We're looking forward to working with customers in California and further afield to develop efficient and effective reuse solutions to help combat water scarcity," said Tanja Burgschwaiger, Xylem's global UV product manager for its Wedeco brand.
Xylem's Wedeco LBX system is optimized for medium to large-scale wastewater treatment plants, industrial and water reuse applications and is an energy efficient, closed-vesselUV system for wastewater disinfection. It was the first closed-vessel, low pressure, high output amalgam UV system in the world to obtain California Title 22 acceptance. The system offers superior performance due to highly-efficient Ecoray lamp technology which consume approximately one-third of the energy of medium pressure lamps, and are characterized by longer life, superior dimming capabilities, lower mercury content and greater sustainability.
Wedeco UV disinfection systems are currently being operated for Title 22 water reuse applications in California at the Silicon Valley Advanced Water Purification Center in San Jose, along with numerous other sites throughout the state.
Xylem's Wedeco brand is celebrating its 40th anniversary this year, pioneering chemical-free, sustainable water treatment technologies. There are more than 250,000 Wedeco systems for ultraviolet (UV) disinfection and ozone oxidation operating worldwide, in private, public utility and industrial applications.
About Xylem
Xylem (XYL) is a leading global water technology provider, enabling customers to transport, treat, test and efficiently use water in public utility, residential and commercial building services, industrial and agricultural settings. The company does business in more than 150 countries through a number of market-leading product brands, and its people bring broad applications expertise with a strong focus on finding local solutions to the world's most challenging water and wastewater problems. Xylem is headquartered in Rye Brook, New York, with 2015 revenue of $3.7 billion and approximately 12,500 employees worldwide. Xylem was named to the Dow Jones Sustainability Index, North America for the last four years for advancing sustainable business practices and solutions worldwide, and the Company has satisfied the requirements to be a constituent of the FTSE4Good Index Series each year since 2013.
The name Xylem is derived from classical Greek and is the tissue that transports water in plants, highlighting the engineering efficiency of our water-centric business by linking it with the best water transportation of all -- that which occurs in nature. For more information, please visit us at www.xyleminc.com