WaterWorld Weekly Newscast, August 29, 2016
A transcript for the WaterWorld Weekly newscast for August 29, 2016.
Aug 29th, 2016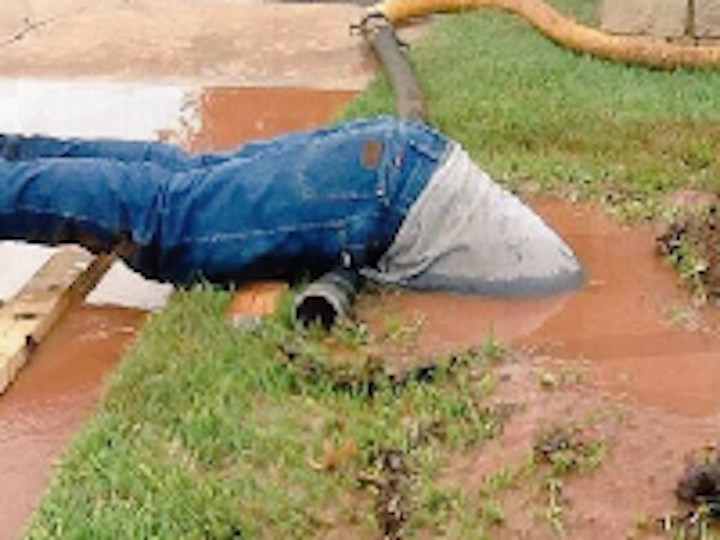 The following is a transcript for the WaterWorld Weekly newscast for August 29, 2016.
Hi, I'm Angela Godwin for WaterWorld magazine, bringing you water and wastewater news headlines for the week of August 29th. Coming up...
Texas utility worker plunges into his job
Los Angeles breaks ground for major stormwater capture project
MIT solar device boils water with bubble wrap
Esri maps NOAA's National Water Model
When Jimmie Cox opted for a little overtime, he probably didn't expect to go viral.
But that's exactly what happened when he responded to a 1-inch water line break in a Granbury, Texas, neighborhood.
Homeowner Andrea Adams snapped a picture of the 23-year-old worker from the Acton Municipal Utility District attempting to fix the pipe -- blind! -- his head and neck completely submerged under water.
He did eventually clamp the line and stop the leak.
Kudos to Jimmie for going above and beyond -- and below -- to get the job done.
Officials gathered to break ground last week for the Tujunga Spreading Grounds Enhancement Project, a $29 million expansion that will double the amount of stormwater the facility can capture -- from 2.5 billion gallons annually to 5 billion.
In addition to conserving water, the enhancement will provide new open space and a walking path for neighborhood residents.
Los Angeles Mayor Eric Garcetti said, "We have to expand our local water supply, and that means investing in stormwater capture." He called the expansion project "an important step toward securing L.A.'s future in this historic drought."
The enhancement is part of LADWP's Stormwater Capture Master Plan and is a regional collaboration between the City and County of Los Angeles.
It's expected to be completed in 2018.
Researchers from MIT and the Masdar Institute have devised a way to boil water using ambient sunlight -- and bubble wrap.
The "solar vapor generator" comprises a special, sponge-like absorber, a thin layer of copper, and bubble wrap.
The bubble wrap, an idea proposed by a daughter of one of the researchers, lets in sunlight while trapping air in the bubbles, preventing heat loss through convection.
The researchers say the low-cost, solar-energy device could have a number of applications, including desalination and wastewater treatment.
New real-time maps from Esri transform NOAA forecast data into vivid pictures of U.S. river flows.
The maps combine NOAA's recently released National Water Model data and Esri's ArcGIS functionality to provide interactive views of current and future water system behaviors.
The maps will improve NOAA's ability to provide detailed information that can anticipate flood and drought conditions, helping to meet the needs of emergency responders, reservoir operators, ecosystem professionals, and floodplain managers.
For WaterWorld magazine, I'm Angela Godwin. Thanks for watching.