Worker dies while inspecting water tank in Massachusetts
Two workers were checking a million-gallon tank when one fell in.
Dec 16th, 2016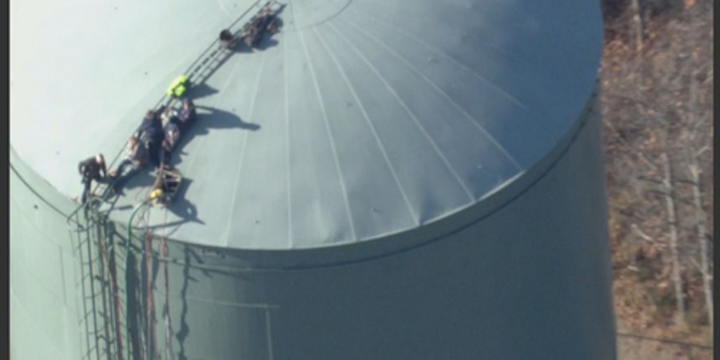 Rescuers work on top of a water tank in Braintree, Mass., after two workers became trapped . Image: WBZ-TV.
BRAINTREE, MA, DECEMBER 16, 2016 -- Two workers became trapped and one later died while inspecting a million-gallon municipal water tank in Massachusetts this week.
CBS Boston station WBZ-TV reports that an equipment failure may have been to blame for the deadly accident.
During a routine inspection, the man radioed to a spotter that he was losing air before losing all communications. Both the spotter and the inspector had to be retrieved by emergency crews. The spotter was taken to a nearby hospital for recovery. It took 16 hours to drain the tank so crews could recover the inspector's body. Officials say there is no threat to the town's water supply.