Gaskets Stand up to Large Diameter Demands
Would you like to pay $156,000 to repair a leaking water line?
Jan 1st, 2011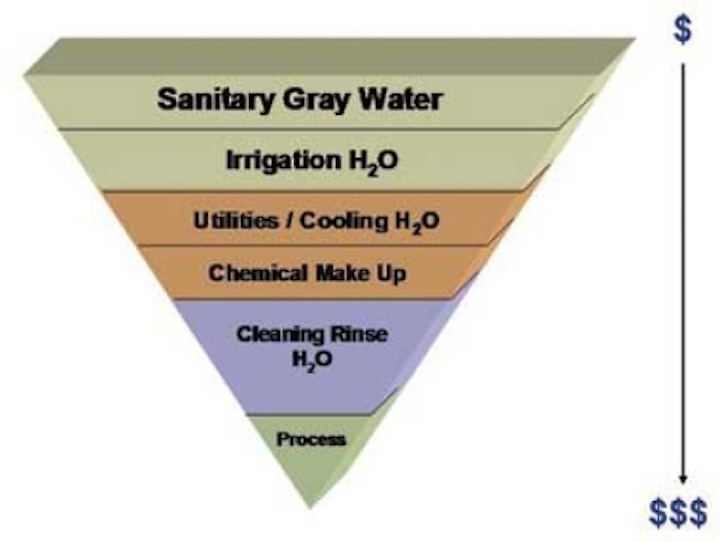 Would you like to pay $156,000 to repair a leaking water line? That's what it cost the San Francisco Public Utility Commission to replace one gasket on its $4.6 billion Water System Improvement Project.
Built nearly 100 years ago, many parts of the system are nearing the end of their working life and have critical portions crossing over or near three major earthquake faults. The project was created to repair, replace and seismically upgrade 150 miles of water pipeline, tunnels, reservoirs, pump stations, storage tanks and dams and is one of the largest water infrastructure programs in the nation. The Water System Improvement project includes more than 80 projects from San Francisco to Central Valley and is expected to be completed near the end of 2010.
Serving nearly 2.5 million customers in the San Francisco Bay area, the gaskets used in the pipeline project must have good dielectric strength for use with cathodic protection systems. Cathodic protection prevents stray currents which can cause undo corrosion and the eventual breakdown of the metal. The gaskets must also be NSF 61 compliant. This standard establishes minimum health effects requirements for the chemical contaminants and impurities that are indirectly imparted to drinking water from products, components, and materials used in drinking water systems.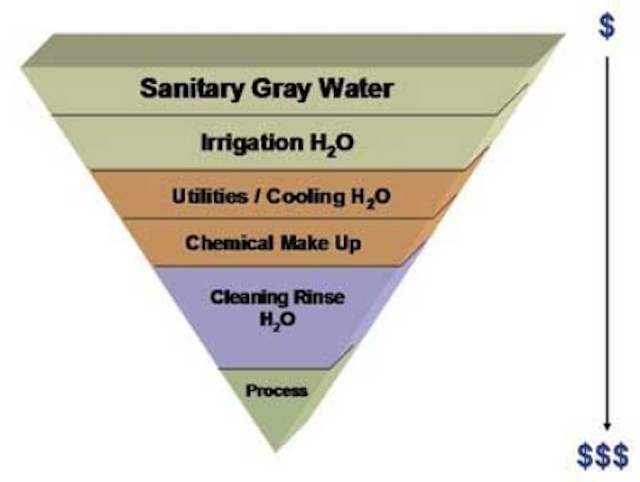 The Water System Improvement project includes more than 80 projects from San Francisco to Central Valley and is expected to be completed near the end of 2010.

.
The pipe connections are AWWA C207 ductile iron Class D flat face flanges, ranging from 24" to 108" and are buried in underground tunnels. Due to the size of the lines, cranes are required to maneuver many of the flanges into place. The gasket will either sit on or hang on the bolts while the flanges are being brought together. The flanges may bang or hit the gasket yet the gasket must maintain its upright position and still be capable of creating a seal. As the crane brings together and aligns two flanges it is crucial to have a gasket that will stay in place and maintain its form during this sometimes bumpy process.
Rubber gaskets are compressible and easy to seal, yet they are not very crush resistant. Large rubber gaskets can sometimes be hard to hold in place because they lack rigidity. Also rubber sheet typically comes in rolls that are 36" or 48" wide. Gaskets with diameters larger than the roll width are dovetailed to join two or more arcs with interlocking puzzle-piece-like ends to form a full gasket.
During one phase of the San Francisco project, an EPDM rubber gasket made in 6 segments was used on a 96" pipe. The gasket segments were put together and placed on the bolts of one vertical flange. The crane bringing the two 96" flanges together was not able to align the flanges faces perfectly. When the faces made contact the rubber gasket crushed causing the dovetails to come apart.
Because of this experience, the San Francisco Public Utility Commission decided to specify a one-piece gasket. After trying other options, the utility finally selected a gasket system from Garlock.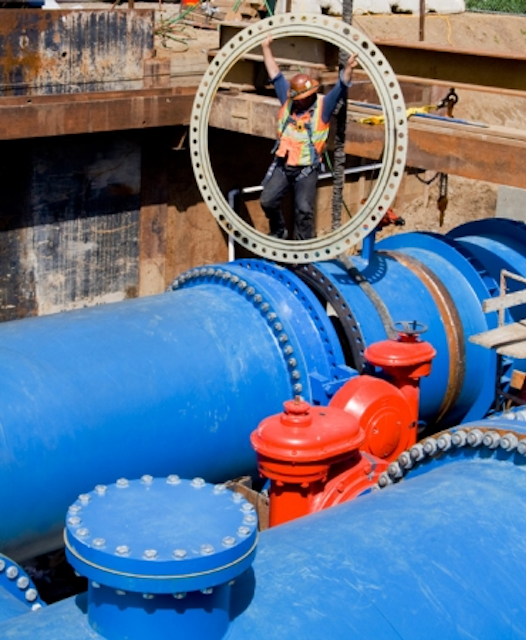 A G-10 Trojan Gasket from Advance Products & Systems Inc. is lowered into place during the San Francisco project.
The National Sanitation Foundation recently approved Garlock's Gylon® Style 3505 to NSF 61 for use in potable water service. This material provides unique properties along with installation and handling advantages that have not previously been available for use in potable water applications.
The gaskets are made of restructured PTFE with a proprietary glass microsphere filler designed to be compressible enough to fill the voids and surface imperfections common to flanges. They can be used with raised face and most metallic flat face flanges. The gaskets also have excellent dielectric strength for underground pipelines using cathodic protection systems. They can be cut and thermally bonded into any shape using a patented joining process that allows the manufacture of large one piece gaskets.
No gasket is perfectly installed -- gaskets are dropped, banged against flanges, etc. Gylon 3505 is flexible and compressible so it will conform to flange surfaces, yet firm and rugged enough to hold its shape and take the rigors of installation in large diameter pipe systems.
The NSF 61 certification, material properties and user-friendly characteristics, earned Gylon® Style 3505 a place on the San Francisco Public Utility Commission specification.
More WaterWorld Current Issue Articles
More WaterWorld Archives Issue Articles