CDM Smith projects earn prestigious AAEES Grand Prize awards for innovative solutions
CDM Smith has earned three Grand Prize awards in the American Academy of Environmental Engineers and Scientists 2014 Excellence in Environmental Engineering Awards competition.
May 8th, 2014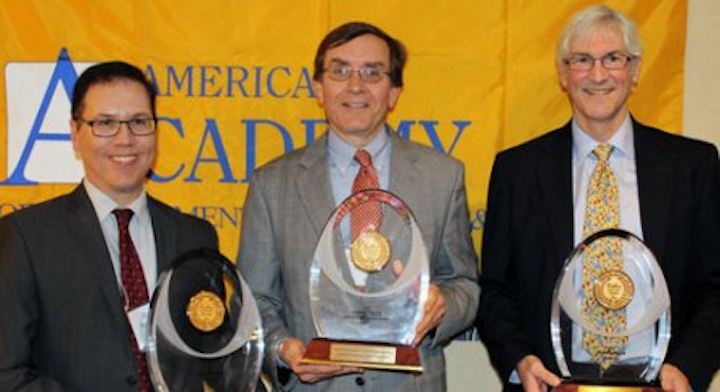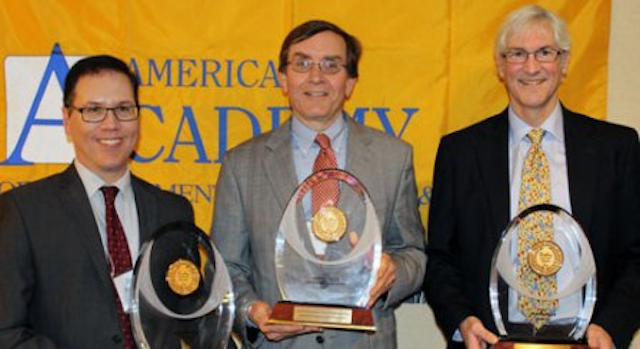 (L to R): CDM Smith's Dan Rodrigo, Chris Schulz and Patrick Evans pose with their respective Grand Prize awards for planning, operations and management, and research. (Photo credit: CDM Smith)
CAMBRIDGE, MA, May 8, 2014 -- CDM Smith has earned three Grand Prize awards in the American Academy of Environmental Engineers and Scientists (AAEES) 2014
Excellence in Environmental Engineering Awards
competition:
Grand Prize in Planning -- City of San Diego long-range water resources plan
CDM Smith's long-range water resources plan (LRWRP) for San Diego Public Utilities Department (SDPUD) identifies strategies to conserve and reuse water, protect the environment and reduce dependency on imported water through 2035. SDPUD operates a complex
water resources
system in San Diego, Calif., with connections to two large imported water aqueducts, three water treatment plants, three wastewater/reclamation plants, nine surface reservoirs, and thousands of miles of distribution pipelines. The city's imported water -- nearly 80 percent of its supply -- is highly susceptible to drought.
A sophisticated computer systems model was used to simulate water demands, imported and surface water operations, water and wastewater treatment, discharges of wastewater and stormwater to receiving waters, groundwater quality, energy use and greenhouse gas emissions, and total lifecycle costs. The resulting plan -- flexible, cost-effective and environmentally conscious -- may serve as a model to guide other states, agencies and municipalities in their long-range water resources planning as cities increasingly strive for resiliency. Developed over two years through a highly collaborative process, the plan was adopted unanimously by stakeholders.
Grand Prize in Research -- Biological treatment of nitrate and perchlorate for drinking water production
CDM Smith's research demonstrated the effectiveness of a unique biological water treatment technology,
membrane biofilm reactor (MBfR)
, to treat nitrate- and perchlorate-contaminated groundwater and produce drinking water in Rialto, Calif. MBfR delivers pressurized hydrogen gas to bacteria developing on the outside of permeable hollow fibers, woven together and positioned in reactor tanks. As contaminated water moves through the reactor's fibers, the bacteria reduce
nitrate and perchlorate
to innocuous compounds. Afterward, water is aerated, filtered and disinfected to produce potable water.
CDM Smith removed 99 and 94 percent of nitrate and perchlorate, respectively, in the field, while working in close collaboration with Arizona State University engineers and scientists, who performed parallel laboratory research and testing. This successful demonstration of MBfR greatly advances the acceptance of biological drinking water treatment in the United States; helps utilities overcome water scarcity issues and comply with increasingly stringent state and federal regulations; reduces environmental waste; and promotes public health and safety.
Grand Prize in Operations and Management -- UV disinfection for the Richard Miller treatment plant
The team of Greater Cincinnati Water Works (GCWW), CDM Smith, Carollo, and RA Consultants used advanced
ultraviolet (UV)
simulation tools to guide the design of a new $30-million UV disinfection facility at the Richard Miller treatment plant in Cincinnati, Ohio. The 19,600-square-foot facility, which contains eight Calgon Carbon Sentinel® 48-inch Chevron UV reactors -- each with five 20-kilowatt medium-pressure UV lamps -- can treat up to 240 million gallons of drinking water per day for more than 1 million customers.
By taking an integrated approach to defining the UV facility's operating strategy, beginning with pre-design and ending with startup testing, GCWW and the consultancy team produced a UV dose monitoring and control system that is arguably the most sophisticated in the industry. It meets multiple disinfection and advanced oxidation treatment objectives, while being fully responsive to varying plant flow and water quality conditions.
See also:

"Ohio UV disinfection system honored with AAEES grand prize"

"CA restoration project honored for notable economic, environmental services"


About CDM Smith
CDM Smith provides lasting and integrated solutions in water, environment, transportation, energy and facilities to public and private clients worldwide. As a full-service engineering and construction firm, we deliver exceptional client service, quality results and enduring value across the entire project life cycle. For more information, visit
www.cdmsmith.com
.
###