Alliance for Water Efficiency awarded 2014 U.S. Water Prize

Jan. 23, 2014 -- Today, the Alliance for Water Efficiency (AWE), a Chicago, Ill.-based non-profit organization dedicated to the efficient and sustainable use of water, along with three other organizations, was awarded the 2014 U.S. Water Prize at the California Irrigation Institute Conference held Jan. 23-24 in Sacramento, Calif.
Announced by Ben Grumbles, President of the U.S. Water Alliance, the other three winners are American Water, Voorhees, NJ; Metropolitan Sewer District of Greater, Cincinnati, OH; and Orange County Water District and Sanitation District, Fountain Valley, CA. "Our 2014 winners are leading the way by reducing water waste, reusing water resources and rethinking watershed strategies and technologies," said Grumbles.
The U.S. Water Prize was initiated four years ago by the U.S. Water Alliance to elevate those organizations with strategies that promote the value of water and the power of innovating and integrating for one water sustainability. "These winners offer approaches that will build resiliency in the face of challenges like the California drought and other climate change impacts," remarked Grumbles. "The Alliance for Water Efficiency is a leading force for education and advocacy, instilling an ethic of 'every drop counts' and proving that a 'save more, waste less' strategy applies not just to water but to energy and money as well." AWE and the other winners will be honored in an awards ceremony on April 7, 2014, at National Geographic headquarters in Washington D.C., where more than 300 water leaders across the nation will attend the recognition program. "Water Prize winners reflect America's broad diversity and ingenuity, from the Heartland to the Coast, with urban and rural problem solvers working to keep water clean, safe and secure," said Dick Champion, U.S. Water Alliance, Chairman of the Board. Nominations were reviewed by an independent, volunteer panel of judges respected as leaders in the fields of water and environmental policy. Click here to learn more about the U.S. Water Prize and the U.S. Water Alliance. Click here for a copy of the original U.S. Water Alliance press release. About the U.S. Water Alliance
The U.S. Water Alliance was formed in 2008 as a 501c3 nonprofit educational organization whose goal is to unite people and policy for "one water" sustainability.  The Alliance awards the U.S. Water Prize and organizes the One Water Leadership Summit annually. A broad cross-section of interests has come together through the Alliance to advance holistic, watershed-based solutions to water quality and quantity challenges. For more information, contact Lorraine Koss at 202.533.1819 or email lkoss@uswateralliance.org, or visit www.USWaterAlliance.org. ###
Jan 23rd, 2014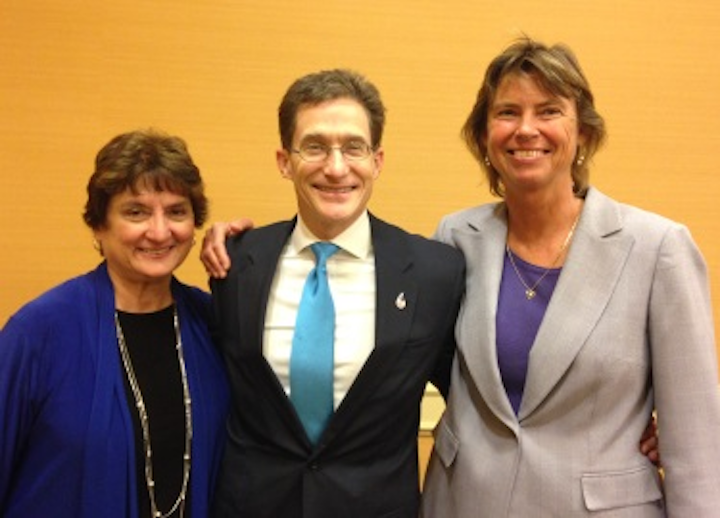 Jan. 23, 2014 -- Today, the Alliance for Water Efficiency (AWE) -- a Chicago, Ill.-based non-profit organization dedicated to the efficient and sustainable use of water -- along with three other organizations, was awarded the 2014 U.S. Water Prize at the California Irrigation Institute Conference held Jan. 23-24 in Sacramento, Calif.
Announced by Ben Grumbles, President of the U.S. Water Alliance, the other three winners are American Water, Voorhees, NJ; Metropolitan Sewer District of Greater, Cincinnati, OH; and Orange County Water District and Sanitation District, Fountain Valley, CA. "Our 2014 winners are leading the way by reducing water waste, reusing water resources and rethinking watershed strategies and technologies," said Grumbles.
The U.S. Water Prize was initiated four years ago by the U.S. Water Alliance to elevate those organizations with strategies that promote the value of water and the power of innovating and integrating for one water sustainability. "These winners offer approaches that will build resiliency in the face of challenges like the California drought and other climate change impacts," remarked Grumbles. "The Alliance for Water Efficiency is a leading force for education and advocacy, instilling an ethic of 'every drop counts' and proving that a 'save more, waste less' strategy applies not just to water but to energy and money as well."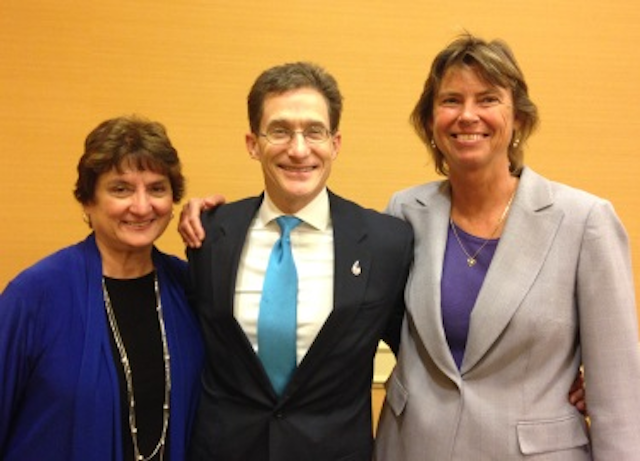 (L to R) Mary Ann Dickinson, President/CEO, AWE; Ben Grumbles, President, USWA; and Inge Bisconer, President-Board of Directors, CII (Photo credit: AWE)

AWE and the other winners will be honored in an awards ceremony on April 7, 2014, at National Geographic headquarters in Washington D.C., where more than 300 water leaders across the nation will attend the recognition program. "Water Prize winners reflect America's broad diversity and ingenuity, from the Heartland to the Coast, with urban and rural problem solvers working to keep water clean, safe and secure," said Dick Champion, U.S. Water Alliance, Chairman of the Board.
Nominations were reviewed by an independent, volunteer panel of judges respected as leaders in the fields of water and environmental policy. Click here to learn more about the U.S. Water Prize and the U.S. Water Alliance. Click here for a copy of the original U.S. Water Alliance press release.
See also:
"U.S. Water Alliance announces 2014 U.S Water Prize winners"
"American Water awarded 2014 U.S. Water Prize"
"MSD awarded 2014 U.S. Water Prize"
About the U.S. Water Alliance
The U.S. Water Alliance was formed in 2008 as a 501c3 nonprofit educational organization whose goal is to unite people and policy for "one water" sustainability. The Alliance awards the U.S. Water Prize and organizes the One Water Leadership Summit annually. A broad cross-section of interests has come together through the Alliance to advance holistic, watershed-based solutions to water quality and quantity challenges. For more information, visit www.USWaterAlliance.org.
###