EPA selects 12 projects to apply for WIFIA loans
These potential applicants were selected from a group of projects in communities from across the United States.
Jul 19th, 2017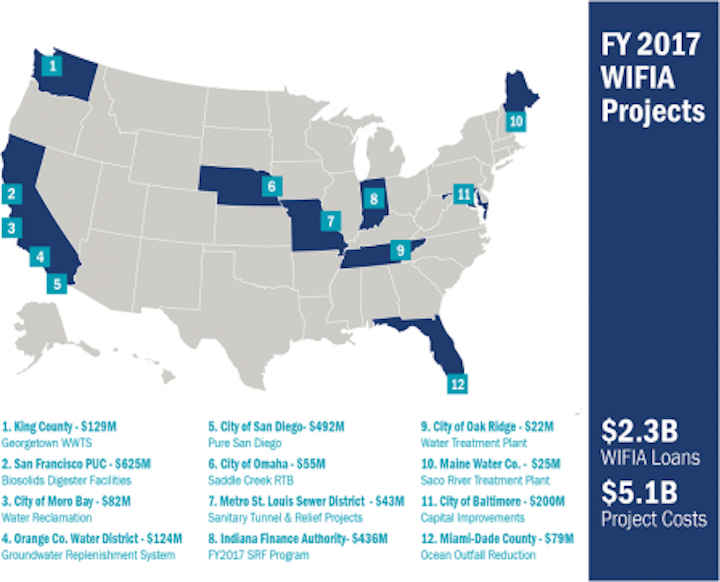 WASHINGTON, DC, JULY 19, 2017 -- The U.S. Environmental Protection Agency (EPA) is inviting 12 projects in nine states to apply for Water Infrastructure Finance and Innovation Act (WIFIA) loans. These potential applicants were selected from a group of projects that represent large and small communities from across the United States that submitted letters of interest to EPA in April 2017.
In FY 2017, the WIFIA program received $25 million in funding, including an additional $8 million in the Consolidated Appropriations Act of 2017 that President Donald Trump signed into law on May 5, 2017. This year's projects will also leverage more than a billion dollars in private capital and other funding sources including EPA's State Revolving Fund (SRF) loans, to help finance a total of $5.1 billion in water infrastructure investments. The selected projects demonstrate the broad range of project types that the WIFIA program can finance including wastewater, drinking water, stormwater, and water recycling projects.
"Rebuilding America's infrastructure is a critical pillar of the President's agenda," said EPA Administrator Scott Pruitt. "These large-scale projects will improve water quality for 20 million Americans, especially those communities that need it the most -- such as rural and urban communities."
EPA received 43 letters of interest from both public and private entities in response to the 2017 WIFIA Notice of Funding Availability (NOFA). After a robust, statutorily required review process, the WIFIA Selection Committee chose the following 12 prospective borrowers projects to submit applications for loans:
Miami-Dade County, Florida - Ocean Outfall Discharge Reduction and Resiliency Enhancement Project.
Miami‐Dade Water and Sewer Department will construct new injection wells at a series of wastewater treatment plants to allow for the redirecting of effluent discharges from the ocean outfalls to these wells. The project is required to be completed by 2025 in order to comply with the State of Florida ocean outfall legislation. The project will increase availability of reclaimed water for potential reuse, reduce sanitary sewer overflows, increase capacity for the management of peak wet weather flows, and meet the advanced wastewater treatment levels.
San Francisco Public Utilities Commission, California - Southeast Water Pollution Control Plant Biosolids Digester Facilities Project.
SFPUC's project focuses on wastewater treatment system updates. The project will replace SFPUC's outdated 60-year old solids treatment facility with upgraded infrastructure that will produce higher-quality biosolids and maximize biogas utilization and energy recovery. The project will also capture and treat odors more effectively, reducing odor impact on the neighboring residences and businesses.
Metropolitan St. Louis Sewer District, Missouri - Deer Creek Sanitary Tunnel and Sanitary Relief.
MSD's letter of interest outlined plans to construct a pump station at the downstream end of a sanitary sewage storage tunnel; replace approximately 15,900 feet of sanitary sewer; and slipline 1,700 feet of sanitary sewer and appurtenances to address both combined and sanitary sewer overflows. These projects would provide storage for excessive inflow and infiltration during wet weather events; provide dewatering from a major storage facility that will regulate sanitary flow into the River Des Peres foul water system; and allow for the removal of 24 constructed sanitary sewer overflow outfalls into the Deer Creek channel. These improvements would alleviate surcharging and basement backups, help to meet impending Total Maximum Daily Load (TMDL) requirements, and improve water quality in Deer Creek.
City of Omaha, Nebraska - Saddle Creek Combined Sewer Overflow Retention Treatment Basin.
The city of Omaha's letter of interest outlines plans to construct a new retention treatment basin to address combined sewer overflows in the Saddle Creek Basin, as required by the city's consent decree, Clean Water Act permit, and long-term control plan. This project would address water quality concerns in Papillion Creek and the Missouri River by removing 1.2 billion gallons of combined sewage discharged into the Little Papillion Creek, along with floatables and other solids from combined sewer overflows.
Orange County Water District, California - Groundwater Replenishment System Final Expansion.
The project will expand the existing water recycling plant from 100 million gallons a day to 130 million gallons a day by using treated wastewater from the Orange County Sanitation District Plant #2. The project will add another 31,000 acre-feet of water supply each year, enough water to supply more than 75,000 households, and reduce the amount of imported water needed from Northern California and the Colorado River.
City of San Diego, California - Pure Water San Diego.
The City will use the funds to construct San Diego's multi-year Pure Water program that will convey 30 million gallons of purified water per day to the Miramar Reservoir, enough to supply one-third of the City's drinking water needs. The Pure Water program will use proven water purification technology to filter recycled water to produce potable drinking water. The project will provide a sustainable water supply for the community while reducing the need for imported water.
Indiana Finance Authority, Indiana - Indiana Finance Authority FY 2017.
The WIFIA credit assistance will expand the reach of Indiana's SRF programs and allow the Indiana Finance Authority to fund dozens of additional projects in communities across the state.
King County, Washington - Georgetown Wet Weather Treatment Station.
King County's Wastewater Treatment Division is seeking funding for its Wet Weather Treatment Station at the corner of 4th Avenue South and South Michigan Street in Seattle's Georgetown neighborhood. The project is estimated to cost a total of $262 million and the EPA loan will help finance nearly half that -- $129 million.
Baltimore City Department of Public Works, Maryland - Comprehensive Infrastructure Repair, Rehabilitation and Replacement Program.
When awarded, the funds will be used to help Baltimore City complete a set of projects to repair, rehabilitate, replace, and upgrade its wastewater collection and treatment, water treatment and distribution, and stormwater management systems. These projects would improve the sanitary sewer collection; ensure the reliability and performance of the pumping stations and Maryland's two largest wastewater treatment plants; improve the drinking water distribution system to address reliability and performance, which provides direct public health benefits; and meet Clean Water Act permit requirements and obligations through stormwater improvements.
Maine Water Company, Maine - Saco River Water Treatment Facility. (Private)
The privately held Maine Water Company has requested a loan of $24.5 million, to help the company construct a new 20 million gallons per day water treatment facility serving 50,000 people, replacing the existing facility built in 1884. This project will provide public water service to the coastal municipalities in York County, Maine; improve system processes, redundancy, resiliency, and sustainability; and allow for expansion to serve neighboring water systems in southern Maine, consistent with Southern Maine Regional Water Council master plan.
City of Morro Bay, California - Water Reclamation Facility Project. (Small Community)
The City of Morro Bay's project focuses on water recycling. Through the project, the City will remove and replace its 63-year-old Morro Bay-Cayucos Wastewater Treatment Plant with a new water recycling facility. The new facility will recycle all the City's wastewater using advanced treatment technology to help supplement water supply and reduce reliance on imported water. The project will greatly reduce discharges to the bay, and improve the quality of water used for groundwater recharge.
City of Oak Ridge, Tennessee - Water Treatment Plant Design and Construction.
The City of Oak Ridge will design and construct a new 16 MGD membrane treatment plant and associated assets to replace the existing 80‐year old conventional treatment plant, which is currently at capacity and beyond its useful life. This project will provide sufficient capacity to meet the City's water needs by continuing the production and delivery of safe potable drinking water to its customers.