WaterWorld Weekly Newscast, July 24, 2017
A transcript of the WaterWorld  Weekly Newscast for July 24, 2017.
Jul 24th, 2017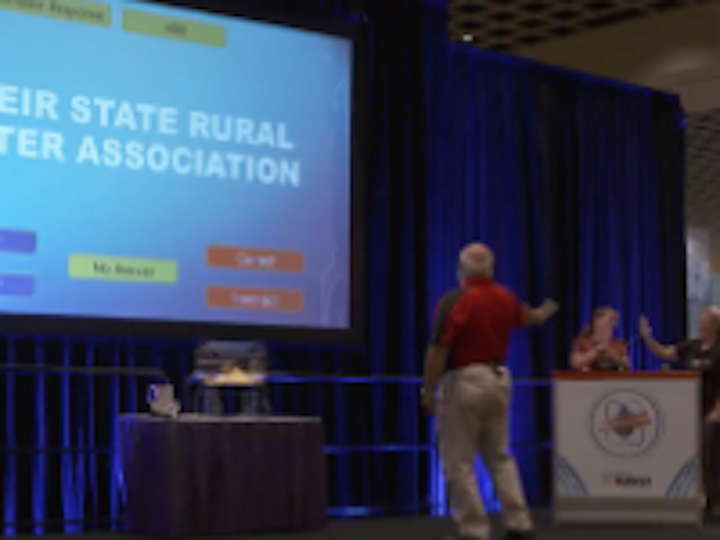 Twelve projects selected for WIFIA program; Are you smarter than a circuit rider?; California adopts MCL for toxic solvent in drinking water; Smart water infrastructure investment to reach $8.3 billion by 2027
The following is a transcript of the WaterWorld Weekly Newscast for July 24, 2017.
Hi, I'm Angela Godwin for WaterWorld magazine, bringing you water and wastewater news headlines for the week of July 24. Coming up...
Twelve projects selected for WIFIA program
Are you smarter than a circuit rider?
California adopts MCL for toxic solvent in drinking water
Smart water infrastructure investment to reach $8.3 billion by 2027
The U.S. EPA announced last week that it's inviting 12 projects in nine states to apply for Water Infrastructure Finance and Innovation Act -- or WIFIA -- loans.
These potential applicants were selected from a group of 43 projects that submitted letters of interest to EPA in April 2017.
In FY2017, the WIFIA program received $25 million in funding, including an additional $8 million in the Consolidated Appropriations Act of 2017.
This year's projects are also expected to leverage more than $1 billion in private capital and other funding sources including EPA's State Revolving Fund (SRF) loans, to help finance a total of $5.1 billion in water infrastructure investments.
Some of the entities selected include:
- Miami-Dade County, Florida
- San Francisco Public Utilities Commission, California
- Metropolitan St. Louis Sewer District, Missouri
- City of Omaha, Nebraska
- Orange County Water District, California
- City of San Diego, California
In a statement, Tracy Mehan, AWWA Executive Director of Government Affairs, said, "It's encouraging to see such a wide range of water infrastructure projects in the pool of applicants. WIFIA loans will spur on critical projects that might otherwise have been deferred and ultimately save money for water customers."
For more information about the WIFIA program and the selected projects, visit epa.gov/wifia.
The National Rural Water Association has announced that registration is now open for its WaterPro Conference Game Show -- Are You Smarter Than a Circuit Rider?
Four teams of two, one utility representative and one Rural Water staff member, will compete in two rounds of trivia on water and wastewater topics.
The winning team will then square off in a lightning round to determine the first and second place finishers.
The first-place prize is a $7,000 gift certificate provided by the event sponsor HD Supply Waterworks, which will go to that individual's state association.
The second-place finisher will get a $3,000 gift certificate that will go to that individual's state association.
The live production will take place on Monday, Sept. 18, in the WaterPro Exhibit Hall and any registered attendees interested in participating are invited to sign up for a chance to play.
The game show premiered at last year's WaterPro Conference in Orlando and was one of the most popular new additions to the event, drawing hundreds of spectators and earning high praise on conference surveys.
To learn more or to register, please visit waterproconference.org.
California's State Water Resources Control Board voted unanimously last week to implement a maximum contaminant level of 5 parts per trillion for the chemical 1,2,3-Trichloropropane in drinking water.
The chemical, used primarily as a degreasing solvent and pesticide ingredient, is present in an estimated 103 drinking water systems at levels above 5 ppt.
The regulation will require that more than 4,000 public water systems statewide begin quarterly sampling for 1,2,3-TCP in their drinking water sources in January 2018.
A new industry survey by market intelligence firm Northeast Group projects that U.S. water utilities will invest $8.3 billion in smart infrastructure over the next ten years.
With water infrastructure continuing to age, modernization, operational efficiency, and reduction of non-revenue water were cited by survey respondents as drivers of this investment.
Smart water infrastructure with sensors and two-way communications will enable utilities to collect and analyze distribution network data.
Ben Gardner, president of Northeast Group, said investments in these technologies will grow, "especially as cities look to integrate water infrastructure with broader smart city and Internet of Things initiatives."
To learn more, visit northeast-group.com.
For WaterWorld magazine, I'm Angela Godwin. Thanks for watching.