Study confirms 'missing lead' as cause for Flint water crisis
A study of lead service lines in Flint's damaged drinking water system reveals a Swiss cheese pattern in the pipes' interior crust, with holes where the lead used to be.
Jul 31st, 2017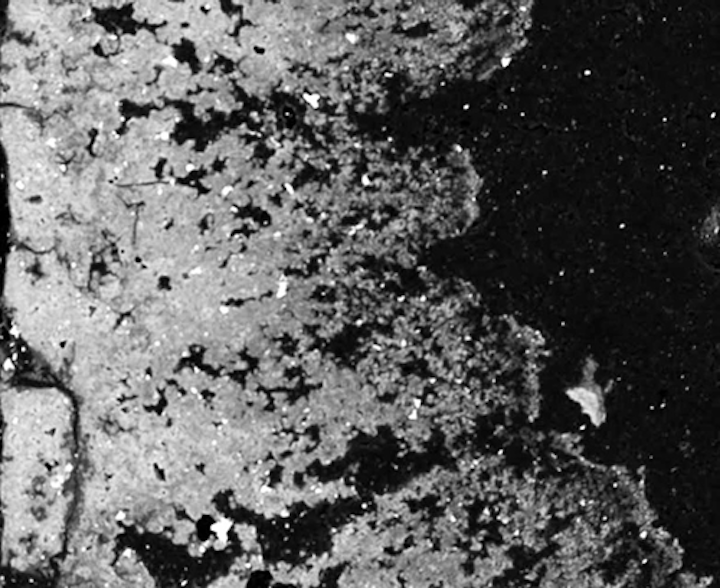 University Of Michigan
Back scattered electron images of a cross-section of the layer of metal scale, or rust, inside pipe samples from lead service lines in Flint, Michigan. The outside of the pipe is on the left side, and the holes in the "Swiss cheese pattern" are voids where the lead used to be, say researchers at the University of Michigan College of Engineering. Untreated, corrosive water caused the lead to leach out, leaving behind a mineral skeleton of aluminum and magnesium. Image credit: Brian Ellis
ANN ARBOR, MA, JULY 31, 2017 -- A study released last week shows a "Swiss cheese pattern" in Flint, Michigan's lead service lines, with holes where the lead used to be.
Researchers at the University of Michigan say the findings support the generally accepted understanding that lead leached into the system because that water wasn't treated to prevent corrosion. This is the first direct evidence, proving false a regulator's claim that corrosion control chemicals would not have prevented the water crisis.
A press release from the University of Michigan stated that researchers focused on the layer of metal scale -- essentially lead rust -- inside 10 lead service line samples from around Flint. They studied the texture of the rust layer, as well as its chemical composition. Then they used their analysis to estimate that the average lead service line released 18 grams of lead during the 17 months that Flint river water (without corrosion control) flowed through the system.
So, where did that lead go?
"Some was consumed," Terese Olson, a U-M associate professor of civil and environmental engineering and lead author of a study in Environmental Science and Technology Letters said. "Some washed down the drain. Some might still be stored in the homes' plumbing. In other words, there is a chance that some of that lead is a potential health risk even after the lead service line is removed."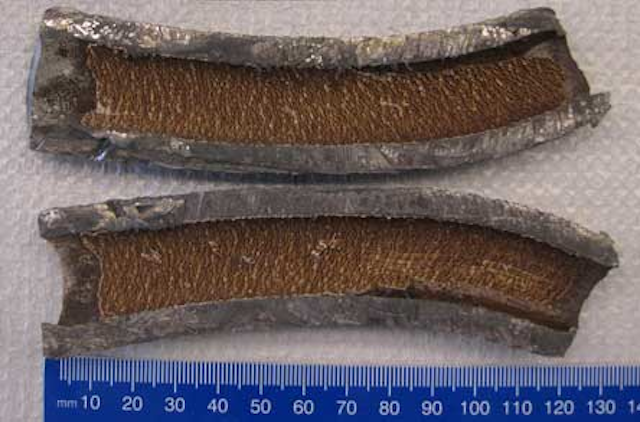 Inside a Flint lead service line. University of Michigan researchers have closely examined the rust layer to confirm that the cause of the water crisis was, indeed, a lack of corrosion-controlling chemicals in the water. Image courtesy: Terese Olson
The study is titled "Forensic Estimates of Lead Release from Lead Service Lines during the Water Crisis in Flint, Michigan." The research team included six undergraduate students, four graduate students, two postdocs and six faculty from U-M's Flint and Ann Arbor campuses. It was funded by U-M's Schlissel Research Fund for Flint, U-M's MCubed research funding program and the Dow Sustainability Fellows program.
Read more here.