Colorado's water database includes information about state's major water basins
Expanded search capabilities, detailed location mapping help users efficiently navigate massive water database.
Oct 30th, 2018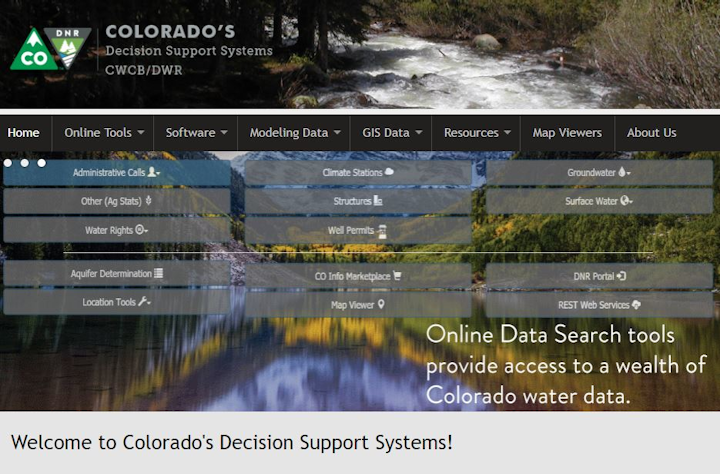 DENVER, CO, OCT 30, 2018 -- Engineering firms, real estate agents and anyone needing information regarding water now have an easier, quicker and more detailed way to research it through the Colorado's Decision Support Systems' (CDSS) website, https://www.colorado.gov/cdss. The CDSS is a water management system developed by the Colorado Water Conservation Board and the Colorado Division of Water Resources for the state's major water basins: Arkansas, Colorado, Dolores, Gunnison, North Platte, Republican, Rio Grande, San Juan, South Platte, White and Yampa.
CDSS' massive database covers an extensive range of water topics: agriculture, climate stations, groundwater, structures, surface water, water rights, well permits and aquifer determination. Users heavily rely on the website's location tools and interactive web maps. Listening to direct user feedback, CDSS upgraded its site.
"The new website is a streamlined version of the previous website and is built on new technology," said GIS and Website Coordinator, Carolyn Kemp. "We've increased the functionality of our online tools, made it easier for users to quickly find what they need, provided more detail in our location mapping and expanded the amount of data that a search returns." As part of CDSS' effort to continuously improve the site, the agency also incorporated a brief survey for users to provide feedback about their experience.
"Water is one of our state's most precious resources," said Colorado Interactive's President and General Manager, Mike Ansley. "CDSS' online resources help ensure that people have access to critical and current information to make responsible decisions about using it."
CDSS utilized Colorado Interactive (CI) and the Statewide Internet Portal Authority's (SIPA) proprietary platform to develop its new website. CI provides digital government services to state agencies, local governments and educational entities through a contract with SIPA — the official internet portal connecting the public with Colorado government. The partnership's mission allows government leaders to focus on delivering on-demand, digital government solutions without requests for proposals or the use of tax appropriations.
"The new CDSS website capitalizes on the consistency of the Colorado.gov website network as well as its minimalist and efficient navigation," said SIPA Executive Director, Jack Arrowsmith. "But the SIPA/CI partnership alone is not what delivered this important objective. As always, we enjoy working with our partners at the Governor's Office of Information Technology as well as with the private website firm, Elevated Third."
About Colorado Interactive
Colorado Interactive (CI) is the team behind the official website of the state of Colorado (http://www.colorado.gov) and is overseen by the Statewide Internet Portal Authority. The portal operates through a public-private partnership between the state and CI to help Colorado government entities web-enable their services.